Back in the day, flashy hotels and far flung adventures filled me with glee. I spent my lunch breaks in Soho's cafes, flicking through glossy magazines and chalking up a swoon worthy bucket list. Comprised of grand European city breaks and tropical retreats, admittedly, the great British coast rarely featured, much to my shame. Yet today, with an energetic toddler and newborn twins to boot, the mere thought of boarding an airplane or checking in to a posh hotel with my brood has me perspiring worse than Prince Andrew mid-Macarena.
So, when planning our first break as a family of five, I was more than happy for forgo winter sun and designer digs for the ease of a stress-free staycation. And so, as I sip a delicious English vino, basking in gloriously unexpected November sunshine whilst staring back at my great British pied-à-terre, I can't deny that I'm feeling just a little bit smug – as haven't forgone a thing.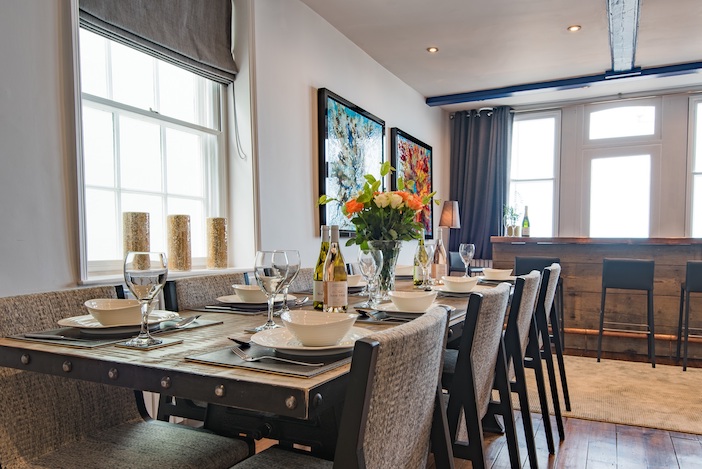 The destination for this dreamy staycation? Curious Deal, on the Kentish coast. Now known for its thriving independent high street and exciting culinary scene, the former garrison town has a tangled history of villainous smugglers, legendary explorers and even the odd royal. Once one of the country's busiest medieval ports, Deal was a hotbed for smugglers – the situation became so dire that the Prime Minister sent the army in to set fire to the boats and break the town's infamous smuggling chains… despite this, the scallies were soon back up and running and their old tunnels still lurk beneath Deal's picturesque Georgian streets.
Above ground, our home from home was The Admiral Penn; a quirky former public house, transformed in to a luxurious 5-bedroom holiday rental. Back in its pint-pulling heyday, the popular pub made a name for itself as one of the town's most bohemian drinking dens, with a ship's figurehead at its helm and worn Persian carpets in place of tablecloths. Its namesake, William Penn, was equally colourful, having gone from being imprisoned in the Tower of London to being knighted! His philanthropic son, another William, went on to found Pennsylvania.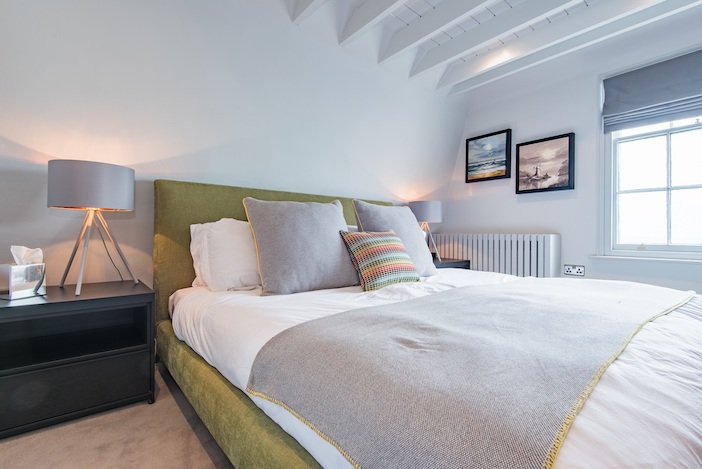 Today, with pride of place overlooking the beach and pier, this historic townhouse is part of the diverse Mulberry Cottages portfolio and is kitted out in top-to-toe in Calvin Klein rugs, The White Company linens, Portmeirion crockery and statement artworks. Each of the 5-bedrooms boasts a super king size bed and its own en-suite, replete with fluffy towels and Korres goodies.
Typical of Deal, the drama is found underground, in the basement, in the form of a secret private cinema room, complete with oversize beanbags and theatrical lighting. Around the slick property, which spans four levels, you can take in various nods to former pub's past; from sipping morning coffee beneath the hand painted list of former innkeepers, to enjoying an evening vino at the bar, which looks out to sea.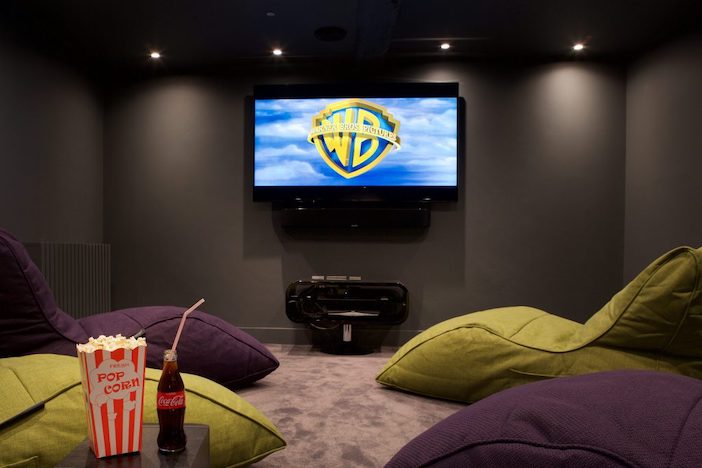 A modern aesthetic of this standard may seem a surprising find on a seaside strip (I use the word lightly) where tourists trot towards between the pier and amusements and locals pick up sprats from the fish stalls found dotted along the shingles. However, Deal is no stranger to the holidaying hipster. Sandwiched between Dover and, well, Sandwich, the former fishing town was once named The Telegraph's coveted High Street of the Year, thanks to its flourishing collection of independent stores, delis and galleries.
At sunrise, locals trickle into the area's cosy cafes for a morning pick-me-up – vegetarians should check out nearby Black Douglas. Then, as the town's iconic Time Ball Tower drops its iconic ball at exactly 1pm, the town's countless restaurants fill up. Deal has everything from high end French fine dining at buzzy Frog & Scot to fancy creative fare at Victuals & Co. For a superb value set lunch (under £12!), guests at The Admiral Penn need only hop across the road (literally) to 81 Beach Street, where fish is the dish of the day.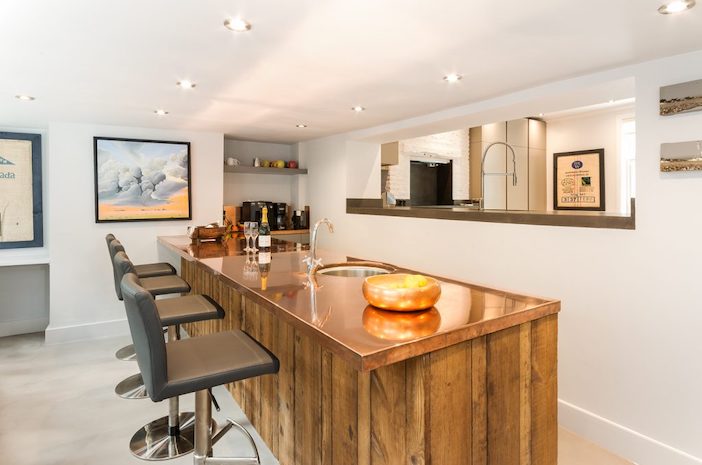 Those keen to walk off their indulgences should hit the shingles for a short seaside stroll to one of the country's finest Tudor forts, Deal Castle. Built for Henry VIII in order to defend England from coastal invasions, the moated castle takes the form of an ornate Tudor rose and has secret rooftop graffiti which dates back to 1724. Walmer Castle, a mile or so further along the coast, is an equally impressive affair and is home to the original Wellington boots!
As the sun sets, Deal's lively pub and bar scene springs to life. Good pubs are ten a penny here (Bohemian, a few doors down, is a handy local), but for those that fancy something different, Deal has a fun lounge-style microbrewery and locals wax lyrical over Le Pinardier wine bar and shop.
Of course, a great British seaside staycation wouldn't be complete without a walk along the pier and as with most spots in Deal, it has a dramatic history. In fact, the original pier was sold for just fifty pounds, following a ravenous sandworm attack. Countless storms and various shipwrecks later, today the town boasts an unusually minimalist, but far sturdier, concrete pier.
Lined with almost a third of a mile of seating on which to perch and enjoy the views, it shuns the usual noisy amusement arcade malarkey, instead dedicating its boards to avid fishermen  – and whilst an enormous conger eel was the talk of the town on our visit, it's Deal Pier Kitchen, or DPK as it is known locally, which hits the headlines. Located at the very end of the pier, it marries elegant timber ceilings, glass walls and endless ocean views to create a serene setting for jovial brunching with a view – you can see France on a clear day. But enough of that foreign lark, who needs France, when you have Deal.
Stays at The Admiral Penn can be booked through Mulberry Cottages. Prices start from £750 for 3 nights / £1650 for 7 nights.