God, I hope nobody sees me. Not because I am crouched behind a lion's testicle, but because I'm attempting to get the perfect shot of Buckingham Palace, along with the world and its aunt, all clutching their London maps and selfie sticks. It's a strange feeling, being a tourist in your old home town.
I lived in London for almost a decade, avoiding the 'tourist traps' like the plague, favouring seedy Soho and swanky King's Road to the Tower of London and that big clock. Now, as I stand side-by-side with a 23-ton white marble Queen Victoria and her loyal lions and watch the royal residence light up in the morning sun, I feel a little foolish. I ponder this as I stroll through Green Park, kicking the crunchy autumn leaves as I go, towards Piccadilly.
Ahhh, Piccadilly. The word alone was enough to fill me with fear back then, conjuring up visions of a frantic tangle of topless tourist buses and frustrated cabbies. Once again, more fool me. Standing out from its neighbours, thanks to its 10-storey 'living wall', the doors of 116 Piccadilly mark the point at which hectic London dissolves in to an Art Deco oasis of calm, today known as The Athenaeum. The 5* hotel also has 14 Townhouse Residences, offering a choice pied-à-terre in London's most sought-after postcode.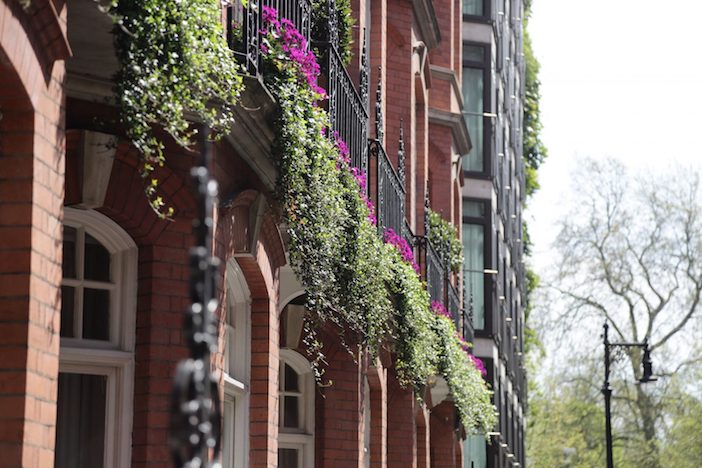 Like most properties in London, 116 Piccadilly has a colourful history, filled with politicians, debt-ridden dukes and high society shindigs. Originally named Hope House, this handsome hotel was once the private abode of MP Henry Thomas Hope, a Cambridge graduate and former Groom of the Bedchamber to King George IV. Hope filled his home with one of Europe's finest private art collections, which attracted the attention of Charles Dickens, who adored the 'extravagant interiors'. Dickens was to be the first of many of the property's celebrity fans.
The Athenaeum is intrinsically linked with the stream of VVIPs that have passed through its doors – those that made a real impression have artworks and photographs dotted around the property. In 1996, Take That chose the hotel's penthouse from which to announce their split – well, if you are going to break the nation's heart, you may as well do it in style. Steven Spielberg felt so at home in his residence that he had an entire edit suite installed so he could work on ET, Close Encounters and Raiders of the Lost Ark without leaving the property…I can see why.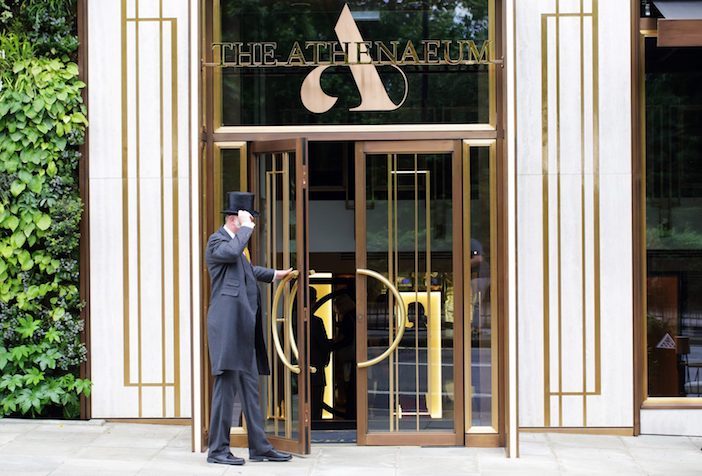 John, the hotel's debonair doorman, who has been welcoming guests for over three decades, fondly recalls meeting Nelson Mandela and Burt Bacharach – the twinkly eyes which lurk beneath his signature straw hat reveal that Joanna Lumley made a lasting impression too – the enormous painting of her which dominates the lobby, suggests that he is not the only one to fall for her charms during her many visits.
Feeling a little deflated at the lack of paparazzi my arrival had generated, I wasted no time drowning my sorrows… in the bowl of jelly babies gracing reception, before being shown to my townhouse residence. My home from home had its own discreet private entrance, a video entry system, concierge services, twice daily housekeeping, 24-hour room service and full use of the hotel facilities. I was feeling better already. There is a dedicated children's concierge on hand to arrange babysitters and provide toys, games and even teddy bear picnics in Green Park. For those trying to keep a low profile whilst indulging in the hotel's food, drink and spa offering, a secret James Bond-style underground corridor takes you bellow decks, delivering you from your apartment to the hotel bar, away from prying eyes.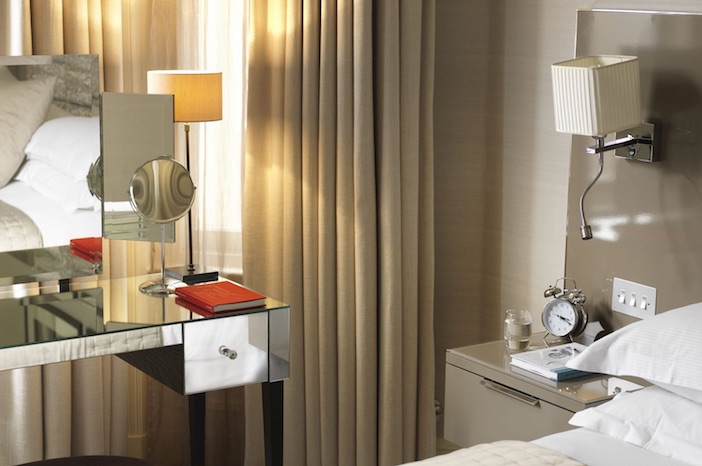 Whilst the hotel's guestrooms give a nod to adjacent Green Park, British designer Martin Hulbert sought inspiration from the area's famous redbrick mansions when he created the Townhouse Residences – evident in small details, like the terracotta velvet trim on the curtains. In essence, they offer a classic Mayfair pied-a-terre, with eccentric touches here and there. Feeling a little more toned down than the main hotel, which is scattered with bold mismatched furniture and attention-grabbing pop art, the apartments' neutral palates and clean design please most tastes, with arty knickknacks, well-selected coffee table books and plenty of fun art injecting a sense of homeliness. The hotel's iconic teddy bear, Arthur Neum, watches over every guestroom and can be taken home for a surprisingly reasonable £10.
Clever lighting enhances the high ceilings and those fond of a little glitz will appreciate the plush velvet cushions, mirrored alcoves and glam chandeliers. For those that need to work, there is reliable Wi-Fi and a spacious street view desk – our first-floor apartment had a colourful flower-fringed Juliet balcony. In addition to the shower room, bedroom and living area, each apartment has a small open-plan kitchenette, with stylish accessories by Joseph Joseph – the playful electric teapot is officially my first ever kettle crush – who knew?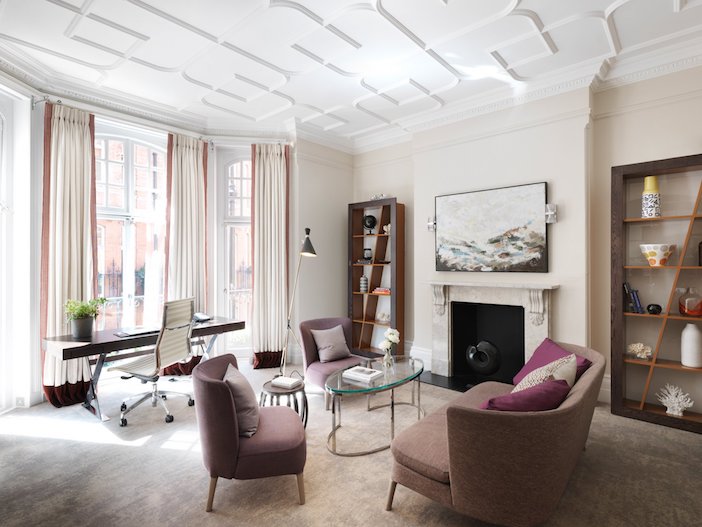 As sassy as the kitchen clobber is, with the Michelin-starred Galvin brothers controlling everything from the room service and breakfast to afternoon tea and dinner, frankly, it would be absurd to cook. The hotel restaurant, Galvin at The Athenaeum, sees a departure from the brothers' signature French-bistro fare, instead paying homage to good old Blighty. Our nicely charred rib-eye came with a lengthy vine of roasted cherry tomatoes, chunky chips and that all important bone marrow, it pained me not to clear my plate, but the generous portions defeated me.
Before dinner we enjoyed an aperitif in the bar…arriving via our secret VIP underground tunnel, naturally. The décor is slick and moody, with plush velvet seating offset against inky black walls and floor-to-ceiling windows revealing the living wall. Their dedicated whisky room may be a thing of the past, having made way for more of a cocktail bar vibe, but there are still 100 bottles of the hard stuff to choose from. Everyone from Harrison Ford and Warren Beatty to Margaret Thatcher have sipped the good stuff at this iconic A-grade watering hole.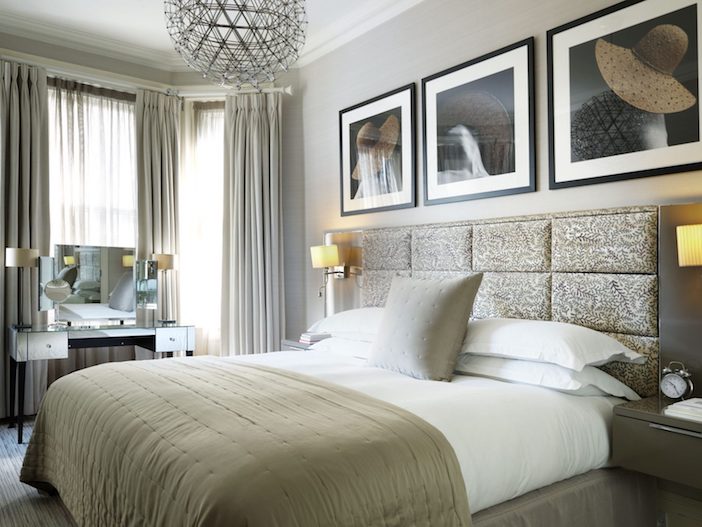 Before I knew it, it was time for breakfast – probably something to do with the coma-inducing portions at dinner, the candyfloss cushioning of the Hypnos mattress and the 10-strong pillow menu that one can choose from at bedtime to secure that perfect night's sleep – buckwheat is a winner, so I hear. As tempting as it was to eke out every last minute in my residence with room service, I couldn't resist eating breakfast in the restaurant itself…okay, I just wanted to use the underground tunnel one last time.
Awaiting my earl grey in the lobby I found myself aimlessly staring to my right, at the the 4ft painting of Joanna Lumley quaffing at the bottle, fag in hand and sunnies on, with her foot high barnet set in hairspray for the long haul. I couldn't help but feel that I was doing this historic Hollywood hotel a disservice with my cuppa. The Dom Perignon painting to my left agreed. 8am isn't too early to live like a star, is it? I excitedly beaconed the waiter, who approached with a subservient, yet knowing look in his eyes. Oh yes, he had seen this all before.
Stays at The Athenaeum Townhouse Residences start from £720 per night, including VAT.  Book online at www.athenaeumhotel.comor call 020 7499 3464.