If you have a penchant for beautiful and romantic scenery coupled with afternoon tea, then spending a day at the award-winning Miserden Gardens near Stroud in Gloucestershire, overlooking the famed hills belonging to the Cotswolds Area of Outstanding Natural Beauty, is a hidden gem to delight any garden lover. Located within the supremely well maintained Miserden Estate which has been privately owned by the Wills family for over one hundred years, afternoon tea here is a seasonal treat well worth going out of your way for.
The backdrop of the utterly tranquil Arts and Crafts garden with its parterre, fountain and Golden Valley view is the magnificent Jacobean manor house 'Miserden Park' built in the 1620s by the Sandys family – you can even seek out the ancient mulberry tree which is believed to have been planted when the house was first built. The property was later added to by the renowned architect Sir Edwin Lutyens who was commissioned by the Wills family to design a new east wing, while Lutyens also contributed an arched loggia, framed with Wisteria and Magnolia trees, not to mention a striking topiary Yew Walk, all of which makes Miserden Gardens, with its compartmental 'garden room' layout a constant surprise and delight reminiscent of Frances Hodgson Burnett's Secret Garden in which she observed, "If you look the right way, you can see that the whole world is a garden."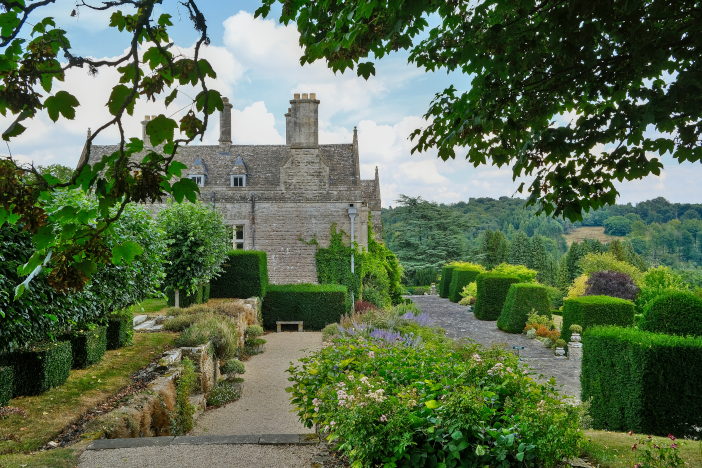 I particularly love the grass-covered Cotswold stone steps, laid out in an arc, reminiscent of a Roman amphitheatre, where you can stand and admire the spectacular valley of the deer park. A previous winner of the coveted Historic Houses Garden of the Year, the impressive 90 metre long herbaceous borders, clematis and climbing roses are perfectly complemented by the architectural details cleverly dotted throughout the garden to ensure points of interest at every turn, with urns and a sundial to a Lutyens bench. Nor are the current owners afraid of new additions to the garden – you'll find modern sculpture and an Arts and Crafts style summer house, constructed from reclaimed timber and stone from the estate, added to mark the Millenium.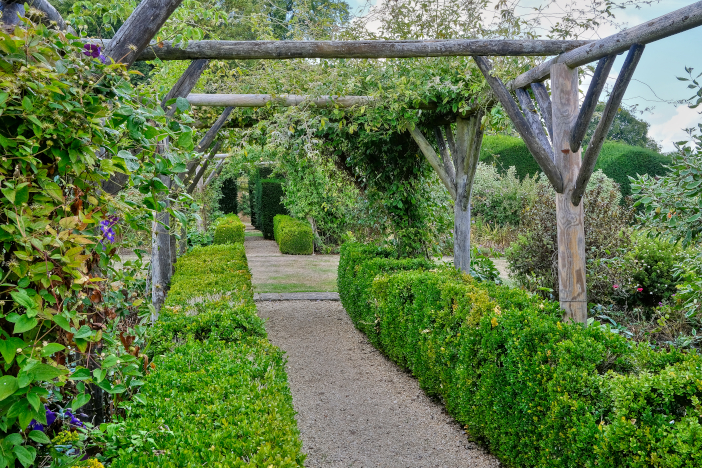 The Glasshouse Café, situated within one of the original Edwardian glasshouses is a lovely spot for informal lunches and refreshments, the new Miserden Walled Garden Afternoon Tea experience is located within your own private area of the 17th century Walled Garden and offers a unique way to immerse yourself in these surroundings. There is also the option to enjoy a Miserden Woodland Tea served in your own private corner of the wood. A 'Great Wood' was recorded as dominating the landscape here since 1086 so it's an ideal spot for forest-bathing in history.
We arrived in our reserved area of the Walled Garden to find comfortable seating beneath a parasol, placed before a charming hand=carved three-tier log table laid out with vintage china. Positively overflowing with a selection of finger sandwiches and savouries including sausage rolls and mini pork pies, along with an abundance of sweet delights including strawberry-stopped Victoria sandwiches, lemon meringue cheesecakes with swiss meringue and a buttery biscuit base, chocolate mousse pots, mini French macarons in myriad flavours, and of course freshly baked fruit and plain scones with clotted cream and jam. Meanwhile, our very own waitress ensured that we remained topped up with tea throughout. It remains to be seen whether anyone has ever finished this impressively generous afternoon tea, but if you stand half a chance of seeing the garden do so before you settle down for tea!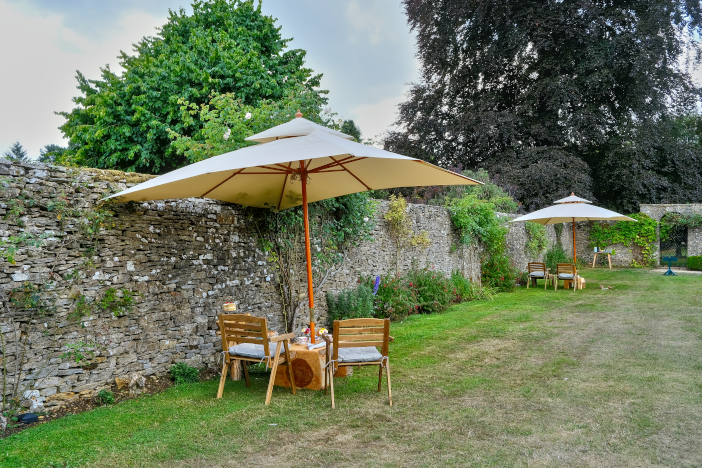 Another reason to visit Miserden Gardens is their varied programme of workshops taking place throughout the year in the recently refurbished Peach House where local artisans will impart a range of traditional skills such as wood carving and jewellery-making to floristry and Christmas wreath-making. The workshops are not only a therapeutic way to spend a day in the countryside, they pay homage to Miserden Estate's long arts and crafts past – carpenters, blacksmiths and stone masons having all worked and lived in the estate since the 1600s.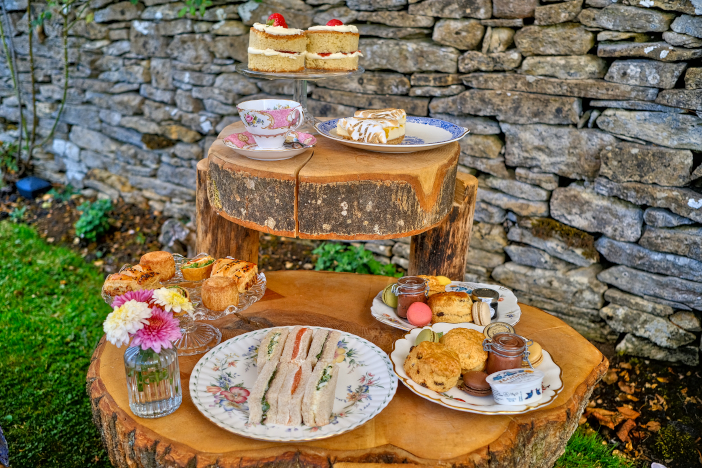 If time allows, it's well worth taking a stroll around the idyllic village belonging to the estate, featuring traditional limestone cottages and a school, village shop, pub called 'The Carpenter's Arms', village hall and historic church where this close-knit community of just over one-hundred people come together. It's impossible not to be struck by the rural, unspoilt charm of this village that is like something straight out of Cider with Rosie (in fact this area is close to where Laurie Lee grew up), and life doesn't appear to have altered very much over the course of the past century which is probably a good thing. Those wishing to have a real taste of what it's like to reside in a secluded Cotswold hamlet can stay at Miserden's Airbnb flat, part of a Grade II listed building.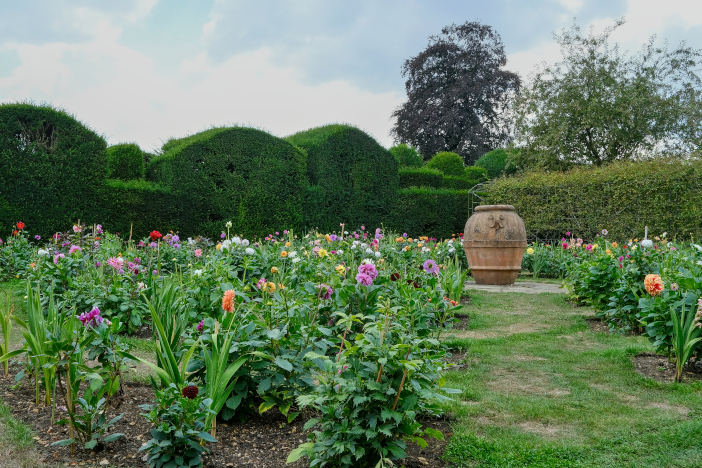 Despite it being a bank holiday weekend when we visited I was amazed at how few people we came across. Compared to spending a day at a National Trust property Miserden feels very much off the beaten track and before we left we were already making plans to bring our small dog on our next visit. Although dogs are not permitted in the garden, they are welcome in the Glasshouse Café and Potting Shed, a shop and visitor centre where the staff will happily provide you with maps of several dog-friendly walks encompassing Miserden's woodland and valleys, along with a picturesque lake in the heart of the estate. However you choose to spend your time on the Miserden Estate, whether for a workshop, afternoon tea or lakeside dog walk, it's bound to be well spent.
The Miserden Walled Garden Afternoon Tea (£55 per person) is available on selected dates, booking essential. The garden, nursery and café are open Tuesday – Sunday and Bank Holidays 10-5pm. For more info and afternoon tea bookings, visit the website.
Photography (c) Soho Photographic