It's not gone unnoticed that the quintessential British institution of the afternoon tea has been receiving something of a makeover in recent years. Formerly enjoyed for special occasions at one of London's grand dames, The Ritz, Savoy et al, finger sandwiches and scones have given way to a panoply of themed ideas, promotional turns and culinary twists at hotels up and down the land. It's even become a stage for some of the country's leading chefs to turn their talents to.
Little wonder, then, that an afternoon tea 'week' has emerged, and rightly so, because many of these last for just a short window, as fleeting as the tea itself, so if you're so inclined, why settle for just one? This year it's from 9th – 15th August and, to give you a head start, we've pulled together the best experiences on offer to assist your selection. Whether it's the location, a literary twist, a dip into history, or a brush with royalty, there's something for everyone – and more than a scone or two thrown in…
An Historic Afternoon Tea at The Langham 
Afternoon Tea was first thought up by Lady Bedford, one of Queen Victoria's ladies-in-waiting and it soon became fashionable amongst high society. It was The Langham who popularised this tradition by being the first hotel to feature this new meal on its menu when it opened in 1865. It seems fitting to kick off our line-up for Afternoon Tea week back at hotel where it began, where a pairing of two rather splendid chefs have turned to history for their inspiration.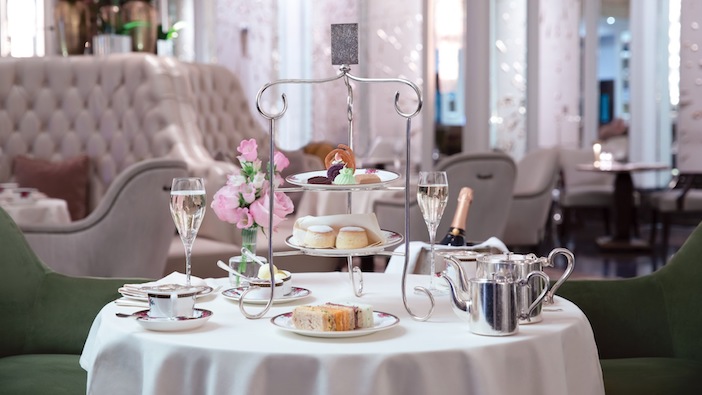 Tapping into the archives of Britain's biscuits and baked tarts, Chef Michel Roux Jr and Executive Pastry Chef Andrew Gravett have created a menu is inspired by the nation's favourite biscuits, reimagined with a modern yet luxurious spin and served with a selection of JING teas and English sparkling wine from Gusbourne. One may even be tempted to give them a 'dunk'.
Afternoon Tea at The Langham starts from £62 per person and you can book from the link here. 
A Japanese-inspired Afternoon Tea at Karma Sanctum, Soho
If you're still riding high on Olympic fever, there are more twists than a Tom Daley dive in this Japanese-inspired afternoon tea at the Karma Sanctum Soho Hotel.
The hotel's restaurant Wild Heart Bar & Shokudo trades cucumber sandwiches for mini platters of Aged Wagyu Beef Sliders or Salmon Tartar with wasabi, coriander and mint. Scones are given a twist with orange blossom curd, while other sweets include a mini yuzu and red fruit tart or a matcha panna cotta.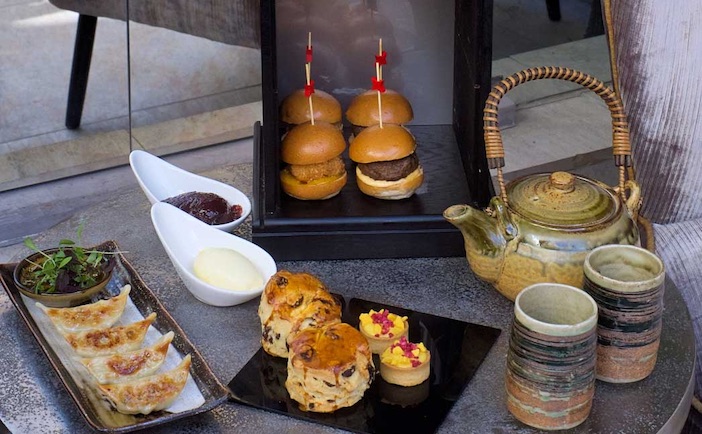 In addition to the quintessential British tea, guests can enjoy some Japanese favourites; Hojicha, a roasted Japanese green tea or Macha, known for its signature subtle sweet and bitter flavour. Upgrade with a glass of Tattinger Brut or perhaps a signature Sake Royale cocktail to complement the oriental flavours.
A Royal Afternoon at Rubens at the Palace (header image)
With its enviable location opposite Buckingham Palace, The Rubens takes its cues for afternoon tea straight from British royals past and present. Expect orange scones that pay homage to the Orangery at Kensington Palace, and Jam Pennies, one of the Queen's favourites, plus The Rubens's own take on the chocolate biscuit cake, which The Duke and Duchess of Cambridge served at their wedding in 2011.
As for something after tea? Go for the Queen's tipple of choice, Gin and Dubonnet; Prince Phillip's favourite, Boddingtons; or Prince Charles's 50:50 Martini. The tea selection is similarly a beautiful treat, drawn from PMD teas. Today, three generations on, PMD remains a family company, serving the world's most sought-after teas that are hand plucked and ethically sourced. It is, truly, a tea fit for royalty.
The Rubens at the Palace's Royal Afternoon Tea starts from £45 per person. Vegan, vegetarian and gluten-free options available. For more information and the full menu please click here.
The Hatter's Tea Party at The Egerton House Hotel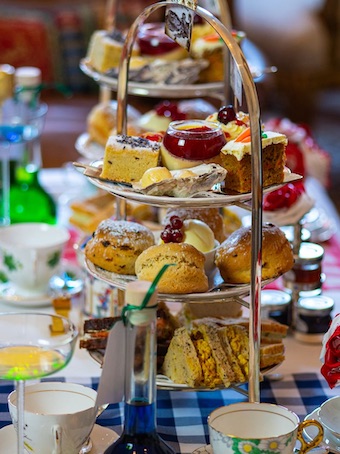 Take a journey down the rabbit hole with The Egerton House Hotel and its new whimsical 'Hatter's Tea Party', inspired by the V&A's new Alice in Wonderland exhibition, 'Alice: Curiouser and Curiouser'. Set in the hotel's sumptuous Drawing Room it features an exceptional pastry tier of Wonderland-inspired treats, including a 'Queen of Hearts' raspberry jam tart with apple crumble; a 'Pearl of Oysters' white chocolate Lanson Champagne truffle based upon the Oysters in 'The Walrus and the Carpenter', a poem recited by Tweedledum and Tweedledee to Alice; and 'Eat Me' chocolate cake with a rich buttercream icing inspired by the Mad Hatter's Tea Party.
The 'Hatter's Tea Party' costs £52 per person, or £68 with Champagne. Afternoon Tea is served daily from 12 noon to 6pm.
Funfair Favourites at Brighton Harbour Hotel & Spa
Bohemian Brighton has long been the quirkiest seaside retreat in Britain with visitors drawn by the vibrant cultural scene and fresh sea air. Our favourite place to stay is Brighton Harbour Hotel & Spa which sits right on the city's famous promenade – the only luxury boutique hotel to do so – just a few minutes' walk from Brighton Pier, The Royal Pavilion and shopping at The Lanes.
Inspired by the Brighton Pier Fun Fair, the hotel's Funfair Favourites tea features a selection of nostalgic fairground favourites. Guests' tastes buds will be taken on a tantalising ride with treats including Cotton Candy, Doughnut Balls and Chocolate Sauce, Raspberry Popcorn, Mini Hot Dogs, Mini Burgers and more.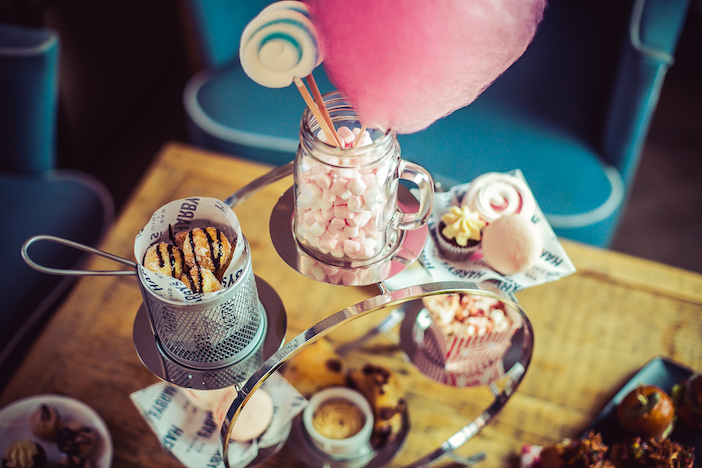 Unlike anything else in the city, Brighton Harbour Hotel & Spa is a restored Regency period boutique property which complements Brighton's artistic atmosphere, alongside signature touches of the Harbour Hotel contemporary style. Located just a stone's throw away from Brighton Pier and The Royal Pavilion, boasting unrivalled panoramic views and with the beach just at the property's front door, this is surely a tea for a summer by the seaside.
Rates at Brighton Harbour Hotel & Spa start from £167 per night on a B&B basis. The Fun Fair Favourites Afternoon Tea costs £30 per person and is served between 3pm – 5pm daily. A glass of Champagne can be added for £12.50 per person.www.harbourhotels.co.uk
A Magical Beatrix Potter-themed Tea at Gleneagles
Scotland's iconic hotel and country estate, Gleneagles brings guests afternoon tea inspired by the life and stories of the much-loved children's author, Beatrix Potter. Celebrate afternoon tea week with the flora and fauna of Perthshire where Potter spent most of her summers, and where she is said to have developed her love for botany. Featuring a mouth-watering selection of French pastries, beautiful cakes, buttery scones and finger sandwiches baked fresh daily by Executive Pastry Chef, Phil Skinazi and his team – afternoon tea at the Glendevon is an indulgent affair.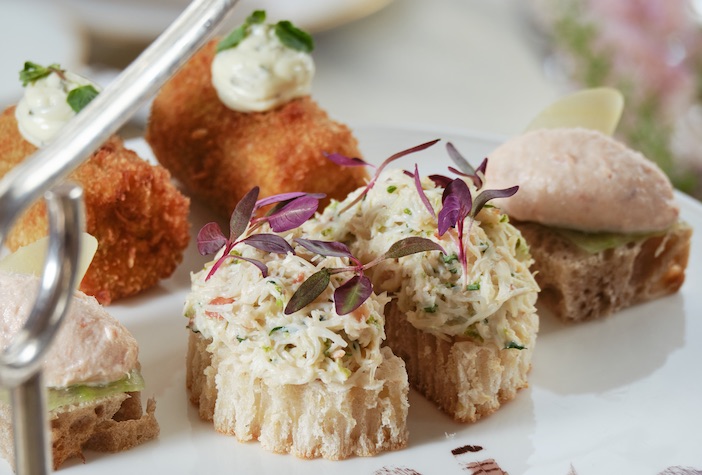 The newly introduced menu pays homage to Potter's story books and characters, with themed highlights including a greenhouse gazpacho amuse bouche, Johnny Town Mouse's pea and potato croquettes, Little Pig Robinson's Crumpet and Crab, and Herdwick lamb sausage roll with Mr. McGregor's cabbage followed by delicious sweets like Squirrel Nutkin's fruit and nut slice and 'hiding behind the blackcurrant bush' currant buns.
Gleneagles' Beatrix Potter inspired afternoon tea will be served Friday to Monday from 12:30 to 15:30 in the Glendevon and is available until December 2021 before returning early in 2022. It is priced at £50 per adult and £25 for children aged 10 and under, including a special gift to take home. For more information and bookings, please visit www.gleneagles.com
Afternoon Tea Delivered to Your Door from The Newt in Somerset
Of course, it doesn't have to mean going out to enjoy afternoon tea. With delicious teatime treats freshly delivered right to your door via The Newt in Somerset's home delivery service, Mobile Newt, why not take tea at home? The Newt's Afternoon Tea selection includes freshly baked buttermilk scones with clotted cream and a jar of The Newt's latest seasonal jam, ingredients to make moreish cold smoked trout sandwiches with seeded heritage loaf, finishing off with plum & almond tarts. All that is left to do is put the kettle on for a pot of traditional English breakfast tea. For a sparkly twist or a special celebration, add in a bottle of Babylonstoren Sprankel or newly launched 'The Winston' – a traditional sparkling method cyder and the first in the world to be bottled in a 568ml imperial pint bottle.
The Afternoon Tea Selection serves 2-4 and is priced at £46, available via the Mobile Newt online shop. Free named day delivery for Newt members to London and local Somerset postcodes, visit www.shop.thenewtinsomerset.com/home
A Culinary Tour of the Capital's Iconic Landmarks at The Kensington
Celebrating the best of London, The Kensington offers its much-loved London Landmarks Afternoon Tea, which takes in inspiration from London's most recognisable and historic landmarks. Guests are taken on a tasty foodie tour of some of the capital's most famous architectural feats from the opulent surroundings of the hotel's Drawing Room, complete with open log fires and sumptuous seating.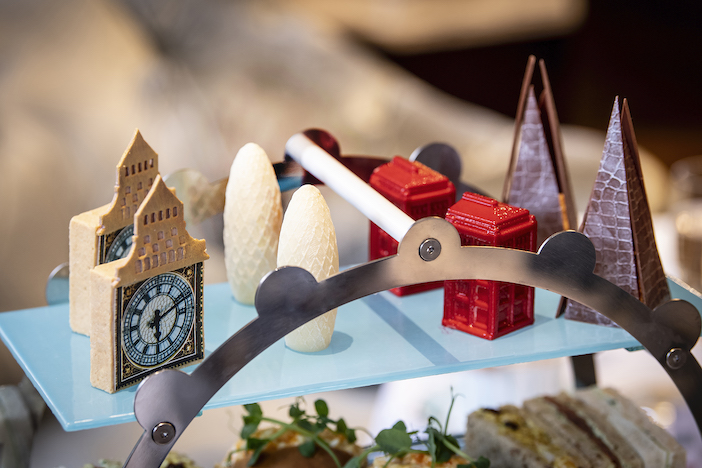 This afternoon tea is Instagram gold and is presented on a London Eye-inspired tea stand, served alongside a beautiful bespoke map of London illustrated by Eleni Sofroniou, highlighting the landmarks featured in the tea, which guests can take home with them. Starting with a skyline of scones and sandwiches, guests will also enjoy a selection of savoury treats including a cockney staple Steak & London Ale Pie and a Colston Bassett Stilton & Broccoli Quiche alongside a bite-size Crab Cake with Tartare Sauce & Caperberries.
But it's the sweets that will turn heads, with creations including 'The Gherkin' crafted from White Chocolate with a Dark Chocolate Ganache, 'The Shard' made of Carrot Cake & Milk Chocolate, an iconic 'London Telephone Box' imagined in Rhubarb Mousse and a 'Big Ben' inspired Lemon Curd Tart.
The London Landmarks Afternoon Tea costs £42 per person or £54.50 with a glass of Perrier-Jouët Grand Brut NV Champagne, all enjoyed with a selection of rare teas. Afternoon Tea is served daily from 12 noon to 6pm. For more information and bookings, visit www.doylecollection.com/hotels/the-kensington-hotel
Tea in Amalfi at Dalloway Terrace
This summer at The Bloomsbury hotel, one of London's most charming dining spots, Dalloway Terrace, has been transformed into a stunning Italian escape reminiscent of the Amalfi Coast, created by Master Florists McQueens in partnership with Malfy Gin. And, embracing this Italian spirit, Head Pastry Chef Chris Dodd has created a new afternoon tea menu inspired by the flavours of Malfy's signature tipples.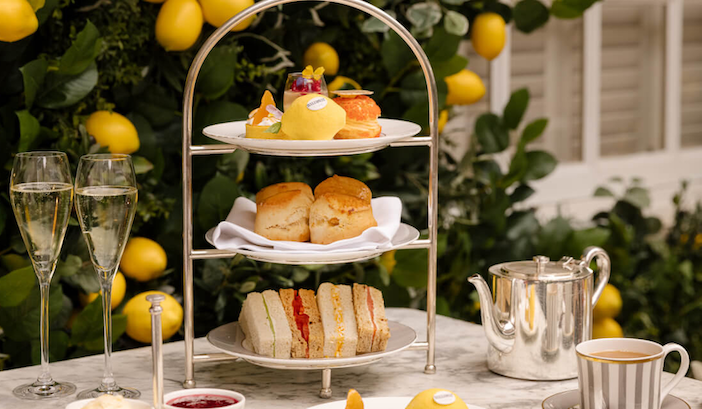 His menu includes sweet treats such as a Pink Grapefruit Tart with Star Anise Meringue, taking flavour inspiration from the Malfy Rosa, a Lemon velvet parfait, reflecting the Malfy Limone and the Orange profiterole from the Malfy Arancia. Savouries include Copper Maran Egg & Chive Mayonnaise; Tonic-Marinated Cucumber and Cream Cheese on Pain de Mie and Hummus and Plum Tomato on Multigrain.
Afternoon Tea at Dalloway Terrace costs £35 per person or £50 per person including a glass of Perrier-Jouët Grand Brut NV Champagne. Afternoon Tea is served daily from 1pm to 4pm. For the afternoon tea menu, please download here and for information visit or to book visit: dallowayterrace.com.
A Deliciously Intelligent Afternoon Tea at Parker's Tavern, Cambridge
With views of Parker's Piece and interiors reminiscent of school-days past, Parker's Tavern restaurant at University Arms hotel in Cambridge is the perfect setting for those seeking a more cerebral take on the tradition. With Chef Tristan Welch at the helm, the exciting afternoon tea menu was inspired by Cambridge and the long list of legendary academics that have made their mark in the city. As well as a trio of classic sandwiches savoury delights include Crayfish Pastry Boats, inspired by the famous Oxford vs. Cambridge boat race born in 1829, made with puff pastry and fresh crayfish and warm Truffle Sausage Rolls.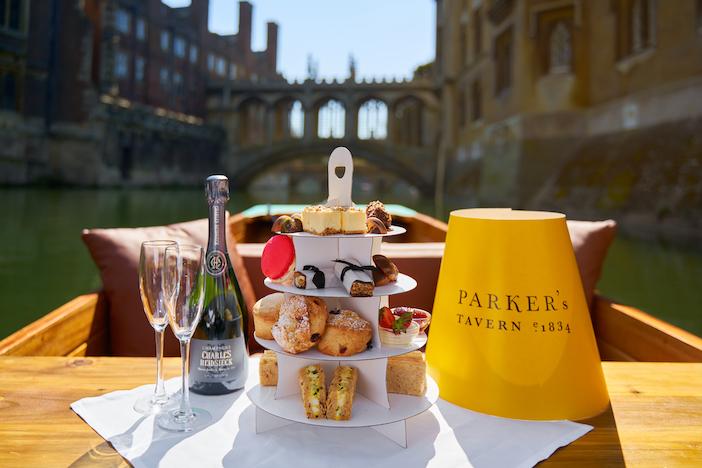 For those with a sweet tooth, there's the renowned 'Ferrero Rocher', Lemon Posset Macaroon, Rhubarb & Cheesecake and, of course, Eton Mess, P'T Style. According to Tristan, Cambridge is a city that loves hot drinks more than most and the tea ceremony at Parker's Tavern, "harks back to a pre-Thermos era, when taking tea was about simply sitting, talking, and enjoying the pleasures of a brew." And, of course, The Parker's Tavern Afternoon Tea is served in The Library at University Arms, where guests will enjoy the tea by a roaring open fire, surrounded by a handpicked selection of iconic books, curated by Heywood Hill, one of London's leading bookshops.
Afternoon Tea at Parker's Tavern starts from £28 per person. For more information or to book, please visit www.parkerstavern.com
Afternoon Tea at Grantley Hall
Arguably the finest in North Yorkshire, Grantley Hall – the family-owned, 17th century manor house nestled in the Yorkshire Dales – takes the tradition of afternoon tea very seriously indeed.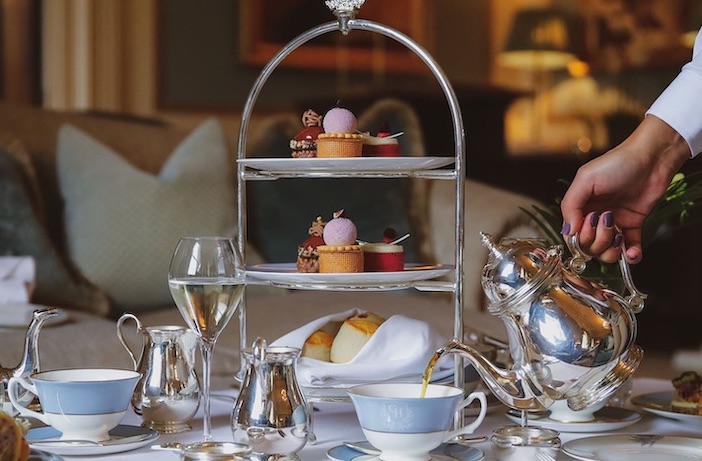 An elevated take on the classic afternoon tea, diners can enjoy a selection of savoury delights including Wensleydale Egg & Shallot Mayonnaise, Watercress, served on wholegrain bread and Oak Smoked Salmon & Chive Cream Cheese and Caperberry, served in a brioche roll. Sweet treats come in the form of Peach Melba 'Rocher' – yellow peach compote, vanilla crémeux and crunchy raspberry coating, and Valrhona Blonde Chocolate & Pistachio – Pistachio sponge, apricot confit and caramel mousse. Freshly baked Scones are served with Devon clotted cream and homemade Yorkshire strawberry & raspberry jam. And then there's the tea itself; an extensive tea selection includes the classics as well as special teas such as Gopaldhara 1st Flush Darjeeling White, Kenilworth Ceylon and Pinhead Gunpowder.
It's the stuff afternoon teas were made of, frankly.
Grantley Hall's Signature Afternoon Tea is £45 per person and their Sparkling Afternoon Tea is £59.50 per person. You can book to enjoy the experience here.
A Cornish Cream Tea – At Home
For those after a proper Cornish cream tea this Afternoon Tea Week, look no further than Rick Stein's signature box – made in Padstow and delivered nationwide, with love. For just £35, the Rick Stein Afternoon Tea Box is brimming with favourite teatime treats – ideal for sharing with both savoury and sweet-toothed friends and family. The bountiful cakes and bakes are neatly and carefully boxed, and served alongside Royal Warrant holding tea by Twinings. Crafted by dessert maker extraordinaire and Head Pastry Chef at Rick Stein's 1975 The Seafood Restaurant, Stuart Pate, each delicacy is made with quality ingredients from producers who have served the Rick Stein restaurants for years.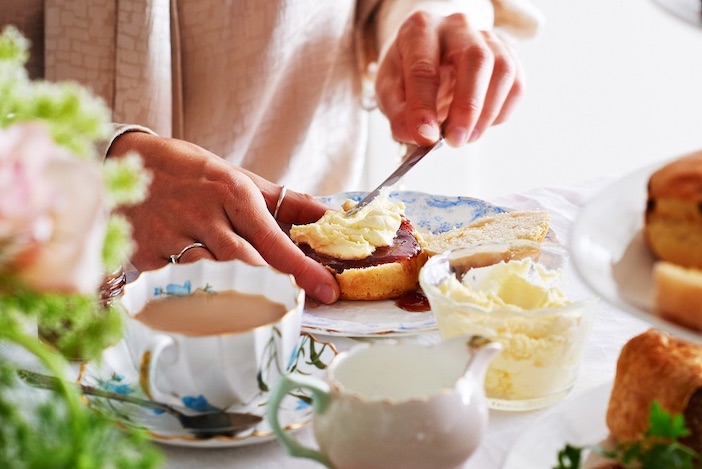 There are, of course, fruit-filled scones to be topped with Cornish clotted cream and jam, as well as cakes including classic lemon drizzle, double chocolate cake and – Stuart's favourite – Dundee fruit cake. For savoury there's flaky cheese Palmiers, individual quiche Lorraine, and four chunky sausage rolls: classic or spiked with tangy tomato chutney.
Let's face it, we couldn't not feature a classic Cornish cream tea in this line-up.
£35 (excl. delivery). Delivery every Wednesday, Friday and Saturday. For more information, and to order, simply go here.
Afternoon Tea Week runs at venues across the UK from Monday 9th – Sunday 15th August 2021. For more information, and details of other venues, please visit www.afternoontea.co.uk.