The traditional afternoon tea has taken quite a turn in the last few years, with many top hotels now cranking the amps well past 11; themes, promotions and gimmicks abound – and rightly so – as it provides a canvas to entertain as well as indulge. So, in celebration of 'Afternoon Tea Week' running from 8th – 14th August, here's our pick of the best of the capital's currently on offer…
The Goring's Jubilee Tea
You may think afternoon tea in the midst of a heatwave is hardly the wisest idea, but we're on the covered Veranda of The Goring, a breeze gently wafting, surrounded by the greenery of the garden.
It's a slice of the country in the middle of the city, and we couldn't be in more quintessential afternoon tea territory. Little surprise this grand five-star hotel, known for its impeccable manners and a subtle streak of wit (somewhere after our own heart) is the proud holder of The British Tea Guild Council's Top London Afternoon Tea Award.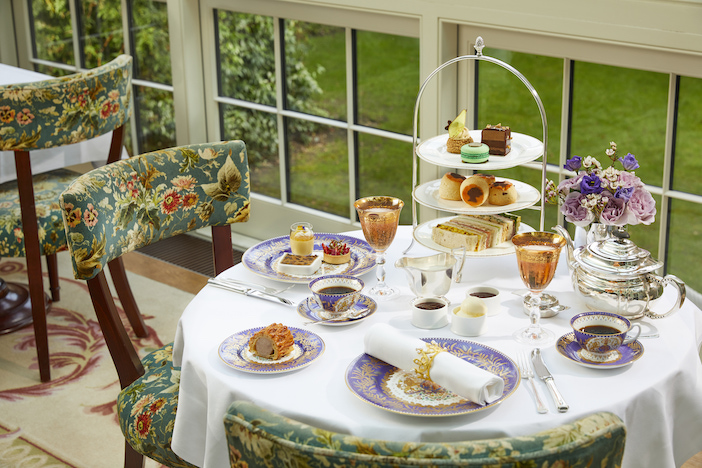 What's more, as we know, 2022 marks The Queen's Platinum Jubilee year, and among the many celebrations that rang out across the country The Goring's pastry team created an exquisite tribute to mark the occasion in the spirit of this great British tradition. Little wonder it makes the top of our choices for Afternoon Tea Week – and there is just over three weeks left to enjoy it.
First up, if there is such a thing (there is now), a kind of amuse bouche for a tea; a bite-size sausage roll, as peppery as it is buttery, while the tea menu is perused. Our choices of Afternoon Blend, their own of assam and second flush Darjeeling. A disclosure of sorts; Larry's father was a tea buyer and we're told he makes his own blend of this very nature at home so, Queen's warrant aside, this would definitely secure his endorsement.
This being The Goring, the sandwiches are the classics; smoked John Ross salmon, caper and lemon, roast sirloin beef and horseradish, Clarence Court egg and cress, cucumber and cream cheese, and of course, coronation chicken and lettuce.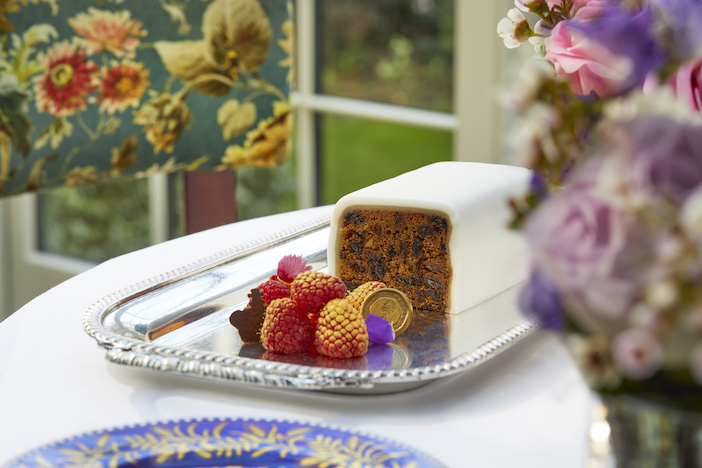 Given the Jubilee year, the pastry team have pulled out all the stops, with beautiful bite-sized mint and chocolate macaron, Annabel strawberry and raspberry Crown Diplomat tart, lemon posset with confit lemon, gold leaf topped double chocolate and hazelnut slice, and a pear and caramel choux. And, in tribute to the monarch, Her Majesty's Royal fruit cake, served on the side and sliced in the room, just to add a little ceremony to the occasion.
The definitive, however, are the scones. Still warm to the touch, they're delicate, crumbly and, better still, gone in two mouthfuls, so you can easily manage two or three, perfectly dressed with thick Devonshire clotted cream (applied first, thank you very much) and their homemade berry jams. Divine.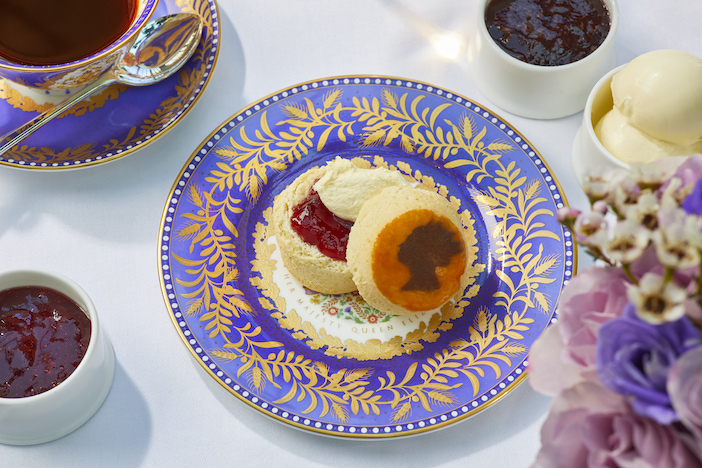 The Jubilee theme may be the draw, but The Goring's tea plays to a full house, and its reputation clearly precedes it. A chorus of multinational voices echo among the clink of teaspoons on porcelain and satisfied murmur of enjoyment and indulgence in equal measure.
The Goring's Traditional Afternoon Tea is priced at £60, or with Bollinger or Rosé Bollinger at £70 and £75, respectively. Available until 1st September. For bookings, please visit www.thegoring.com.
The Interactive Kids' Afternoon Tea at Sofitel St James
There are very few places that can reinvent the traditional afternoon tea, but Pastry Chefs Jamie Warley and Andrea Vivien have done just that at Sofitel London St James. Launched In July, the hotel's new seven-course summer menu, and five-course interactive children's menu, follow a modern take on the tradition – with an element of theatre.
Interactive, you ask? While the little nose-miners tuck into a marshmallow burger served with churros as fries and strawberry milkshake, a painter's easel arrives at the table, equipped with a biscuit to decorate with an edible painter's palette and paint. It's a clever ruse to keep the little ones entertained while the grown-ups can enjoy their own.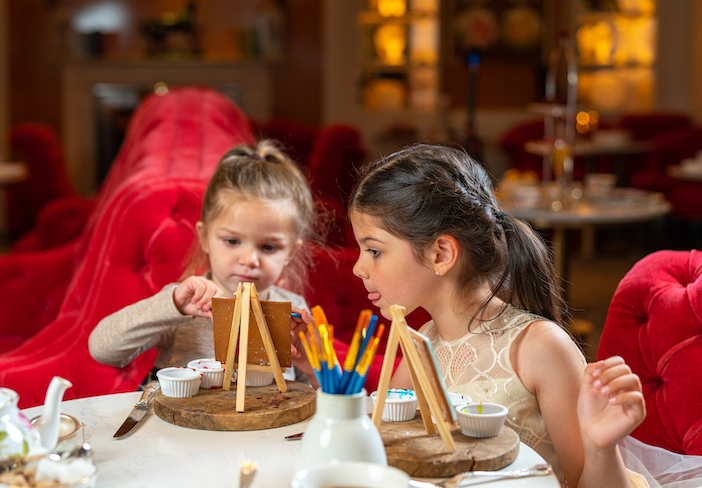 The new summer menu is certainly a departure from the traditional fare, featuring tomato, burrata and focaccia, aubergine and smoked feta tart, shrimp beignet with dill mayonnaise and "La frite Piémontaise".  There are, too, cheese scones with horseradish butter, as well as the sweet variety. Further sweets include sweetcorn mousse with coconut, mango, lime and chilli, Pavlova with strawberry, yoghurt and basil, a mojito sorbet, and an "Ice cream sandwich" with apricot and pistachio.
Of course, long-standing favourites are also on the menu, from the chocolate, salted caramel and praline delice and, of course, freshly baked homemade scones served with Cornish clotted cream and homemade seasonal jam.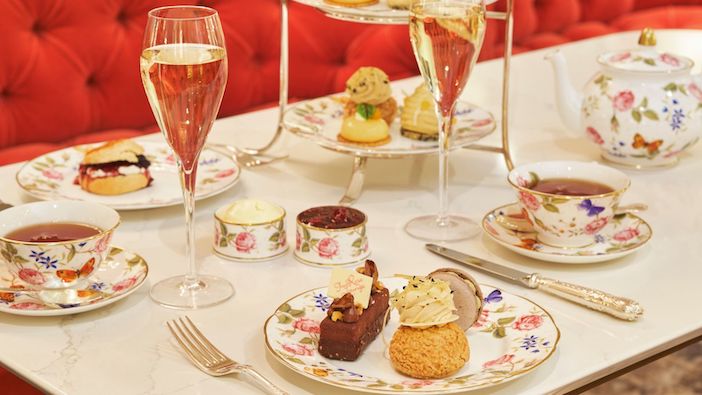 Served in the hotel's exquisite Rose Lounge adorned with plush red interiors, alongside a selection of exclusive Camellia's Tea House teas, the Sofitel's teas can, of course, be turned up a notch with a glass of chilled Moet & Chandon Champagne.
Served in the Rose Lounge Friday – Sunday, 12pm – 4pm, Traditional Afternoon Tea £62 pp (£72 with Champagne). Children's Afternoon Tea £30 pp. Bookings are now available at www.sofitelstjames.com.
'Little Explorers' Afternoon Tea at 100 Queen's Gate
With Afternoon Tea falling the school holidays, we're going with another recommendation for the little ones.
100 Queen's Gate Hotel, the five-star boutique hotel in the  heart of Kensington, is also encouraging curiosity and discovery with the launch of a special 'Little Explorers Afternoon Tea'. Aimed at families with young children, it will take your little adventurers on a galactic journey with a range of space-themed sweet and savoury treats, featuring crudite 'rockets', 'meteor' popcorn, 'comet' macarons, 'Saturn' scones and 'asteroid' candy.
It's a kaleidoscopic tea in technicolour, but this also comes with something a little different. Each will be hosted by magician and entertainer, Tony Middleton, who will perform bewildering magic tricks at the table to entertain the children – and adults, too, for that matter.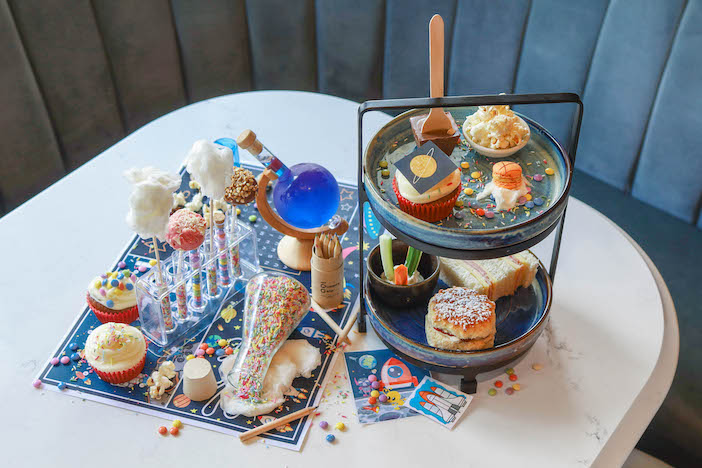 The creative flair of this afternoon tea is accompanied by an 'outer space' hot chocolate and complemented with an action-packed activity place mat with fun science and space-based games and puzzles.
And while the little ones tuck into their interstellar menu, grown-ups can partake of finger sandwiches including organic turkey breast, Wensleydale and cranberries, 'Bufford Brown' egg mayonnaise and watercress, and a range of sweet treats from Paris Brest  choux buns with almond diplomat cream, apple and wild berry tartlet and a sea salt caramel cheesecake.
The Little Explorers Afternoon Tea will be served daily from 12:30pm-4pm until 12th September. Following this, it will be available at weekends. Priced £18 per child, and available with the purchase of each adult Afternoon Tea, priced at £46 per person or £58 including Champagne. To book the Little Explorer's Afternoon Tea, please click here.
The Strand Palace Hotel
The Strand Palace is a venerable hotel situated – surprise, surprise – on the Strand and it lives up to its name, too, in being pretty palatial. The vibe as you enter the (thankfully well air-conditioned) hallway is cool and contemporary but with more than a nod to its heritage – it opened in 1909. For a start, there's currently an art show in the form of tutus (we're just round the corner from Covent Garden) with an Art Deco flavour designed by students at University of the Arts.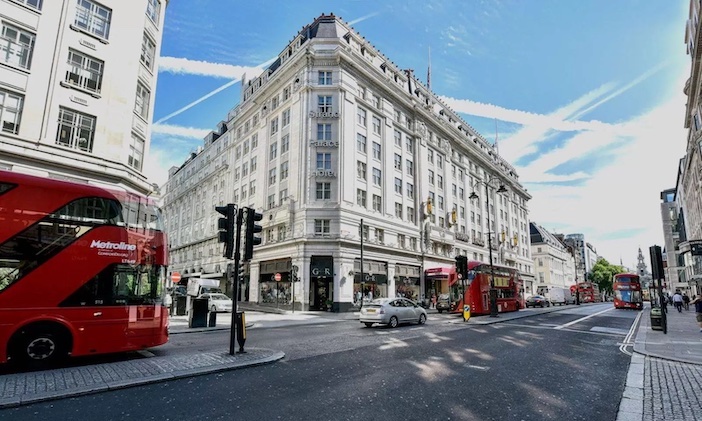 In the tea room of Haxells (the main bar and restaurant in the hotel, though they do have their own restaurant straight into the renowned theatre-land eaterie, Joe Allen's) there are pitted mirrors, beautiful botanical prints and a relaxed, hushed atmosphere a million miles from the heat and the crowds outside. People stay for hours here and, if they don't finish the very generous high tea, a cake box arrives so you can enjoy the rest later.
The first thing to arrive is a glass of Champagne to sip while you choose your tea, which includes a delicately delicious infusion with white peony with rosebuds, known as the Champagne of teas. And if you're not a fan of black tea they have two herbal infusions – organic chamomile flowers and pure organic spearmint – offering a refreshing alternative.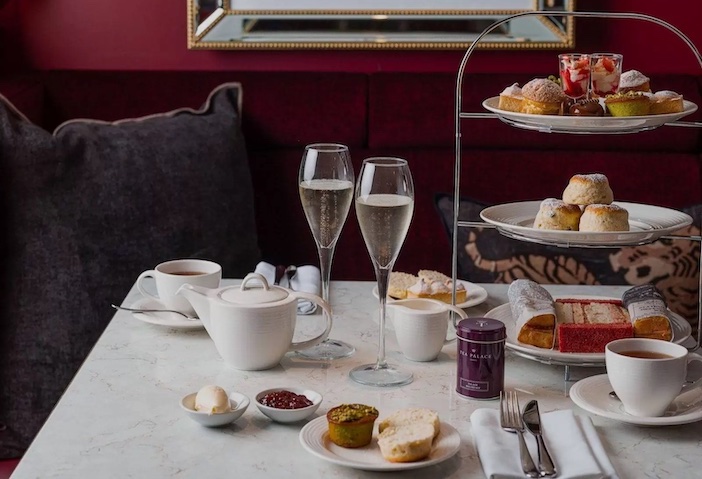 The menu, too, is pretty sumptuous. Served on a traditional cake stand there are finger sandwiches of smoked salmon, ham with mustard, cucumber and lemon with dill cream cheese and coronation chicken – a challenging comparison with The Goring if you're doing the rounds this week! And there's a second menu of vegan and gluten free options with some interesting fillings, including roasted butternut squash and asparagus, and tofu coronation wrap.
On the top of the stand the desserts of raspberry éclair, lemon macaron, matcha tea and raspberry Battenberg, and dark chocolate and rum ganache tart make for a rich and smouldering line-up. And the scones here, both fruit and plain, being huge and crumbly variety, are clearly attempting to make new records in that department.
A perfect escape from the West End heat and hordes.
For more information and bookings, please visit www.strandpalacehotel.co.uk.
Wales' Finest Afternoon Tea at The Angel Hotel 
If you are out of town, there's one Afternoon Tea we couldn't help but include, as the holder of The British Tea Guild Council's top City and Country Afternoon Tea Award and The Award of Excellence.
The family-run The Angel Hotel in Abergavenny prides itself in the time-honoured art of High Tea. Their illustrious Afternoon Tea is inspired by the hotel's specialist baker for many years, Sally Lane, with their delicious range of individual cakes and pastries are created in a dedicated Afternoon Tea kitchen.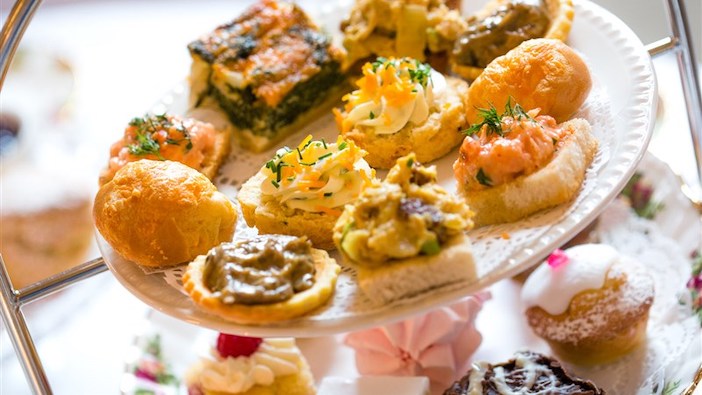 A former coaching inn, The Angel Hotel has offered hospitality to locals and travellers for nearly 200 years. The current owners, the Griffiths family, acquired the hotel in 2002 and have transformed it into the contemporary and stylish establishment it is today, featuring bespoke furniture and original art curated by Pauline Griffiths, who runs The Art Shop a few steps away.
The eclectic afternoon tea menu changes with the season, with the current selection including Severn and Wye smoked salmon, pickled cucumber and cream cheese, and additional savoury treats bacon and cheese quiche, Hoisin duck samosa and a cheese muffin with shallot, thyme and garlic. As well as traditional scones, baked in the Welsh tradition, cakes and fancies are straight out of the Afternoon Tea playbook, with a custard slice, baked raspberry cheesecake and chocolate and stout cake.
Afternoon Tea at The Angel Hotel costs £44 per person. For more information, and bookings, visit angelabergavenny.com.