There are few places in England more worthy of a visit than Blenheim Palace, as coachloads of tourists have discovered over the years. Famous, of course, for being both Churchill's birthplace and the home of the Dukes of Marlborough, it is a destination of remarkable beauty. The gardens were designed by Capability Brown and represent possibly the apotheosis of the late eighteenth century's craze for opulent formal grounds, complete with bridges, follies, a vast lake and much more besides; the house, meanwhile, was John Vanbrugh's crowning achievement, even if its size, scale and expense all but ended his career. About seven miles from Oxford, it is every bit as unmissable as any of that peerless city's greatest sights.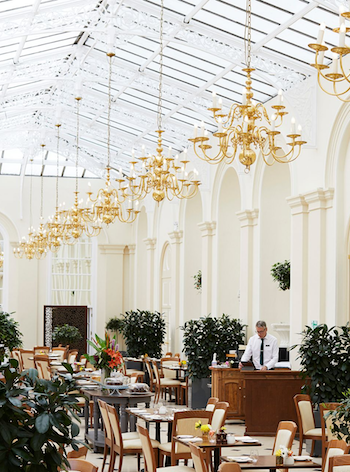 However, it is not for me to offer an encyclopaedic account of Blenheim's many treats and treasures: those will have to be discovered by visitors for themselves. What I would instead like to do is to eulogise that most English of things, served here with great style and chutzpah – the afternoon tea.
Tea is often a very misunderstood meal, because it is associated with greedy tourists who cannot wait the five or six hours between finishing lunch and beginning dinner. This ignores the vast amount of work and effort that goes into every facet of it, from making sure that the finger sandwiches have just the right amount of lightness to ensuring that the sweet treats really are a treat. Of which more anon.
One takes tea at Blenheim in the Orangery, which has the most beautiful views over the formal gardens. It's a perfect setting, without the stiffness and formality of some similar rooms, but a fine enough environment not to feel excessively blasé.
We liked our waitress, Rosie, who was pleased to find that our daughter Rose had almost the same name as her, although her reason for being called that – after a footballer, apparently – was rather different to ours. But nonetheless, two glasses of Laurent-Perrier Harmony appeared, fizzing away with the dizzy fervour that implies that a bottle has just been opened, and some spectacularly nice mint and orange blossom tea, respectively (refilled without our having to ask for it, in a nice touch) and then it was time to sample the wares.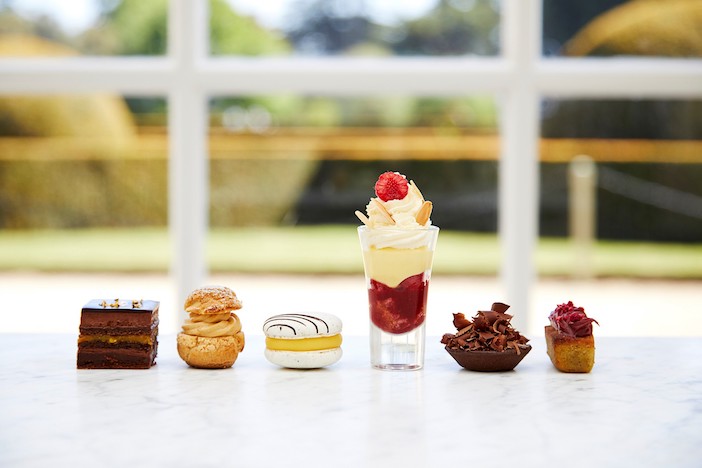 Every year, Blenheim designs its afternoon tea in association with some eminent food personality or chef, and this year it was the turn of the ace patissier William Curley, a man who knows more about the delights of the sweet treat than virtually anyone else about today. Our sandwiches were very well done – it's a delicate art to get the bread and the fillings just right, but the Orangery manages it – and the scones were pleasantly light and the accompaniments (cream before jam, naturally) delicious – but it is the Curley factor that takes matters up several notches.
The miniature cakes on offer, a small but perfectly Sachertorte, a take on a Black Forest tart, a pistachio and raspberry financier and a lemon and Earl Grey macaroon are all breathtakingly, moreishly good. We would have asked for more, were it not for the fact that we were surprisingly full; just as well we'd passed on lunch that day. Our daughter enjoyed her miniature version of the tea as well, although for some reason (curious girl) she doesn't like chocolate brownies, and so had to be contented with an extra couple of bites of scone.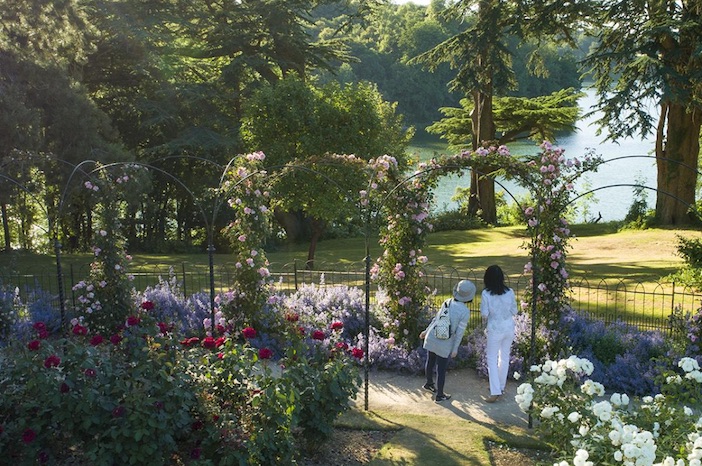 After the most enjoyable of afternoons, there was just time to wander round the fine ornamental gardens and admire the lake – one of the country's finest man-made ostentations – and to walk off a bit of the splendid feast that we'd just enjoyed. Visiting Blenheim is always a thing of beauty and joy, but in these circumstances, it's become even more essential. If, for any reason, you don't intend to bother going – and it should be noted that those visiting for afternoon tea also get free access to the park on the day of their trip – then you have removed yourself from serious consideration. The rest of us will just have to make up for your absence, and that will not be a hardship of any sort.
For more information about Blenheim Palace, including details on what to see and do, visit www.blenheimpalace.com.