If you've passed through the doors of Shangri-La at The Shard in the last couple of weeks, you can't help but have noticed an extraordinary confection of blooms surrounding the lobby, in an array of pinks, blushes and fuscias. It's turning pink throughout October in support of Breast Cancer Awareness Month, with decorations throughout the hotel, featuring blossoms, ribbons, pampas and neon pink art installations, all designed by McQueens Flowers.
As part of the initiative, taking centre stage throughout the month is the popular Pink Afternoon Tea served 35 floors up in TĪNG Restaurant and Lounge, and a range of delightful pink cocktails in the restaurant, as well as BAR 31 and GŌNG bar, all with a percentage of proceeds going to support the pioneering work of Guy's Cancer Charity.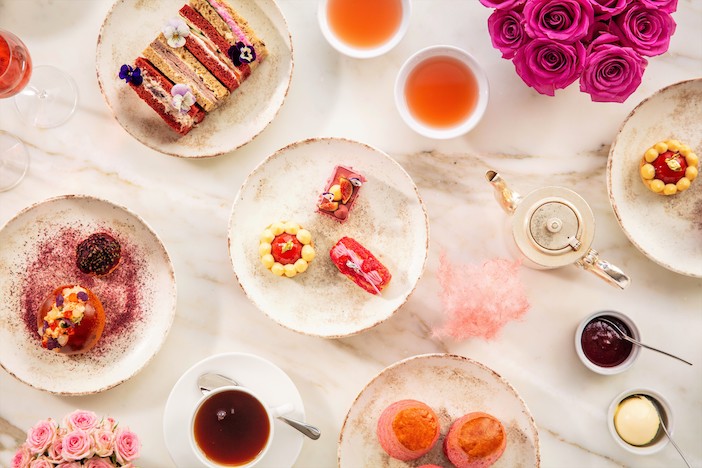 Guests are invited to sip on a flavourful peach-hued Very Berry welcome tea accompanied by an assortment of delicious finger sandwiches on pink beetroot, white and granary bread, and bite-sized savouries. But the centrepiece must surely be the pastries, with a raspberry, lychee and rose Éclair and a rhubarb and frangipane tart, and completed with a pink spiced pear and vanilla miniature Shard pastry.
To inspire the new pink pastries as part of the Pink Afternoon Tea, the hotel's pastry team invited three inspiring women cared for by Guy's Cancer for a morning of pastry decoration, highlighting the brilliant work of the breast cancer team that the hotel's Pink October theme will support, which offers life-saving treatment to more than 900 patients with breast cancer every year.
As well as a choice of Veuve Clicquot to add to the experience, guests can also enjoy a Pink Warrior, a rum-based cocktail including Bayou Pink Rum, Rosé Wine Syrup, Cranberry Juice, and Laurent-Perrier Champagne, or an uplifting Hibiscus Spritz mocktail with Hibiscus Flowers.
Elsewhere through the hotel, the pink cocktail offering continues with Bar 31 on the ground floor serving up a shimmering fruity Cinderella cocktail with Ketel One vodka, rose, lychee, Prosecco and pomegranate. Alternatively, guests can travel up to GŎNG Bar on level 52 for the Asian-inspired Chausuyama Garden cocktail. Invented by mixologist Michela using Monkey 47 gin, Hanatare Shochu, blackcurrant, violet and lavender, the aromatic floral concoction is inspired by Mount Chausu in Japan's Aichi Prefecture, where over 400,000 bright pink phlox plants cover the mountain almost to the summit.
Marking the beginning of Breast Cancer Awareness month, as dusk fell on 1st October, the iconic building lit its iconic spire pink; the second time the hotel has collaborated with the Shard building to beam pink light across the city to raise awareness of this special month and to recognise those with breast cancer.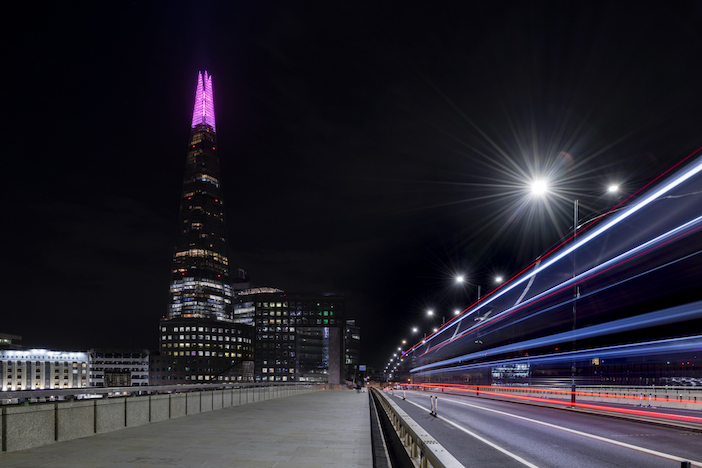 Breast cancer is the most common cancer in the UK, with around 55,900 new cases every year. Incidence rates are expected to rise to 210 cases per 100,000 by 2023 and studies show that 85% of women diagnosed with breast cancer in England will survive by 5 years or more. This is in part thanks to care and treatment provided by organisations such as Guy's Cancer. And it's this that provides the motivation for the initiative, supporting such organisations tackling breast cancer and helping raise awareness about the disease and its treatment.
The Pink Afternoon Tea runs until 5th November, priced at £69 per person, or £79 with a glass of Veuve Clicquot Yellow Label Champagne or Pink Warrior Cocktail. Available 12:30 –15:30 Monday – Thursday and 12:30 – 16:00 Friday – Sunday at TĪNG Restaurant & Lounge. For reservations, please visit ting-shangri-la.com.