It's a surreal one this year, of course. We've had to do away with getaways, dining out promotions and even activity pursuits. Here, then, are a few suggestions for what to get the old man when he's confined to home…
For the Dad that wants to relax…from Edinburgh Gin & Penguin
What better way to take it easy on Father's Day than nestling into your favourite chair with a good book and G&T…to wit, Edinburgh Gin have partnered with Penguin Clothbound Classics to create a limited-edition Father's Day gift as timeless as their award-winning gin. With a purchase of its 'Classic' London-dry gin, dads will also receive a beautiful hardback copy of a classic novel, with a choice of The Adventures of Sherlock Holmes, The Adventures of Huckleberry Finn or Robinson Crusoe. Classic gin and a time-honoured book – it's the perfect pairing for distinguished dads. £40 for 70cl via EdinburghGin.com.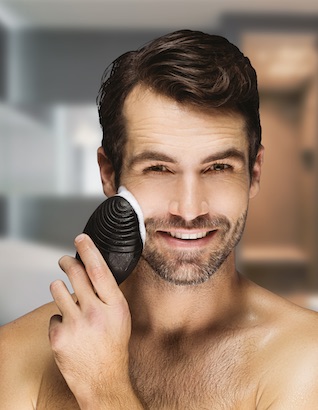 For the Dad that needs pepping up…the Foreo facial brush
Here's a new one. Swedish skin-tech brand FOREO has it covered with its range of serious beauty tech gadgets for all the deserving dads out there. Super slick, with a cool Swedish design, you can lift your gifting game this year by choosing one of FOREO's LUNA range facial brushes.
Meet all of dad's skincare needs with the LUNA 2 for MEN, T-Sonic™ facial-cleansing brush. It's the only device he'll need to gently scrub the dirt, grime and dead skin cells off his face, get a smoother shave, and make his skin look as young as it did before he earned the title of 'Dad'. This GQ Award-Winner will help dads-of-the-world stay smooth with only 2 minutes, twice a day. LUNA 2 for MEN £169.
For the Cocktail Maestro…Cocktail Porter
Recently launched Cocktail Porter is delivering UK-wide, serving craft cocktail boxes directly to your dad's door. Each cocktail kit is carefully curated with individual recipes for budding bartenders to stir and shake the perfect cocktail at home. Complete with premium bottles of spirits, artisanal infusions, hand-crafted cordials, home-grown garnishes, and infused tonics.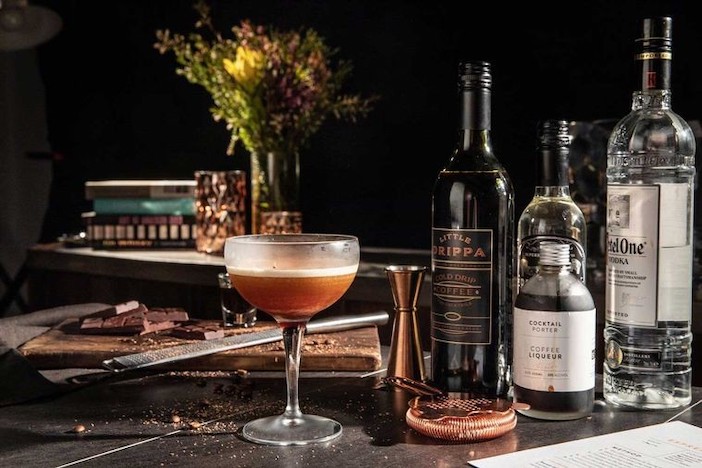 The fruit is from local London supplier, Nature's Choice, all the dehydrated fruits are prepared by the Cocktail Porter team in Bermondsey and ingredients are ethically sourced, with the environment in mind. There are five boxes to choose from but our choice is the  Seville Orange Negroni – Tanqueray Flor de Sevilla, Campari Italian Aperitif, Sweet Vermouth…with orange to garnish. Each cocktail is available in The Petite Kit (£45, 6 serves) and The Porter (Full Size) Kit (£85, 17-20 serves). Order from the website: cocktailporter.co.uk.
For the BBQ Fanatic…the Burger Box from Wolf & Lamb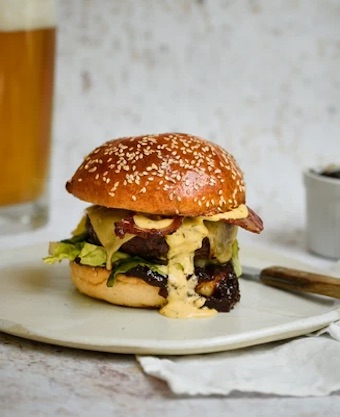 This burger box is so fancy your dad will be raising his pinkie with each bite. It comes complete with everything you need to make 4 unbelievable burgers.
Each kit includes 4 extra thick Dry Aged British Beef Patties, Seeded Brioche Buns, Mature Cheddar, Red Onion Chutney, Béarnaise Sauce, Little Gem Lettuce, Vine Ripened Tomatoes, and, if you choose, Smoked Streaky Bacon. You can even add a pack of our Premium Chipping Potatoes if you fancy making some homemade chips. Patties are 50/50 blend of dryaged Chuck and Flank from 100% all natural from outdoor bred and hormone-free British cattle. Now he just needs to dust down and de-rust that BBQ grill… £25, Serves 4. To order, visit www.wolfandlamb.co.uk.
For the Fitness Nut…The 'Hurt Skurt'
In the spirit of easing dads' aches and pains, check out HurtSkurt's revolutionary stretch-to-fit hot/cold therapeutic gel sleeves. They'll allow dad to give his muscles the much-needed attention they need, while simultaneously permitting him to move about the day and stay active. As an all-in-one product, 360-degree compression keeps the HurtSkurt in place on the arm or leg without any additional accessories—just slide right on to the ankles, calves, wrists, forearms and other areas in need of therapeutic attention.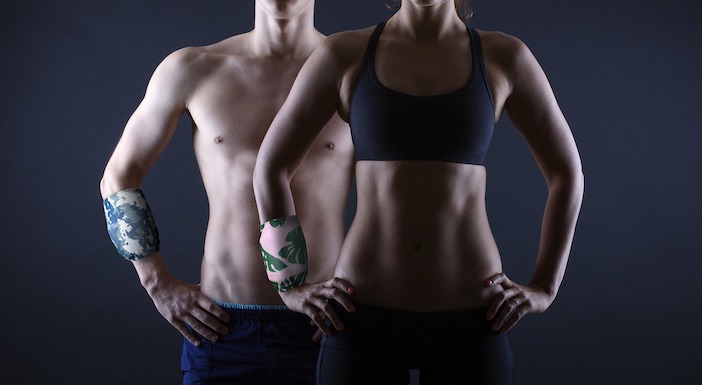 All dad has to do is grab it from the freezer, or throw it in the microwave, and slide it on. No more ice bags wrapped in bandages; no more waking up in a puddle of water after a bag of ice melted all over the bed; no more ugly, scratchy harness devices that loosen and fall off; and no more having to lay on the couch holding an ice pack in place. For more information, visit www.thehurtskurt.com.
And for the ultimate de-stress during lockdown…the Buddha Board
Discover an activity that can not only help dad maintain his mental fortitude in a time of upheaval, like during a global pandemic, but also teach the entire family how to relax silently and focus. Buddha Board is a unique mindfulness tool that uses the act of creating as an outlet for emotions, thoughts, fears and anxieties. By putting brush to slate, stress begins to be painted away. Simply paint on the surface with water and the creation will come to life in bold design. Then, as the water slowly evaporates, the art will magically disappear leaving behind a clean slate and a clear mind, with the surface ready for dad to create a whole new masterpiece all over again.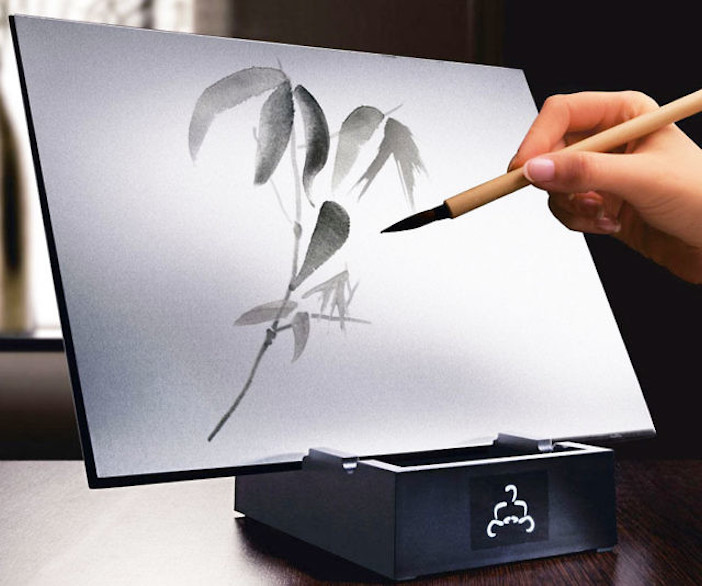 The simplicity of the product's design creates a quiet space for adults and kids, alike, to explore their thoughts, reconnect with their feelings and get grounded again. Buddha Board is inspired by the idea of living in the moment, wholly unplugged. It is also environmentally friendly as it only uses water—no ink, no paint, no chemicals—and it will last for years with proper care. It's a really soothing option and a great way for dad to rid some stress and explore his creative side. For more information, visit www.buddhaboard.com.
However the old man wishes to spend this Sunday, we wish all the dads out there a very Happy Father's Day.