If you haven't already indulged, we're in the midst of a week-long celebration of that humblest national institution: the pie. Now in its 17th year, true to form, some of the finest hostelries across the capital are turning their menus to these pillars of pastry perfection. Here, then, is our run-down of where to get some of the finest pies available to humanity…
Ginger Pig at The Landmark London
Gastropub to the core in one of the capital's grand hotels, Great Central Pub by Matt Fletcher at The Landmark London is celebrating with a creative Pie 'Tasting' Menu. In an exclusive collaboration with The Ginger Pig, this menu for those for whom one pie is never enough will include four delicious miniature pies served alongside champ mash and green beans.
The menu spans sea and land, with a meat, fish, poultry and veggie option to delight diners whilst offering a smorgasbord of hand-made, seasonally prepared mini options for the discerning pie lover, including Venison Bourguignon Pie with slow-cooked venison in a red wine, port and redcurrant gravy, classic fish pie with smoked haddock and salmon, chicken, leek and tarragon with a creamy white wine sauce, and a Caramelised Butternut Squash Pie with spinach, feta and cumin. What more could you wish for, particularly when they're washed down with some fine ales from Beavertown, Mad Squirrel and Chiltern Brewery.
Gala Pie at The Dorchester Grill
Well, we did say it's an institution. And another institution, The Grill at The Dorchester, is celebrating with a brand new addition to their menu. Tom Booton and his team have crafted this dish specially for British Pie Week; a delicious pork and quail egg Gala pie, which will be accompanied by creamy mash, hispi cabbage and a date puree to finish.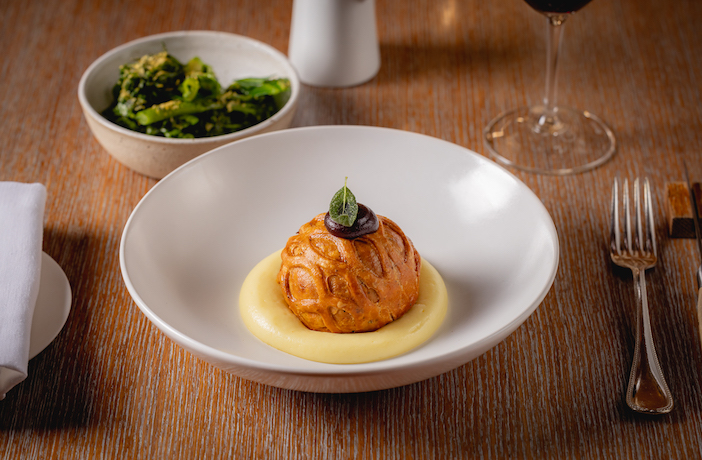 Traditionally a long, rectangular-shaped pie that is sliced to reveal the interior boiled eggs and typically shared at celebrations, Booton has added his own elegant twist to the classic by creating individual round pies which allow the diner the pleasure of breaking into the crust and discovering the perfect filling featuring dainty quail's eggs rather than the usual hen's. Available alongside all of Tom's firm favourites on the menu, with ingredients sourced from British providers, this is, undoubtedly, one of the more refined executions of this national favourite.
Steak and Oysters at Wiltons
It wouldn't be Pie Week without an offering from one of London's oldest – and finest – establishments, and in honour of this indulgent deliciousness, Wiltons, bastion of great British fayre, is joining in with the inclusion of one savoury and one sweet pie on its lunchtime menu. Supreme examples of the art of pie-making, Wiltons' savoury pie features Steak and Oysters, referencing its historic origins as an Oyster Barrow business near Haymarket in 1742. For those with a sweeter tooth, English Apple pie with double cream will be a pudding favourite during British Pie Week. www.wiltons.co.uk
Showstopping Sharers at Ganymede
Gorgeous neighbourhood restaurant Ganymede is serving up two sensational sharing pie specials for British Pie Week that are not to be missed. The famous 'Cow Pie' sees a super-rich and indulgent slow-cooked beef cheek ragu served in a sharing skillet, topped with a perfectly buttery short crush pastry top, and finished with a crumbed bone marrow centre. Alternatively, the classic 'Fish Pie' sees the likes of smoked cod, mussels and juicy Atlantic prawns swimming in a creamy sauce, and topped with a cheesy mash gratin. Designed for two to share, the British Pie Week specials are available from 6th – 12th March and priced at £40 each. www.ganymedelondon.co.uk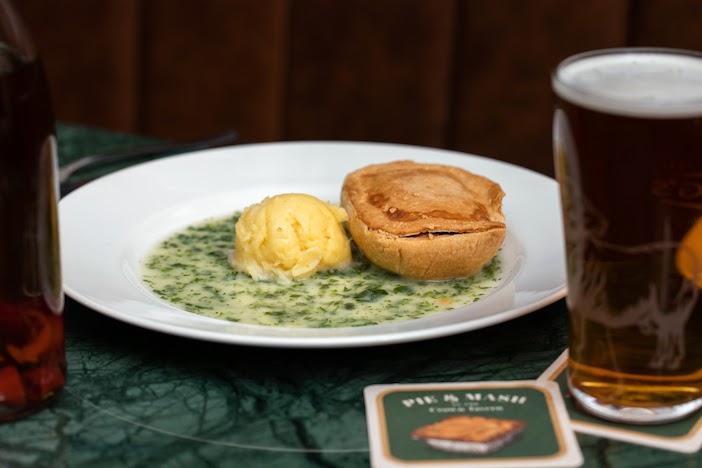 Pie, Mash & Liquor at The Crown Tavern
Finally, it wouldn't be Pie Week without a visit to the East End, so we round up our selection with a hostelry located in the heart of South-East London. The Crown Tavern is the place to go for a classic British pie, inspired by traditional pie & mash shops. Celebrating the best of British produce with a focus on homemade pies, the pub specialises in hand-crafted mince beef pies, served with creamy mash and a parsley liquor. Harking back to historic East-End London pie shops, each pie is made fresh in-house with premium British beef and a crumbly short crust pastry, served with a choice of gravy or lashings of parsley liquor. Best served with a pint of Young's Original. www.thecrownlee.co.uk
We turn the last word over to playwright David Mamet, who quoth, "We must have pie. Stress cannot exist in the presence of a pie." Quite right.