When The Franklin London invited me to sample their new Haute Couture afternoon tea followed by a private evening view of the Gabrielle Chanel: Fashion Manifesto exhibition at the V&A just like any dedicated fashion lover I was prepared to brave the fiercest storm to attend and I'm pleased to report that both experiences were every bit as spectacular as I'd hoped.
If you're one of the many disappointed fashion lovers who have failed to get your hands on a ticket to the sold out exhibition you'll be delighted to know that there's a secret way to gain admission! Afternoon tea guests of The Franklin can elevate their experience by upgrading to the Full Haute Couture Experience Champagne Afternoon Tea which includes tickets to the latest V&A temporary exhibition such as the sold out Gabrielle Chanel Fashion Manifesto. Better still, tickets are open ones, meaning that there's no need to book the exhibition in advance as they're not linked to the date of the afternoon tea experience. As a result, guests can enjoy the afternoon tea on one day whilst using the tickets any time until the last day of the exhibition on 25th February 2024.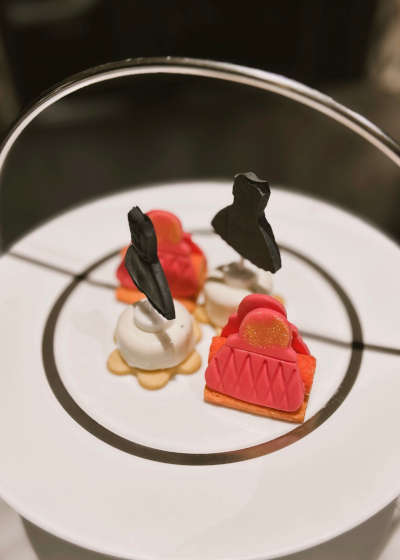 Located on the quiet Knightsbridge street of Edgerton Gardens, lined with elegant red brick town houses and just a short walk from the V&A, the boutique five star's sophisticated black and white Anouska Hempel interiors and restaurant set the tone magnificently, while the Chanel-inspired black 'handbag' menus designed by Starhotel's Marketing Manager-come-artist Matteo Marsini illustrated with dresses from the exhibition announced a highly original afternoon tea journey taking guests through the iconic French fashion designer's life and career.
Created by Head Chef Roberto Roncolato and served in the perfectly chic monochrome Franklin Restaurant by Alfredo Russo, this afternoon tea is an ode to Chanel and her most iconic couture pieces without a finger sandwich in sight! Diners will be spoiled by not one but two tiered stands, one savoury the other sweet, commencing with mini smoked salmon, crème fraiche and pickled cucumber filled croissants, pan brioche with egg and truffle, ham and cheese baguettes and a bigne with foie gras and candied orange mousse in a homage to fine French food and the most luxurious ingredients in the world.
Even the Franklin Afternoon Tea Blend by Camellia's Tea House is 'bespoke'; a heady Earl Grey with English rose petals, the perfect way to capture the Vie en Rose lifestyle and Gabrielle Chanel's time as the guest of the Duke of Westminster in England – cue the square plain and chocolate chip scones presented on pink tweed, served with strawberry jam and champagne crème anglaise. Throwing Chanel's philosophy that a "woman can never be too thin" to the winds, make sure you leave room for the the dramatic, almost too-pretty-to-eat finale featuring a chocolate sable and Valhrona cremeaux 'Shoe', yoghurt and lemon cake 'Pochette', fig mousse and orange sable 'Sheath Dress', a divine sesame French macaron and novelty chocolate 'Red Lipstick'.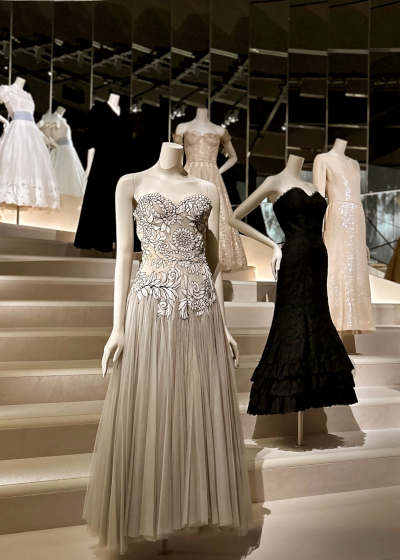 The first UK exhibition entirely dedicated to Chanel, the V&A and curator Connie Karol Burks explores the designer's humble origins to her stratospheric rise as one of the foremost couturiers of the 20th century. From handbags, little black dresses, evening gowns and more than 50 tweed suits (an inspiration that came from Chanel's time spent in England) to a display entirely dedicated to Chanel fragrance, as worn by Queen Elizabeth II, every room boasts mesmerising and immersive displays with countless photographs and films which create a real sense of Gabrielle Chanel the woman. Carefully balancing wow-factor floor to ceiling double cabinet and mirrored staircase displays with more intimate moments allowing us to enjoy a three-dimensional portrait of Chanel, the V&A have succeeded in capturing the designer as evocatively as a scent in a bottle. Unmissable.
Haute Couture Afternoon Tea at The Franklin, Edgerton Gardens is priced from £65pp, served daily 2-4pm. For more information and reservations please visit the website. Chanel: Fashion Manifesto exhibition at the V&A Museum until 25th February 2024. See the website.