So, this is it, we're free! Free to roam, free to wander, free to interact, free to mingle, mix, hug and high five…okay, that might be overstating it a bit, what with social distancing, being outdoors and the Rule of 6, but it has put a certain spin on Easter to allow for a lost Christmas; family time, celebratory meals and – with luck – better weather.
To make the most of the long weekend, we've sourced a few recommendations for our readers; from a unique take on breakfast to the best barbecuing of your lamb, to where to find a good Easter Egg hunt…
Start as you mean to go on: Hot Cross Bacon Buns
As if bacon butties and hot cross buns couldn't themselves get any better, some bright spark has only gone and decided to put them together. Britain's favourite bacon butty slingers Le Swine have teamed up with pastry chef maestro Nicola Lamb to bring you the ultimate Hot-Cross-Bacon-Bun meal kit.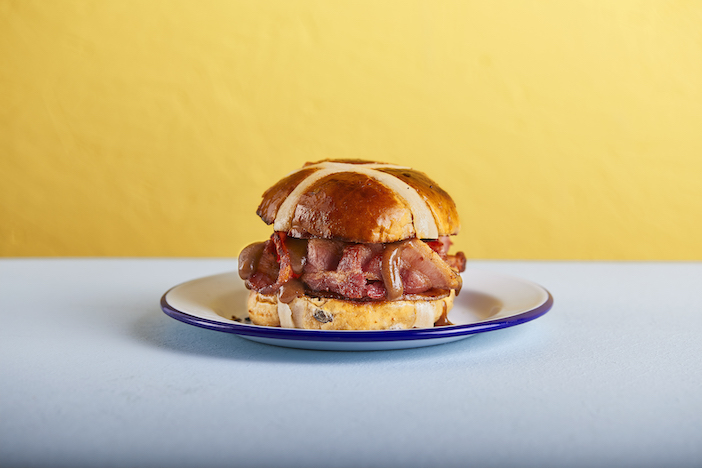 Merging their secret recipes, the kit includes Nicola's dreamy hot cross buns, ol' fashioned middle bacon, bacon butter, fresh sage and a limited edition date, roast fennel and Aleppo chilli ketchup. The Hot Cross Bacon Buns kit for 2 costs £15 and delivers nationwide. To order, please visit www.leswine.co.uk.
Easter Hampers from Delicario
We're used to hampers at Christmas so, this being the new Christmas, it stands to reason we might gift a hamper this Easter. Luxury brand Delicario has launched an innovative selection of chocolate eggs and new Easter range of hampers and gift boxes with hand-picked fine artisan food and wine from small sustainable producers across Europe.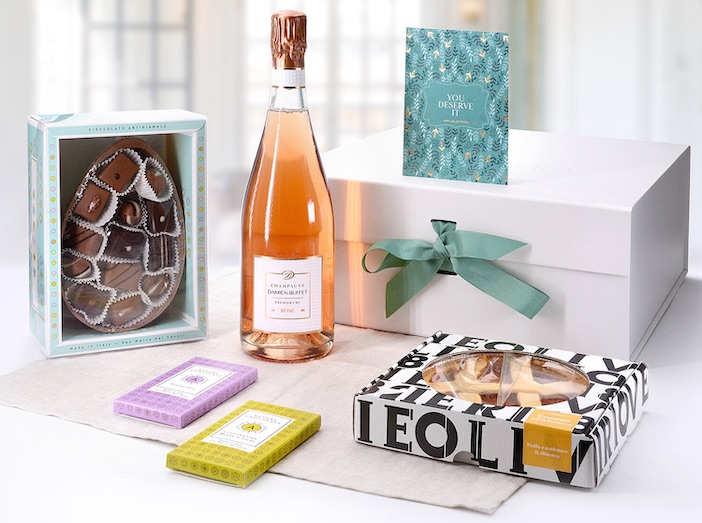 There are several in the range, for all tastes and budgets, and feature biscuits, cakes, chocolates and Easter eggs made to fragrant artisan recipes by small Italian chocolatiers and bakeries, accompanied by fine tea and Premier Cru Rosé Champagne from family vineyard Damien-Buffet. From Belgium there's an elegant selection box of eye-catching praline eggs handcrafted by Frederic Blondeel. For more information on the different hampers in the collection, and to order, please visit www.delicario.com.
The Definitive Easter Meal Kit by Tom Aikens
Fine dining at home experts Finish & Feast have launched a quintessentially Easter special with Michelin-starred chef Tom Aikens. Ideal for families or couples alike, servings are available for two or four, including a bottle of Nyetimber Rosé to toast to the long weekend.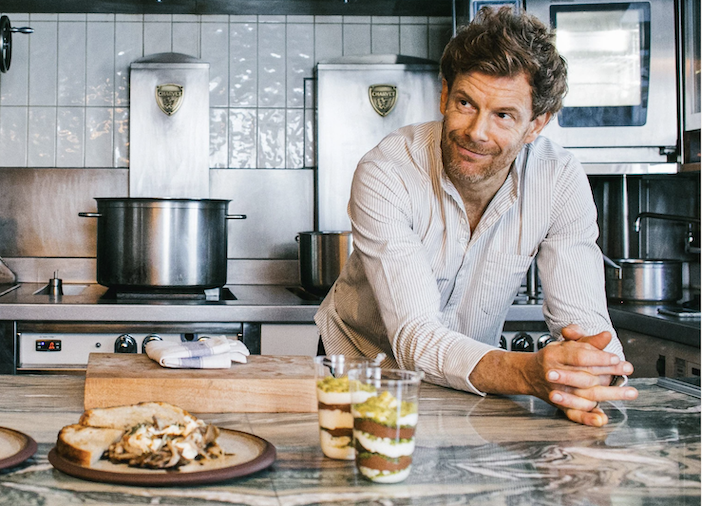 There's no need to slave over the stove this year; the menu centres around a 7-hour slow cooked shoulder of lamb, aside spring onion mash, slow sticky balsamic onions, and French beans with confit garlic. To start there's a homemade ricotta with pickled wild mushrooms, and to finish a chocolate mousse – made with Islands sustainable chocolate – alongside Chantilly cream and caramelised pistachio. To round things off, a selection of traditional Easter simnel cake petit fours. This is restaurant-quality home dining, without the hard work, and will certainly make for an Easter meal to remember. Everything is 90% prepped, so all you need do is pop the sparkling wine in the fridge and finesse your plating. £140 for 2, £185 for 4. To order, please visit www.finishandfeast.com. Delivered nationwide (order by Thursday 1 April ahead of Easter Sunday)
Enjoy the first BBQ of the season for Easter Sunday
The forecast looks good, and with us being allowed outside it's highly likely we'll be kicking off the first family get together with a barbecue. So, with that in mind, we've got a cracking recipe for lamb from Ben Tish, Culinary Director of The Stafford Collection, to make the most of your Easter lamb.
"I usually roll the bbq out at Easter," Ben says, "and slow cook a shoulder of lamb for a few hours until melting tender. I then pull the meat to be served in hot flat bread wraps with alioli, fresh salad and lots of fresh mint – delicious and so low effort."
BBQ Lamb Shoulder Wraps (serves 8):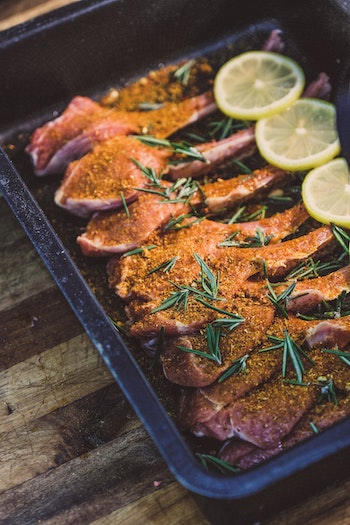 1 shoulder lamb, bone in
20g cumin seeds, crushed
30g smoked paprika
10 cloves garlic, chopped
50ml red wine vinegar
50ml honey
sea salt snd pepper
Olive oil
Score the lamb with a sharp knife and place in a large bowl. Rub in the spices, oil, honey, garlic and vinegar then season. Leave to marinate for at least 4 hours in the fridge.
Light and set a bbq to optimum heat. Wrap the lamb in foil and place to the side of the bbq on indirect heat and close the lid. Cook for 3 hours, topping up the fuel as you go and turning the lamb occasionally. it's done when the meat falls from the bone. Rest for 30 mins before serving in hot flatbreads and you sauce & salad of choice.
Try a peach bellini to kick off the feast…
"Nothing starts a celebration quite like a glass of fizz," says Anna Sebastian, Bar Manager of Artesian at The Langham. "As much as I like it straight up, a classic peach bellini lends a certain sense of occasion to the start of dinner. It's also a great Bank Holiday weekend breakfast drink.
"Rather than blending and straining fresh fruit, simply use tinned peaches in syrup. They have such a beautiful colour and the perfect balance of sweetness and acidity. Throw your peaches with the syrup into a Nutribullet or similarly powerful blender until it's silky smooth. Pour a tbsp or so into the bottom of your glasses and top with Crémant. The contrasting acidity makes it a delicious drink and something a bit special for Easter weekend.
Don't Forget Your Easter Egg Hunt…
Easter wouldn't be Easter without an egg hunt, and, if you're London-bound, here's one that's a little different. London City Island's very own onsite chocolate shop Cartografie (hailed recently by the likes of VOGUE as the best in town) will be hosting an outdoor treasure hunt to keep kids entertained during the school holiday break and in a post-lockdown world.
The aim of the game is to find eggs around the island; with each one containing a letter to complete a secret word. Mention the full secret word to any member of staff at Cartografie post hunt to claim your scrumptious chocolate prize.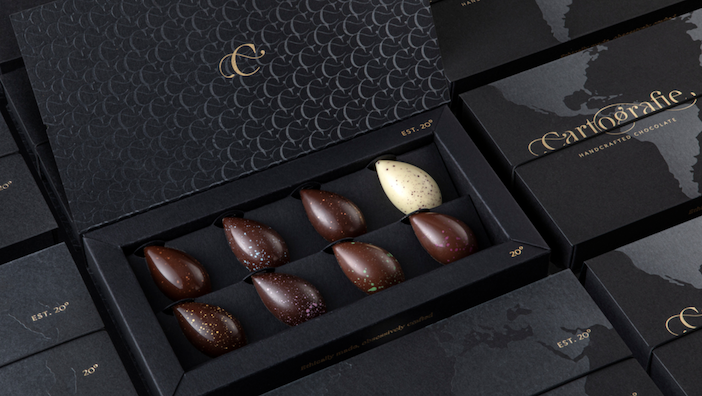 Founded by Kae Shibata, ex-Pastry Chef at The Ritz, and Sven-Hanson Britt, Winner of Masterchef The Professionals – The Rematch 2019, Cartografie is a chocolate company with a conscience; not only does it produce Michelin-star quality handmade single origin chocolates, it also cares deeply about sustainability, biodiversity, and ethics. Cartografie are taking bookings for the 2nd-4th April. For more information, and to book tickets, visit www.cartografiechocolate.com.
Finally, see Easter in with a bang…with an Easter 'bomb'
A comical twist on the traditional Easter Egg this year, Courmayeur Mont Blanc's Michelin started chef from the Grand Hotel Royal, Courmayeur, Paolo Griffa has launched 50 exclusive 'Easter Bombs'. Constructed to look like a bomb, the entire chocolate egg is available in either metallic red or silver and complete with a hammer to 'detonate'. The sweet and crackling interior is made of sweet chocolate Ganache with hazelnut praline, complete with a sparkling sugar outer for the grey version and a fragrant coffee and sugar coating for the red bomb.
In true Willy Wonker style, the egg leaves a fizzy taste sensation on the tongue, and four lucky winners will discover a 'Golden Bomb Ticket' inside. Winners will be able to enjoy an afternoon in the Val Ferret region, finding the wild herbs and enjoying a complimentary gourmet picnic hamper. For further information please visit  www.courmayeurmontblanc.it/en or www.differencecoffee.com.
However you plan to enjoy the long weekend, we wish all our readers a Happy Easter!
Header photo by Laurentiu Iordache, courtesy of Unsplash