It's summertime again and so also time to enjoy the wonderful – even too wonderful currently – English weather. You may have noticed the resurgence in the number of restaurants who have tables outside – taking over pavements, and even roads it seems – has increased exponentially. This is surely one outcome of the pandemic we can celebrate.
And, of course, as well as outdoor restaurants, we have the DIY delights of picnics. But maybe not too DIY? Assembling a picnic that has something for everyone and plenty of high quality ingredients takes some time and effort. So I decided to take the easy route and opt for a picnic hamper from Dukeshill, the gourmet foodie supplier.
There are different picnic boxes available as well as hampers that also feature a traditional wicker basket. There's a Royal Afternoon Tea Hamper for those with a sweet tooth. For anyone who doesn't like meat, the Fish Lover's Hamper has several variations on the theme of salmon as well as smoked mackerel, kipper fillets and smoked eel. I went, though, for the Chetton Picnic Delights Box – no hamper with this one but lots of variety.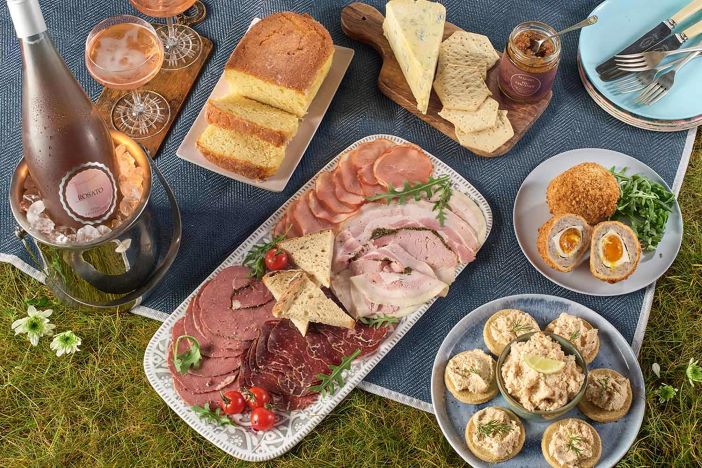 One of the reasons I always enjoyed getting a farmer's weekly veggie box was the surprise element. What's in the box? It's like Christmas in July. In this particular box, there is a really interesting charcuterie board (Porchetta, Lomo, Bresaola and Pastrami), a luxury smoked salmon pate, creamy soft blue Beauvale cheese and a choice of oatcakes, cheesy biscuits and a sweet fig chutney to have with it.
There is a fruity Rose Vino Frizzante and a handmade almond lemon drizzle cake, too. But here I must make a special mention of the Scotch Eggs. I know. I never thought either that I would wax lyrical over Scotch Eggs but these are so unlike any others I've tried, it's a must. The sausage meat is tasty but the eggs inside are still soft and almost moist – quite unlike the dried up versions you'll find in a supermarket.
So that's it. You just have to add a bit of salad and maybe a baguette and you're done.
For more information, including full details of the Dukeshill range and what's included in each, please visit www.dukeshillham.co.uk.