Continuing his assault on meaningful tipples, this time Stirling drops everything, except his fedora, and hits the town with Ol' Blue Eyes as his guide…
Summer rolls to a close and I think of warm evenings by the fire, preceded by brisk walks along chilled streets with my breath forming a fine fog, my thoughts turn to whiskey. With an 'e'.  Do yours?  In that case let us proceed.  Whisky continues to run amok around the world, gleefully leaping from one note to another while shouting 'look at me, look at me, I have come of age (again)'.
Retaking an honoured place on the top shelf and sipped with consideration by all-knowing connoisseurs it is good to know that standing in the corner, biding its time, looking suave and ready for a night on the town is Jack Daniel's Sinatra Select.  Cast your mind back to the launch last year in the legendary Beaufort Bar; well, that release was bought up and either drunk or hidden in little to no time.  Twelve months on a second release has been announced.  Compared to its siblings Sinatra Select had a smoother, richer taste and a high vanilla note drawn from six fresh cuts in the barrel prior to maturation.  Smooth, rich notes, you say?  No surprise at the association between Frank Sinatra, then, and this special edition Tennessee whiskey.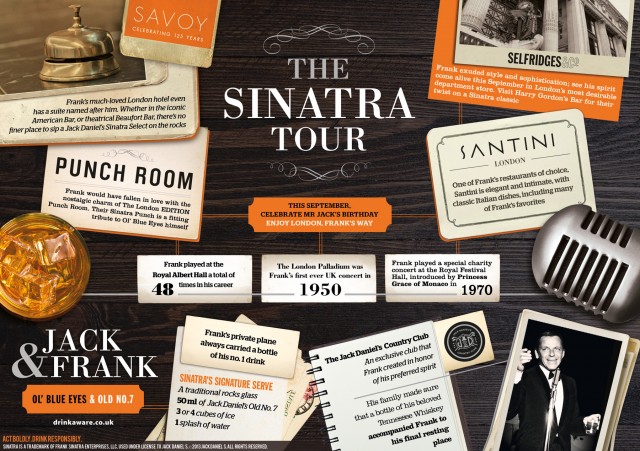 To further your enjoyment Sinatra Select has paired with four of Ol' Blue Eyes' popular London haunts where you can tread in his footsteps and live a little of the history Frank helped write.  Your evening awaits, and we have it planned out:
First, stock up at Selfridges – Frank exuded style and sophistication, which this desirable department store would have more than catered for.  Frank's spirit will come alive throughout the store whilst you muse over a Sinatra cocktail in Harry Gordon's Bar, or meet Jack Daniel's Master Distiller, Jeff Arnett, at his bottle signing on the 8th September. Sinatra Select will also be running activity in Selfridges Birmingham.  After building up a thirst, it's time to wet that pallet so head for…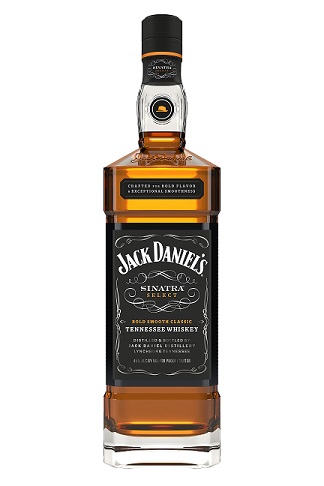 The Punch Room – the nostalgic charm of this bar would have been an obvious choice for Frank. Order its limited edition Sinatra Punch made with Jack Daniel's Single Barrel in September and you will receive a complimentary Sinatra on the Rocks.  Join the queue, I'll be in front, I hope they are stocked up.  Feeling peckish?  It's time for dinner at…
Santini, one of Frank's favourite Italian restaurants and still a legendary business/power haunt, will serve complimentary Sinatra on the Rocks to anyone over the age of 18 that orders his favourite Lemon Posset at dinner time.  Perhaps, like Frank, you can arrive with a Police escort, adoring fans and a barrage of cheers and paparazzi camera flashes.  No?  OK, probably not, but when you do sit down reminisce with Frank about one of the many soirees he attended, one night finding himself in the company of Roger Moore, Michael Cane and Elizabeth Taylor.  Dinner draws to a close and you find yourself in need of classy entertainment and salubrious surroundings…
Naturally, The Savoy. Guests staying in the Sinatra Personality Suite at Frank's much loved London Hotel will receive a complimentary Sinatra on the Rocks nightcap in the world-renowned American Bar, or the more theatrical setting of the Beaufort Bar.  Even if you are not staying at the hotel, a nightcap at the dark and brooding Beaufort Bar is wonderful way to end the night.
It's a night out to rival anything Frank might have undertaken.  So suit up, warm up your vocal cords, prepare your entourage and stand-by for an scintillating evening of smooth sipping.
Jack Daniel's Sinatra Select is available in Selfridges and The Whisky Shop with an RRP of £150. For more information, visit the website.