Having lived and worked in London for most of my life, it may come as no surprise that I have sampled the delights of afternoon tea in most of the capital's major hotels, from the Dorchester to the Savoy. They all offer their own take on this most English of institutions, and amazing value in terms of the amount of food you are given to eat (which could easily replace a late lunch or an early supper), but few can boast the one thing that makes tea at Ting restaurant and lounge at the Shangri-La a really rather unique experience – the absolutely amazing views thirty-five floors up in The Shard. Depending on where you sit, fabulous vistas await you, including Tower Bridge, the city's cluster of geometric forms, and the Thames, of course, like a dirty moat far below.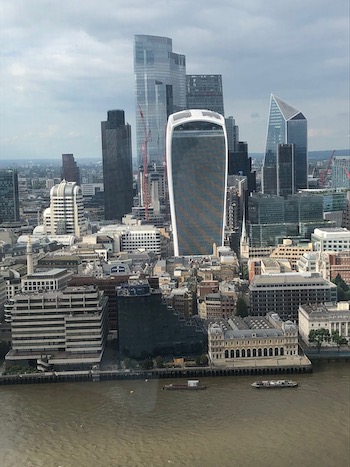 During Covid-19 set times and other restrictions have to be adhered to but they did nothing to diminish the warm welcome in the foyer before being whisked swiftly in the lift to the restaurant level.
Duly masked, we were directed to our table, Champagne was poured and we could relax and admire the views. Our waiter had taken on board my dietary requirements and was charming and efficient. Full disclosure here, I'd like to think I'm ably suited to critique dining and suchlike; I'm a difficult customer. I'm dairy intolerant, don't eat red meat or shellfish and (I whisper this heresy) I do not drink tea.
For a signature afternoon tea, offering high-end, exquisite and intriguing confections – never mind difficult, that might suggest pleasing me is impossible – but none of this was a problem. In fact, the Shangri-La offers gluten-free, vegan, Halal and nut-free versions of their teas, plus there are six signature teas to choose from for the connoisseur – as well as coffee, albeit not to quite to such aplomb as one might expect. The emphasis is on the 'tea', clearly.
The food, however, really did excel. It had to, really. The bar is set high in London for afternoon teas, elevating this quintessentially British tradition to an art form. And Ting, I'm pleased to say, can compete with the best of them. The selection of finger sandwiches included smoked salmon, cucumber and sun-dried tomatoes, there was an individual asparagus and goat's cheese quiche – which was perfect – and I could not fault the scones. The benchmark of any tea, surely. My companion was wary at first, casting a critical eye over their granite-like appearance, but they were delicious. Of course, not eating dairy I don't have to face the eternal question of whether to spread the cream firs; for me lashings of strawberry jam are more than ideal.
The art came with the selection of cakes, with the theme here being a fantasy picnic, laid out on a grass-covered plinth, complete with dainty gingham. My companion was definitely won over by the bramble and lime 'lollipop', while I favoured the carrot cake. There was, too, sheep's yoghurt with pandan leaf and raspberry, and a delectable Yorkshire rhubarb mousse with elderflower – or bakewell tart and peanut butter raspberry flapjack as vegan options. All exquisitely turned into delicate miniatures that Alice might ever find in Wonderland.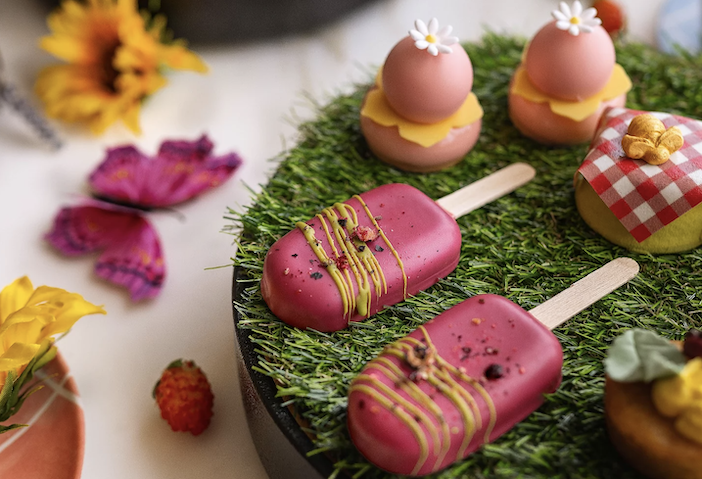 Little surprise that Ting Afternoon Tea was commended in the 2019 Afternoon Tea Awards. This is definitely one to take your time to savour as you experience the juxtaposition of historic and modern architecture seen from a unique perspective.
Ting's afternoon tea is served between 12 and 4pm and would be a perfect treat before going to a matinée at one of the many theatres within easy reach. Prices from £59 per person, £69 with a glass of Champagne. The entrance to the Shangri-La in The Shard is at 31 St Thomas Street, London SE1 9QU, just a few minutes' walk from London Bridge railway and tube stations. For more information, menus and bookings, please visit www.ting-shangri-la.com.