With Afternoon Tea Week (7th-13th August) fast approaching, the Arb's gallivanting Mum-about-Town, Jess Baldwin, leaves no scone unturned to bring us the very best offerings of the nation's most revered institution…
If there is one thing Brits have always been tip top at, it's a cracking invention; from telescopes and telephones to the good old tin can. But, if there is one epic creation which pips them all to the post, it's afternoon tea. This calorific concoction was the brainchild of Queen Victoria's good friend, the Duchess of Bedford. Ravenous from rattling around her ritzy residence, she found herself in need of a little pre-dinner pick-me-up. Her stupendously efficient butler rushed to her aid, whipping her up a stately smorgasbord; a smattering of sandwiches, a few cakes and a good old cuppa.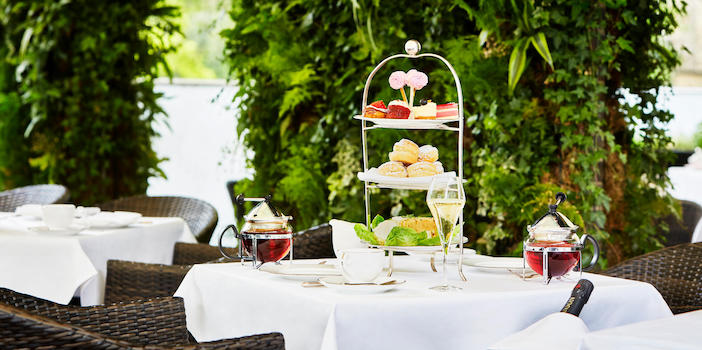 From that moment, the great British afternoon tea was born. Butler or no butler, today mere mortals can also partake in this right royal feast – and when better to honour this spiffing sugar-laden tradition than during National Afternoon Tea Week? It's basically your patriotic duty. But don't settle for any old fodder! After three months of rigorous tea-tasting, Champagne quaffing and scone-scoffing, we can finally reveal The Arbuturian's Afternoon Tea Guide 2023 – bottoms up!
For Downton-worthy jollification… Four Seasons Hampshire

Eschew yourself of London's thrum and within an hour you could be embarking on an afternoon of lapsang-infused jollification, perched upon a vintage sofa in the wood-panelled drawing room of Four Seasons Hampshire's vast Georgian mansion. Surrounded by 500-acres of manicured gardens and rolling meadows, you half expect Violet Crawley to float past you as you revel in the delights of this 5* rural idyl.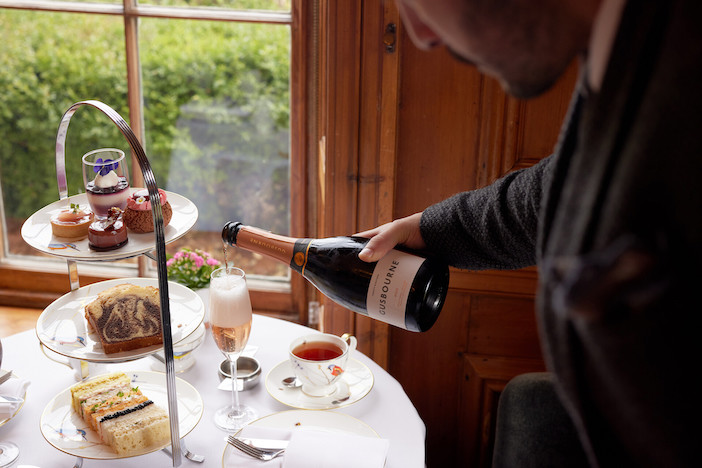 Their new Summer Afternoon Tea sees Executive Pastry Chef Maxime Gourlain serve up a veritable feast of seasonal sandwiches, like trout and watercress with glistening Avruga Caviar. A plethora of sweet fancies follows, with beautifully-presented creations, like the oh so photogenic British strawberry and elderflower tart. Pillowy scones come with lashings of clotted cream, jam and a particularly delicious lemon curd – but do leave room for the lavender and apricot tea cake! Choose from a selection of bespoke blends or swap tea for a tipple, with a glass of chilled Champagnes or local English sparkling wine (Wild Idol is also available by the glass for those after a flute of something alcohol free).
Four Seasons Hampshire serves afternoon tea daily, priced from £50pp or from £60pp with a glass of bubbly. For more details, visit www.fourseasons.com.
For a timeless tea in the Tiara Triangle… The Harrods Tea Rooms

All aboard London's most flamboyant escalator for the theatrical ascent to Harrods' tea rooms. This world-famous store at the heart of London's 'Tiara Triangle' may boast over a million square feet of designer ruffles, artisan truffles and more sparkle than Vegas at Christmas, but it began life almost two centuries ago as a humble grocery store, selling…tea! Apt then, that today it serves one of the finest cuppas in the capital – and all with the pianist in situ close by.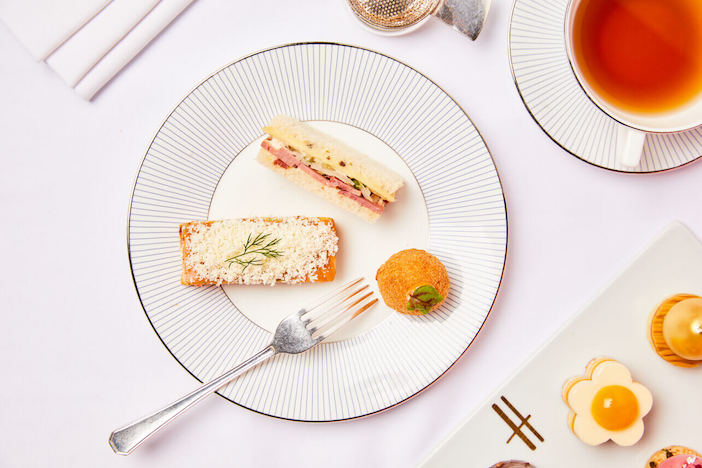 Settle into an unabashedly large velvet booth beneath the Art Deco skylight as the jovial team guide you through the mind-boggling tea menu, offering everything from Hawaiian Black to Arishan Tai Milky Oolong. Exotic flavours give their Classic Afternoon Tea a welcome twist with tangy yuzu transforming the great British strawberry, whilst Nepalese timut pepper adds clout when delicately paired with lime. Throw some impeccably crumbly scones, a flute of Harrods champagne and just the right number of perfectly presented sweet treats into the mix and you have the perfect pick-me-up for weary shoppers.
The Harrods Tea Rooms serves their Classic Afternoon Tea is served daily, with prices starting from £65pp. For more information, please visit www.harrods.com.
For tea fit for a Queen… Brown's Hotel, a Rocco Forte Hotel in London, W1
Access to London's oldest hotel is granted courtesy of Mayfair's smartest doormen, bracing their immaculate top hats, each garnished with a single red feather. Since opening in 1837, Brown's Hotel has certainly played its part in history; Napoleon III took refuge in one of its suites, Queen Victoria sipped tea in its resplendent Drawing Room and Alexander Graham Bell made the world's first phone call here.
Today, it continues to proudly serve afternoon tea fit for a queen, with impeccably crimped sandwiches, steaming scones and the daintiest of pâtisseries, all served amid plummy surrounds. They offer various menus, but the Traditional Afternoon Tea seems most apt, given its historic standing! Enjoy meticulously crafted treats like Darjeeling chocolate mousse, and honey and apricot delice, served in Queen Victoria's beloved wood-panelled Drawing Room whilst the pianist tinkles away on the miniature grand piano nearby.
Brown's Hotel, a Rocco Forte Hotel in London, serves their Traditional Afternoon Tea daily, priced at £75pp or £85pp with a glass of Moet & Chandon Brut NV. For details and bookings, please visit www.roccofortehotels.com.
For epic views… TĪNG at Shangri-La The Shard, SE1

Not even the plumes of theatrical dry ice can distract from the incredible views of London which accompany this vertigo-inspiring afternoon tea set on the 35th floor of The Shard. With views of the capital's most iconic landmarks, the Shangri-La's wisteria-clad TĪNG restaurant certainly packs a punch. Their Over the Rainbow Afternoon Tea lets you ogle the Tower of London's turrets and Battersea Power Station's chalky chimneys as you dive into a flower-topped tower of classic afternoon tea goodies.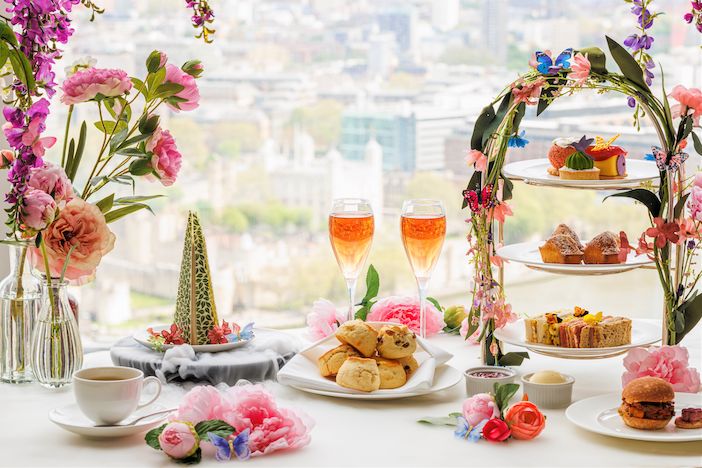 Expect whimsical delights almost too pretty to eat, like the hummingbird-topped tart and 'Flower Power' choux bun. The pièce de resistance? A miniature Shard building to share, filled with hazelnut praline, lemon jelly and velvety Valrhona Dulcey mousse. Even serious tea enthusiasts will find a new tea or two here, with everything from smoky Keemun to sweet Japanese Sencha. Or, shake up proceedings with one of their expertly mixed cocktails – Chinese Whisper is hard to beat.
Shangri-La The Shard serves afternoon tea in TĪNG Restaurant daily. Their Over the Rainbow Afternoon Tea is available until the end of September 2023, priced at £71pp, or £86pp with a glass of Champagne. For more information and bookings, visit www.ting-shangri-la.com.
For a right royal spread… Fortnum and Mason, W1
The proud holder of not one, but two royal warrants, this bastion of Britishness is a stalwart on London's luxury afternoon tea scene. Hidden high above this hamper heaven, with its famous food hall stuffed with all manner of immaculately presented sweet treats, you'll find the venerated fourth floor Diamond Jubilee Tea Salon. A resplendent sea of eau de Nil, here a smart and smiley team drift around presenting silver towers piled high with great British delicacies, to the excited clattering of silverware and the pianist nearby.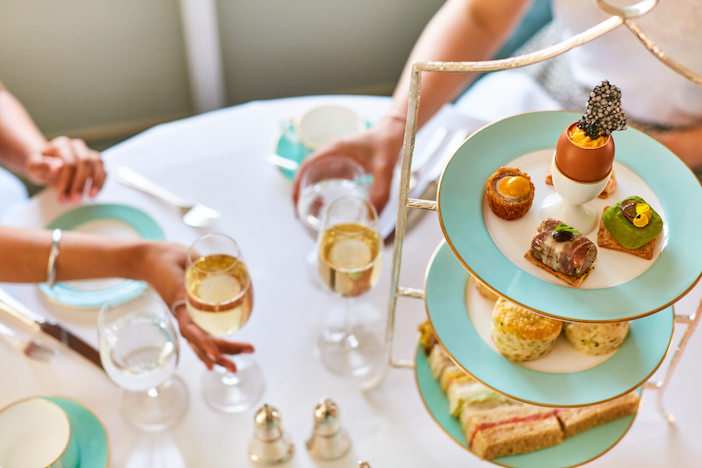 They have a plethora of menus from which to choose, but having eaten my body weight in sandwiches over the last three months, I was more than happy to dive into their High Tea, starting with a melty Victoria lobster omelette with truffle. Expect an encyclopaedic tea menu, perfect scones and some of the prettiest pâtisseries in town, all served with a priceless sense of ceremony. Pay particular attention to the rose éclair -the dainty pink number, garnished with a single rose petal, was the late Queen's favourite. Taken with their tasty tea? Head to the first floor where the experts will help you whisk up your very own personalised tea blend to take home in a jiffy.
Fortnum & Mason serve afternoon tea daily, priced from £65pp (High Tea is £82pp). For more information, visit www.fortnumandmason.com.
For a wild card… Nobu Hotel London Portman Square, W1
Fancy a change from the usual finger fodder? Switch it up with Nobu Hotel London Portman Square's Ikebana Afternoon Tea. Inspired by Gavin Mitchell's thought-provoking artworks (which you'll find dotted around the hotel), this Insta-worthy East-meets-West Japanese tea takeover sees crab salad rolls with jalapeño dressing and rich beef tataki buns with a punchy wasabi sauce invade the tiered tower in place of sandwiches (what a swap!). Regulars will quickly clock signature dishes from Nobu's hallowed menu; like yellowtail with jalapeños. Sweet treats pay homage to Japanese blooms, with colourful morsels like the 'Ume' cherry boshi mousse and an impressive chocolate teapot!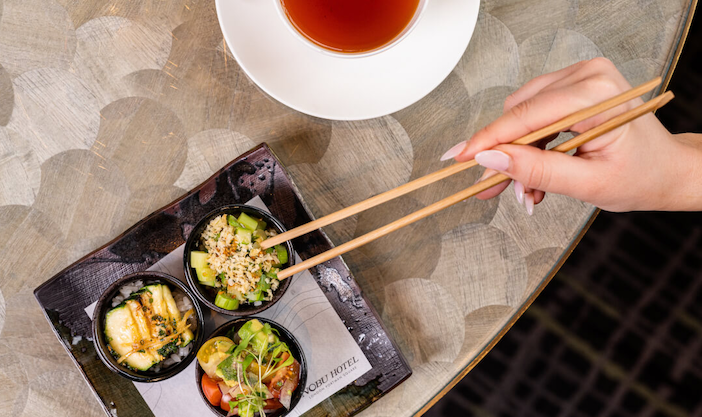 Oh, and fear not, you'll still get a cracking British scone to accompany your cuppa, albeit with a minty raspberry jam and a tangy yuzu curd nestled alongside the traditional Cornish clotted cream! Go the whole hog and swerve your usual brew, by going green with a premium Japanese elixir, like Genmaicha, from the country's famous Obubu Tea Gardens. Alternatively, revel in your 5* surrounds with a chilled glass of Laurent Perrier – kanpai!
Nobu Hotel London Portman Square serves afternoon tea daily in The Lounge. The Ikebana menu is £65pp. Book for National Afternoon Tea Week and receive a complimentary glass of Gusbourne wine to accompany your afternoon tea. For further details, please visit www.london-portman.nobuhotels.com.

For a taste of la dolce vita… Bulgari Hotel London

Despite having a prestigious postcode and plenty of pomp, the sumptuous Bulgari Lounge is as comfortable as it is stylish – in fact, one can almost be forgiven for feeling as though they are kicking back in a friend's swish Italian living room (a friend with impeccable taste, deep pockets and a Bolzano palazzo they retreat to at weekends, that is). Oozing all of the glamour you expect from the iconic Roman jewellery house, the Knightsbridge hotel's new Summer Afternoon Tea is a slick, contemporary alternative to some of London's chintzier tea haunts. Paying tribute to their heritage, Executive Chef Adriano Cavagnini injects some welcome Italian pizazz into the great English afternoon tea, pairing the finest British and Italian ingredients with aplomb.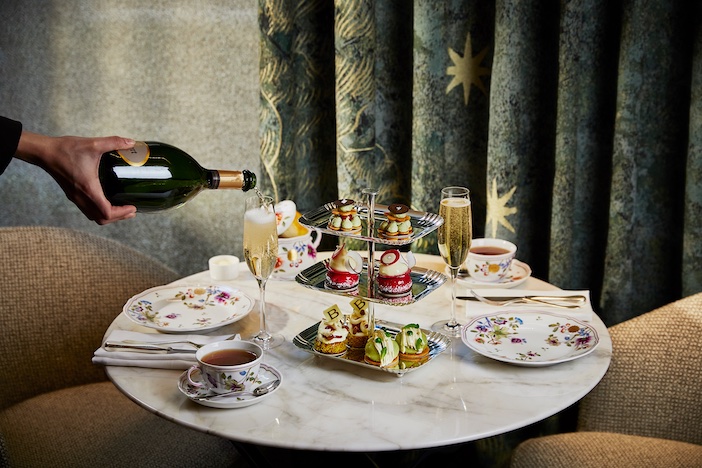 The result? A steady stream of mouthwatering morsels like Scottish salmon with green olive pesto and cream cheese "Millefoglie" drifting past, causing wide-eyed, lick-lipping rubberneckers to lurch from their sofas in delight. Dulce comes courtesy of Italian pastry chef and talented chocolatier Gianluca Fusto, who uses fragrant English flowers in his impeccably presented culinary creations. Topping the tower, Bulgari's exquisite handcrafted chocolate gems – finally a Bulgari gem which isn't POA.
Bulgari Hotel London serves tea daily in The Bulgari Lounge. The new Summer Afternoon Tea starts at £105pp. For more information, please visit www.bulgarihotels.com.

For frivolous fun and free-flowing Champagne… The Montague on the Gardens, WC1
Spread across nine of Bloomsbury's finest Georgian townhouses, just a stone's throw from the British Museum, this quirky and characterful family-run hotel (part of the Red Carnation Hotel Collection), is all about opulence; from the brilliantly brash animal print walls which adorn its curious Leopard Bar to the free-flowing champagne which accompanies its decadent afternoon tea.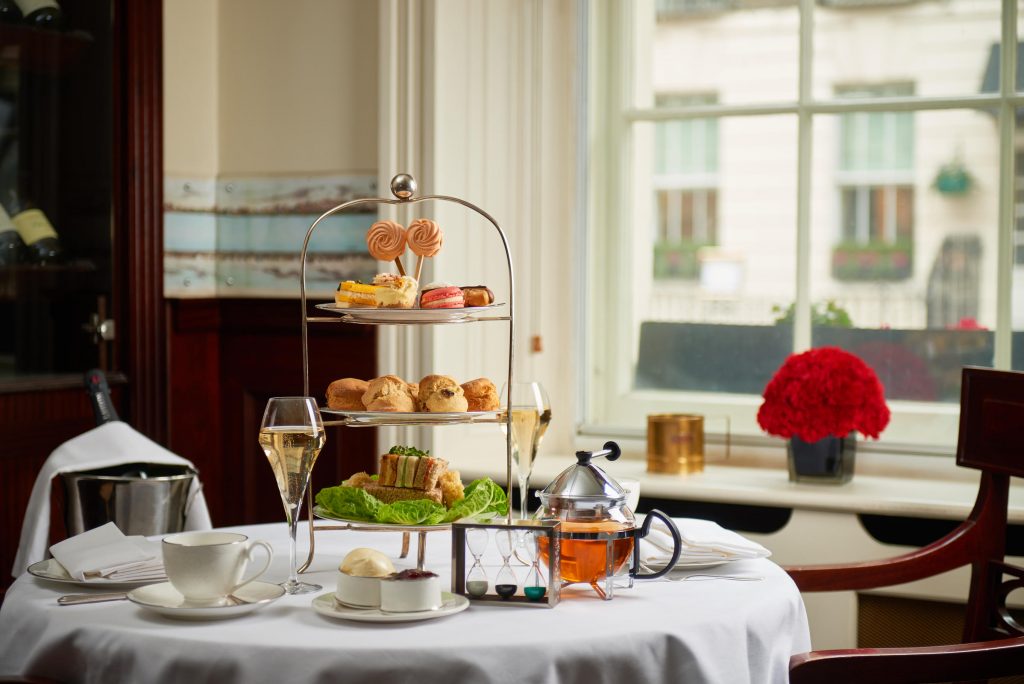 Served with on its terrace, overlooking the glorious greenery of Bedford Estate's abutting private gardens, diners indulging in the hotel's Ultimate Bottomless Afternoon Tea can expect their terrific tower of requisite sandwiches, scones and flower-topped fancies to come with 90-minutes of perfectly chilled, free-flowing Lanson Champagne – and take it from me, they take top ups very seriously here! Shocked? Don't be, the hotels dedication to the bubbly stuff is unwavering – they even offer sabrage experiences (you know, where a handsome chap dramatically slices open your bottle of bubbly with one mighty swing of a sabre – as you do)! Make sure you ask for a sneak peek of their award-winning beach bar before you totter off home – yes, really.
The Montague on the Garden's Ultimate Bottomless Afternoon Tea is served daily, priced at £130pp. For more details, please visit www.montaguehotel.com.
For guilt-free feasting… The Carlton Tower Jumeirah, SW1

Jessica Préalpato, the first woman to be awarded coveted title of World's Best Pastry Chef, reinvents the traditional British afternoon tea, with her reduced sugar feast: A Tribute to Nature. Inspired by London's Kew Gardens, the eminent French baker uses locally-sourced seasonal produce, utilising the natural flavours and sweetness of each ingredient to create an award-winning afternoon tea, where every ingredient matters and natural flavours reign supreme. Expect the unexpected, with the great British sandwich replaced by creations like decadent duck egg and black truffle croissants and lobster rolls with crème fraiche and chilli.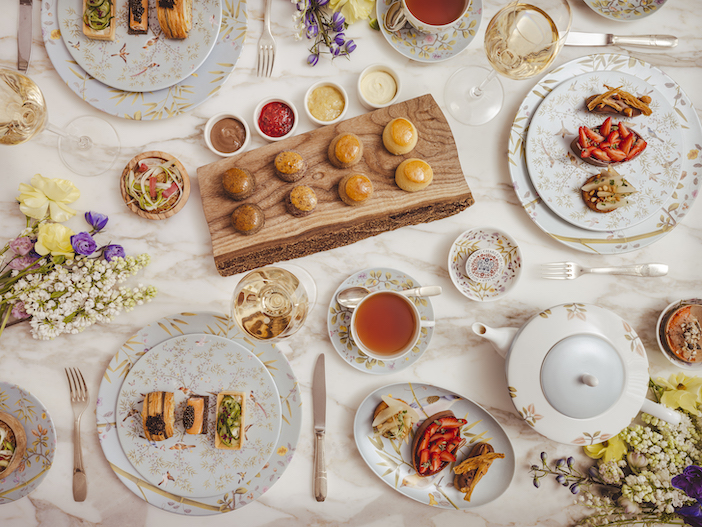 The palate cleanser is a genius concoction, comprised of seed scattered carrot sorbet with a refreshing vodka granite. A glutton for a good scone? You're in luck, with a quartet of creative flavour combinations to work your way through, including flavours like coffee and dried hibiscus flower. The libations are just as surprising, with wild card tea blends from far-flung shores like New Zealand and Colombia peppering the extensive tea menu. Celebrating? Upgrade to a Champagne tea – after all, it's not often you find Dom Pérignon available by the glass!
The Carlton Tower Jumeirah's Tribute to Nature Afternoon Tea is served daily, priced at £75pp or from £90pp with a glass of Champagne. For more information and bookings, please visit www.jumeirah.com.
For Michelin masterpieces… Leonardslee House, West Sussex

What do you get if you nestle a spectacular Italianate mansion in England's finest woodland gardens and then plonk a Michelin starred chef in its kitchens for good measure? One of the country's finest afternoon teas with cracking views to boot! Overlooking Leonardslee's incredible lakes and gardens (and the rolling South Downs), you cannot go wrong when deciding which of Jean Delport's menus to go for, but we highly recommend the Savoury Afternoon Tea!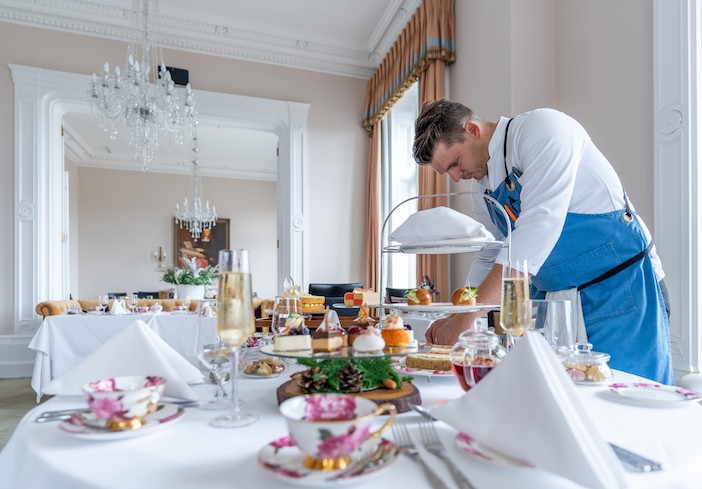 Kick off proceedings with a starter, like the silky-smooth chicken liver parfait with buttery raisin brioche, before indulging in a generous tier of home baked scones and seasonal pâtisseries– and all to the tinkling of the mechanical ghost pianist in the lobby. Finally, the cake trolley rolls in, laden with exquisitely crafted creations, every colour of the rainbow. Celebrating? The cherry on the cake?  Afternoon tea here includes complimentary access to the sprawling 240-acre estate. Spot sculptures as you snake your way through dense woodland, past spectacular rock gardens, along the colourful azalea-fringed footpaths and down into the valley's gulley, where a string of tranquil lakes await– you may even spot the odd wallaby along the way.
Leonardslee House serves afternoon tea from Thursday to Sunday, with prices starting from £50pp for adults and £28pp for children. For more details, visit www.leonardsleegardens.co.uk.
For lording it up… Sopwell House, Hertfordshire

Fancy lording it up in the countryside without breaking the bank? Head to Lord Mountbatten's former pile, Sopwell House. Just a 5-minute taxi (or a 10-minute carriage) from St. Albans' cobbled streets and roman ruins, the brilliantly white Georgian mansion offers a classic Afternoon Tea from just £34. It can feel a little discombobulating, snaking your past the bucolic wildflower meadows, strolling through the decidedly British mansion and landing in Omboo, the hotel's Asian restaurant, which resembles one big, beautiful jungle.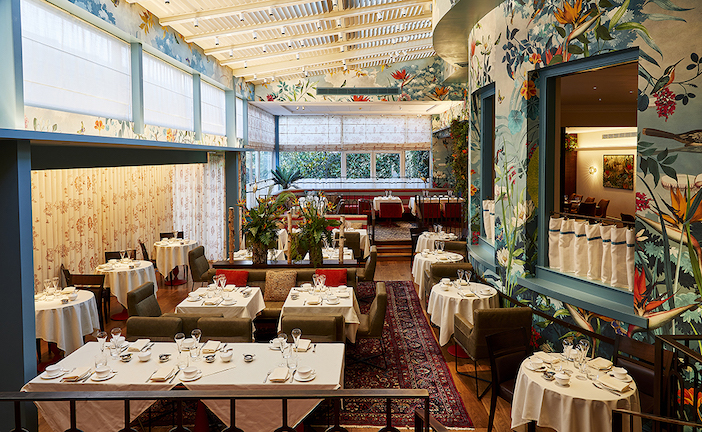 Despite the tropical vibes, the top-drawer afternoon tea is decidedly British, with a tiered stand of fluffy finger sandwiches, pillowy scones and a colourful collection of epicurean delights. Given you a taste for the high life? Once you've had your fill of manicured gardens, digest in the hotel's VIP spa area, The Club at Cottonmill – thanks to an impressive £14-million facelift, it's now one of the most lusted after pamper palaces in the UK, but don't take our word for it, ask the England football team, who can often be found bubbling away in its hot tubs or kicking back in the spa garden.
Sopwell House serves afternoon tea daily, with prices starting from just £34pp, or £45pp with a glass of Champagne (weekends are slightly dearer). For more details, please visit www.sopwellhouse.co.uk.
For a taste of London… The Dilly

Stretching along one of the capital's most famous roads, this theatreland hotel has been drawing in the crowds since 1908. Grated, the name has changed over the years, but over a century on, today's 5* resident, The Dilly, continues to offers a luxurious oasis away from the caterwaul of Piccadilly Circus. Head to Terrace at The Dilly to pay your respects to the Big Smoke by indulging in the hotel's playful London-themed afternoon tea, created by Head Pastry Chef, Geness Tross.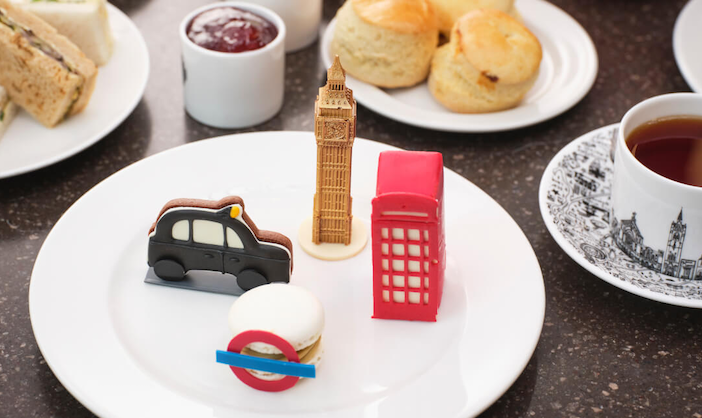 Once you've polished off the requisite finger sandwiches and buttery scones slathered in clotted cream and jam, delight in gobbling up London landmarks one by one; from the London underground macaron and the gold-coated chocolate Big Ben to the lemon and poppy seed phone box. Finish with a glass of Champagne in the restaurant's 'secret garden'. The flower-filled open balcony perched above Piccadilly has iconic buildings like Fortnum & Mason and the Royal Academy so close you could hit them with a hand finished black cab biscuit (though frankly that would be a terrible waste!). This afternoon tea is a taste of London life, literally.
Terrace at The Dilly serves the London Afternoon Tea daily, starting at just £49 per adult and £39 per child. For details, please visit www.thedillylondon.com.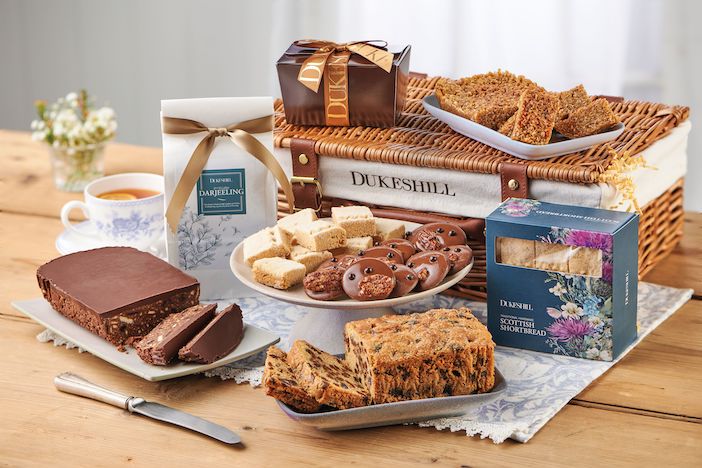 For the perfect picnic… DukesHill Hamper

Want a tasty afternoon tea on your terms? Skip the formality of a ritzy restaurant without skimping on quality, by nabbing a DukesHill afternoon tea hamper to enjoy in your own glorious grounds. With a royal warrant to its name, this purveyor of fine artisan nosh has crammed its iconic wicker hamper full of right royal treats. Think fruit loaf, handmade Scottish shortbread, melty pecan mendiants, satisfyingly sticky flapjack and an astonishingly good slab of chocolate tiffin. To accompany, a beautifully wrapped box of the King's beloved Darjeeling tea, plucked straight from the foothills of the Himalayas and delivered to your door. Now you just need to order in a butler.
DukesHill's Afternoon Tea Hamper includes six items, comes in a 14" wicker hamper and is priced at £66. For further details, and to order your hamper, please visit www.dukeshillham.co.uk.
Afternoon Tea Week takes place across the UK from 7th-13th August 2023. For more ideas, venues, and offers, please visit www.afternoontea.co.uk.