As we enter the final furlong of summer, Angelina Villa-Clarke discovers how a new collection of Cornish beach houses has elevated the home-from-home stay....
Early morning, before the tourists arrive, Gwithian Beach is at its absolute finest. One of Cornwall's most picturesque stretches of shoreline, set beyond a nature reserve, you'll walk along, sand in your toes, gulping the Atlantic air – with hardly no-one in sight. Soon, you'll spot glutinous jelly-fish and crawling crabs in the rock-pools, as cormorants swoop overhead and sea-grasses gently wave in the breeze. It's a glorious way to start the day.
Making it even more appealing is the new Three Mile Beach collection of beach houses, found hidden away among the dunes. Elevating north-Cornwall's self-catering offering to giddy new heights, these are no usual cottages. Each of the 15 houses are painted in a rainbow of candy colours – from bubble-gum pink to sky blue – and are named after pop songs – 'Purple Rain' or 'Careless Whisper'. It's immediately clear that the fun-fuelled holiday vibes begin before you even step inside.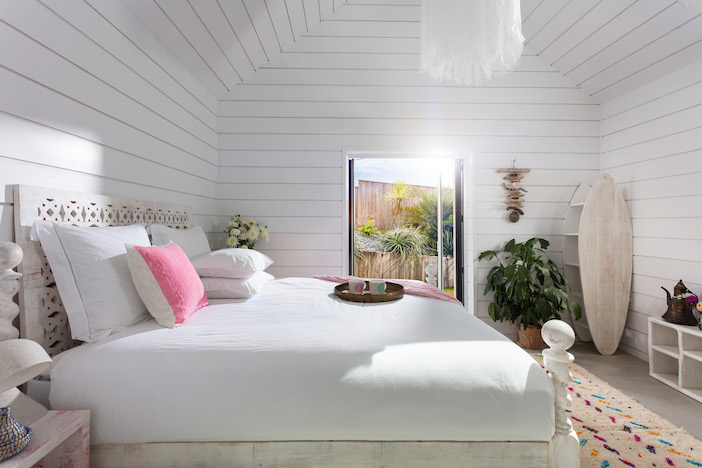 While outside, it's a riot of colour, inside – white-washed, wood-clad walls bring serenity yet are nonetheless brightened by an eclectic interior design. An oversized neon-pink Berber rug is set against a huge denim sofa; a mint-green surfboard is mounted on the wall and West African woven bowls give a stunning visual display in one of the bedrooms.
Crisp white bed-linen is brightened with stripy, tasselled throws and cushions printed with safari animals. For children, there are extra beds tucked away on mezzanine levels, complete with porthole windows, making the perfect hideaway. The travel background of the owners – Audley Travel founder, Craig Burkinshaw and his partner, Joanne Le Bon – is evident from the get-go.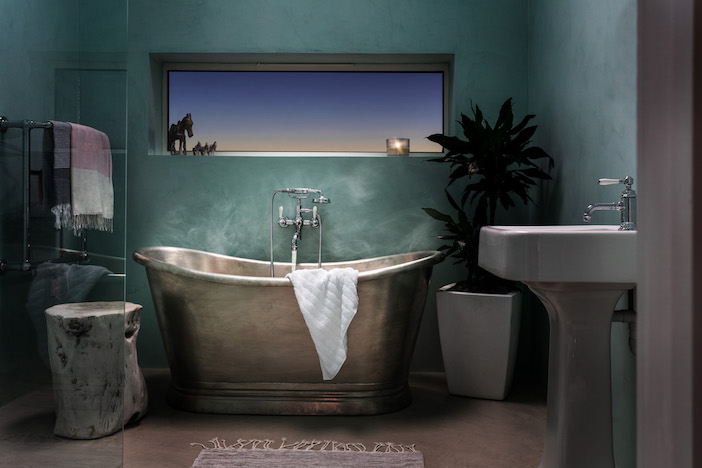 There are also lots of luxury touches which bring the brightly-hued homes to almost-hotel status – from the burnished-silver standalone tub in the master bedroom to the Smeg kitchen appliances and hand-made Cornish crockery in the kitchen. Sheets are soft, towels are thick and fluffy and toiletries by the natural brand Land & Water feel premium and pampering.
The attention to detail is noticeable throughout: there's a Samsung The Frame TV, instead of a bog-standard one; rainfall showers; piles of pristine board-games and a mini-library of the latest blockbusters to dip into. Outside, there are Fatboy beanbags, sausage-dog chairs and hammocks, which are practical and cool.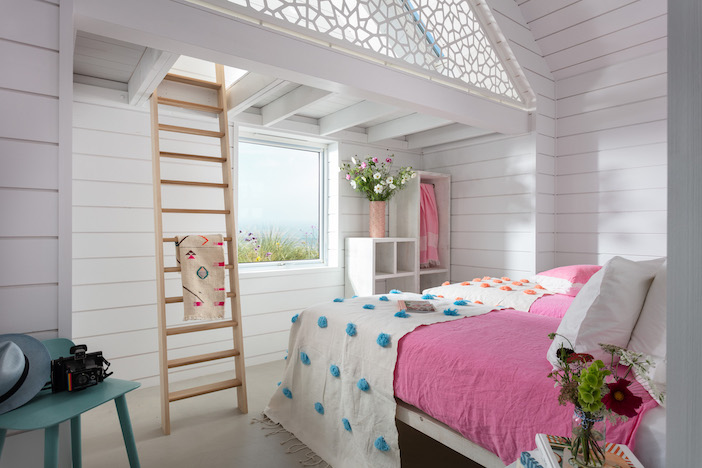 In fact, the homes all open out to wrap-around terraces, which feel Scandinavian. Here, sunken cedar hot tubs and barrel saunas elevate your stay further, and which mean that if you feel like staying put for the day, there's enough to keep you occupied.
The open-plan kitchen-dining space is nicely conducive for family meals wolfed down after a salty day on the beach. For breakfast, head to the nearby Trevaskis Farm Shop, for artisan breads and fresh eggs. If you don't feel like cooking, don't worry, head chef Ollie overseas an inventive Food Truck, tucked away in its own enclave, where you can pick up lunch and dinner.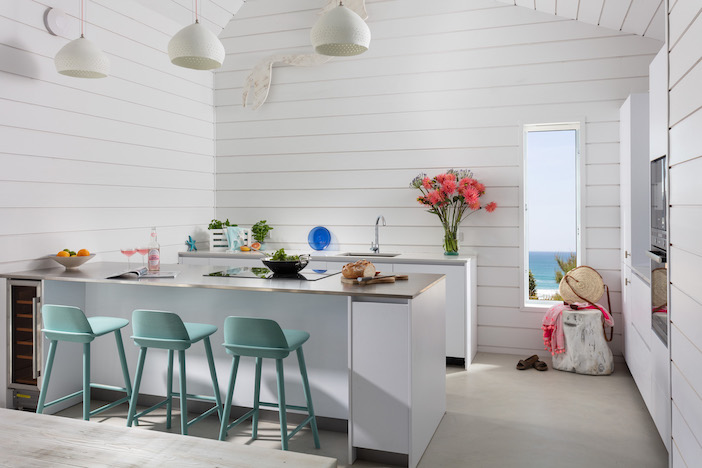 Think: delicious street-food inspired dishes such as clams in a hake and pea broth or green bean salad with confit garlic and charred courgette. There's also a mobile bar, in a candy-pink van, with an impressive collection of local gins, wine and beer. If you want to get conjure up something yourself, you can also pre-order your own Ooni outdoor pizza oven, which comes complete with rounds of dough and a box of toppings – great for everyone to get stuck in and whip up their own invention.
You can also arrange for a private chef who will create sharing feasts or more formal dinner parties in your home, while you kick back and relax. Rob Michael, from Flavour and Wine, is one of the collaborating chefs who focuses on Cornish produce in his dishes which have a South Asian twist (inspired by his own travels).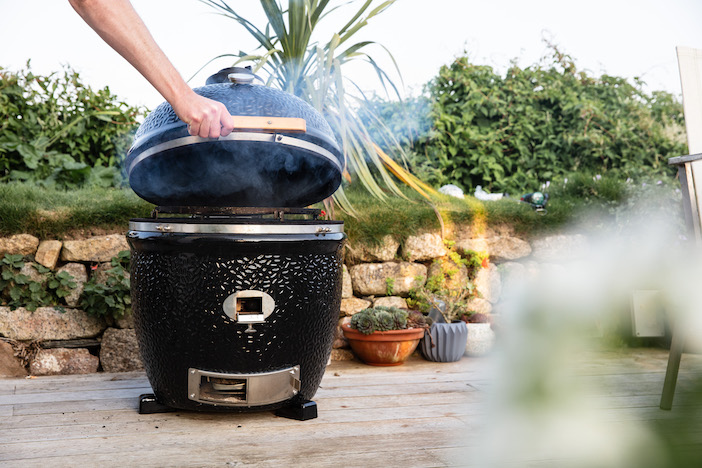 There's Cornish steamed mussels infused with lemongrass, garlic, ginger and coconut; pulled-pork tacos; Asian salads and mackerel with labneh and samphire, but you can also chat with him beforehand to curate your own menu. To finish, Rob's speciality is sticky toffee pudding with clotted cream – just heavenly. A bonus is the fact that by the time you are tucking into dessert, he's already washed up and has left the kitchen immaculate.
While Gwithian is the perfect spot for exploring nearby St Ives and other Cornish 'hotspots', there's an awful lot to entice you to stay put at Three Mile Beach – whether that is the South West Coast walking path found on the doorstep or sailing lessons along the coast. At sunrise and sunset, there's yoga on the beach (the sunsets here are legendary) and Gwithian is also a favourite spot for surfers due to its consistent 'clean' waves, so it's a great place to take a few lessons.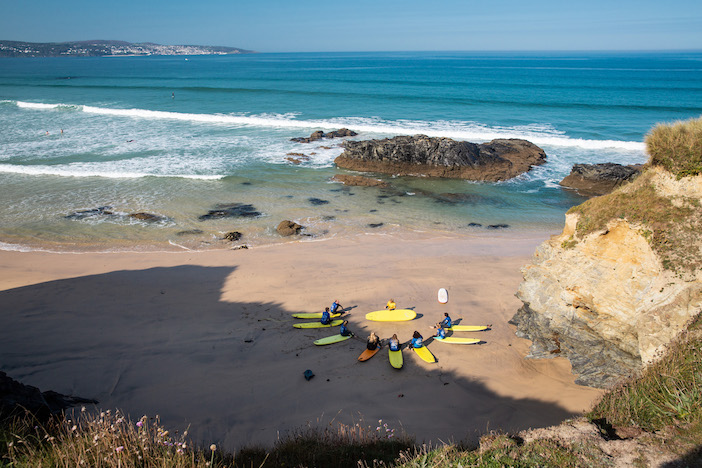 In the summer months, Three Mile Beach is at its peak, but this is also a place to add to your 'little black book' for that idyllic cosy retreat when the temperature dips. You can light the Swedish log-burner for cooler nights in, wrap up for beach walks and embrace the good times with family and friends. At night, the skies are wonderfully clear – only interrupted by the glow from Godrevy Lighthouse found offshore. It's a keeper.
Prices start from £1,150 per week for a three-bedroom house (up to 6-7 guests) including welcome hamper in low season, and from £3,100 in high season. For more information, and to book, visit threemilebeach.co.uk.