We've not long had Pancake Day and everyone's planning now for Easter but coming up fast on the inside lane (and you'd better not forget it) is Mother's Day. There's now less than a week to go – Sunday 27th March, the same day as the start of British Summer Time – so this is the moment to get your ducks in a row.
And maybe think outside the box this time, eh? Sure, say it with flowers, but let's get creative. Here are five surprises that are guaranteed to show her the love, just remember to keep mum…
Dukeshill 'Breakfast in Bed' hamper
Mother's Day lunches and teas are legion in restaurants all over the country but what about breakfast in bed? Now clearly this may take a bit more planning and effort, but it's a worthy cause, right? To make it rather easier, the hamper people, Dukeshill, have come up with a box of superior ingredients that you can assemble.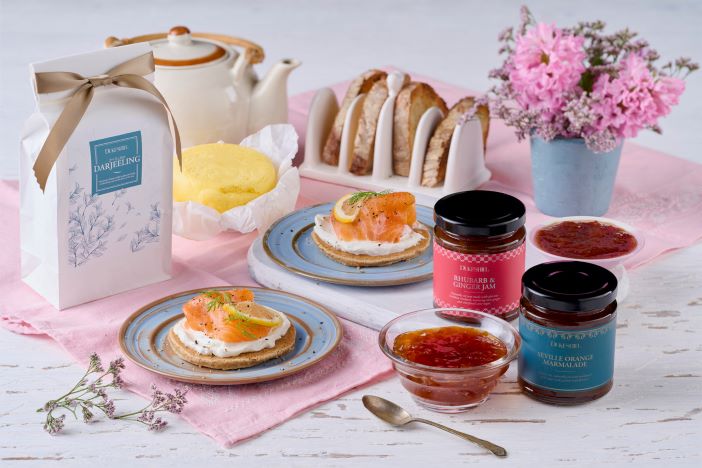 So, what's in the box? There are wholegrain pancakes (not the Pancake Tuesday kind, more like Scotch pancakes). On this you assemble a plentiful quantity of smoked salmon. There's Marmalade (Seville orange) and Jam (Rhubarb and ginger) and a round slab of Ampersand Cultured Butter. Then there's a box of 2nd Flush Darjeeling Tea Pyramids.
All very civilised and if you prefer – though that might detract from the elegance – Dukeshill will add their award-winning traditional pork chipolatas and dry cured streaky bacon. All you need then is a tray, a flower and a vase.
Dukeshill also have a Mother's Day Hamper with zesty Lemon Drizzle Cake, Scottish Shortbread and Blonde Chocolate Truffles. To drink there's speciality tea and a bottle of Rose Vino Frizzante.
For more information and orders, please visit www.dukeshillham.co.uk.
Say it with brownies…
Why just send flowers when you can send flowers you can eat? The Blushing Cook's floral brownies are made with the finest ingredients and decorated with organically grown edible flowers grown in Devon. The ultimate treat, chocolate and flowers in one box – each is also a mini artwork masterpiece.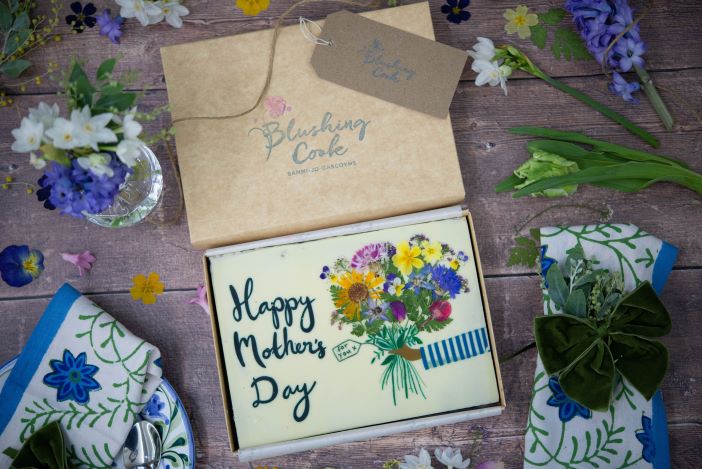 The beautiful indulgent, rich fudgey double chocolate brownies are hand-baked with the finest natural ingredients including chocolate made from 100% sustainable cocoa. Vegan and Gluten free versions are also available. Presented in a gorgeous hand stamped gift-box, they can be posted anywhere in the UK with a personal message.
Small boxes (serve 6) are £36. Delivered overnight, 24-hour delivery via DPD to ensure freshness. For more information and orders, visit www.blushingcook.com.
Say it with flowers – and gin?
Here's one with a flowery spin that makes for a great double hit – what's more it's a conscientious gift that will continue to bloom and bring happiness long after Mother's Day. Well-loved South African gin brand, Inverroche,  is offering the chance to give a gift that keeps on giving with a limited edition living gift set containing their Verdant gin and wildflower seed bombs, a thoughtful gift for Mums and for the bees of the UK.
The new Inverroche gin gift set encourages the planting of wildflower seed bombs across the country, which in return creates an abundance of aromatic, blooming flowers for Mums to enjoy throughout the seasons. These flowers also purposefully attract bees and other native pollinators.
The Inverroche Verdant Gin has a delicate floral hint with a slightly sweet warmth and a subtle golden-green hue and works deliciously simply with tonic on ice and a twist of lime or lemon. The gift set also comes with a cocktail recipe developed by much loved cocktail bar, Heads + Tails, all enclosed in a 'forever tote' bottle bag which can be re-used.
The limited-edition gift set is priced at £39.95 and is available to purchase at Spirits Kiosk. For more information, visit www.inverroche.com.
Say it with flowers, gin…and tea?
Sticking with the floral theme, we're going into the classics: afternoon tea. And this spring, Dalloway Terrace at The Bloomsbury hotel will be in full bloom, transforming into a rustic and natural garden with wildflowers – the picture-perfect setting for Mother's Day.
With more than a little nod to the beautiful British countryside, award-winning floral designers Early Hours have adorned the terrace with blossom, tulips and ranunculus, delicately cascading down onto the luscious herbaceous border. And continuing the herbal experience, Dalloway Terrace has partnered with The Botanist Gin to create a uniquely Herbal Afternoon Tea.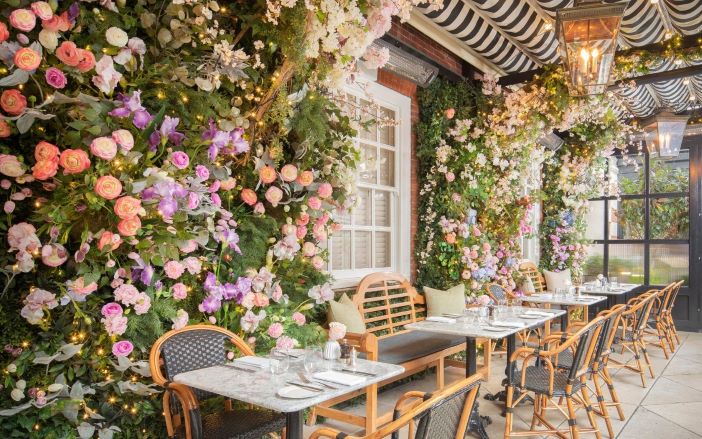 Dalloway's Head Pastry Chef Chris Dodd has infused flavours that complement The Botanist Gin cocktails and used foraged ingredients to create confections that include carrot cake with tarragon and cream cheese mousse; white chocolate, lemon and thyme cream on pistachio sponge and saffron custard tart with Campari poached rhubarb and dark chocolate.
Dalloway Terrace, 16-22 Great Russell Street, London WC1B 3NN. For more information and reservations please visit www.dallowayterrace.com. 
And if you want to whisk Mum away…
If it's afternoon tea you're thinking, what better venue in this Jubilee year than the UK's newest luxury spa and wellness hotel a stone's throw from Windsor Castle?
Located on the edge of historic Windsor Great Park and within an hour of London, , surrounded by 40 acres of open green space and a tranquil lake, Fairmont Windsor Park is a tasteful blend of its timeless heritage and a contemporary elegance, where its very own Orchid Tea Room has created a classic tea with a delectable selection of handmade sandwiches, scones, sweet treats and the finest tea and champagne.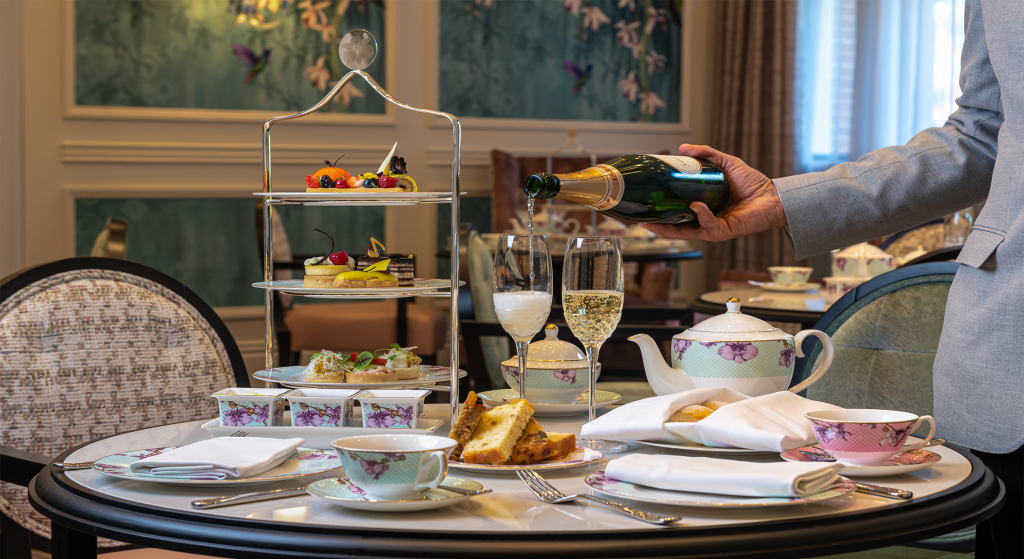 Opulent yet calming, not unlike mum herself, the Orchid Tea Room is the perfect place to enjoy a regal afternoon tea and this Mother's Day – and the surprise is mothers will receive an extra treat with their tea. Could it be the ultimate escape from the city this Mother's Day?
For more information and bookings, please visit www.fairmont-windsorpark.com.
Header photo by Ijaz Rafi, courtesy of Unsplash