It is 6am and I am sitting in silence, sipping a steaming mug of tea in the South Downs National Park and autumn is eagerly chomping at the bit. The lush pastures are glinting with the morning dew and the area's famed forests are excitedly shrugging off their verdant summer attires, in favour of fierier ensembles, egged on by the local bovines and screeching gulls. It's no use fighting it, our beloved summer has left us.
This isn't even the park at its peak. No, it's not the midday sun nor the dusk. It is in fact at night, when you are plunged in to absolute darkness, save for a blanket of stars. The South Downs National Park is one of the world's 12 International Dark Sky Reserves, making it one of the best stargazing spots on the planet.
Set on a 500-acre working farm in the peaceful East Sussex village of Offham, Premier Cottages' Mill Laine Barns offers an easily accessible rural retreat for weary Londoners, keen to explore the 'lungs of south east England'. The farm has four self-catering properties to choose from, sleeping between 2 and 6 people, all of which are a short stroll from exhilarating country walks, the vibrant town of Lewes and a great local pub.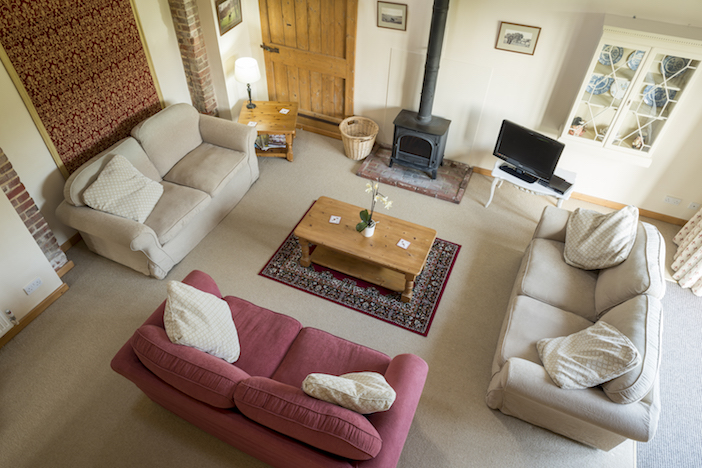 Our property, The Barn, is a 5* 3-bedroom barn conversion with a cosy vibe. Think creamy walls, statement oak beams and fantastic views of the surrounding forests and fields. Upon arrival, we walked into the full-height living room, welcomed by a giant bowl of homemade scones and jam – always a good start. We wasted no time in throwing open the French doors, sinking in to the comfy sofas and indulging in the sweet treats, with the famously fresh coastal air filling our lungs.
Despite being just an hour from London, this spot feels worlds away from the capital. Sitting within an Area of Outstanding Natural Beauty, the properties look across flocks of prize-winning Southdown sheep, happily grazing in the fields and content mahogany cattle in the hills, chewing the cud.  At the bottom of our driveway, St. Peter's church peeps its head above the trees, against the backdrop of the Downs' infamous chalky hills.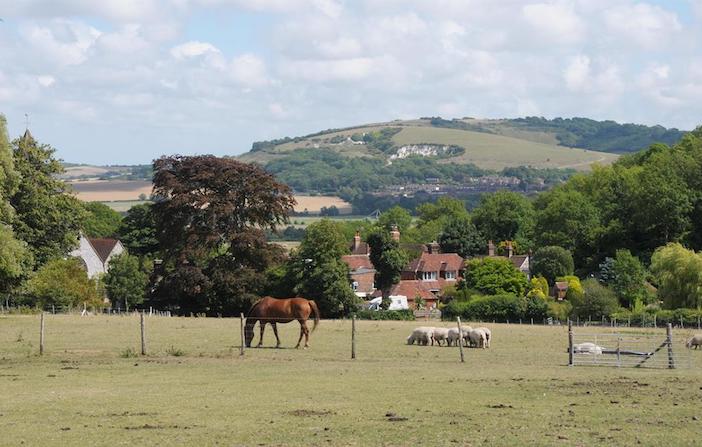 Sat alone, save for the four-legged locals, you could be forgiven for thinking that you are the only lucky soul to stumble upon this bucolic spot. In fact, it is a hiking mecca, with the South Downs Way just a stone's throw away. The epic 100-mile trail makes its way from Beachy Head's chalk cliffs right up to Winchester, taking in spectacular views of the Isle of Wight along the way. The 42-mile Ouse Valley Way is also a short stroll away.
After a long day hiking, The Blacksmith's Arms is often called upon. Conveniently located at the farm's entrance, it offers a surprising board of Jamaican daily specials alongside the usual fish and chips and steak options. On our visit, the pub's tiny restaurant area was in full swing to the raspy tones of Rod Stewart and my reggae chicken with 'slaw, rice and peas warmed me up nicely!
We tried out two short heritage walks during our stay. Starting at the church, they took in the local forests, the marshes and the river, both centred around Offham Chalk Pit – a busy quarry back in the 18th and 19th-centuries. Our hiking efforts were rewarded with a good old English brew and freshly made chocolate cake at the charming Offham Farm Shop and Tea Room.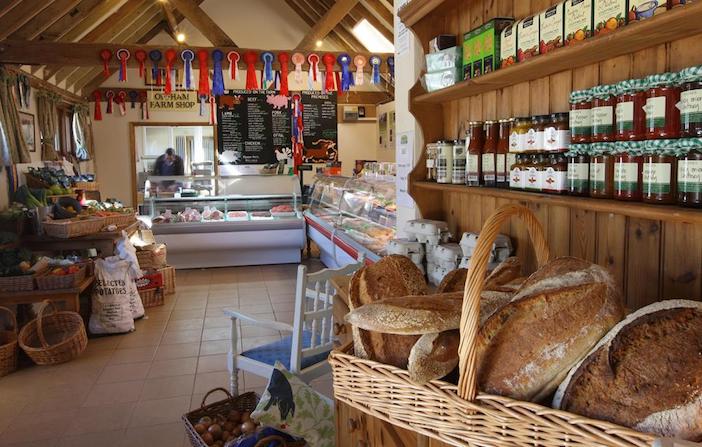 This quaint shop, set in a working farmyard, is also owned by the couple behind Mill Laine Barns. Selling produce reared on the farm, including additive-free beef, lamb and pork, as well as handmade conserves and sweet treats, it is a great place to stock up local produce during your stay.
The county town of Lewes is also just a short walk away. Made famous by the Battle of Lewes, which took place in 1264, today this thriving market town attracts more hedonistic bohemians than rebellious barons, thanks to its vibrant arts and crafts scene and its eclectic antiques shops, which could entertain the curious all day long. It also has an impressive range of markets, from artisan food events to dedicated craft markets.
Overlooking the High Street is a handsome Norman castle.  You can climb 1,000 steps to the top for a bird's-eye-view of Lewes, or alternatively, the less energetic can dip in to the town's history and head to the former home of Anne of Cleves.  Today it is a museum, complete with a café and Tudor tea garden.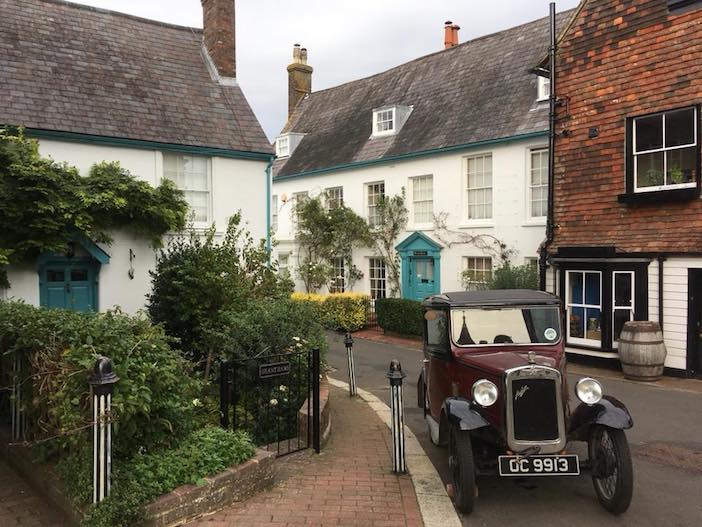 After a spot of twitten-walking (local dialect for Lewes' stick slim Saxon alleyways), 'The Needlemakers'  was my first port of call. Set within an old syringe making factory, it's home to various creatives, selling everything from plants and paintings to jewellery and handmade toiletries. It even has a wishing well!
Cliffe High Street always seems to be full of festivities.  On our latest visit, it was awash with crowds of prancing Morris dancers, ribbons and all. Seeking a little solace, we wandered over the River Ouse, whose banks have been home to Harveys Brewery since 1790. Today, its dramatic monotone exterior is a Lewes landmark and they have a hop-garlanded brewery shop selling everything from food and spirits to wine and of course, the self-proclaimed 'champagne of beers'. Weary from the weekend's explorations, the tranquillity of our peaceful farm was calling…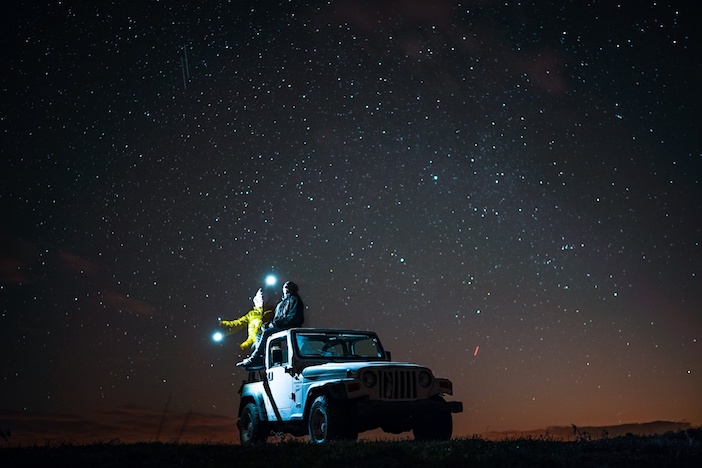 Now, it is 6pm and having hiked my way through forests, fields and riverbanks and lost myself in historic Lewes, I am once again sitting in silence. This time it is white wine that I am sipping, whilst absorbing the South Downs in all its autumnal glory. The dew has abandoned the lush pastures, which have succumbed to a sepia hue, much to the cows' indifference and the forests are looking fierier by the minute. Just 5 more hours to go, until this show really gets started. Bring on the stars!
Premier Cottages works with over 1,000 4* and 5* self-catering cottages across the UK, many of which are accessible with extensive onsite facilities. Premier Cottages lets you book directly with the cottage owner, with no hidden costs, saving you money.
The Barn at Mill Laine Barns, Sussex, sleeps 6 and costs from £535 per week (with long weekends from £428). For more information visit www.premiercottages.co.uk or call 01273 965904.