If horseracing is the sport of kings, then Royal Ascot is the jewel in the crown and the sun duly shone on Day 1 of the 2022 meeting, with a terrifically jubilant atmosphere, regardless of any wins or losses. Royal Ascot welcomes a staggering 300,000 racegoers over the five day Royal Meeting, making it one of the most cherished British sporting events. There is certainly none to match it for its sense of occasion.
This year is particularly special due to it being the first time in three years that Royal Ascot have been able to host at full capacity due to the pandemic. Couple this with the fact that it is Her Majesty The Queen's Platinum Jubilee and you had an intoxicatingly happy crowd of ladies and gents eager to enjoy the day when gates opened at 10.30. A centrepiece of the British social season, the impressive Ascot grandstand positively sparkled, while our Private Box from within the Royal Enclosure offered both a prime view of the finishing line and the full sweep of the pristine track, with London and Windsor in the distance from whence the Royal Family, after lunching at Windsor Castle, make their elegant procession at 2pm to the delight of the flag-waving crowds and television viewers around the world, just ahead of the highly anticipated first race.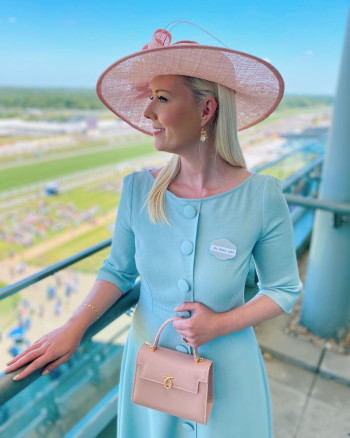 Besides horse racing, Royal Ascot is the ultimate British fashion event and an opportunity to wear and marvel at creations from the leading fashion and millinery designers. The rainbow of fantastical couture hats, immaculate dresses and luxury accessories that have taken the wearers months, if not years, to coordinate for this single day is undoubtedly one of the most spectacular elements of Royal Ascot with the Royal Enclosure one of the few events demanding the formality of a bygone era and ensuring that their Dress Code is strictly adhered to. Ladies entering the Royal Enclosure must wear a hat of a certain width (no fascinators) and dresses with straps of a certain thickness (see the website for full rules) with no spaghetti straps or sheer sleeves, and under no circumstances can dresses or skirts be shorter than an inch above the knee. Gentlemen have even less freedom when it comes to fashion choices, and must wear a top hat and full morning suit, not especially comfortable attire when for once there is a heatwave in England!
For me, Royal Ascot is all about refined sartorial style rather than making a crash 'fashion statement' and fortunately I fell in love with the timelessly elegant Olivia fit-and-flare midi dress in Frost Blue from the latest Jane Atelier collection which ticked all the dress code boxes. With a statement button front and made from satin lined single wool crepe with boat neck and 3/4 length sleeves, the Olivia, with its classic silhouette, is the epitome of class and the kind of understated style that never goes out of fashion and perfectly suits the timeless romance and elegance of Royal Ascot dressing. Jane Atelier is a British brand established as Goat by founder and designer Jane Lewis in 2001, with a loyal following of international fashion icons including Gwyneth Paltrow and The Duchess of Cambridge.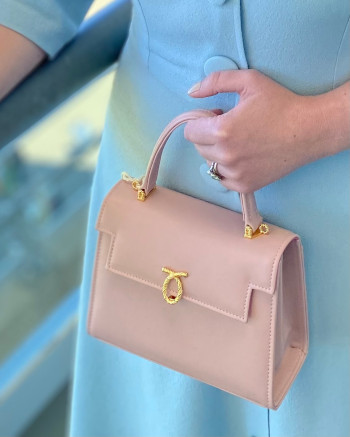 I partnered the Olivia dress with the 'Judi' top handle bag in Powder Pink by HM The Queen's beloved Launer London who hold a coveted Royal Warrant and have been making luxury handbags and leather goods for royalty and high society since they were founded in the 1940s. Stocked by Selfridges and Fortnum and Mason, Launer London has achieved international cult-status on the fashion stage thanks to their most iconic royal customer, and since one of their archive handbag styles was featured with HM The Queen in the recent Platinum Jubilee Paddington Bear short film. My Judi handbag, handcrafted in England using the finest calf leather, features Launer's signature twisted rope emblem, a detail I wanted to compliment by wearing the Tashi Moonstone and Gold earrings by Emma Chapman Jewels.
Alas, there wasn't quite enough room to fit Paddington's marmalade sandwich inside my Launer London Judi handbag, but the luncheon and exquisite Jubilee-themed afternoon tea we enjoyed in our Private Box more than quelled any hunger pangs! It's quite extraordinary to think that 60,000 finger sandwiches, 120,000 buttermilk scones and 240,000 hand-crafted afternoon tea cakes are consumed throughout the Royal Meeting! Whilst the Royal Enclosure restaurants offer fine dining for those looking for a gourmet experience in a vibrant setting, the Private Boxes (available in various sizes) afford intimacy, exclusivity and impeccable service.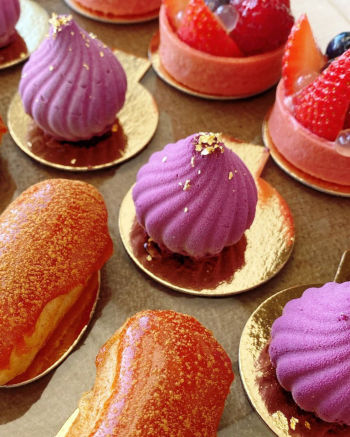 Our Private Box (located on the 6th floor) boasted its own dedicated team of waiters and waitresses, a complimentary bar (including the alcohol free champagne alternative Wild Idol for non-drinkers like me), a viewing balcony and large flatscreen television to keep abreast of all the live action. We were also very grateful for air-conditioning, not least the chaps who were ready to faint away Jane Austen-fashion in their full regalia. It would have been quite easy to settle here for the day were it not for the fact that a huge part of the experience is about enjoying all that being a Member of the Royal Enclosure offers, including access to a private trackside viewing lawn, a fourth-floor vantage point in the Grandstand and an exclusive area of the Parade Ring where I almost collided with Princess Anne. The day finished with me picking the winning horse only to realise that I had mislaid my ticket! Don't worry, I finally realised that it was tucked away in the zip compartment for 'safe-keeping' in my Launer handbag. Perhaps it brought me luck too. Royal Ascot 2022 will unquestionably be the most memorable day of my summer.
Royal Ascot from 14th – 18th June 2022. For more information, tickets and packages or information on how to book for the 2023 meeting please visit the website.
Olivia dress in frost blue (also available in other colours) by JANE Atelier priced at £690, available from their website.
Judi handbag (available in a bespoke range of colours) priced at £1700, available from their website.