Finally, it feels as if spring in the air! Snowdrops, crocuses and daffodils are putting in an appearance, and the days are decidedly getting longer. What a perfect time to get away from the hubbub and enjoy some good walks and a hearty meal by an open fire!
Only 50 minutes direct train from Waterloo is Milford, and five minutes from that, the tiny village of Hambledon. The place to stay is the Merry Harriers – a 16th-century 'pub with rooms' on the edge of the beautiful Surrey Hills, and one of Peter and Lana de Savary's boutique properties. I'm trying out one of the five new colourful shepherds' huts, which sit in achingly bucolic splendour in an adjacent field across the road, facing a pond.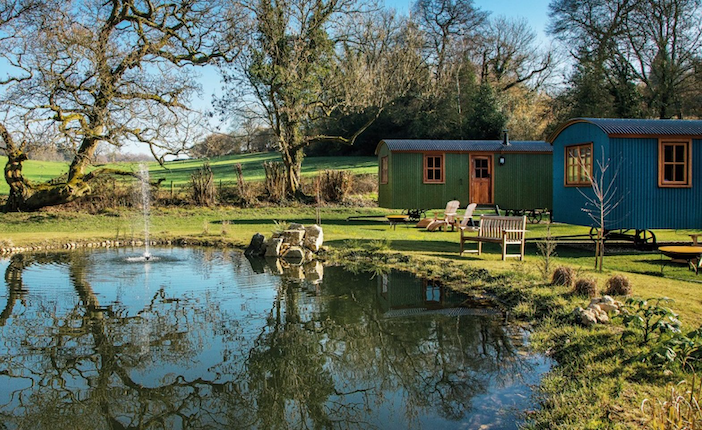 After a lovely walk up to Hambledon Common, from which you can see for miles, I'm back in time to enjoy dinner near the fire. To start, a goat's cheese salad, which is fresh and satisfying, without being too filling. Then, I tuck into a simple and comforting salmon with crushed potatoes and a glass of chilled South African chenin blanc. This being a rustic pub, there are also hearty local ales and garden ciders, as well as English wine by the bottle. I manage to squeeze in a slice of tarte au citron with crème fraiche before calling it a night and heading back to my own private enclave for the night.
The huts are deceptively large, and contain everything you'd need for a comfortable stay – wood-burning stove, double bed with Egyptian cotton bed linen, TV, underfloor heating, en-suite bathroom and kitchenette with Nespresso machine, fridge and kettle. They even pop a complimentary bottle of wine in the fridge for your arrival. Nice touch! Outside, each hut has its own fire pit and sun-beds, which would be great to relax around in the warmer months.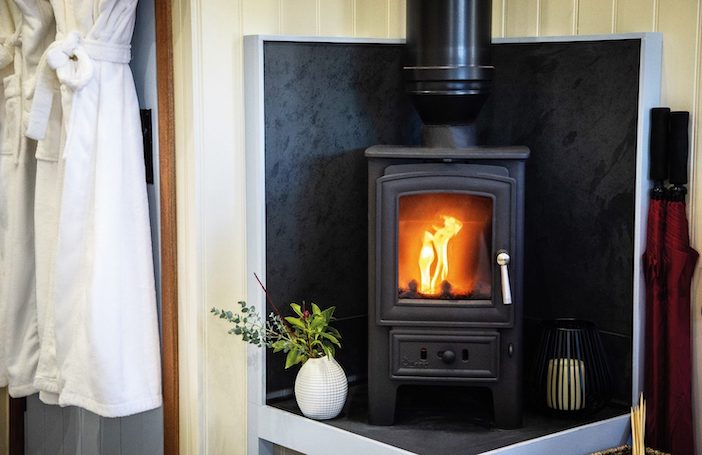 I've got a bit of a soft spot for cosy spaces. Even before the tiny house movement, I loved the idea of staying in a self-contained hut and having all my things to hand. So the rise in popularity of shepherd's huts in this country has filled me with great joy. They're the best of both worlds – stylish décor and independence, with excellent amenities across the road.
Breakfast is a combination of cereals, yoghurts, fruits and pastries laid out on the bar, and an a la carte menu of hot dishes. I order the 'Full Vegetarian', which comes with halloumi and hash browns, and I'm truly set up for another day's walking.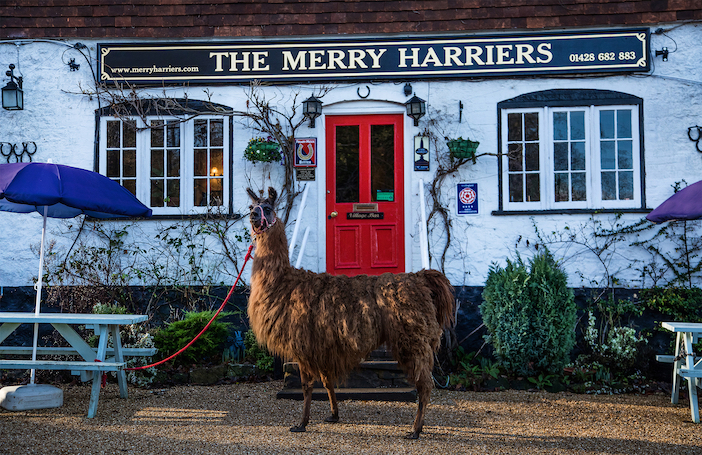 If you're feeling adventurous, you can book one of the llama treks, which go out most days (and no, you don't ride them, which is what I thought). Local guide Clara will take you along the Greensand Way, with your chosen llama in tow. It's a fun and popular way to see the sights, and in summer, a picnic lunch can also be arranged.
I opt to amble around on my own, and explore the nearby village and church. The Surrey Hills is an Area of Outstanding Natural Beauty, with plenty of walks to keep you busy. And you're also on the doorstep of South Downs National Park. I can imagine that, come summer, this place is extremely popular. So go now and enjoy having it almost to yourselves. Just remember to pack your appetite, your wellies and your llama treats.
The Shepherd Huts cost from £195 per night B&B. Llama treks cost from £55.20 per adult, £27.60 per child. Please visit www.merryharriers.com or call 01428 682883 to book.