You'd probably need to belong to minor royalty to describe Villa di Bagnolo as a home-from-home, but the historic seven-bedroom manor house, found just outside of Florence, can indeed be yours (well, for at least a week), if you wanted to 'up' your status for a while.
Part of the luxury portfolio belonging to Tuscany Now & More – the company offers around 180 handpicked villas in Tuscany and throughout Italy – the grand, yet homely, house is one of its most beguiling and is found in the Chianti countryside, at the heart of the Colombaia wine and olive oil estate.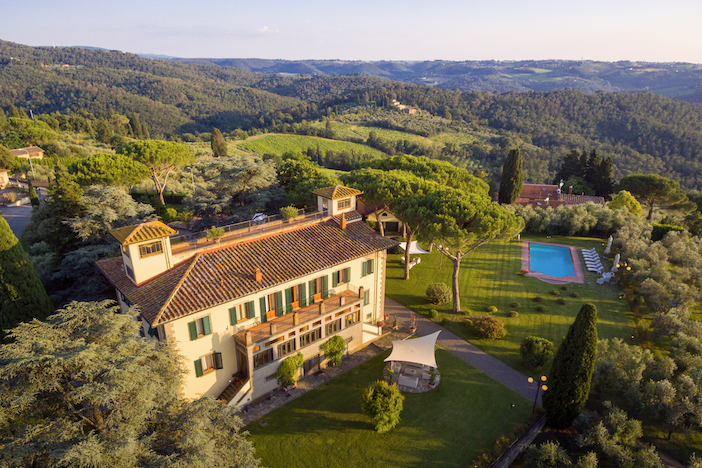 At first, you might find it tricky to find. Located on a winding road between Florence and the small town of Impruneta, you could easily miss the pair of decorative wrought-iron gates, that hide the rolling hills behind. But it's all part of the charm. These open up to a winding path, lined with lemon trees in outsized terracotta plants, and soon you'll spot the buttery-yellow house where you'll be staying.
Run by the Beltrami family for hundreds of years (the estate dates back to 1700) – you'll also no doubt catch a glimpse of Barbara Beltrami, who looks after the house, as well as her brother Stefano, who oversees the winery and olive oil estate. Both will welcome you in typically warm Italian fashion, and are on hand to offer any help and guidance you need, as well as (essential) wine and olive tastings in the original cellars.
While the grounds will impress with their manicured lawns, terraces and swimming pool, surrounded with contemporary rattan sofas and chairs, the interiors will transport you to a more regal time.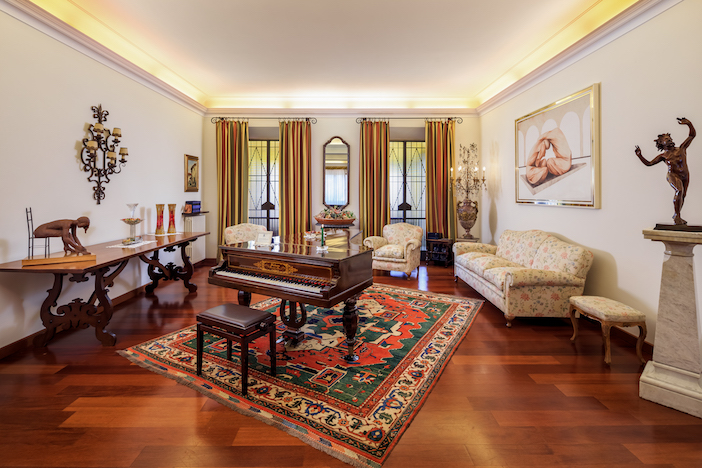 Spacious and elegant, the villa is the perfect place for groups, extended families or gaggles of friends to holiday together. Grand wooden doors open up to an airy hallway and a series of living rooms. As well as a family space, with sofas and flat-screen TV, there's a formal dining area, reading corners, a retro-style games room (packed with board games and cards) and another living area with a huge original stone fireplace. Antique dressers, carved wooden dining chairs and remnants from the house's hunting-lodge past – such as numerous pairs of antlers on the walls – give plenty of character. Taffeta drapes, fine Venetian chandeliers and even a 19th-century pianoforte give a layer of finesse.
Upstairs, seven bedrooms are filled with personality – with a mix of modern and vintage furniture, marble bathrooms and huge windows which can be thrown open to let in the Tuscan sun. Soft towels, fine linens and enough room for everyone to find their own corner give a luxury feel.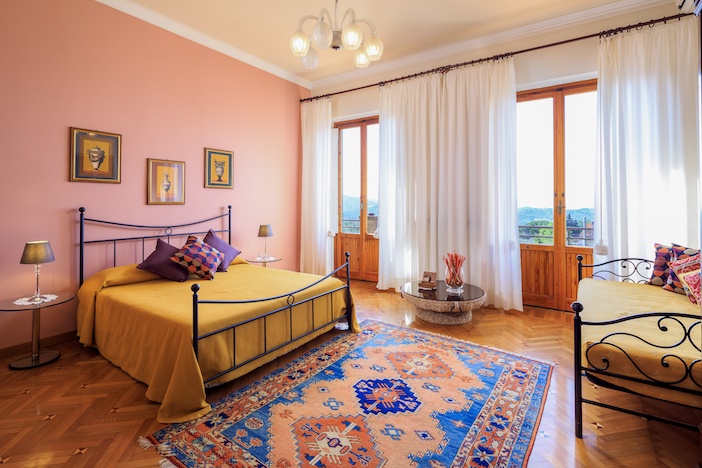 As well as a modern kitchen, there's a sunny, conservatory-style room where breakfast is served for you each morning – with pastries, home-baked cakes and freshly-baked bread on tap, and eggs cooked to your liking. While the villa is self-catering, Tuscany Now & More's USP is its concierge expertise, as well as offering local knowledge, and so you can also opt for as much cleaning and chef services as you wish.
Local Lisa Banchieri, for instance, is one of the chefs used for private dining and she offers a choice of menus – each with fresh pasta at their heart. – for guests to preselect from. The four-course gourmet menus include starters of 'bruschette fantasia' – bruschetta with a choice of toppings – or perhaps aubergine 'parmigiana'.
The star of the show is the fresh pasta, of course, and you'll be spoilt for choice from ravioli with zucchini and ricotta to tagliatelle with fennel and Italian sausage. All the pasta is hand-made on arrival (pop into the kitchen to see how it should be done) and is cooked to exacting standards. The 'secondo' course, meanwhile, includes 'Osso Buco' or a typically Tuscan chicken casserole with pine nuts and raisins, while the choice of desserts spans classic panna cotta or tiramisu.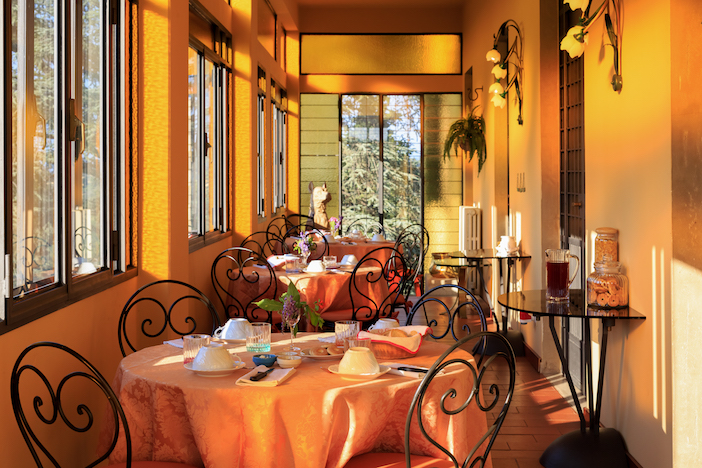 While culinary experiences are an essential part to any trip to Italy, Tuscany Now & More also offers you a chance to learn about its wine-making. While Stefano's wine tasting will focus on the immediate locale – the estate makes its own Sangiovese, Colorino and Chianti wines (and are seriously good) – you can also organise for a professional sommelier, such as Valentina Mazzetti, to give you more of a formal masterclass in wine-tasting, concentrating on the Tuscan region.
Stretching across 54 acres, there's much to explore on the estate – from strolling through the fragrant olive groves to having a game of tennis on the two courts. There's a table tennis table and football goals to keep any little ones happy, while the tower terrace, found by climbing the 'secret staircase', is just the place to take a sundowner and to take in the views across the Florentine hills to the city beyond (you can even glance the roof of the Duomo glistening in the distance).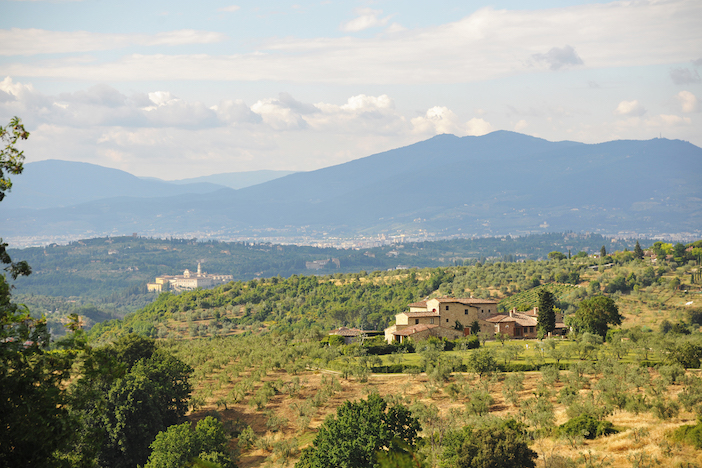 In fact, this summer is the perfect time to visit Florence, with the city in full-on celebratory mode to mark the 500th anniversary of Leonardo da Vinci's death. There's plenty going on for visitor to find out more about the city's most famous son, artist and genius – but to make it easy Tuscany Now & More is offering a 'Follow in the Footsteps' tour of the area. Taking you to the Uffizi Gallery, the Palazzo Vecchio and the town of Anchiano, where da Vinci was born, it is an enlightening way to see some of the treasures of Tuscany.
Stay at Villa di Bagnolo, with Tuscany Now & More (www.tuscanynowandmore.com, 020 7684 8888) from £4,452 for seven days for eight people (maximum capacity of 14 people). Includes a maid, a cook and access to tennis courts. Tuscany Now & More features a range of properties across the region and Italy and can provide private chefs, excursions and other services upon request.