After years of travelling as far as possible to exotic locations, thanks to Covid, the Brits are now discovering their own island. "Normally, our visitors are from overseas, now they're all from this country," the reception staff told me at the Noel Arms Hotel, a golden honeycomb of a hotel in the north Cotswolds village of Chipping Camden.
And why not? You'd be hard pressed to find anywhere prettier on the planet. The Cotswolds are as gorgeous as ever (honey-coloured thatched cottages, rolling countryside, tiny hamlets, palaces and gardens) – but somewhat emptier than usual. This is clearly a plus, especially in our Coronavirus-ridden times when distancing is all. But sitting in the courtyard of the Noel Arms, you can relax at suitably spaced tables, sip your drink and watch the local equestrians clip-clopping by.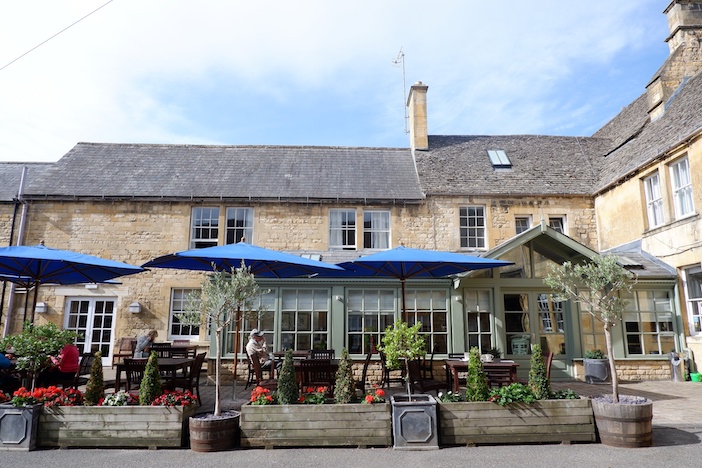 It is a pleasant spot – in fact, it's regularly voted England's prettiest high street. There are fine mansions built by the Cotswold wool merchants and picture-book cottages with hollyhocks pressed against golden walls, almost reaching to the thatch. Be warned. A visit to the Cotswolds may well result in some serious house envy.
All the villages in these parts (Moreton-in-Marsh, Stow-on-the-Wold, Bourton-on-the-Water) are mouth-watering but likely to the busiest. The Cotswolds do, though, have surprisingly empty areas just beyond the most-trodden paths. Just a short drive from Chipping Camden is Snowshill which would be the Provence of England – given its endless fields of lavender – except for its is truly Gloucestershire pronunciation. The locals refer to it as Snozzle. Irresistible.
Further south, it becomes almost wild countryside and, on taking an eccentric cross-country route from Cirencester to Painswick, we saw hardly another car – a blessing given the width of the roads. Suddenly, you are in utterly rural England with not a tourist hotspot in sight.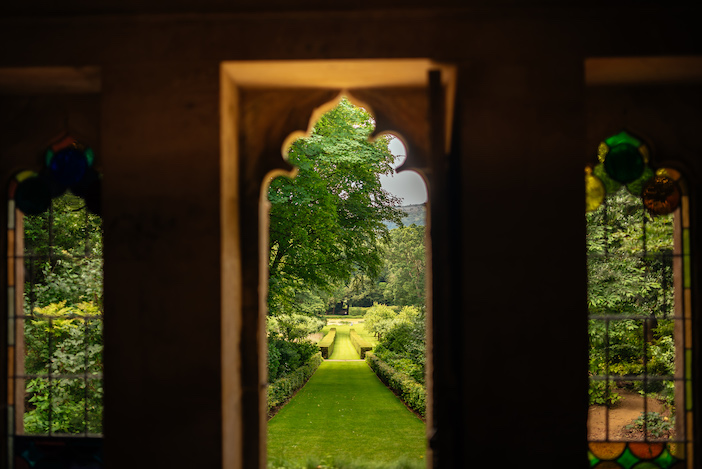 Painswick is definitely worth a trip to visit the only extant Rococo garden in the country. Created in the early 1700s, it's a Fragonard painting come to life. There are pastel pavilions built for trysts, a "hermitage" made of willow, charming follies, serpentine paths – it was built as a flamboyant and frivolous outdoor playroom and it's been restored exactly according to a painting of the garden as it was in 1748 by local artist Thomas Robins.
From here it's a short drive to the pretty market town of Cirencester, full of independent shops and restaurants and, on the Thursday that I was there, not one but two markets. The first sits in front of the magnificent St John Baptist Church, the second twists its way through the alleys, mews and arcades of the city and specialises in arts and crafts. I saw this first at breakfast – the brasserie of the Kings Head Hotel looks into the arcade that used to be the stables of the Corn Market. It's a sign of the Covid times that the main restaurant isn't open yet but the brasserie provided an inventive delicious dinner menu from its open-plan kitchen (grilled figs with pecorino, scallops with chorizo, beet risotto).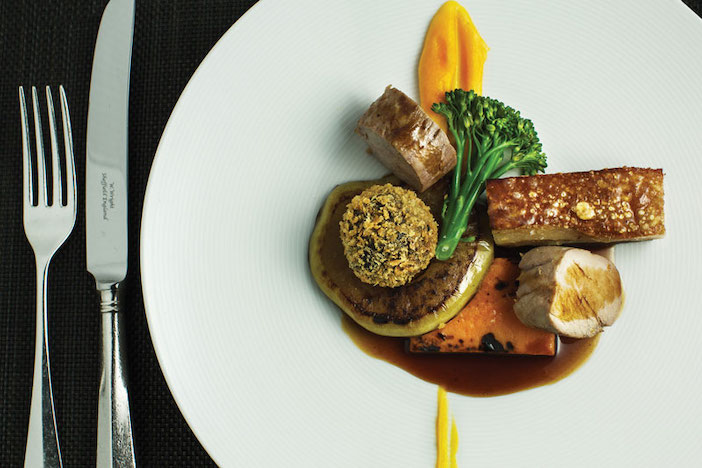 The Kings Head could give you a pretty decent history lesson on the town's past, in fact. The Georgian front hides a contemporary style inside but one that showcases its historic bones. So my very cool room had an ancient fireplace, there are medieval vaults under the ground floor that house private dining rooms and wine cellars and, below all that, the remains of the second most important town of Roman times. You can see the mosaic floor through a glass panel in reception.
Stonehouse Court Hotel just outside Stroud is a very different place – a proper country house hotel – where my bedroom was the size of the average London flat, complete with a bath in the bedroom itself (I love that). If you have concerns about Coronavirus safety, it's interesting to consider the measures hotels need to take at present. All three hotels had in place one way systems for guests, hand sanitisers, distanced tables, Perspex panels for reception, non-contact payments and, of course, everyone is still running on reduced staffing levels.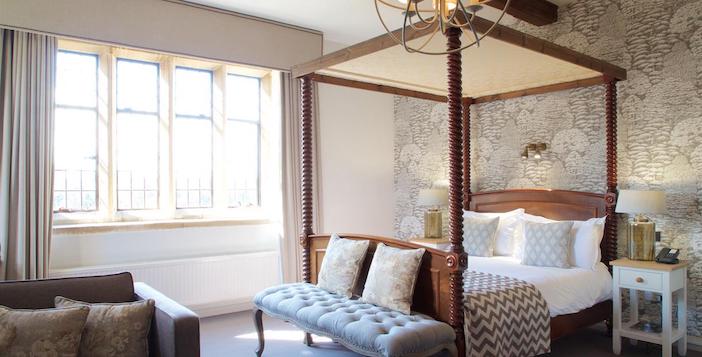 The safety measures are not intrusive, though, and sometimes you can make a plus out of a minus. At Stonehouse Court, for instance, they have a huge marquee for weddings (their vast lawn and views over the Cotswold Hills make this a wedding favourite). As large gatherings are still impossible they have utilised the marquee as their outdoor restaurant. It's a perfect spot with house martins swooping over the lawn and into their nests in the stone eaves above.
So times are changing and what we are looking for has changed, too. So what would be the perfect day out in our strange Covid days? Considerations might include open air, social distance, and an antidote to stress. Bearing this in mind, my vote goes to the National Arboretum at Westonbirt. While no doubt at its best in spring (for the blossom) and autumn (for the leaf colour), this is a place that is still, beautiful and often silent, except for the wind in the trees. You can take the Treetop Walkway and look down on glades of cherry and maples, walk through avenues, forest and downland. I would defy anyone's blood pressure not to lower.
Arbuturians – meet the Arboretum.
Each property is part of the Bespoke Hotels group. For more information, click the links to each property; Noel Arms Hotel, Chipping Camden; The Kings Head Hotel, Cirencester, and Stonehouse Court Hotel.