Tinker Bunny's Bathing Pool is as still and clear as glass. Each ribbon of seaweed and pale barnacle is visible in its teal depths, in contrast to the steely, white-capped Atlantic that churns beyond the rocks on which we're huddled. And you can tell, at a glance, the water is going to be freezing.
Yet, here I am, dipping a toe into the water. The cold is curiously like fire, sparks erupting over my skin. 'Don't do it!' shouts the logical part of my brain. I sink deeper, planting one foot then the other on the granite ledges that form a set of slippery natural steps into the sea pool. Perhaps it's pure autopilot, or the desire not to chicken out in front of the strangers queuing up behind me, or the fact wild-swimming aficionado Sophie Hellyer is holding my hands, counting 'one-two-three-four' to help pace my breathing.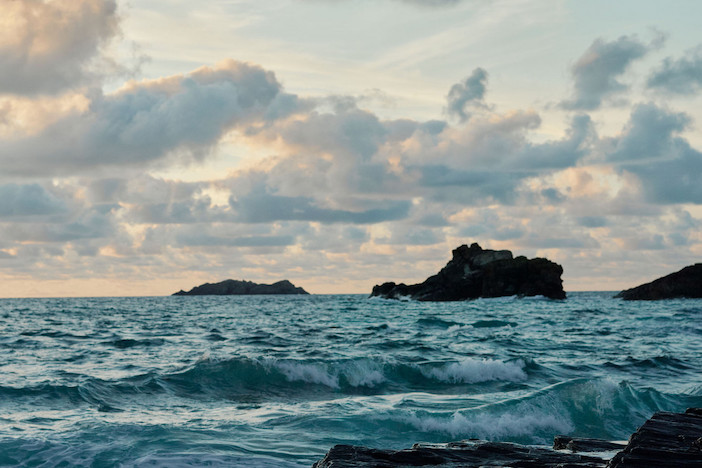 Whatever the reason, I'm suddenly submerged up to the shoulders and the temperature becomes an abstract fact, something registered as if it's happening to another person. Eyes closed, focusing on slow exhalations, there's no room for any other thoughts. It takes a tap on the shoulder to tell me when two minutes are up. Time to get out.
Of all the activities on this weekend's retreat – the first to be organised by wellness magazine Well Curated – cold-water immersion was the only part I approached with trepidation; the massage with The Wellness Concierge, daily yoga classes by Oyogo and windswept coastal walks would obviously all be blissful.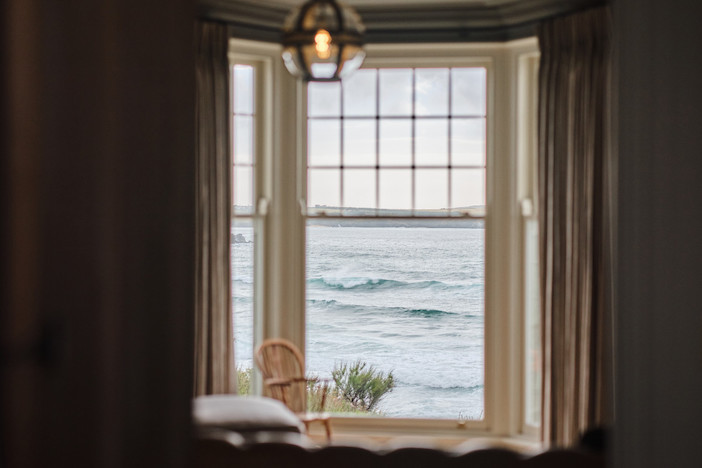 But picking my way back over the rockpools, wrapped in a fleecy Dry Robe, the natural high has kicked in, as if I've internalised the clarity and calm of the sea pool. It's easier to fathom the clinically proven health benefits that Sophie listed in our pre-swim briefing: improving mental health and memory, reducing fatigue and muscle pain, boosting metabolism, lowering the risk of cardiovascular disease, even slowing the onset of dementia, according to recent medical studies. The shocking temperature activates the body's "fight or flight" response, triggering the release of feelgood hormones dopamine and serotonin in the brain.
Back at Atlanta Trevone, our base for this three-night retreat, a hot shower beckons, as well as a wholesome brunch of veg-packed frittatas and bowls of stewed seasonal fruits with homemade granola beckon. This handsome, slate-clad Victorian terrace was recently converted into five separate self-catering properties, all overlooking the seashore. I bagged the master bedroom in spacious Atlanta House (sleeps 10), its bay window perfectly positioned for watching ocean sunrises. The dinkiest of the set will be The Net Loft (sleeps four; bookable from July 2023), an antique-filled former fisherman's cottage with views of Trevone's blow hole.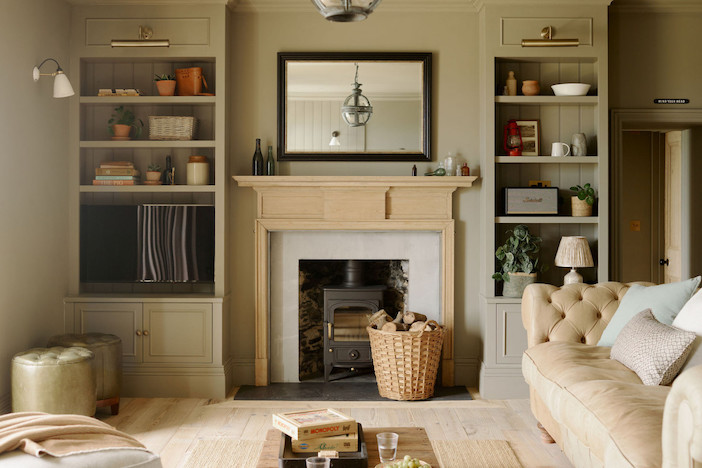 Interiors manage to be both traditional and subtly coastal inspired without veering into nautical kitsch or holiday cottage chintz. Think: a muted palette of sea moss, slate grey and sand, cabinets of well-thumbed vintage books and seashells, House of Hackney fabrics and original cast-iron fireplaces. The oil paintings of stormy seascapes are by artist JHC Millar – the great-grandfather of Atlanta Trevone's co-owner Jess Alken-Theasby, and a favourite of King George V.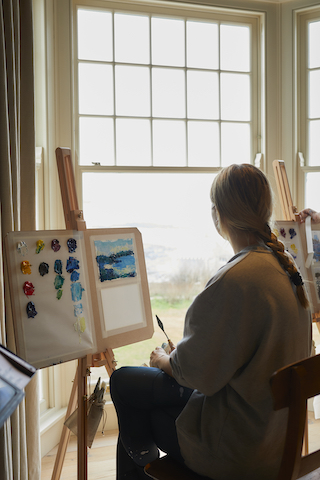 There's the chance to create a seascape of one's own in a private painting class with local artist Rachel Painter. Easels are set up by the window and, after a short explainer on colour theory and mark making, I begin layering buttery oil paints onto the canvas: a wash of smoky grey for the sky melting into the slate-coloured sea, with generous dashes of white to capture the crashing waves below as Storm Larisa rolls in.
Downstairs, the state-of-the-art Neptune Kitchen would delight any keen cook, stocked with Le Creuset and Soho House crockery, plus fancy high-tech touches like boiling water on tap. However, all I manage to do is assemble an afternoon cream tea from the welcome hamper, since an impressive line-up of professional guest chefs has been arranged for the retreat.
Local rising star Joe Lippman, whose restaurant Duchy Grub is in neighbouring village of St Merryn, whips up a series of Middle Eastern-inspired small plates, while MasterChef finalist Claire Fyfe treats us to crab-topped crumpets, clam risotto and a rhubarb panna cotta. Emily Scott's sharing platters of scallop beurre blanc, lamb with salsa verde and quail's egg salad niçoise show why she was chosen to cook for world leaders when the G20 came to Cornwall in 2021. The duchy's culinary capital, Padstow may only be a five-minute drive away from Atlanta Trevone (or a hearty westward walk along the clifftops) but the retreat's in-house catering puts 'Padstein' in the shade.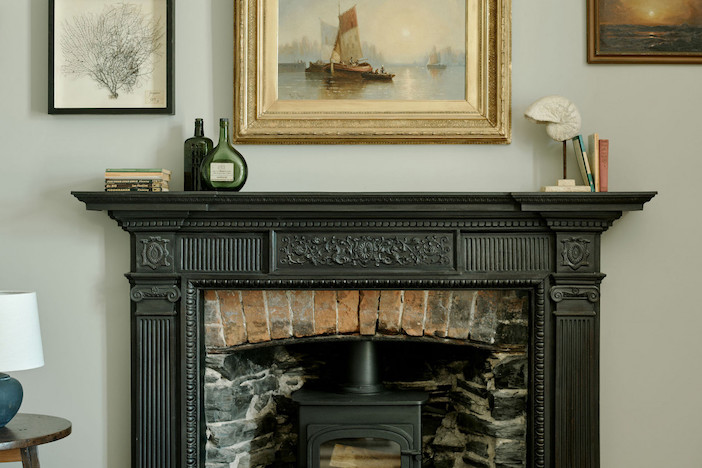 With all this on offer at 'home', it's tempting hole up beside the log-burning stove or the rolltop bathtub, watching the storm gather while sipping a glass of locally made Knightor sparkling wine in hand. But when the rain eases the next day, you can't hold me back from pulling on the Wellies and stomping along the South West Coast Path to Harlyn Bay, raring for another endorphin-boosting, briny dip in the Atlantic. This time, there's an added incentive, even more enticing than those aforementioned health benefits: Saunas by the Sea's beachside cabin, standing by to warm up post-swim limbs, and a hot chocolate from The Beach Shack. Who needs a spa hotel when the Atlantic coast offers wellness en plein air?
The next Well Curated retreat will run from 21-24 September 2023, from £995pp for a three-night stay in Atlanta View based on five people sharing, including a private dinner cooked by a top local chef, a signature platter dinner by Dine With Iris, a 45-minute massage, a guided coastal walk, daily yoga, cold water immersion, breathwork masterclasses and Saunas by the Sea experience, atlantatrevonebay.com, 01841 521175. experiences on offer at additional cost include a private art masterclass with Rachel Painter and surfing lessons.
Photos by Alexander J Collins