When I was little, we used to come to London, to visit my grandparents who lived in an old mansion block in the district of Earls Court. They resided here for forty years together, and in the case of my Grandmother (or Grannie, as we more affectionately knew her), a total of 63 years was spent living in the very same flat (she moved out only shortly before passing away at aged 96).
This is where my mother and her siblings grew up, with their illegal (per the building's rules) pet bunny hopping about in the back bedroom, while their parents listened to The Proms on the radio. It was a period coloured by their mauve school uniform (a shade my mother says she still detests) – hers was a small institution found around the corner, to which they were often marched at full London-pedestrian speed.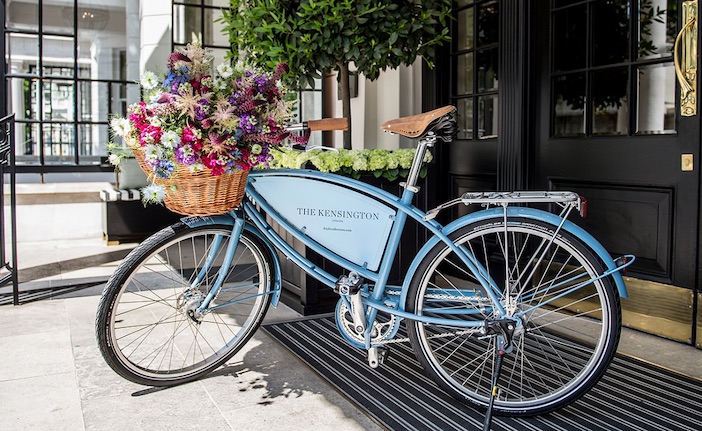 Kensington has been a continued part of my living history for as long as I can remember. In London, it's where I feel most at home. A familiar pocket of the capital that is just 'who' it is. The magnificent red brick blocks interspun with the protruding chests of bright white mansions, each topped with their meringue-like mantels. The brilliant, often eccentrically dressed, local residents. The call of the district line announcements and the lift down to the Piccadilly Line at Earls Court Tube. The courtyard gardens that mark each enclave of community here. The resident dogs names that are numbered on each garden's notice board.
To stay in the borough of Kensington is a treat and a treasure. In August I had the pleasure of installing myself for a night at The Kensington Hotel, a stone's throw from South Ken on the corner of Queen's Gate. Simply knowing you're staying in this postcode engenders a sense of location luxury – but not in a brash, flash way that other high-end hotels will have you command. Here it is a quiet confidence, an "I'm classy without needing to say it' kind of vibe. Under the pastel blue and white striped awnings, stepping inside this pretty Doyle Collection hotel is just as you might expect of a perfect home who's doorstep almost trips onto the gardens in which Lady Diana once resided (the digs she shared prior to moving 'up the road' to Kensington Palace).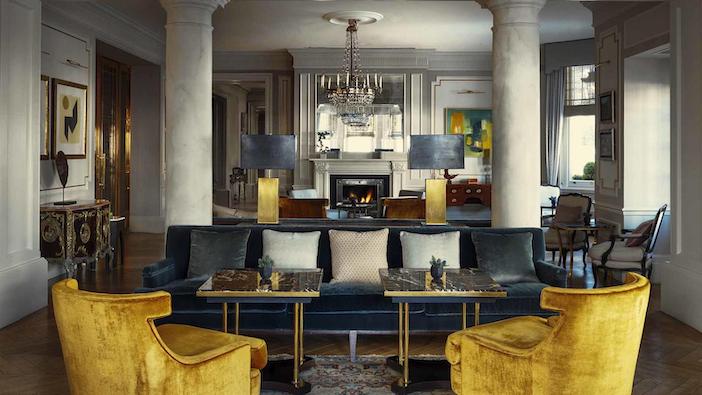 Here, the drawing rooms are decked out in a classic Kensington townhouse style with considered modern inflections – mostly shown via the art on display inside, while the elephant collection provides personal games of hide-and-seek joy. Plump cushions and gold studded velvet armchairs envelop guests in a tangible sense of refinement as they reside over drinks or dinner by the fire (yes, in August this was lit, a much cosier alternative to dining outside on The Veranda, which on a sunnier day would have been the perfect position to frequent).
An excellent menu of 'something for everyone' will sate those either travel weary or simply looking for a quality feed that is both classic and comforting, with a charming wine selection to accompany. For me this can't be beaten by burrata and steak, paired with a glass of Bordeaux, on recommendation. Where simple flavours are done very well, you know you will always go to bed satisfied.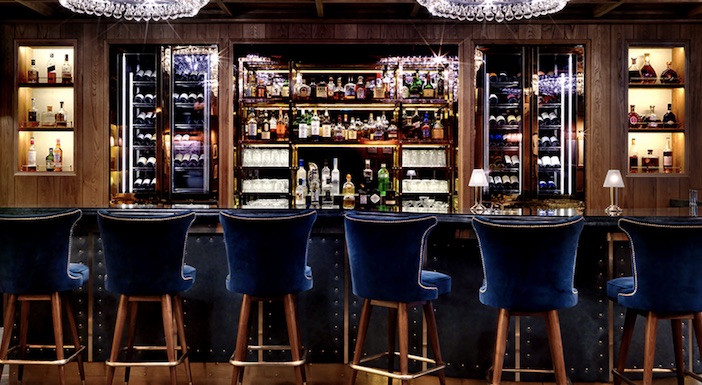 Nightcaps can be taken at the bar or in one's room. I opted for the bar – as I much prefer being against a background of intercontinental chatter (and found some – an Argentine Chinese combination in this case). It is the stories overheard that often a whole trip make. The bar itself was a real find – wooden panelled, etched in gold, with high chairs and low lit table lamps illuminating the menu before me – one that is aimed, or not, at wine lovers. This for me was like a moth to a flame.
I'd go as far as saying that the cocktail menu at the K Bar is one of the most beguiling I've ever seen. Each drink based on a different wine or region – yet using nothing of the wine it seeks to describe. Highly recommended is the Beaujolais cocktail – a wine that has once again resurged amongst connoisseurs as well as hipsters.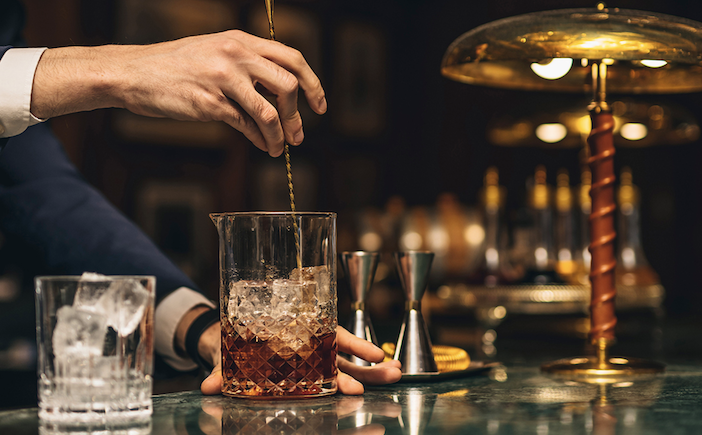 This now holds a firm place in my own 'must revisit' repertoire. This 'Beau-Nana' is made with Vanilla infused Ketel One, Aperol, Cherry, Raspberry and Banana. It is garnished with a flump (marshmallow). And for someone who doesn't boast a sweet tooth, even I was sold. Check out the full 'A Tale of Terroirs' menu for further inspiration of a (non) vinous kind.
The bedrooms at The Kensington are beautiful. The best have large floor to ceiling windows and similarly lengthed plush, velvet curtains, offering space for pouring coffee, outside on their accompanying front-facing balconies. I stayed in a Chinese themed room, with pretty prints of Chippendale furniture adorning the walls, walls that are dressed with wallpaper so divine you'll want to rub your fingers over every inch of this printed visual poetry.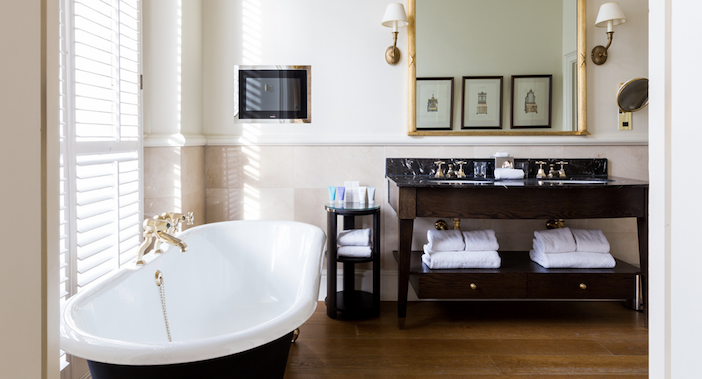 The bathroom was enormous, stuffed with savoury Malin and Goetze toiletries. It also had a rolltop bath complete with TV overhanging and shuttered windows to allow a secluded gaze out on to real life should you so wish to view it. With fluffy bathrobes to boot, this must surely epitomise every high-end bathroom's dream. The size and thread count of the bed means that you can try the most ambidextrous of starfish shapes, and still not touch every side. Life at The Kensington is definitely rosy. Even the corridors are perfumed to perfection.
The Kensington is part of The Doyle Collection. For more information, including details of offers, hotel amenities and their 'slice of the city' insights into what to do during your stay, please visit www.doylecollection.com.
My favourite things to do in Kensington:
Visit Old Brompton – one time 'scene' of late night Chelsea bar Eclipse, now turned classy wine bar with a most excellent selection of cheese and wine, amongst other treats, co-founded by Master Sommelier Xavier Rousset.
Shop at Parsons Nose, the Butchers – with its top quality meat, this place meant our fillet for last New Year's Eve Beef Wellington was sorted. They also have delicious sausage rolls.
Wander up Kensington Church Street – antique shops and other curiosities, topped off with a pint and a Pad Thai at The Churchill Arms.
Book a concert at The Royal Albert Hall – the most atmospheric of London settings to watch anything 'in vivo', particularly if you manage a red-velvet finished box.
Visit the V&A Museum – if only to marvel at costume creations. The Dior Exhibition here was one of my all time favourites, but the public halls and glass chandeliers will call marble-like attention from all who enter through her arched doors.
Follow KCAW London – Kensington and Chelsea's public art trail. Loads of great outdoor installations and creativity, covering and maintaining this London borough's brilliant, artistic, heritage.
Watch a movie at the Fulham Picture house – true, the TV in your room is quite big enough to settle in and but there's something so special about these picture houses, and the lack of their presence in recent times. There are also some pretty dang good indie movies on here fairly regularly too.
Walk along Thistle Grove – one of my favourite streets in London. It is quiet. It is cobbled. It is a secret haven of West London life.