Just opposite Kensington Palace and Gardens, the five star Baglioni Hotel London is every inch as glamorous as the royal neighbourhood in which it is situated, with its stylish open-plan bar and all-day dining restaurant, Brunello, complete with a heated outside terrace, a luxury spa and gym, 67 well appointed rooms including 49 suites, complimentary butler service, and a Maserati chauffeur service ready to drop guests anywhere within a two mile radius. Nearby are some of London's best museums and cultural landmarks; The V&A, Science Museum & Natural History Museum, along with the Royal Albert Hall and Albert Memorial, not to mention Knightsbridge shops. Or you might just feel inclined to go for spin. For something even more unique, the Baglioni Hotel London offers horse riding experiences through Hyde Park, complete with a picnic.
The Baglioni Collection have long been renowned for their exclusivity, with properties and resorts in the majestic Italian cities of Venice, Rome, Milain and Florence, along with France and the paradisaical Maldives. A proud member of Leading Hotels of the World, the Baglioni Hotel London offers the finest Italian hospitality and is always ready to roll out the red carpet. That said, there is a feeling of discretion about this hotel that is sorely lacking at other more flashy London five stars. It's the kind of place A-listers looking for anonymity rather than paparazzi go, and therefore it feels all the more exclusive and clubby. Channel your inner Halle Berry or Al Pacino (both reported to have stayed here).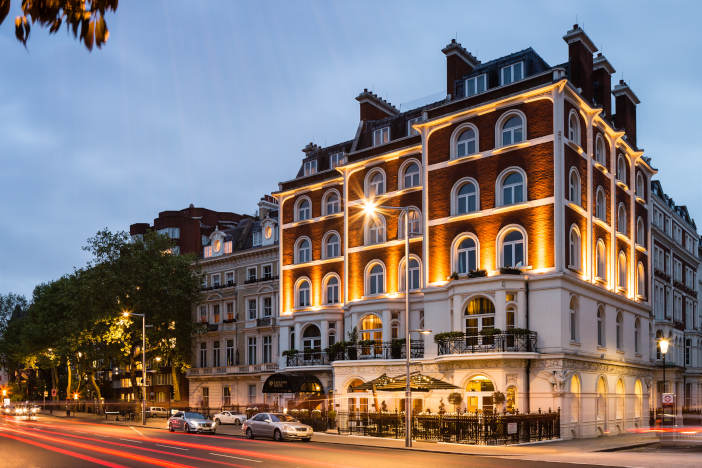 Our De Vere Suite, one of their Signature Suites (from £1,500) was, like the rest of the hotel, impeccably tasteful. An elegant palette of ebony and ivory with gold accents and black parquet floors can hardly fail to please, while our spacious accommodation included a separate living area with sofa, flat screen TV, writing desk, dining area and the absolutely essential espresso machine for a dose of Italian coffee. We even have a knock at the door a short time later to see if we require more coffee! The black marble bathroom with stand alone shower was meanwhile adorned with plentiful Dellaluna toiletries and luxury white robes for relaxing in. My only gripe would be that the lighting in the bedroom was a tad bright and would have be better on a dimmer switch. For a supplement guests are also invited to bring their four legged friend (there is a size restriction, so do check in advance), the ideal way to fully enjoy the close proximity of Hyde Park. Other suites also offer private terraces overlooking the park, a real feature come the warmer months.
Alternative ways of warming up include a hot stone massage in the haven that is the Baglioni Spa. With just three treatment rooms it is advisable to make a booking in advance of your stay, while the spa is also a popular option for non-residents who can enjoy apertivio or the Italian-esque afternoon tea in Brunello before or after a pampering. My restorative 90-minute full body hot stone massage with wonder-woman-therapist Virginia (you can thank me later), featured heated, smooth basalt stones, which, when combined with a soothing massage eased muscle tension and gave a welcome boost to circulation we could all benefit from in the winter. The perfect tonic, the heady orange-scented aromatherapy oil put me in a happy trance of sunny Tuscan holiday memories. In addition to a selection of tailor-made treatments by Natura Bissé, other Baglioni Spa signature therapies include the Sogno (meaning 'dream') Lifting Facial, including coffee scrub, anti-aging mask and biotech ingredient, Neuroguard, to reveal a healthier and younger looking skin and the Diamond Rose Body Treatment; a sensory experience with exfoliation and a regenerating massage with Damask rose oil to transport you to a complete state of relaxation. Ladies, you'll look a darn sight more like Halle Berry when you leave.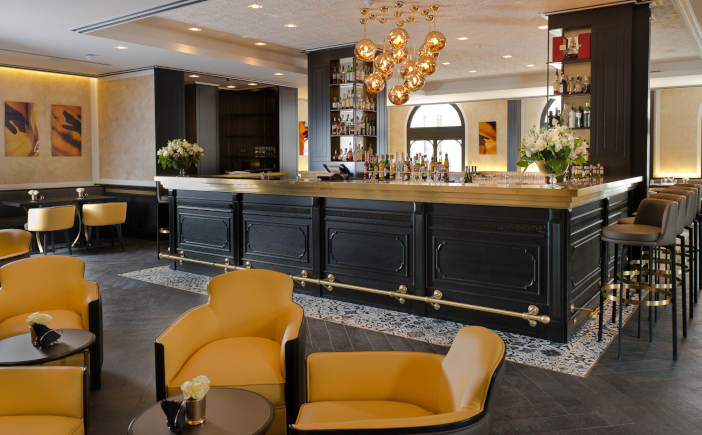 To celebrate your new state of peace and well-being, enjoy aperitivo in Bar Brunello or on the al fresco 'Terrazza di Brunello' weather permitting – alas, this was the first time I became aware of the teaming rain outside my Italian cocoon and the fact that we were not after all in Italy! The charming Italian staff certainly provide the sunshine on a grey January day in London, however, so too the ever changing modern art adorning the restaurant walls and the tempting Italian menu highlighting all the best loved Italian classics besides the chef's more inventive seasonal mains, pasta and risotto. One such revelation was gnocchi filled with black truffle, accompanied by a silky yet earthy Jerusalem artichoke purée and Crutin cheese. It seemed most of the other diners had opted for this also, and deservedly so. While my companion was delighted to sample one of his favourites, Ossobuco andrisotto Milanese, the seasonal main course of sea bass with crunchy squid ink panure and caponata offered a welcome modernity to the cuisine that is destined to remain one of the most popular in the world. The desserts are equally sophisticated representations of boozy Italian treats, from tiramisù to zabaglione, while the homemade fruit sorbets offer a appealing contrast to all the richness. I defy anyone not to believe in 'La Dolce Vita' after a stay here. It's a cliché, but true.
Baglioni Hotel London, 60 Hyde Park Gate, Kensington, London SW7 5BB. For more information and bookings visit www.baglionihotels.com.