Wispy fingers of smoke rise slowly from my cigar, twisting gracefully towards the branches of a cherry blossom which hang sleepily over the park bench; I observe a robin, the only lively participant in this scene, hopping and digging in the undergrowth beneath an exotic plant of mysterious provenance. The Botanical Gardens in Bath's Royal Victoria Park are one of the hidden gems in this beautiful city, a tranquil haven for those wishing to take some time out with a Cohiba or two, while taking in the fine collection of trees, shrubs and herbaceous borders in this perfectly formed temple of botany. Spanning 9.5 acres, the winding paths through the garden make it feel deceptively cosy, every turn revealing yet another delightful planting in this historic enclave which has been catering to garden lovers and robins since 1887.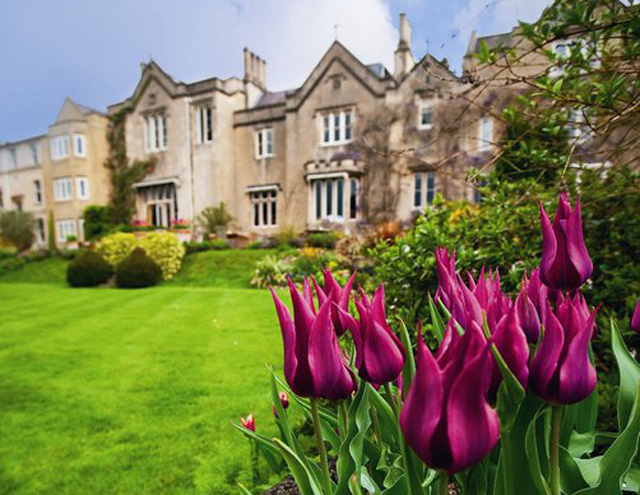 Some 40 years before this botanical eden was constructed, the immediate area had already become a picturesque setting for Victorian families and their newly built homes. In 1847, James Tunstall wrote in his book Rambes about Bath and Its Neighbourhood, "There is not a more delightful walk in the vicinity of Bath than that to the secluded village of Weston approached by a nearly straight road having pleasing villas on either hand." The author would have meandered past the house that is now the Bath Priory Hotel, built only 12 years prior to his adventure. Situated on land once owned by the Priory of Bath Abbey, the house has over the years been a private residence, a boarding school in 1962, and a hotel from 1969. In 1994, Andrew and Christina Brownsword purchased the Bath Priory, the first hotel acquisition in what would become a much lauded collection which now includes Gidleigh Park, Lower Slaughter Manor, Amberley Castle and Buckland Manor among its impressive portfolio.
Perhaps taking influence from the nearby Botanical Gardens of Royal Victoria Park, the hotel's garden won the Relais & Chateaux Garden of the Year Award 2013, selected over 518 other properties across 60 countries. Managed by former Chelsea Flower Show medallist Jane Moore, the garden encompasses three acres of lawn and meadow at the back of the house; Victorian in style, it features an array of different plant and tree species, from tulips in the spring to the 150-year-old great cedar of Lebanon that dominates the wild meadow. Specially created pockets of tranquillity throughout the garden provide privacy for those wanting to idle away the day with a good cigar and a book, such as James Tunstall's Rambles. There's even a heated outdoor pool for those wishing to take a dip. If you want the beauty of the neighbouring botanical gardens, but with silver service a mere bugle call away, this is the place for you.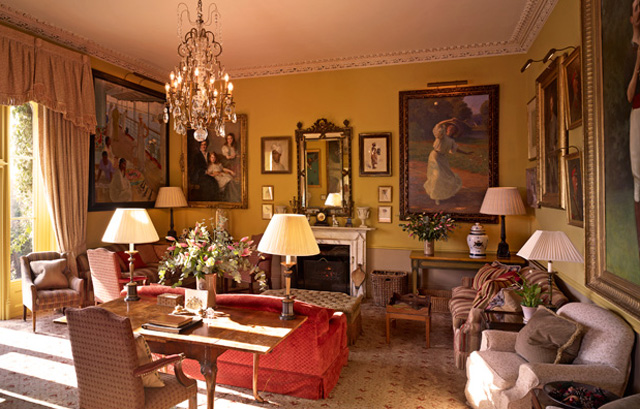 Inside the hotel, gothic influences found in the stone gargoyles, dramatic arches, French Belle Epoque chandeliers and objets d'art blend seamlessly with the soft antique furnishings; one feels as if one is visiting the home of an aristocratic elderly relative. The library is decorated with an eclectic mixture of Victoriana and Art Deco oddities, including some marvellous paintings of sports cars, tennis players and colonial portraits. We immediately earmarked the room as our spot for coffee and petit fours later that evening.
The hotel's 27 bedrooms and suites are similarly presented in a traditional style, combining luxury fabrics with period furniture for a sumptuous Georgian meets Tudorbethan aesthetic. Our suite, Magnolia, was a hotchpotch of florals and colour schemes; a collection of busy designs that somehow worked rather well. Overlooking the tranquil gardens and with windows that opened fully – no irritating health and safety window stoppers here – it was the perfect room to unwind in.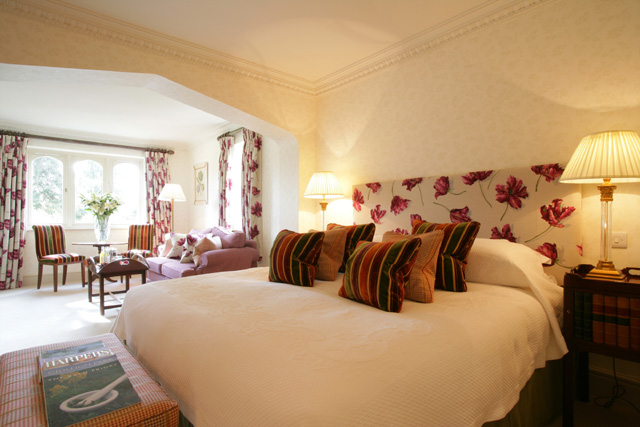 Once you've read the papers in the library, strolled the gardens, had a game of croquet and worked up an appetite, you'll want to satiate yourself on Sam Moody's cuisine at the hotel's restaurant, awarded a Michelin star in 2012, and one of the best fine dining experiences to be found within Bath proper.
Moody's haute cuisine is classic French-inspired cooking that utilises the best of local produce, presented as edible artworks on a plate; a starter of caramelised hand dived scallops with woody chanterelles was accompanied by a hazelnut and apple salad, providing some crunch and crispness to compliment the delicate flavour of the plump and perfectly rendered scallop.
This was followed by a succulent loin of wild venison with open lasagne of celeriac, pickled pear, a dreamy smoked belly of pork and a fragrant jasmine sauce. It was one of those dishes you wish would never end, all too easy to eat too fast, yet so attractive on the eye that it seemed a shame to eat it at all.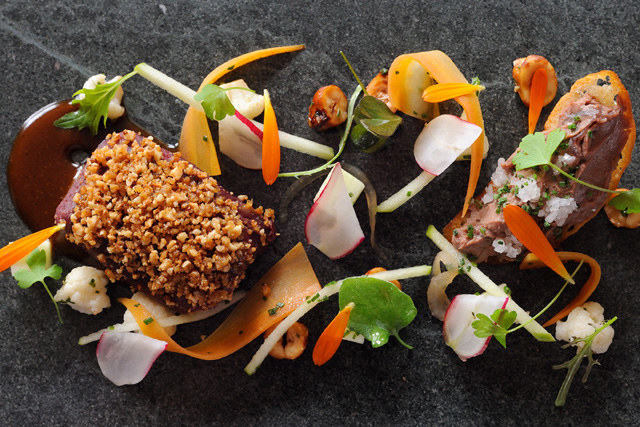 To round off the meal, a heady dark chocolate delice with moreish salted caramel ice cream was a perfectly balanced construction, sweet enough to please any diehard pudding fan without the excessive richness that could leave one feeling like the Stay Puft Marshmallow Man.
After coffee and petit fours in the charming library with its plush sofas that seemed to suck us in and the ticking clock slowly tempting us to count sheep, we made our way back to the Magnolia suite and listened to the owls in the garden sing us a twit-twooing lullaby goodnight. No traffic, no street noise or artificial lighting; just the gentle, cosseting nightlife of the Cotswold countryside and moonlight peeking through smalls gaps in the heavy curtains.
Awaking the next morning to the sun beaming down on the picturesque garden and with the aromas of newly cut grass and freshly brewed coffee, we indulged in a fabulous cooked breakfast in our room, feeling fully restored and ready for the 15 minute stroll into central Bath for a bustling day in arguably the most attractive city in Britain. Just two hours from London by train, and about the same by car, it's no wonder we find ourselves visiting this city time and again. I'm already counting down the days until our next ramble about Bath and its neighbourhood.