One of the world's most beautiful cities, Florence also boasts some of the best hotels one can find anywhere in Europe. Whether you're looking for a discreet boutique experience, glitz and opulence, or old fashioned charm, you will find them all here in the Renaissance capital. Our editor picks three of the best central Florentine hotels for your consideration…
Best for Opulence & Glamour: Four Seasons Hotel Firenze
Waltzing into the lobby at the Four Seasons Firenze, there is little doubt that you're in for a rather special time. A mere 10 minutes stroll from central Florence, the hotel occupies the Palazzo Scala Della Gherardesca, a grand house that once belonged to Florentine nobility with a long history dating back to the 15th century. It has an 11 acre botanical garden – the largest private garden in Florence – a sizeable pool, a spa, and rooms to rival the best luxury suites anywhere in the world. The royal suite even has its own original frescos. The hotel is so rich in history that tour guides often bring groups of art loving travellers for a look around the house and grounds.
The hotel's Michelin-starred restaurant, Il Palagio, is one of the finest dining experiences to be found in the city, with a well thought out menu of traditionally inspired recipes with a modern haute cuisine twist, a suitably impressive wine list, and even some of the best coffee to be found on the planet, including the fabled Blue Mountain roast from Jamaica. In the summer months, guests can dine outside on the terrace overlooking the ornate gardens, or near the pool in the more casual outdoor brasserie featuring a host of barbecued specialities. There is even a gelato cart for those wanting a cooling ice cream in the heat of the day. Guests are so well catered for in this private Eden-esque enclave, that it takes some effort to drag oneself away from the hotel and back into the city.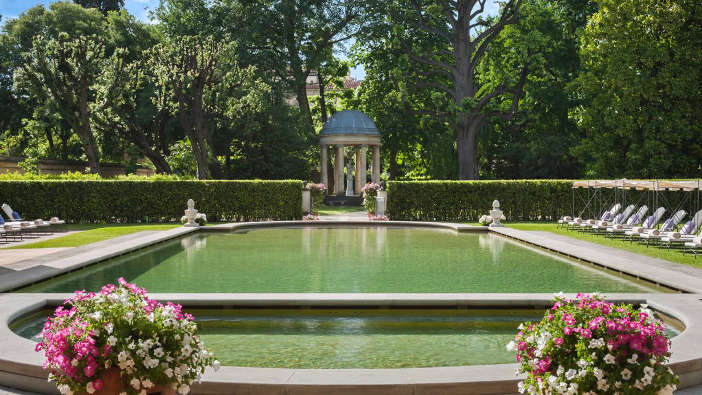 After a fabulous meal full of gastronomic theatrics and Italian flair, we reclined on some comfortable chairs on the lawn and I enjoyed a cigar and a digestif under a starry Florentine sky while her ladyship picked at the remaining petit fours. The next morning, we indulged in an impressive breakfast in one of the most glamorous chandelier-adorned dining rooms I've ever seen; everything was on offer from cooked meats, eggs any way you can think of, a continental selection of pastries, cheeses, cereals and sweet treats.
Service here is flawless, the rooms are superb and spacious, and the grounds are stunning. In fact I don't believe it's possible to find any criticisms when it comes to the Four Seasons; as a hotel group they are one of the finest in the world and their Florence outpost is a perfect example of this. If you want to combine a city holiday with a hideaway garden, a quiet pool, opulent surroundings and some very fine cuisine, I can't think of a much better place to be, and to be seen in. A hotel truly fit for royalty.
Best for Boutique Chic: JK Place
It is best to think of JK Place as a welcoming private members' club where nothing is too much trouble. Nestled into the corner of Piazza Santa Maria Novella in the heart of the fragrance district, this former townhouse boasts a mere 20 small but perfectly formed rooms. Discreet, friendly and personal service is what JK is all about, and is perhaps why many A-list celebrities have been attracted to it; the staff are always on hand with insider tips and recommendations of the best local restaurants and shops that you won't necessarily find in a guide book, and they can even arrange a private tour of the Vasari Corridor if you have plenty of euros to spend.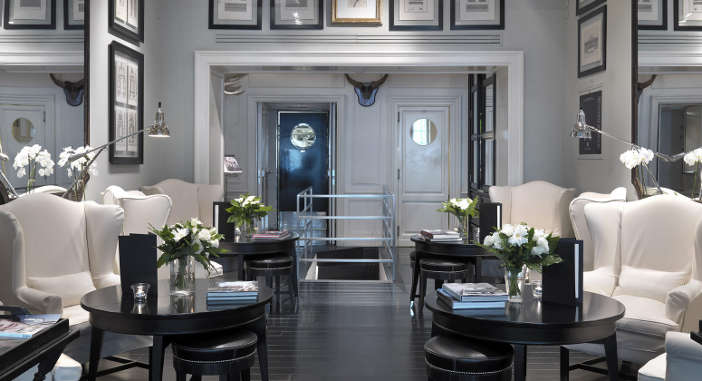 Decorated in stylish muted tones with large coffee table books about fashion and art strategically scattered around the lounge areas, it's the sort of quietly chic ambiance one can sink into for a session on the laptop to catch up with emails, a casual business meeting or just a snack and a drink with a loved one. Tea, coffee and other refreshments from the hotel bar and the mini-bar are all included as part of the room price; there are no extra or hidden charges here.
The rooms are elegantly luxurious and well appointed, and breakfast can be taken in one's room or at a rustic communal table downstairs. There is a charming terrace restaurant on the piazza serving a variety of all day dining staples from club sandwiches, burgers, steaks and pasta to indulgent desserts, and a cosy roof terrace with comfortable seating for wiling away the hours with a digestif and a cigar in the evenings.
If you are looking for a central hotel with lots of style, the calm of an oasis and the feeling of a home from home, JK is for you.
Best for Old World Charm: Hotel Helvetia & Bristol
A charismatic and slightly creaky hotel, the Helvetia & Bristol in its day was the number one destination hotel in Florence. These days one can find more opulent and fashionable venues, but nothing that feels quite so traditional and 'proper Italian' as this; the reception desk with the wood panelled wall of pigeon holes for room keys and post is a good example. One feels a bit like one has stepped back in time to a quiet, classy era before the constant irritating buzz of mobile phones, social media and instant messaging.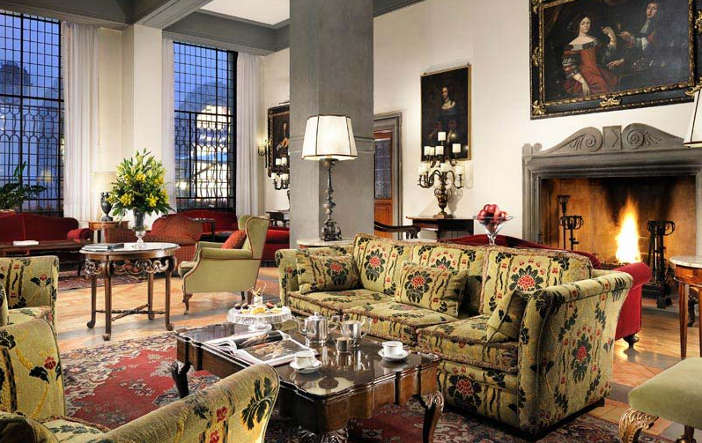 The rooms are spacious, comfortable and classically furnished in an old world Italian style with heavy drapery and the sort of paintings and prints you'd expect to find in an Italian aristocrat's family castle. The décor throughout the hotel reminded me somewhat of a Pall Mall members' club, a tad austere but somehow homely and elegant all the same. It's the sort of place you'd expect to find academics pouring over books about Florentine history in the lobby.
The buffet breakfast was generous and well stocked with a variety of hot and cold treats, setting one up for an exploration of Florence and the very nearby Strozzi Palace and the Piazza della Repubblica. If fashion is more your thing, the hotel is bang in the middle of Florence's haute couture district (the Ferragamo shop and museum is a mere strut away).
If you want a slice of old fashioned Florentine charm where it's okay to turn off your mobile phone, don your best panama and prepare a fresh pipe before an evening's stroll along the Arno, the Helvetia & Bristol has your name on it.
Best of the Rest
We couldn't publish a feature about Florence hotels without mentioning the magical Villa San Michele in Fiesole, nestled into the hills above Florence, and sporting the best view of the city that money can buy. The Hotel Continentale, The Regency and The Hotel Savoy are another three worth considering. And if you want to know where to eat, drink, shop and play, read our Florence city guide. Divertiti…