When I either become rich, or wise, or an especially successful writer – note the way in which the last category can function as mutually exclusive to the other two – I very much hope that I will be able to find myself a berth of some sort in Richmond. As soon as you leave the train or tube station, and walk past the identikit shops on the approach into the town proper, one is struck anew by just what an incredibly beautiful place it is.
Although vaguely connected to London, especially by dint of being the last stop on one end of the District Line, it contains a rura in Urbis vibe that is only partially dispelled by the frequency of the flights to and from nearby Heathrow. It would take another piece altogether to list the delights of the area, but the highlights – the Park; the Hill; the Green, and, of course, the river – are some of the most beautiful places in England.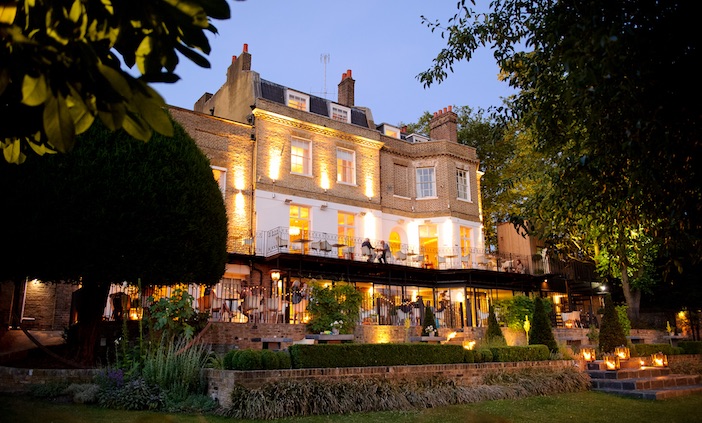 A wonderful place deserves a wonderful hotel, and the relaunched and revamped Bingham Riverside certainly lives up to expectations. This riverside Georgian house isn't just a very beautiful place in a fabulous setting, but has acquired a reputation over the years as the best place for well-heeled locals and visitors alike to let their expensive hair down.
There was a 40th birthday party taking place when we got there, and more expected over the weekend. Everyone seemed to be having a ridiculous, champagne-fuelled amount of fun. As for us, we unexpectedly put it through its paces upon arrival when it came to service; there had been a mix-up in the booking, meaning that our room was on the snug side for the two of us plus lively daughter, but the staff could not have been friendlier or more accommodating, working within the limitations of availability to see what they could do. Yet we were reluctant to move, not least because our quarters had both an excellent name ('Gorgo' – there were also rooms named after Baudelaire and Sappho) and, joy of joys, an enormous, expansive copper bath, the perfect spot to loll and relax within. Not that a three-year old offers many such opportunities, you understand.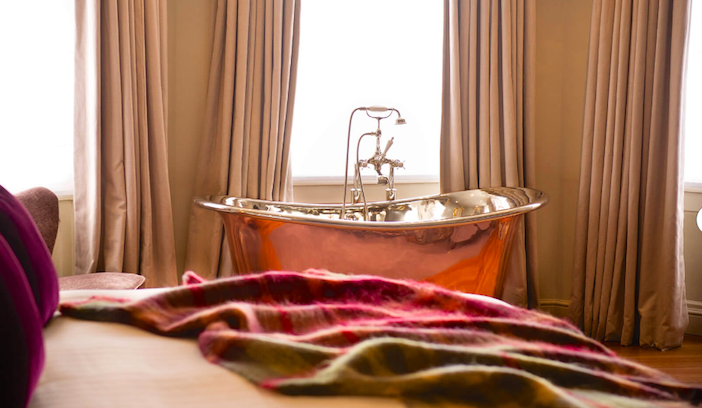 Indifferent weather meant, sadly, that we couldn't make as much of the garden as we wanted to, but I had been tipped off that chef Andy Cole was doing some truly wonderful things in the kitchen, and we decided to investigate. The first floor dining room is surely one of the most splendid and welcoming anywhere near the capital, complete with wonderful views over the river, but it is matched by the excellence of the cooking.
My wife and I played our favourite game of 'who got the best dish'; she won on the starters, with her sublime crab teriyaki featuring an assortment of avocado cream and puffed wild rice (not that my lamb croquettes were anything to sneer at, mind you), but I regained victory with my main, the best pork belly I can remember having in aeons, complete with pork fat mash. She could only look on from the (admittedly lofty heights of) halibut on her plate, and reluctantly acknowledge its excellence. A couple of glasses of Riesling and then Portuguese Duoro red wine helped the meal along nicely, to a flawless rhubarb trifle to finish. The restaurant once held a Michelin star; it surely will again.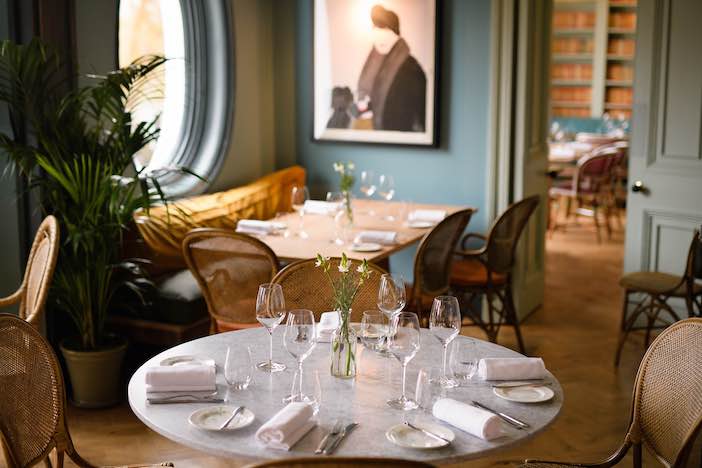 After a decent night's sleep, we rose fresh and active and headed down to the elegant, high-ceilinged drawing room for breakfast, where we were served flawless smoked salmon and scrambled eggs, plus boiled eggs and soldiers for the youngest amongst us, and, our journalistic duty uppermost in our minds, partook of a couple of the delicious pastries. And then it's time to head off on adventures again. But we'll look forward to our next visit to the Bingham Riverside, as it now calls itself. When I'm rich, wise and literary, I suspect I'll be coming in as often as I can, but until then, it remains the finest of treats.
Bingham Riverhouse, 61 – 63 Petersham Road, Richmond Upon Thames, Surrey TW10 6UT. For more information, including events, wedding packages, and bookings, visit www.binghamriverhouse.com.