Uniting sexy interiors, a grown-up bar, a stylish brasserie, an indulgent spa and rooms with bathtubs at the foot of the bed, the Bristol Harbour epitomises a small hotel group very much on the pulse of luxury boutique accommodation. Fusing the former Edwardian Midland bank and the mid-nineteenth century, Grade II listed Lloyds headquarters on characterful Corn Street, inspired by Sansovino's Library in Venice, the palatial architecture has lent itself very well indeed to the seamless transformation into a 42-room deluxe city bolt-hole.
Once you're inside the small yet slick lobby, you're not remotely conscious of either the original purpose of the buildings or the fact that you constantly float between the two, although the Lloyds portion is undoubtedly the grander if you happen to pay attention. The subterranean Harbour Spa, complete with small gym, hydro and tidal pool, sauna and steam room is atmospherically situated in what used to be the Lloyds bank vaults, with Espa and the recently launched HarSpa treatments and daily special offers for hotel residents. To further impress is the makeover of the Lloyds banking hall, now a 300-seat ballroom and events space, one of the most striking in the city due to its glorious skylight and ornate Victorian ceiling.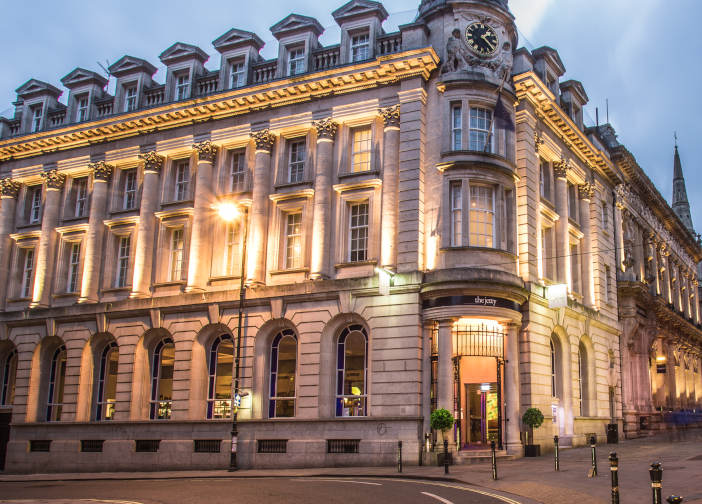 Well located for the city's most sought after sightseeing destinations, the luxury shopping district including Harvey Nichols, and the cultural quarter with Bristol Hippodrome and the recently revamped Old Vic Theatre at its heart, along with many independent cafes, bars and restaurants such as the popular Pasta Ripiena and Burger Theory, Bristol Harbour Hotel's prime address makes the entry level double rooms of £145 with breakfast something to delight even a bank manager. Despite the appeals of Bristol's exciting night life, you'll be equally happy, if not grateful, for the opportunity to stay put and enjoy all that the Bristol Harbour Hotel has to offer – and frankly, an overnight stay might just not be enough.
For instance, how do I choose between the opulence of an in-room freestanding bath or a walk-in rain forest shower to revive my travel-weary limbs? I couldn't so, I decided to shower and then bathe, simultaneously taking advantage of the generous supply of White Company toiletries and complimentary Belgian chocolates. A drinks tray with decanters of gin and sherry are offered free of charge, alongside a reasonably priced mini bar equally well stocked with tempting soft options. Our Corner Room Suite (one of five signature suites) also boasted a chaise lounge on which to loll with a Nespresso or await anything I might feel inclined to request from room service – a streamlined version of the restaurant menu being available around the clock.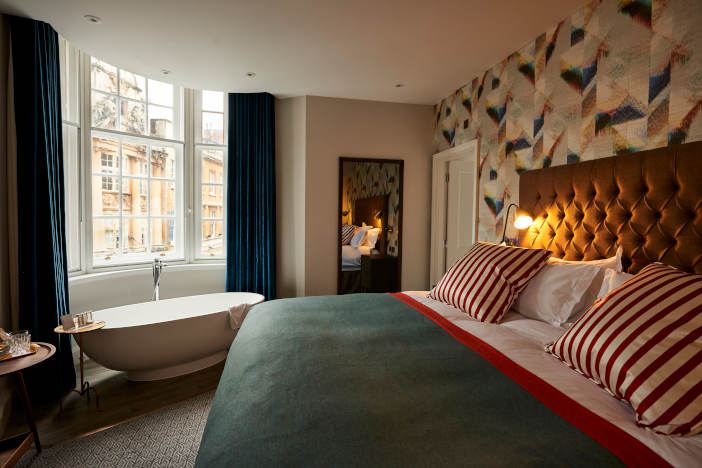 When I finally manged to haul myself from both the tub and the chaise, preferring to 'soak' up the atmosphere downstairs, The Gold Bar, with its plush velvet sofas, low lighting and nooks and crannies, with well spaced seating inviting intimacy, proved the kind of space l wanted to relax in before and after dinner.
The Jetty Restaurant, with its nautical colour palette, parquet floors, striking bar and open kitchen, offers diners a please-all menu from the group's Chef Director John Pollard who hails from J Sheekey, Scotts of Mayfair and the Rivington Grill. Following on from the acclaimed Jetty Restaurant at the Christchurch Harbour Hotel, the already thriving Bristol outpost has an equally strong emphasis on sustainable fish and seafood and can deliver anything from a frivolous yet luxurious seafood burger with crab, prawn and scallop, to an elegant whole market fish served with either Hollandaise, beurre blanc or shrimp butter.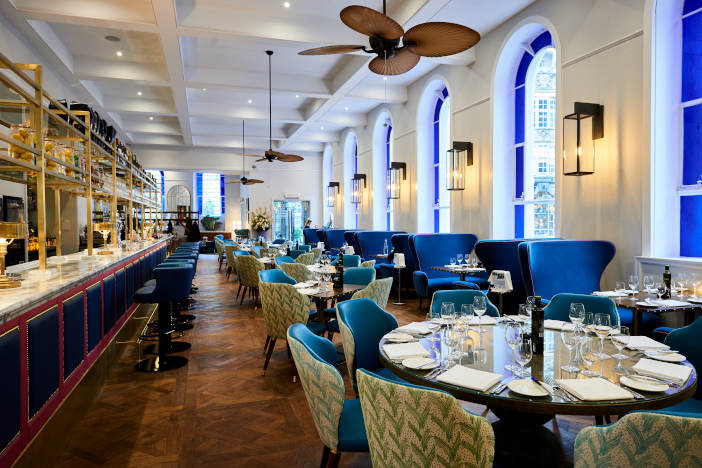 Where Bristol has long since led the way for culinary diversity, it has previously lacked accommodation worthy of a cosmopolitan city which attracts international business travellers who expect more than just clean sheets, a travel kettle and a packet of shortbread biscuits. The Bristol Harbour Hotel & Spa has finally righted this wrong, whilst adding another dining experience that's worth fishing out. Full steam ahead!
Bristol Harbour Hotel & Spa, 53-55 Corn Street, Bristol BS1 1HT, Doubles from £145 per night including breakfast. For more information and reservations please visit the website.