It's somewhat ironic that we were having a peaceful and uneventful drive until we reached Dartmoor National Park, when an angry HGV transporting timber, somehow thinking he could navigate his cumbersome vehicle down the country's narrowest lane and past ten four by fours, stopped us in our tracks for forty minutes – a forty minutes I was fast imagining would force us to sleep in the car. It was therefore with a sigh of relief that we entered the gates of the instantaneously relaxing Bovey Castle, belonging to The Eden Hotel Collection and a member of Pride of Britain Hotels. A grade II listed Jacobean-style mansion built for the son of the stationary tycoon W.H. Smith in 1907, it's one of most majestic hotels in the South West, nestled within its own 275 acre estate and blissfully untouched by HGVs. May proved to be an idyllic time to visit, with the mansion extravagantly draped with purple wisteria and the woods filled with bluebells.
As you sweep down the extensive drive, past the pristine 18-hole championship golf course, please don't get any idea that this is solely a hotel for golfers, far from it. Bovey Castle is just as much a spa hotel, a gourmet getaway or a walker/nature/dog lover's retreat. It's one of the most challenging hotels I've ever reviewed, simply because I don't have enough words to tell you how spiffing it is. It's wonderfully appropriate that it belongs to the 'Eden' Hotel Collection, for this English paradise is indeed an Eden. Never have I been so bewildered by trying to decide how to spend my time during a hotel stay, nor more aware of the great responsibility in making a selection – for every hour here is extremely precious. All guests, including those staying at one of the 22 private three storey self-catering lodges, have complimentary access to the tennis courts, croquet, and the daily falconry talks on the south terrace, besides being able to enjoy the indoor swimming pool, whirlpool, sauna, steam room and gym. Nor are the little one's left out, with a play park equipped with a trampoline, swings and climbing frame. Or why not take them along to meet the hens and friendly ferrets Suki, Lilly and Grace?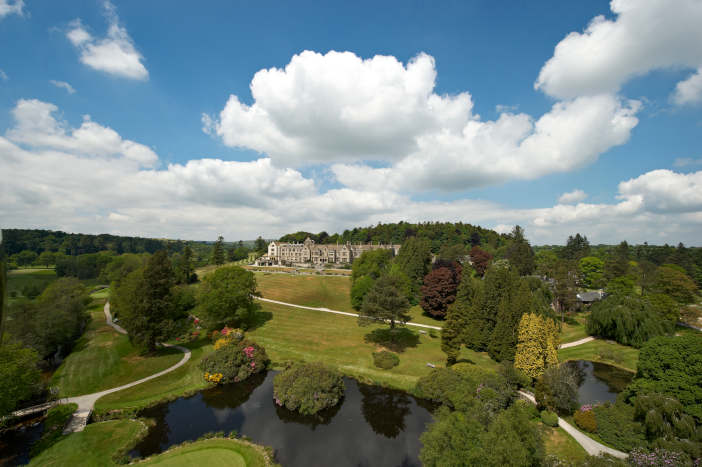 Treatments at the Elan Spa should be booked in advance, along with outdoor activities that come with a surcharge such as 4×4 off-road driving, archery, air rifle or clay pigeon shooting, cider and sloe gin making, a carriage ride, or a tour of the stupendously beautiful deer park. Although I borrowed a bike in order to explore the estate and later enjoyed a full body massage with my therapist Hannah soothing every knot and tension I had acquired since birth, I needed at least a week to really get to grips with Bovey Castle's vast offering.
The choice is extraordinary and captures the overall feeling of generosity here, but there's a major downside – Bovey will spoil you and make you scoff at most other country house hotels. If before you were content with a cream tea and a game of scrabble, from now on you'll be restless and downright scornful when you see the pathetic offering from your next hotel. Let's face it, not even Balmoral could offer all of the above. I needed a lie down after reading the list, let alone trying out a fraction – nor did I want to miss too much time in my opulent Grant State Room Suite (one of 60 rooms and suites located in the main mansion) with a living/dining room connecting to a generous bedroom with king size bed, a bathroom with a decadent roll top bath and luxury ESPA products. It goes without saying that the highlight of our suite was the far reaching views over the valley, garden and woodland, especially when we were lucky enough to have a clear night to enjoy the rare Blood Moon.
Gliding down the impressive carved staircase for dinner in a suitably Downton-esque sequin gown, I was half expecting to find the Crawley family seated in the stately oak-vaulted Cathedral Room (the jewel in the hotel's architectural crown), enjoying a sherry and a bitch. Instead I was far happier to be greeted by the general manager who couldn't have been more charming if she was welcoming royalty, followed by the Bar Manager who was waiting to delight me with his alcohol free cocktails. It's always good when a hotel caters for all their guests and I'm pleased to report that when I stayed at Bovey Castle a few years ago off-duty I experienced the same level of service and graciousness from the staff, who are as serene as those in a fairy-tale and make your every wish their desire. If I lost my glass slipper they wouldn't rest until it was recovered, pipping even Prince Charming to the post.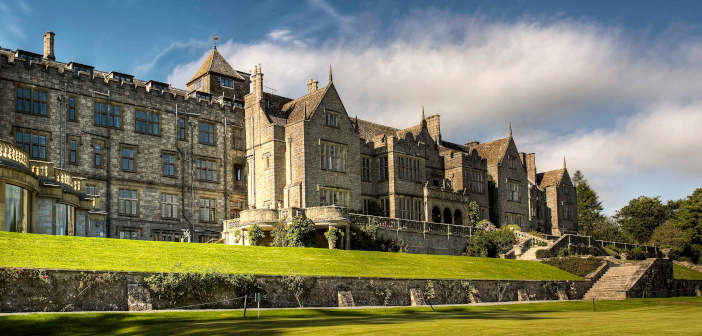 Morgan, the manager of The Tasting Room, Bovey Castle's new fine dining concept, is particularly memorable for his personable, effervescent qualities as a host, not to mention his impressive food knowledge and justified pride in the restaurant. The Tasting Room feels somewhat tucked away as a guest, which perhaps makes it all the more alluring and romantic, although I certainly hope everyone who stays here is aware of it and the exceptional talent of Executive Head Chef Mark Budd. The seven course tasting menu features the finest Devonshire ingredients and Budd certainly knows how to treat them with the love they deserve. Canapes of soused mackerel with Calvados crème fraiche, a truffle cheese on toast and a puffed beef tendon with smoked beef fillet allowed me to have very high expectations for the culinary sensations ahead, nor were my hopes misplaced. Dartmoor slow proved Jail Ale bread with beef fat butter and beef reduction positively encouraged diners to dip their bread and get a little messy (so my husband was pleased to see) with a flavour marriage packed full of the salivating qualities of yeast and umami.
Infinitesimally prepared spring Jersey Royals were featured in the beautiful opening of chowder with mussels and cauliflower, a sensational marriage of sweet, earthy and sea flavours and textures. A tender rabbit, parsley and morel risotto proved comforting and indulgent, leading us to perhaps my favourite course of the evening, an elegant Brixham crab cannelloni with the silkiest, finest pasta, a langoustine broth and a brilliant use of sea vegetables for seasoning and texture. A saddle of Devonshire lamb with faggot, wild garlic and English asparagus was once again a culinary celebration of the bounty with which Bovey Castle is surrounded, while the intensity of the moreish faggot was skilfully lightened by the fresh spring herbs and vegetables.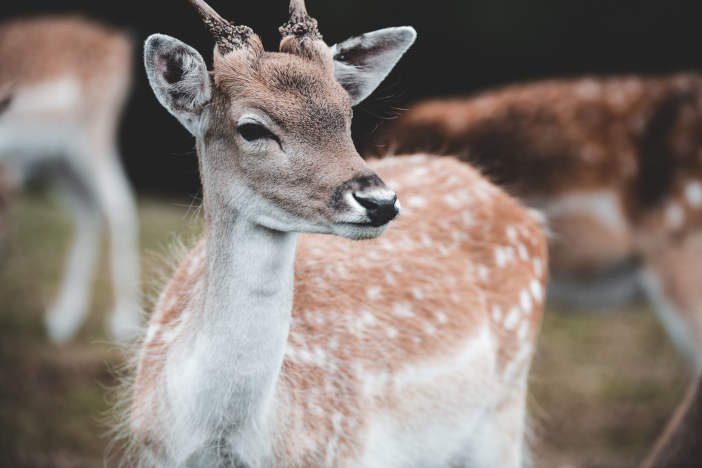 A green apple, yoghurt and granola was an invigorating un-put-downable pre-dessert (usually the least exciting course on any tasting menu) and awoke the taste buds for the main dessert capturing English summertime; a white chocolate and strawberry parfait with the most extraordinary strawberry sorbet. This was followed by a trio of exemplary West Country cheeses – each thoughtfully partnered with the most perfect accompaniments; Devon Blue with truffle honey, Stinking Bishop with pear chutney and Wookey hole with a homemade fig roll, something I'd love to see on every cheese board. Nor did the attention to detail or ingenious display of skill (from all sections of the kitchen) subside when it came to petit fours; a blueberry financier, sour cherry fizz fruit jelly with a nostalgic hit of sherbet and a Matcha tea and white chocolate French macaron that made you want to arrange afternoon tea the following day.
If I had been staying longer I would have opted to sample the tasting menu again – that's how good it was. All too often tasting menus make me groan, not due to the enormity of food, but the show-off dishes that can be no more than an attempt to peacock the chef's talent rather than please his diners. Each and every course at The Tasting Room not only excited me, but filled me with a warm glow of pleasure, the kind of joy that truly brilliant food should always evoke. And let me say, that this doesn't always come with a side order of Michelin stars, although the culinary accomplishments of Budd are worthy of such an accolade and highly likely to attain such next time around if justice is served. On a personal level, it always thrills me when I come across a fabulous restaurant that hasn't (as yet) achieved stars – just as I might get goose bumps at coming across a beautiful vista I'm not having to share with a thousand tourists elbowing me out of the way with their cameras. If it wasn't my duty, I'd be loath to report my experience of this remarkable restaurant.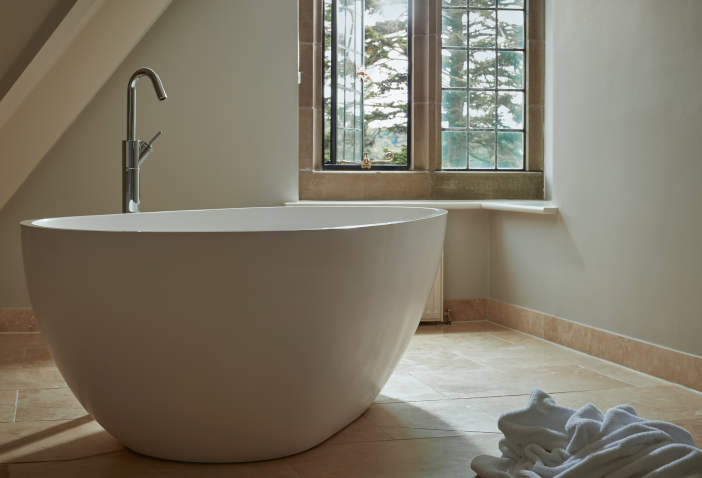 More relaxed dining can be enjoyed at Smith's Brasserie (named after the first owner of the property) which offers an extensive menu highlighting local produce in simpler-styled dishes, from a rich venison ragu to a cheese burger. Between them, The Tasting Room and Smith's Brasserie, cover both ends of the culinary spectrum, ideal for guests staying two or more nights. Picnics can be arranged to enjoy on the estate and afternoon tea is a suitably elegant affair that can be enjoyed in The Library, Adam Room or Cathedral Room, or make the most of the incredible views from the terrace whenever weather permits. Tea is a wonderful way to experience the traditional side of Bovey Castle which has been a hotel since 1930 when it was operated by the Great Western Railway, lending its name to the former main dining room which now only serves breakfast. So many dining and public rooms mean you never feel on top of the other guests and are always able to find a quiet corner to yourself, and no matter how much is laid on here, it's completely fine if you don't want to do anything besides curl up with a good book. Even that is guaranteed to be memorable in light of the surroundings – just remember that if you look up at the awesome ceilings or out at the view you won't get much reading done.
Bovey Castle offers rooms from £325 per night, based on two adults sharing on a B&B basis. Lodges are available from £750 per night, based on up to six adults sharing on a self-catering basis. A minimum of 2 nights is required in the lodges. For more information and reservations please visit the website.