Located on leafy Cadogan Gardens in Belgravia, with the designer shops of Sloane Street just around the corner and the department stores of Harvey Nichols and Harrods within easy reach, the Carlton Tower Jumeirah proved a masterfully choreographed luxury experience right from the off as we pulled up and the Prince of Wales-check-uniformed head porter ordered our luggage to be unloaded and our car valet parked in the hotel's secure basement, a highly desirable addition when you consider the kind of wheels the average guest here drives.
Jumeirah's £100 million renovation, completed just a few years ago, places the Carlton Tower shoulder-to-shoulder with the top hotels in the city, offering everything the well-heeled traveller could desire, from swanky interiors by renowned design studio 1508 London to the Peak Fitness Club and Talise Spa with its stunning 20-metre indoor heated pool. Through the revolving doors you'll find a dazzlingly slick contemporary lobby adorned with an elaborate chandelier and floral arrangement by renowned Chelsea florist Moyses Stevens with Chinoiserie, the hotel's all-day dining and afternoon tea lounge, located opposite the entrance; a comfortable, inviting space popular with residents and locals alike, fronted by an alluring glass cabinet filled with mouth-watering seasonal-themed patisserie.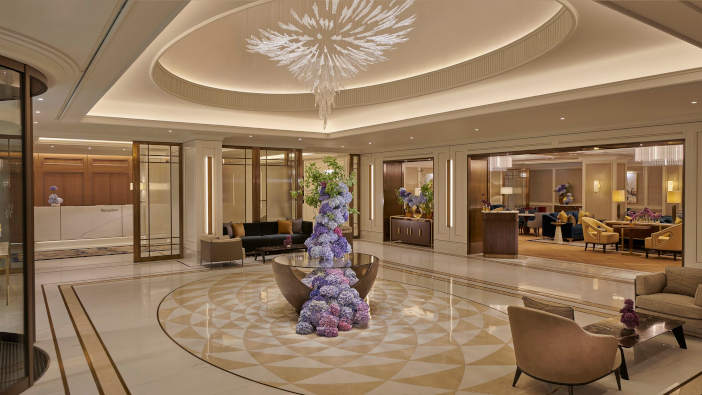 Our early arrival didn't throw the receptionist who announced that our suite was ready. Following a welcome juice and hot hand towel we were duly escorted to our Balcony Room, given a quick show-around and assured that should we need anything at all we need only before being presented with his and her initialled leather key fobs. If you're the kind of traveller who always opts for a boutique hotel due to larger properties so often being devoid of charm, this property is the exception to the rule thanks to the many thoughtful touches and an unfailingly friendly and helpful team.
The Dubai-based Jumeirah hotel group pride themselves in unparalleled personal service and attention to detail, a fact further illustrated when I discovered soft white slippers by the bed bearing my initials. No sooner had we hung our jackets in the spacious mirrored wardrobe than housekeeping arrived with a trolley of welcome treats including an array of exotic fruit, French macarons, an adorable chocolate buttercream-filled pumpkin with 'Happy Halloween' message, Scrabble board with further welcome greeting spelled out in white chocolate covered sable biscuit tiles and a selection of gold-leaf adorned chocolates.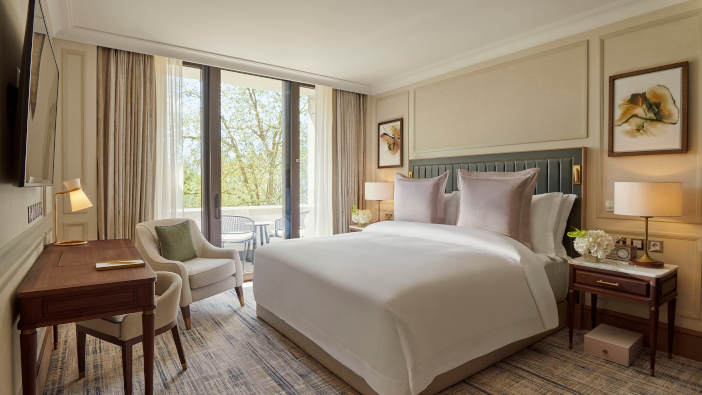 Other luxuries include fleece robes, a dressing table fitted with a selection of Dyson hair devices and a two-tier leather vanity case in the marble shower room en suite offering Grown Alchemist toiletries and every amenity you could possibly need, from a shaving and toothbrush set to a comb and hairbrush. Upon returning to your room after turn down, you'll find your pillows plumped and ready for a good night's sleep, mouthwash in the bathroom, mineral water by the bed and bookmarks thoughtfully placed on any volumes you happen to have left lying around.
Positioned on the front of the hotel and overlooking beautiful autumn-coloured Cadogan Gardens, our balcony, although not spacious enough for a table and chairs, allowed us to stand and enjoy the view and makes it well worth splashing out on a superior room. Having your own entrance hall and sitting room with flat screen and separate WC means the suite is perfect for entertaining friends and it goes without saying that the mini bar and tea and coffee making cupboard is well stocked with premium brands and the finest china and crystal glassware. The extensive offering on the 24-hour in-room menu is meanwhile an almost irresistible temptation.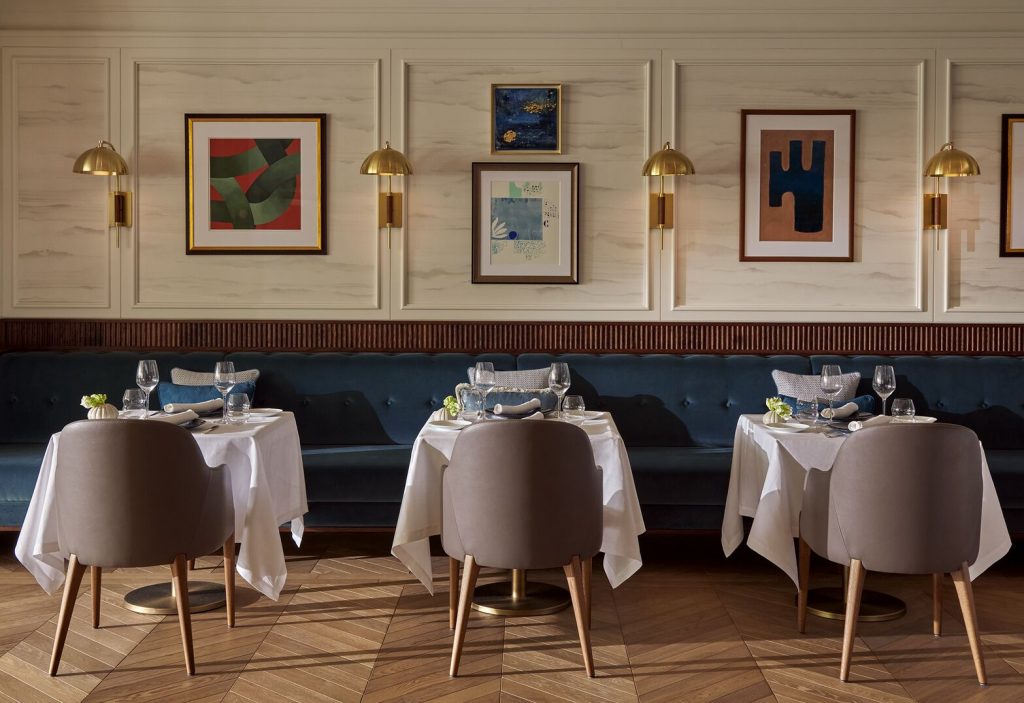 That said, it's worth making the effort to leave your palatial suite and initialled slippers behind for a couple of hours in order to dine at the hotel's Al Mare restaurant, presided over by Executive Chef Giuseppe Parisi (previously at The Lanesborough's Michelin-starred Apsleys Restaurant under Chef Heinz Beck and 2 Michelin-starred L'Olivo Restaurant at Capri Palace Jumeirah. Al Mare serves classic Italian and Riviera-inspired dishes that are like a ray of sunshine on a damp autumn day in London, especially the dishes highlighting premium fish and seafood.
A stylish dining room with marble bar that feels intimate despite the expansive windows and– covers, the amber and teal tones add warmth, with window booth seating and an open kitchen helping it evolve from a sophisticated business lunch venue to a low-lit romantic spot come the evening. Many of the starters, from the calamari fritti with spicy mayo to the Polpette al Pomodoro beef meatballs with tomato sauce and provolone fondue (so good we ordered a second helping!), are perfect for sharing while fish and pasta lovers will be in their element with the mains like the Tagliolini con Pesci di Scoglio combining the silkiest fresh pasta and perfectly cooked seafood including juicy lobster pieces with an intense shellfish sauce.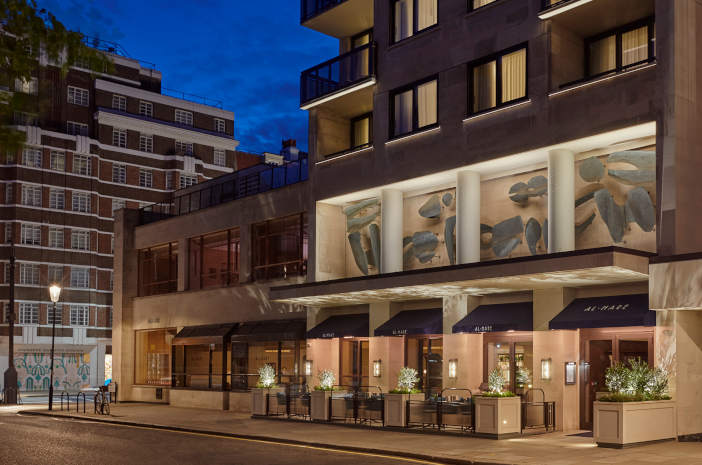 We were only to happy to return to Al Mare the next morning for the generous breakfast buffet stocked with fruit, cereals, charcuterie and selection of immaculate bakery items and Viennoiserie, served alongside an extensive a la carte menu on which you'll find everything from a Full English and American-style pancakes to Eggs Benedict and Shakshuka cooked to order. The restaurant's open kitchen adds a great deal of atmosphere to the relaxed morning service and encourages guests never to feel inhibited about helping themselves. From the restaurant to the spa, never did such a glamorous London hotel evoke a more unpretentious and welcoming atmosphere. Which is why, when the receptionist invites you to keep your personalised leather key fob, you'll be glad to tuck it away for your next stay.
The Carlton Tower Jumeirah, Cadogan Place, Knightsbridge, London SW1X 9PY. From £550 per night for a Superior Room (room only). For more information and reservations please visit the website.