Arriving at The Cary Arms on the south coast of Devon was our first glimpse of the sea after journeying cross-country from Dartmoor National Park, and my, what a scenic spot it is. The atmospheric, Daphne Du Maurier-style inn (yes, I am aware that she wrote about Cornwall not Devon, so no letters!) originates from the 1880s, while recent years have put the hotel firmly on the map as one of the loveliest coastal retreats in the UK, achieving five star status due to their well regarded restaurant and spa, along with luxurious sea-facing accommodation, from inn rooms with terraces, along with the more recent Beach Huts and glamorous Beach Suites with breathtaking views across the bay. Although The Cary Arms call themselves, 'The Inn on the Beach', their idyllic corner of Babbacombe is more a luxury resort, with a further seven beautifully restored seaside cottages popular with families and couples wanting their own hideaway. If you've ever scoffed at the term 'English Riviera', The Cary Arms will have you cancelling next year's plane ticket to Nice.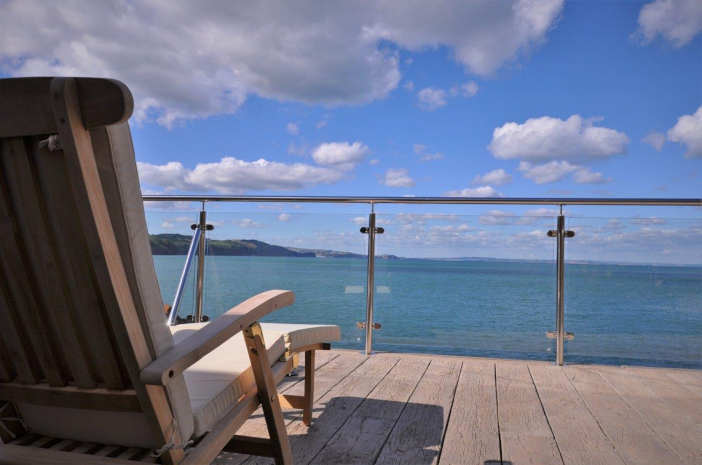 At a little distance from the main inn, via a tropical-looking garden and private path and steps, our 900 square feet Beach Suite, just one of two signature rooms, featured an expansive sun-deck right on the water's edge. This is a truly remarkable place to stay and puts guests as close to the sea as if they were stationed in a first class cabin on a luxury Atlantic liner – complete with steamer loungers to sunbathe whilst watching the world go by – or in Cary Arms fashion, a merry stream of speedboats, paddle boarders and canoers, not to mention 'Sammy the Seal', or if you're very lucky, dolphins. I for one, enjoyed observing a group of anglers patiently trying to catch their supper by the water's edge, a young boy scrambling terrifyingly over a nearby precipice (my heart was in my mouth until he reached safety) and three lads sitting on a rock eating fish and chips whilst watching the sun go down. It's not unusual for guests to book The Cary Arms for a stretch of three or four weeks, and frankly I can understand why. I would never get tired of the uninterrupted views across Lyme Bay to Portland Bill along the Jurassic Coast.
Adjacent to our Beach Suite was a mirror-image dog-friendly version and unlike so many British hotels who misleadingly call themselves 'dog friendly' and then proceed to ban your pooch from all public rooms, The Cary Arms will welcome your four-legged friend with open arms, quite literally. The Doggy Getaway includes a dog bed, bowls and treats and not only can your dog accompany you to the restaurant, they will even be offered a freshly cooked 'Dog's Dinner' such as lamb and couscous. The location itself is also ideal, with Babbacombe Beach inviting dogs to enjoy a swim all year round, while the hotel will provide you with a booklet of recommended dog-friendly coastal walks so you can both take advantage of the glorious scenery of the South West Coastal Path.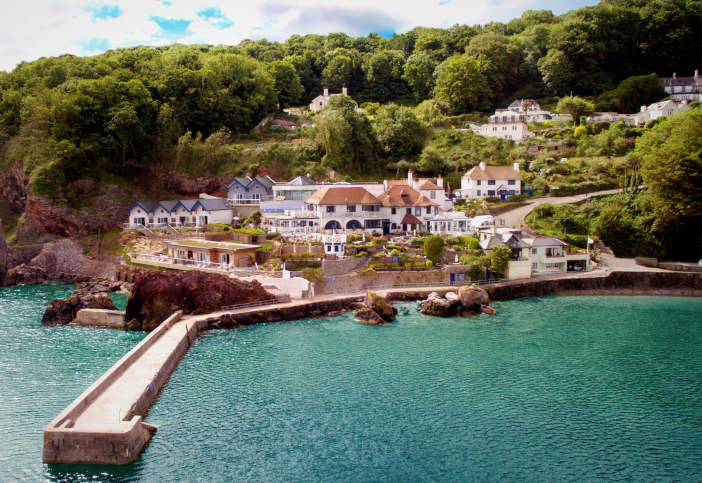 If sea travel makes you rather green about the gills and you prefer to remain firmly on dry land, a Beach Suite is the perfect solution, with absolutely no compromise on the view. The accommodation is smartly designed in subtle coastal colours, with brand spanking new furnishings and luxuries you might not expect from a seaside holiday including LED TVs in the bedroom and living room (Netflix enabled), a luxurious bathroom with a deep tub and stand-alone shower, slippers and robes, a multi-room Sonos music system, underfloor heating, feature fire and a fridge/drinks counter to make you feel at home. Best of all, the tri-fold sliding doors opening onto the deck from each room, means you get to maximise on sea air and the view even inside. For once the British weather was kind to us so we were able to leave the doors open at night and listen to the waves. White Company toiletries, filtered water, tea, coffee, fresh milk, soft drinks and crisps are replenished for the duration of your stay, so too the biscuit tin filled with nostalgic favourites including Club biscuits and Kit Kats. You'll even find sticks of seaside rock on your pillow, inscribed with 'The Cary Arms'.
After a fun visit to Babbacombe Model Village and several hours sunbathing on the deck (thank you British weather gods), it was time to experience The Cary Arms Spa – small but perfectly formed with two treatment rooms, a relaxation room, gym, waterfall hydrotherapy pool, exotic experience shower, steam room and sauna. The Cary Arms Spa is lined with American Art illustrations from Peter de Savary's private collection and also has a sunbathing terrace with stunning views out to sea. I mean to say. The treatment menu features two luxury product ranges – Thalgo, a French skincare company using marine algae for its rebalancing, protecting, nourishing and anti-ageing properties, and Gaia whose locally sourced products are made using the finest organic ingredients. A 60 minute Gaia full body massage had me virtually walking on water, further enhanced by the calming lavender and camomile aromatherapy oil. They say sea air makes you sleep more soundly and that certainly proved to be the case for the duration of our stay so it didn't take much to put me in a bliss-induced trance that only continued when I returned to my Beach Suite in slippers and robe and enjoyed a sundowner on the deck before mustering myself out of my zombie state to get changed for dinner. I can confirm that, regardless of doing absolutely nothing, sea air gives you one hell of an appetite.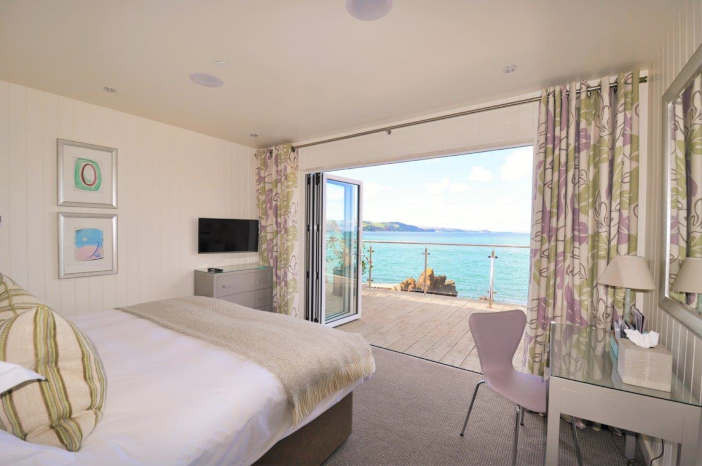 The restaurant, which specialises in 'Catch of the Day', and the best fish and chips you're likely to find anywhere, offers both a cosy, beamed interior (or should that be 'inn-terior') with an upright piano and a log burning stove to gladden the heart on a less than beautiful day, along with the snug, stone-walled Wheel House looking out to see, and a bright and sunny Conservatory with equally glorious views. It's the perfect spot for breakfast too, with the Full English guaranteed to set you up for a day of adventure, or in my case, working on the old tan. The elegant white linens of the evening are replaced with cheerful blue and white check tablecloths for breakfast, considerably altering the atmosphere. Meals can also be taken on the appealing tiered Terrace leading down to the sea – an understandably popular venue with locals and visitors come the summer, which is why hotel guests will appreciate having their own reserved outdoor seating section, cordoned off with a white picket fence to make it doubly charming. And charm is something The Cary Arms offers in buckets and spades – in no small part due to the loveable staff. The Terrace also has an outdoor Cocktail Bar and an elevated Captain's Table that might have you shouting "I'm the king of the world!" in Titanic-like homage. Hotel residents can reserve the six-seater Captain's Table at no extra charge to ensure a memorable dining experience and the chance to ring the ship's bell if sighting dolphins.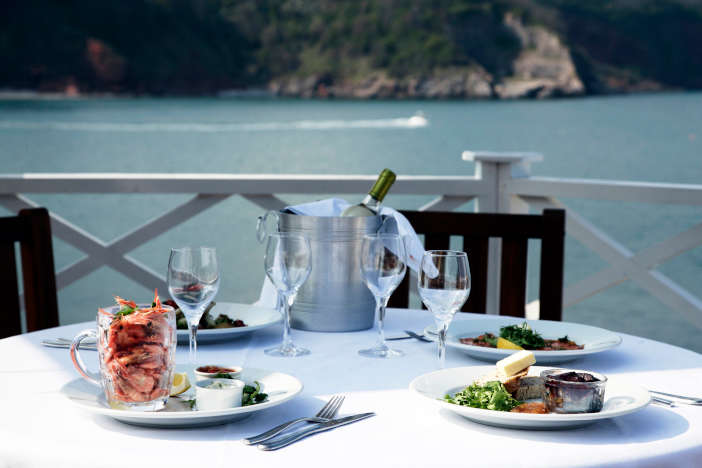 It being a beautiful, clear evening, the kind that makes you feel glad to be alive, we decided to take our after dinner coffee by the impressive brick chimney housing an aromatic open wood fire on the Terrace. To watch twinkling stars appear as night falls and listen to the sound of gulls and soothing waves caressing the rocks must be the most perfect way to spend an English seaside holiday, but when we finally got back to our suite and into bed a terrible thing happened – I had non-pudding-orderer's remorse and decided to dial 0 to beg for a sticky toffee pudding to be delivered to me room service (with two spoons naturally). I had the feeling that this probably wasn't the first time someone had been unhappy to go to sleep without a taste of this Cary Arms dessert (a menu fixture) when the response came: "You want a 'sticky'? Why of course!" Now that's what makes a five star hotel. I told you they were charming. The best sticky toffee of my life, made especially wonderful by getting to enjoy it in bed with the bedroom doors fully open onto the sea. You wouldn't get this in the South of France!
The Cary Arms, Babbacombe Beach, Torquay TQ1 3LX. For more information and reservations please visit the website.