Found on Langham Place in Marylebone, just north of Oxford Circus, the new Treehouse hotel places you in the heart of things, in more ways than one. On the outside it might look like an office block, but once you've taken the lift to the 15th floor for check-in – set against a living wall with birdboxes, a blue rocking chair and 70s bamboo screen – you'll realise that this is as far removed from beige office life as you can get.
The little sister to the hip 1 Hotels currently taking the US by storm with its sustainable approach, Treehouse aims to capture the child in all of us, with nostalgic design touches and whimsical detailing…and it's heart-warming stuff. Rooms are cosy-cool with fun motifs combined with an industrial aesthetic.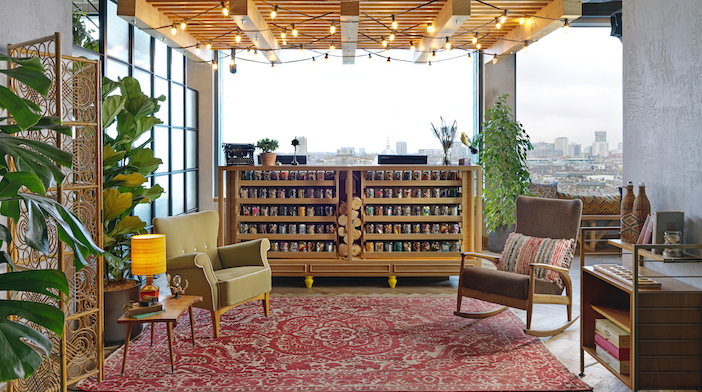 You'll find canary yellow cuckoo clocks on the walls juxtaposed with unfinished concrete ceilings; there are retro 70s print cushions mixed with vintage books, record players and quirky furniture. Touches of greenery are everywhere – with plants dotted about and cascading from planters on walls, as well as magical full-height birch trunks 'growing' out of the bathroom floor – all meant to be inspired by the feeling you'd have as a child climbing a real tree. In fact, if Enid Blyton's Faraway Tree was made into a hotel – this would be it.
Sitting nicely with the 'woody' inspiration, sustainability is top of the agenda, with reclaimed wood and exposed rafters used throughout its design. More detailed still are the triple-filtered water taps in the corridors and glass bottles to take back to your room, organic cotton sheets and locally-sourced, large-sized bottles of toiletries, which are refillable. The hotel also says it has also developed a robust composting and recycling program, and is committed to reducing single-use plastics throughout all its operations.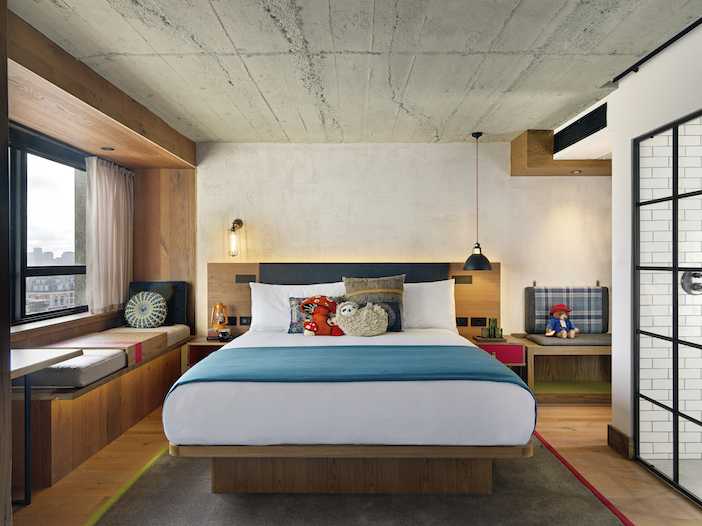 Imaginative guest experiences echo the approach and include resident horticulturalists who give tours of local gardens, as well as book clubs and poetry slams. The Treehouse app connects guests to neighbourhood 'must-sees' curated by local team members, while Backyard, the coffee shop found on the ground floor has been designed to feel like an actual treehouse, with exposed wood and branches.
Echoing the fun-factor is rooftop bar The Nest, which offers glorious 360-degree skyline views of London and an innovative drinks menu with tequila as the focus. Come summer the wrap-around terrace will be heaving, check out the tandem swing set and cosy seating with blankets (this is England after all). Go down one flight further and you'll find Madera, sister of LA hotspot Toca Madera, and which offers 'reimagined' Mexican cuisine and a 'farm-to-glass' mixology program.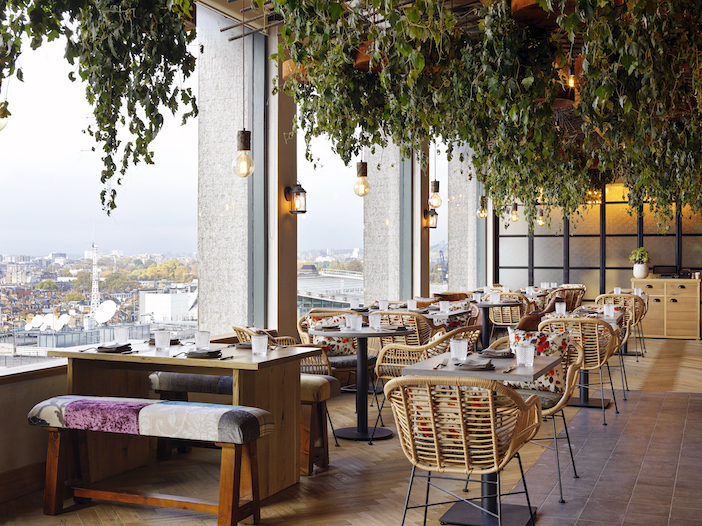 Sharing plates, a thumping soundtrack and party vibe come together to equal more nightclub than sedate restaurant. But this is aiming to be buzzy rather than boring, so soak up the incredible views over London, order the guacamole, which will be the best you've ever tasted, followed by the tequila prawns, perhaps with a ceviche blanco and Mexican fattoush. It will surprise and delight.
Rooms at The Treehouse start from £279 per night. For more information, including details behind their inspiration, visit www.treehousehotels.com.