I'm sat at the window of our room as I write. It's the one sunny day we've had all week in Cornwall, and a gentle breeze wafts in through the broad knee-high sash window that opens to a view of lawns, a pond and shrubbery beyond. The only blight on this idyllic scene is my inability to get my MacBook to unzip a file of images I've just downloaded. Doubtless the guests lunching on the terrace below aren't as agreeable to the blue language coming from the room above them as they are to the bright blue skies overhead.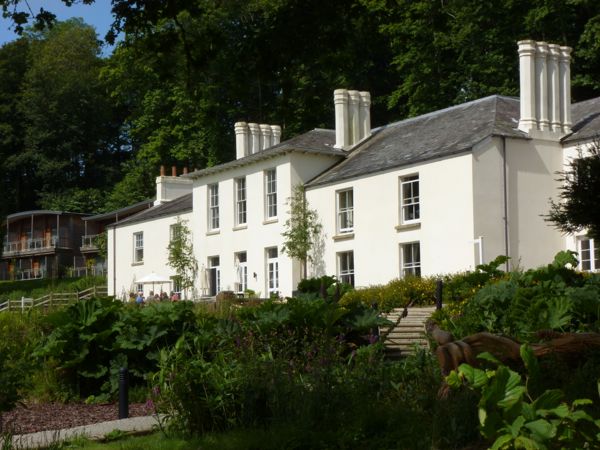 It is Mrs L's and my annual trip to the far reaches of the West Country and we are staying at the eponymous Cornwall Hotel, set in the delightful grounds of a 43 acre estate a stone's throw from St Austell. It is that which is undeniably its redeeming feature: its grounds. A sweeping drive leads you to the former Coode manor, once derelict not so long ago and now brought refreshingly back to life as a 65-bedroom hotel. And, no, not all 65 rooms make up the manor, that would make it the size of Blenheim Palace. There are nine rooms in the old house – I'm in that one in the top left corner as you're looking at the main picture – the other 56 are surreptitiously blended into the landscape as 'woodland' rooms behind the Victorian frontispiece. And therein lies the charm here, for in addition to the hotel, there are also several self-catering residences grouped through the estate and all fit within and complement the topography. I'd love to live down in these parts and I don't need an excuse to pop down, even for a weekend, in spite of it being a bit of a haul from London.
That blending of new into existing has clearly been carefully addressed into its design. Where possible, much of the original features have been preserved and integrated into the hotel and its surroundings; the reception is tucked in at the back of the manor and the car parks are situated discreetly so as not to detract from the striking image of the manor's three elevations, as it would have looked in 1834, as one approaches up the drive. We settled in as easily as the house settles into the grounds.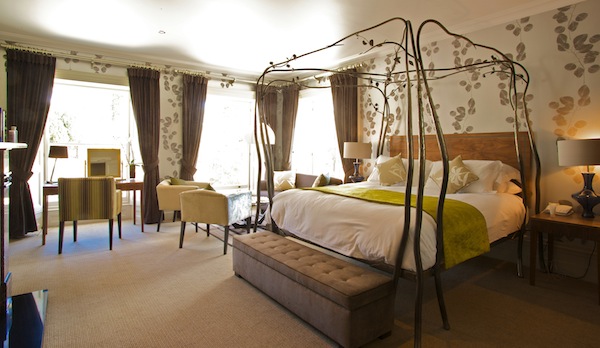 Piquing at the prospect of a negroni before supper, as I arrived at the bar I was unbalanced in my pretensions by the amiability of the bartender, not least by the Cornish-skewed and limited prospects on the cocktail menu. When it comes to national pride, the Cornish shout it the most. But not for England, for Cornwall. The Sex on the Beach that I was certain I recognised, had been renamed, although admittedly into something less vulgar. I settled for a Betty Stoggs ale. Properly Cornish.
In the lounge the clientele were equally disarming. Having returned to the car to retrieve my jacket (on overhearing the front desk staff mention the 'fine dining' restaurant) I shed it immediately as I saw the collection of rugged rugby types in polo shirts in one corner. Thank heaven for Betty. I pulled my shoulders back, raised the bottle to display my credentials and added a foot to my stride as I made for the remaining table by the window. I needn't have been concerned. Having surveyed my guest companions, we were a mixed and appreciative bunch. As ever it was the loudest that give you the first impression, once settled the chaps' conversation seemed witty and harmless and with the other guests as equally relaxed, it occurred to me we were in a rather pleasant lounge, like those of lodges in Ealing comedies (but with contemporary decor) where any one of us could have opened a conversation with another. It was charming. My shoulders sank back to their first position.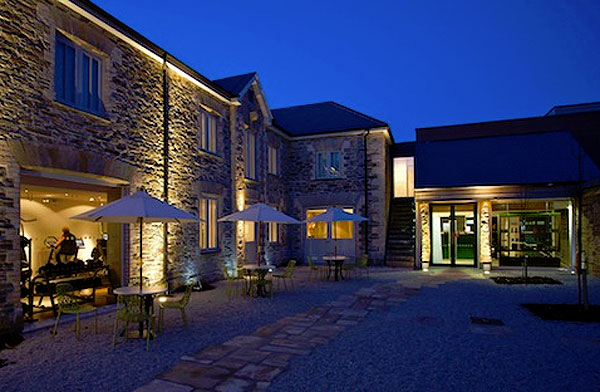 Mrs L joined me presently and we were soon invited through to the dining room, taking a table in a corner nearest the fireplace. I had a clear view of the room where it struck me that in contrast to the groups in the bar, here the half dozen tables were populated by couples evidently enjoying a romantic break. And, customarily, there just being pairs in the room, the conversation was decidedly unanimated. Softly-playing year-old chart music juxtaposed the quaint setting.
"Why are you whispering?" Mrs L responded when I asked what she might have.
"Keep your voice down," I hushed self-consciously, "someone might hear us…"
Amid muted ambience, I studied the menu; more tributes to Cornwall, from Cornish water to Cornish cheeses. I wondered if the merlot we'd ordered was, in fact, Cornish. Passing on a bottle, we opted for the wine pairings by the glass with each course. It's always a nice touch but these seemed a bit off the mark; my merlot worked better with Mrs L's chicken liver parfait than with the pheasant ballantine I chose. Both plates were delightful, however. Similarly, the chardonnay was a soft touch for the fish but judging from the quantities of butter used on the sea bass and the artichoke risotto I'd ordered, I can see why it was selected. I'd begun to regret ordering the bread and butter dessert (my weakness) after such an assault on my arteries, but I persisted. And then I saw that it had been made with croissants. It was delicious, however, and I resigned myself to an early grave. Or at least a marathon round the grounds the next day.
As our meal concluded we were met by the GM greeting guests, his confident manner cutting through the stillness in the room. "You're from The Arbuturian, and you're eating in our Arboretum…" he quipped. "Yes, indeed," I replied, "only I know what an arboretum is, I've no idea what an Arbuturian is!" I retorted moronically.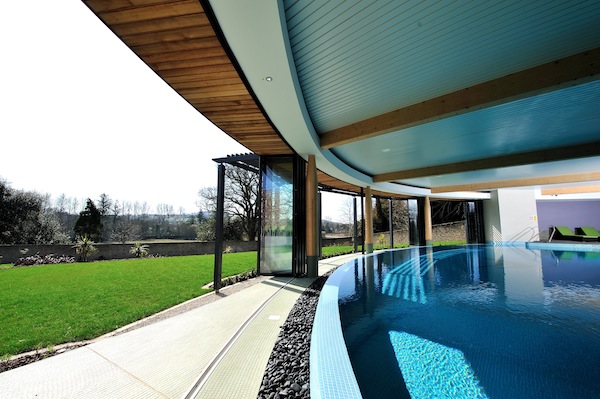 The next day was, indeed, all about exercise. Healthy surroundings and country air tend to invigorate and Mrs L and I took to the tennis courts followed by a small indulgence in the spa. As with restaurants, when it comes to spa menus I tend to pick the most unusual thing. In this case, it was a 'lava shell' treatment. As with hot rocks or poultices, they are intended to delve into deep tissue. Being one to air on the cynical when it comes to this sort of thing I can, however, see the benefit of a good rub, particularly if there's a degree of suffering involved. That's not me being masochistic, more that it just feels as if you're getting some sort of tangible benefit. So when what felt like being branded by boiling spoons was administered, I was generally in fine spirits. Particularly since every time the two shells clacked together they sounded like castanets. Like Pavlov's dog, I don't think I could go to a Flamenco show now for fear of feeling branding irons to my back by association. I cooled off in the pool afterwards and here, too, there was sanctity; it's wrapped round on one side by floor-to ceiling glass which opens out in fine weather to look out onto the Victorian walled garden beyond.
And I can't help but mention those grounds again, they're such an attractive feature to staying at The Cornwall. And there's more. The residences in question, which one can rent for a self-catered holiday, are also available to buy. There seems much in the way of real estate investments being offered abroad these days, so it's refreshing to come across some that are home grown. I'd always been tempted by a Cornish retreat so, before we left, I took it upon myself to make an appointment.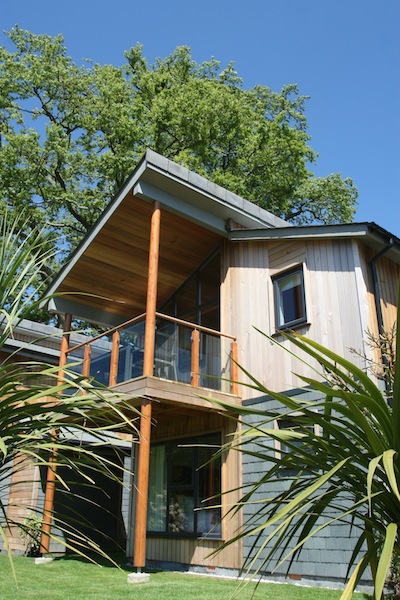 "Don't buy anything," Mrs L warned, barely looking up from her book as I left our room to meet Sam Weller, the sales director for the residences, in one of the show homes.
A warm, effusive, talkative chap, he's as persuasive as he is passionate and well-versed in Cornish property. Within ten minutes I was wondering how I was going to explain to Mrs L that we might be staying a little longer than we'd thought. Like, forever. "What was fascinating was coming here, into a house that had been left to nature for forty years," Sam told me, "and having to virtually machete our way in and start from the basics." You'd never have known, I replied, it seems so…well preserved. "Well, retaining the integrity of the original manor and its surrounding estate was key to the concept; as well as a 65-bedroom hotel, with fine dining and leisure facilities, the plan was very much hand-in-hand with serviced and self-catered accommodation, so the day we opened the doors to the hotel we had the first phase of the residences completed and available. And it also meant we could offer holiday accommodation that wasn't adjacent to a construction site." It's all so very well thought through, in design as well as execution.
The difference, too, in the ownership of these is that they are freehold – not timeshare, fractional or leasehold – allowing the owner to come and go as they please, with no obligation to let them out. It sounds ideal. If, on the other hand, one was more inclined to let out their home, then the Cornwall can manage that, where the property is looked after and earns its keep. As a permanently prospective buyer of property in Cornwall, I was all ears. "And that has other benefits, too," Sam told me. I leaned in. "Two issues," he explained, "the community issue; the growth of second home ownership and what's affecting Port Isaac, for example, where in smaller communities it's brought about the demise of the village community. Here, however, in a destination resort with self-catering accommodation is the way forward because you get the economic benefits but then you're not competing with a local family in Mevagissey, for example. Secondly, it takes the sting out of self-purchase," Sam continued, "If you then look at the advantages of buying here as opposed to a cottage out in the country, firstly, we maintain it for you. That classic stone cottage you bought? It's lovely, but then you come down at Easter, when it's been empty for three months, and there's been a bit of a leak during the winter, it's a bit damp, you've lost a few slates in that last storm and your garden's overgrown because George hadn't managed to get round and finish what he started in the autumn, so the first week of your holiday is getting the property back up to scratch again. More's the point, if you're 300 miles away, you're worried about it.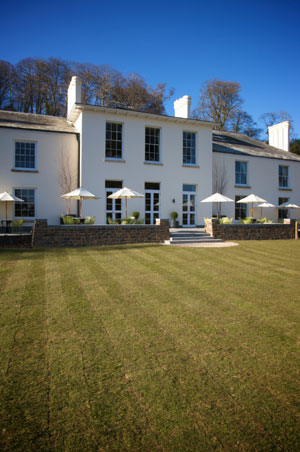 Then, if you're doing rentals, you're worried about who's doing the changeovers. We take the sting out of all that. Buying here, you've got peace of mind that we're looking after the property and managing the rent for you. And you get to look forward to a cheque every month from the rental dividend. And, when you want to use your property, when you arrive we offer a preparatory service so it's clean, warm, with toiletries in the bathroom and essentials in your fridge."
Two hours later, back into our suite in the hotel, I'm convincing Mrs L that this is where we should be buying. And I'm still bleating about it as the manor recedes in the rear view mirror as we pull out of the drive for the haul back to the Big Smoke. Something tells me it won't be long before we're back.