Coworth Park in Ascot, Berkshire is the only UK property in the Dorchester Collection outside London and the only one in the world that you'll find nestled in its own 240 acre estate in the countryside, making it unique on so many levels. The finesse we associate with the hotel group that includes The Dorchester in London, Le Meurice in Paris and The Beverly Hills Hotel in LA, has transformed the British country house getaway. I'd go so far as to say that it's likely to spoil you for any other kind.
Forget stuffy wood-panelled rooms and musty-smelling libraries and prepare to immerse yourself in light and airy surroundings that, whilst keeping a nod to tradition, exude modern sophistication and comfort in a design which flatters the imposing proportions of the Georgian mansion house remarkably well. Couple this with impeccable service, five star health and wellness facilities, an equestrian centre, polo fields and gourmet dining and you're in for an English escape like no other. Our signature suite The Arbuthnot located on the first floor of the mansion with panoramic views of the gardens and estate, with horse riders visible in the distance, epitomises Coworth Park's elegance, with its own living and dining room in neutral tones, a four poster bedroom and a spacious bathroom with twin sinks, walk-in shower and copper tub – all the better to immerse yourself in luxury.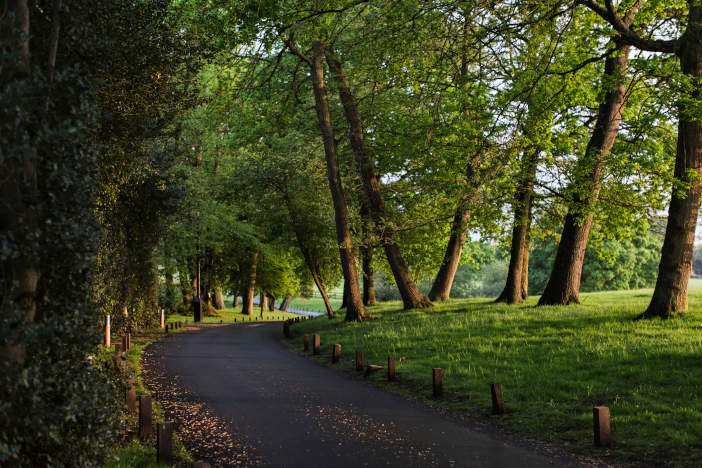 Staying at Coworth Park is almost akin to arriving in a new city, for there are so many ways to spend your time that you'd be wise to plan your must-dos in advance or risk being overwhelmed. I still have things I'm longing to try and I've stayed here three times! And that's what makes it the kind of place you'll almost certainly return to. In terms of its wider location Coworth Park is adjacent to the Savill Garden within Windsor Great Park and ideally situated for those attending Ascot Racecourse. The hotel is always at its most lively during the week of the prestigious Royal Ascot with immaculately attired guests wafting through the lobby in top hats and Philip Treacy. The biggest loss to those guests might not be due to backing the wrong horse, however, but rather having to sacrifice a single moment of Coworth Park.
Having visited during winter in the past, I was eager to explore the spring-burgeoning gardens and the serene-looking lake complete with a resident swan. All of this had previously eluded me, not least the evocative sculptures by local artist Carol Peace positioned in thoughtful spots to bring a different dimension to the setting. That's the wonderful thing about this hotel – you appreciate different things depending on which season you visit, whether it's drinks on the terrace overlooking the rose-filled garden on a summer's evening or beside a crackling log fire in the drawing room on a winter's night whilst being serenaded by the singer/pianist. Other pursuits apart from the main mansion include mountain biking, tennis, croquet and horse riding. There aren't many hotels which encourage you to check your horse in with you (not in the room you understand), and it's the only UK hotel with two professional polo fields.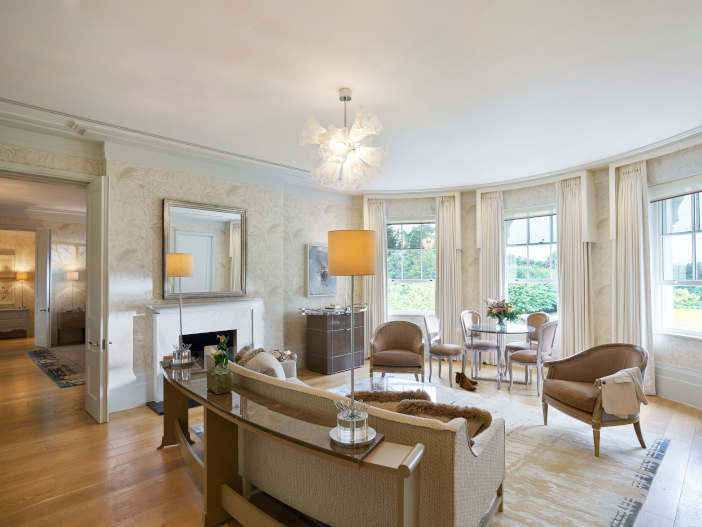 Meanwhile, the stand-alone, futuristic-looking Coworth Spa justifies at least half a day of your time. If this is what a spaceship looks like when the aliens arrive they can take me now. Pause between swimming or treatments for a decadent refreshment in the 'Spatisserie' which serves light lunches and afternoon tea, and where the only dress code is a fluffy white robe. Yes, time at Coworth Park is precious but the therapists will make every effort to ensure you go away looking ten years younger. We can't have you letting the side down on Mars.
Just before our stay it was announced that Executive Head Chef Adam Smith had retained Restaurant Coworth Park's Michelin star, only adding to my anticipation as a result of having dined like royalty here on several prior occasions. Four courses of utter perfection, the food was even more extraordinary than I recalled – perhaps because I swapped the wine pairing in favour of Belle & Co alcohol free sparkling wine – allowing me to savour each and every flavour and remember the experience in all its palate-pleasing sumptuousness. Not only is the menu entirely seasonal, local produce doesn't come with less food miles than the bounty from the hotel's own kitchen garden.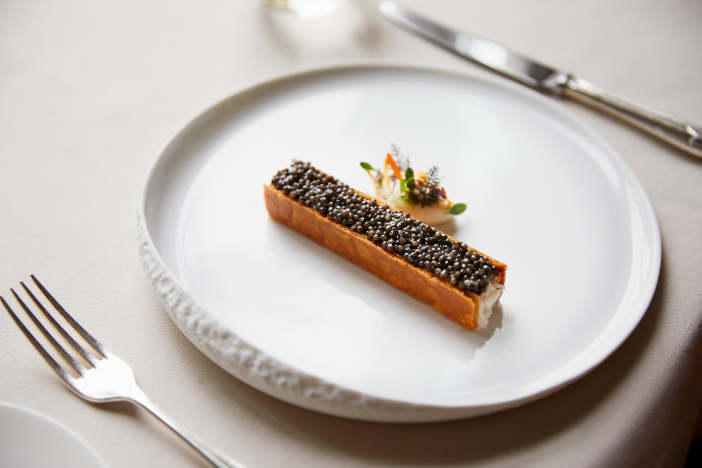 A short and buttery pastry crab tart with yuzu, topped with caviar, cultured cream and gold leaf (just in case you forget how spoiled you are) was a heavenly morsel worthy of Neptune – rivalled only by the BBQ scallop which followed, enhancing the natural sweetness of the scallop, partnered with calamansi, spinach and smoked roe and crowned with a latticework crisp of squid ink to offer a further texture and reflect the appetising scorch-marks on the plump scallop itself. The main event of line- caught sea bass with stuffed mussels, cauliflower mushrooms and salted grapes was the most perfect fish dish I can ever remember and showcased Adam Smith's tremendous ability of balancing bold flavours whilst allowing each individual ingredient to shine. Although I had been tempted by the fish and seafood dishes on the menu, my husband's Wagu beef main was his own idea of heaven. We both opted for the out of body experience that is the Coworth Signature chocolate dessert and suffice it to say that conversation stalled in a blissful moment of silence, save for the sound of spoons on tempered chocolate. This is one dinner we're both jolly glad to have enjoyed sober.
After a breakfast of waffle with strawberries and vanilla cream (don't judge me) we took another much-needed walk around the grounds and had to restrain ourselves from lunching at the hotel's informal restaurant 'The Barn' due to having to save or rather 'make' some room for the finale of our gourmet extravaganza – afternoon tea in the elegant drawing room, something no stay at Coworth Park would be complete without in my opinion.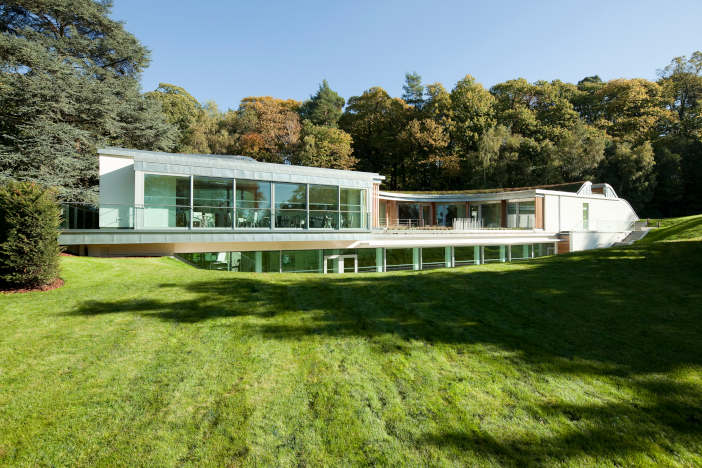 Yes, you could work out, ride a horse, play tennis, take a swim and drink green smoothies, but that wasn't really in my line. I like to think I exerted myself to the fullest eating, recovering and starting all over again! But the hotel's broad appeal is best illustrated by the variety of guests – from a business delegation arriving for a private reception, to a large family birthday with children of all ages, or the mother and daughter enjoying a spa day. For us, it wasn't simply a romantic/foodie weekend break, it was a 'weeeeeeeekend break'! And frankly, why wait for the weekend? The whole experience (whatever you choose to do) is the last word, and that's mine.
Coworth Park, Blacknest Rd, Sunningdale, Ascot SL5 7SE. For more information and reservations please visit the website.