Situated near the pretty riverside towns of Marlow in Buckinghamshire and Henley-on-Thames in Oxfordshire, the white-painted Danesfield House Hotel, a former stately home resembling a small Neo-Tudor palace, offers the weary city dweller an effortless countryside escape, not least if you're one of the guests arriving, James Bond-style, in a helicopter.
Before I go on, I should confess that any review of mine is biased by the fact that I already possess a deep affection for Danesfield House Hotel, having grown up nearby and had the pleasure of dining here for over twenty years. I never had the excuse to stay overnight, however, something which added considerably to my anticipation on sweeping up the tree-lined avenue and underneath the Clock Tower, to become a fully-fledged guest.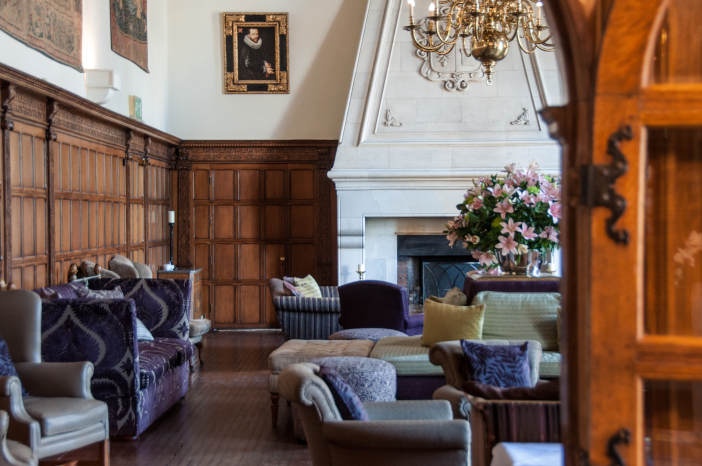 Danesfield House Hotel may ring a bell if you follow A-list celebrity happenings. In 2014 George and Amal Clooney chose Danesfield House for an exclusive wedding reception for friends and family in the UK – erecting a large marquee in the hotel's 65 acre grounds, which they decorated with exotic pink orchids. Who wouldn't be more than a little biased about anywhere the Clooneys have given their seal of approval?
Arriving ahead of the official check-in time to find that my deluxe room was ready and waiting, I soon found myself settling into the plush Ibstone chamber with its attractive fireplace and seating area, spectacular views of the garden and seductively curvaceous River Thames and a Super King four poster with red and gold drapes and crisp white linen heralding a sound night's sleep. I'd barely know my other half was there!
Childishly delighted to show my husband around on his first visit, the billiard room and the many secret doors concealed behind the wood panelling caught his imagination, as did a stroll around the grounds where there are traces of an Iron Age hill fort. Going even further back in time, archaeologists discovered that Neolithic men were in this area 5000 years ago – doubtless due to the site's elevated position over the Thames Valley which allowed them to spot their enemies progressing up the Thames.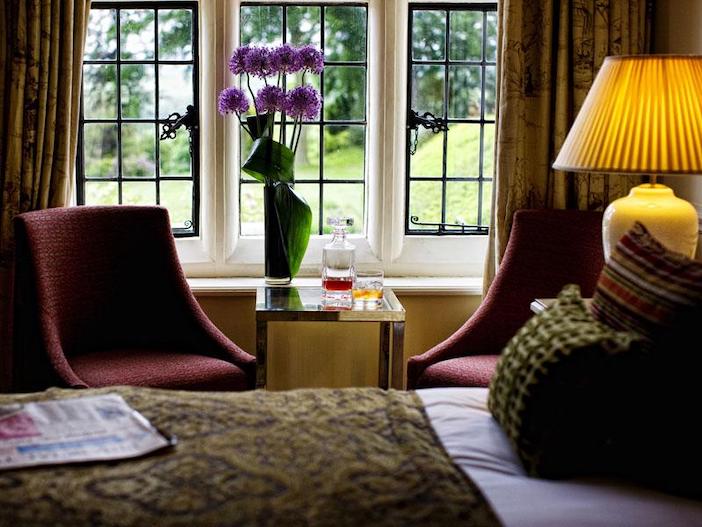 Further interest includes the statues, fountains and waterfalls created out of Pulhamite rock, an artificial substance invented by James Pulham in 1830, that is now extremely rare, while in more recent days the grounds were the home of the infamous Hell Fire Club founded by officers during the RAF's tenure here during the Second World War. Guests are now encouraged to take the one mile 'Hell Fire Run' during their stay – a route we chose to walk! But regardless of all the history you can have the fun of treasure-hunting, the fact that we chanced to enjoy the grounds during the most perfect autumn sunset – as amber as a Burford Brown egg yolk – made the experience nothing short of magical. It's also a wonderful way to work up a thirst before an aperitif, along with a hearty appetite ahead of a fine dinner.
Although it isn't Michelin starred, the restaurant has always maintained a high standard with unapologetically classic cuisine – just the way I like it. I 'plumped' for the delectably smooth chicken liver parfait with onion chutney, micro leaves and toasted brioche, followed by a succulent breast of corn fed chicken with chicken butter sauce, asparagus, peas and girolles and (my favourite of the accompaniments) a wonderfully intense shallot puree. My dessert of sweet and sharp apple and blackberry meringue tart with fresh blackberries, vanilla ice cream and a flamboyant latticework of green caramel was an exceptional finale to a meal celebrating seasonal English ingredients and superb modern British cookery.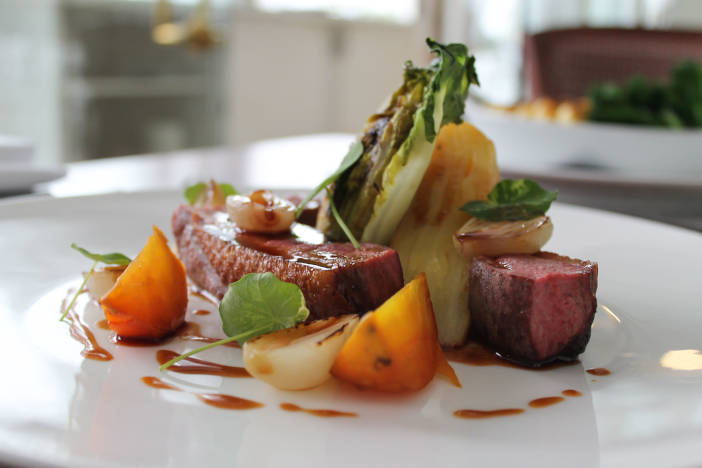 Faultless food, beautifully prepared with attention to detail, presented in a vibrant and appealing way, Head Chef James Bailey illustrates his sound culinary knowledge and a style that is in harmony with the traditional delights of Danesfield. Dining in the elegant, wood-panelled Oak Room restaurant designed by the famed interior guru Anoushka Hempel in neutral and relaxing tones is always a pleasure. Breakfast, lunch, afternoon tea and dinner are also served in The Orangery opening onto the lovely terrace with views of the formal garden, a particularly gracious spot on a bright Buckinghamshire day.
Danesfield House Hotel is an opulent experience that makes you feel like you're playing at being royalty and, with only 55 rooms, boasts an exclusivity that keeps guests returning year after year. The Grand Hall is the jewel in the crown of the public spaces, with its impressive stone fireplace, dark wood panelling and vaulted oak ceiling resembling an upturned Tudor ship and looks much older than the turn of the 20th century when the house was completed as an impressive private home.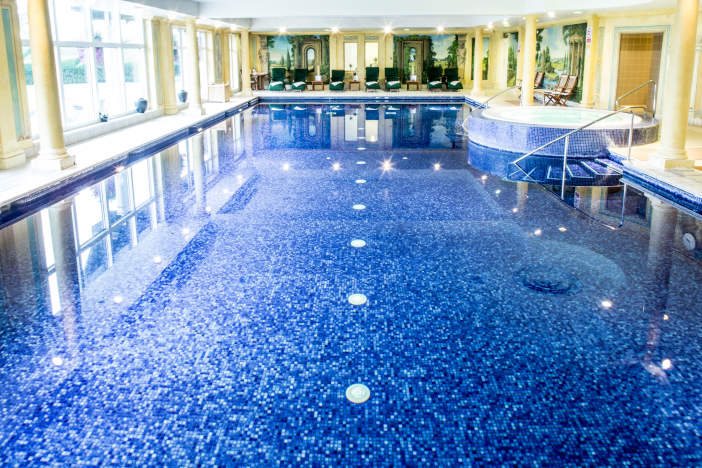 Meanwhile, Spa Illuminata Danesfield House (sister to the Spa Illuminata Mayfair, voted London's Best Day Spa by Conde Nast Johansens) offers guests a welcome dose of 21st century living with luxury downtime and pampering. The stand-alone building has a Matrix gym, heated 20m indoor swimming pool, jacuzzi, steam room and sauna, but I appreciate the fact that it doesn't intrude on the historical beauty of the main hotel and co-exists to suit the mood of the residents, day visitors and members. A wide range of classes are also available, from Pilates to Chi Cong and Yin Yoga, besides a weekly Osteopathy clinic, which guests can combine with a wide range of treatments from top beauty brands such as Decleor. There are eight single treatment rooms and a much in demand 'VIP Double Treatment Suite'.
Having finally (yes finally!) spent the night, walked in the Clooney's footsteps and experienced all that the hotel has to offer, I adore Danesfield more than ever. Time has certainly moved on since I first started coming here, yet there is much about this hotel that hasn't and that's exactly what I need right now. This hotel is the equivalent of a hug from a long lost friend or a roaring fire on a cold day. There's a Lion, Witch and the Wardrobe kind of wonder about this very special place that you can only understand when you visit.
Danesfield House Hotel, Henley Road, Marlow-On-Thames SL7 2EY. For more information and reservations please visit the website.