Larry returns to Zurich and experiences a weekend of opulence, elegance, unparalleled finery…and a delicious art collection. Grand in every sense, this is the Dolder Grand…
The morning we were due to leave Zurich, and the Dolder Grand, Mrs L asked me over breakfast for my top three things about the hotel. I'm not overstating it when I say that the signature moments there are too many to list. I'd seen a brochure some three months before and, to a great extent, the reputation and my preconceptions of the Dolder Grand really had preceded it.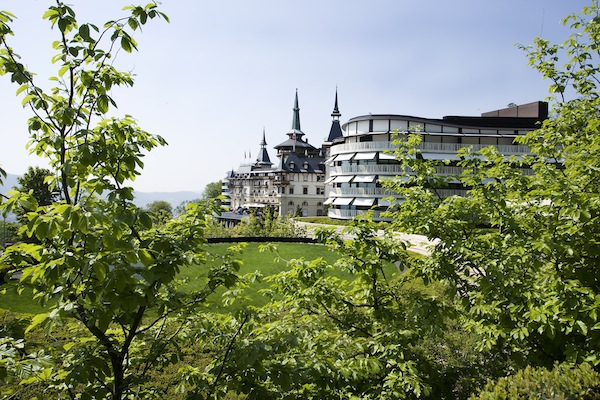 Set in tranquil hillside amid deciduous jade green woodland, yet only ten minutes from the city centre, the Dolder has defined Zurich's heritage since 1899. In 2008, it reopened following a four-year hiatus and a $100m restoration courtesy of Sir Norman Foster, who added two new wings and remodelled it to unimaginable heights of sophistication and yet delicately retained all of its former belle époch elegance. This marriage of old and new is perfectly stated at a junction where the two meet at a point called The Kiss. Its gargantuan 4000 square metre spa has won accolades that run into pages, most recently claiming the top prize in the World Spa Awards, and boasts a beautiful 25m bisazza black mosaic swimming pool, mineral water couches (no, I don't know what they are either) and outdoor jacuzzis that overlook the city below and mountains beyond. To cap it all, the restaurant, called The Restaurant, is literally the restaurant. Worth a trip for dinner alone, it's captained by the 17 GaultMillau points-awarded, double Michelin-winning Heiko Nieder and features a 12-course gastronome's dream of a taster menu where, legend has it, he's not afraid to use vegetables in his desserts. Move over, Heston, Heiko's here.
And all that just from the brochure. Clearly, I needed to experience it for myself.
The Dolder's aforementioned location speaks for itself, and its blend of fin de siecle fairy tale and contemporary cutting-edge design speak for aesthetes and architects alike. For me, however, it's more about what matters inside. And here's where it really stands out, for the Dolder features a private collection of over 100 works of art, all original, from Pissarro to Warhol and Miro to Murakami; in fact, so sumptuous is this art collection that they've created an app guide that guests can download to their phones and tablets. In most hotels art serves a simple decorative purpose. Often it's understated, blending into the decor unnoticed. Occasionally it's treated as a statement, becoming incongruous and obtrusive. In the Dolder, it's neither. And both. I found myself eager to explore and see what treasures I might uncover. And treasures there were; boundless, beautiful things.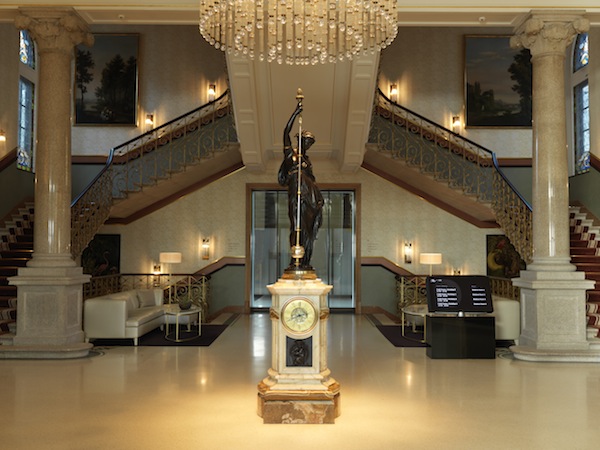 The first couple of hours on arrival were a whirlwind of one sensory treat after another. And, like its merging of classical and contemporary designs, its art collection is a composite of both. Entering the Steinhalle, a sweeping double staircase frames the 19th century Eugene Farcot clock, topped by a Carrier-Belleuse bronze figure clutching a pendulum rotating almost imperceptibly below. With the huge pastoral landscapes adorning the walls here, it's all one needs for a first impression. There's the classical. Then the juxtaposing and somewhat incongruous 'beggar signs' of Jani Leinonen hint at the contemporary twist to come, for, entering the lobby, with its beautifully restored ceiling, a 10-metre long Warhol, 'Big Retrospective Painting', straddles the wall above the front desk. It shouldn't fit, but it does. And it's not surprising it fits, it took a dedicated team several hours to get it placed just right.
A Murakami mushroom met us at 'the Kiss', Dali greeted us as we entered the restaurant where, in the private dining room, Pissarro's 'Quatre Saisons'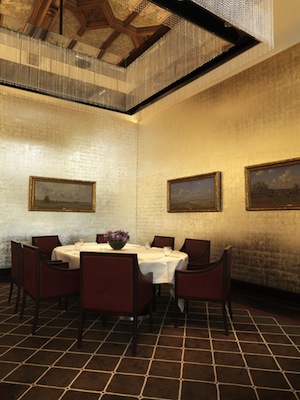 hung on walls papered floor-to-ceiling with silver leaf.  Dali was downstairs in the Steinhalle, too, with his 'Brouette' – a wheelbarrow left as if by an absent-minded gardener – and accompanied here by Hirst, Henry Moore and Sylvester Stallone. Yes, you read that right. Sylvester Stallone has art hanging here. Well, I did say it was incongruous.
From The Kiss, Foster gently glides you to the lift lobby, perfect curvature marking out the walls and suspended gangway above, and display cases of Zurich's finest emporia remind you of the company you're in. Glass lift shafts and touchscreen activation let you out to your floor where the only thing breaking up the sophisticated minimalism is a single significant sculpture.
The assault continued in our spacious, uncluttered suite. Only this time it wasn't art but mod cons. I was just as childlike as I toyed with the universal remote that rotated the television, set the ambient temperature anywhere between arctic and sub-saharan, adjusted the blinds and curtains to give me the optimum view of Zurich and the lake and even greeted myself on the TV set in the mirror in the bathroom, "Hello, Mr White, welcome to your hotel…" "Well, hello, hotel, thank you for having me. Shall I have a bath with rosemary and jasmine salts and admire the view from the tub? Why not." That would have to wait, however. We had to leave the room before I drove Mrs L barmy with the constant tampering of the room's fixtures and fittings. I snatched a fig from the fruit bowl and we made our way back downstairs.
We had two days here and, as ever, when visiting a city for the first time, deciding what to do in that short window was tricky. Fortunately, we had on hand an effusive and entertaining concierge by the name of Darius; "like the third rate pop star you had in Britain," he remarked. The Swiss Darius, however, was far more talented and self-effacing. Arming us with a map he directed us to the Dolder tram – they have a tram – and a route into the city, where he suggested we catch a boat across the lake to the Zurichhorn, for a gentle walk along the lakeside path on what was an unseasonably warm afternoon, before a cooling beer in one of the old town's cafes.
It proved a delightful plan. From the access point the hotel had to the funicular, we were in town in minutes and in a tram wending our way through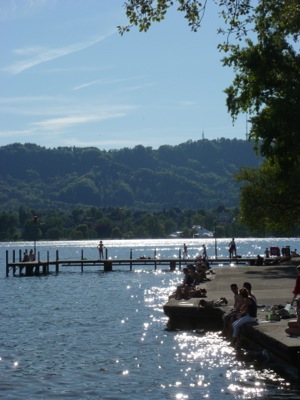 Zurich's streets; it felt clean, spirited and evoked a sense that the city had retained much of its charm as when the Dolder's first incarnation had opened. The confluence of what felt like all the transport in Switzerland was Bellevue Platz and, from here, we followed Darius's advice and boarded a boat up the lake – it's a wonderful sight, crossing the bridge that traverses the point at which the lake meets the river; late medieval church spires one way and distant snow-capped mountains beyond a bustling Friday afternoon on the water the other. As we docked at Zurichhorn, with baking, fettered feet, we joined a row of lakesiders, rolled up our jeans, and dipped our grateful toes into the water. Thus satisfied we wandered through the evening crowds as they relaxed and gambolled on the lawns – surprised that for all the healthy living many were armed with a can of lager and a cigarette taped to their bottom lip – until we settled for a beer ourselves outside one of the old town's cafes. Aah, Zurich, I thought. I like this town.
The next day, by  contrast, the weather was unkind so, bar a brief visit to the Kunsthaus for yet more culture, including an exhibition of Giacometti figures, and a bratwurst from Bellevue Platz, we indulged ourselves at the hotel; Mrs L on all the latest ergonomic gadgets in the gym and a few lengths in the spectacularly designed pool, and me with the latest of spa treatments, an Amala massage, that undoubtedly helped the Dolder's spa to its crown in the World Spa Awards two months earlier. After our respective turns, we soaked up yet more of that signature view from the jacuzzis on the terrace and thought how life couldn't get much better – we were soon to be proved wrong. And the name of the architect of our undoing? Heiko Nieder.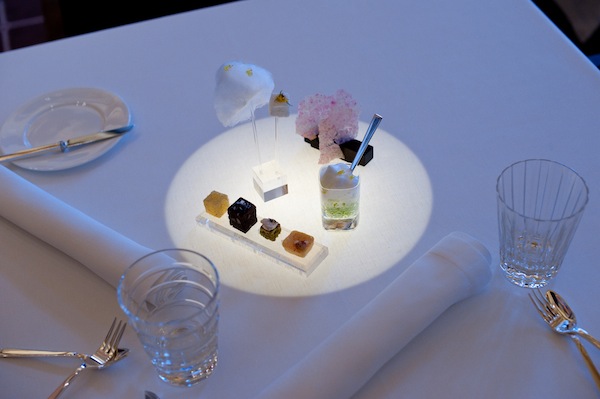 I gave Dali's 'Femmes Metamorphoses' a longer look as we entered the restaurant, envious of who might be eating with Pissarro nearby, but content to be among other guests in what's really quite a modest space. Tonight we were savouring the seven-course taster menu with matching wines. And when I tell you it was possibly the finest meal I think I've ever had, that's not gratuitous hyperbole. I've kept the menu and I'm tempted to frame it. I shall spare any token metaphors and simply offer a taster, too: among countless amuse bouches and palate-cleansers we had lobster with strawberries, beetroot and nasturtium petals; Grenoble style turbot accompanied by a Domaine Ferret burgundy; duck liver with rhubarb, ginger and cinnamon flowers with a Charles Hours Jurancon; beef with scroggins and Gruyere astride a 2006 Bodegas Roda Rioja; white chocolate with Lardo, sugar peas, smoked paprika and mint; and a cheesecake with medlar, spring herbs and juniper dancing with a fine Doisy-Vedrines Sauternes. And do forgive the overzealous praise with the word 'fine' on that Sauternes. I met Nieder on the way out, by now not so much in my cups as sunk to the bottom of them, and I had to resist hugging him as we left. He was diffidently dismissive of my praise, although probably more out of humouring my excesses. I would imagine he understood, though, the sommelier had told me that wine pairing was the product of eight hours sampling between them. My undoing was not so much the undertaking of an architect but the work of yet another artist among the Dolder's collection.
The next day, as we checked out, I took a moment in the lobby for a last look. A lady remarked to me as she passed, "the pictures don't do it justice, do they, you really have to come here to experience it." You certainly do.
View Hotel Info, Rates & Availability
The Dolder certainly doesn't do anything by halves. As seen in this film, for Easter 2014 the floristry team of four construct an extraordinary showpiece for the lobby; a 2.5m high, 1.5 ton masterpiece using 12,000 flowers…The Dolder's Easter Egg