It's 295 miles to Truro. We've got a full tank of gas, half a pack of Twiglets; it's dark and we're wearing sunglasses. Actually, that last part is a lie. It is dark, because it's raining – it's the end of the wettest September in 30 years – but we're far too uncool, unlike Jake and Elroy, to be wearing sunglasses unnecessarily: we have Twiglets for Christ's sake! But I digress. It's Friday morning and we're part of a foursome road-tripping it down to Cornwall for a weekend in a lighthouse. An exciting prospect in itself, but this ain't just any lighthouse, kids, this is the home to those neon '80s Jim Henson muppets, the Fraggles.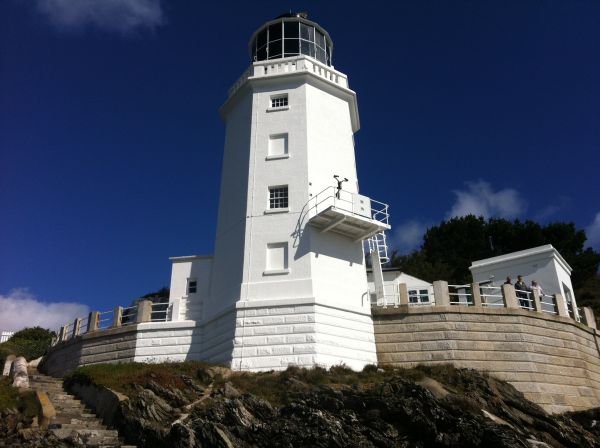 So much as mention Fraggle Rock to a child of that time and you'll be met with a Cheshire Cat grin and a little sway-accompanied singsong: 'Dance your cares away (clap clap) worries for another day… Duh-duh duh…' If it wasn't so damn catchy – in that it's been working its way round my head since we booked the trip in June – it would be quite endearing. I was more into Henry's Cat and The Trap Door at that time, so my own cultural lighthouse reference is that head-spin of an Aussie TV series Round The Twist (specifically that episode when they're attacked by a defecating flock of gulls, 'Birdsdo' – 1989). Still, I am the anomaly in the group, and so, out of 26 lighthouses of varying size and plushness in the Rural Retreats portfolio, it is the Fraggle connection that clinches the deal.
It's just Adam and I for the first half of the journey, the car packed up with entertainment: Monopoly, boules (just the thing for some cliff top camaraderie, I hear you cry), a deck of cards, backgammon, Yahtzee, and a kite. The other half of the party – Emyr and Jodie – are driving from South Wales and meeting us en route; portable speakers, a digital 'mix tape' and box full of condiments and beer filling their boot. It's a micro reunion among old friends, so the mood is high and the anticipation even greater, for we are to spend two whole days on the southernmost tip of the Roseland Peninsula, with only the gulls and our reminiscing selves for company.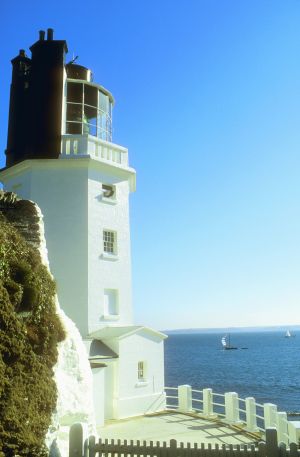 Roll on four and half hours later, we're armed with the property access codes and loaded up like camels, making the steep 300m tarmac descent to the lighthouse like excited teenagers. The fresh air fills our city-clogged lungs and our eyes dart around at the surrounding beauty: pine trees loaded with autumn cones; boat-speckled glistening, clear blue sea; St Mawes and Pendennis castle – built for Henry VIII in 1539 – over in the distance; and a gold-sanded secluded cove we add to our mental 'to venture to' list. Right at the end, the piece de resistance St Anthony's lighthouse fills our view, causing us to gasp in collective awe. In the bright afternoon sun, the pristine brilliant white, 19 metre tall structure, with its newly painted jolly green door, really is a magnificent sight.
The initial disappointment at not actually being able to access and ascend the swirling stairs of the lighthouse itself quickly dissolve after a site tour reveals the sun-trap garden, detached observatory room and little lighthouse keeper's cottage we do have free reign of throughout. Complete privacy at the edge of one of the most beautiful tips of the Cornish coast: bliss! Quite a contrast to how it must have been during the First and Second World Wars, when the area was home to St Anthony Battery, crawling with officers and six-inch breech-loading guns in a bid to defend Falmouth harbour from incoming enemies.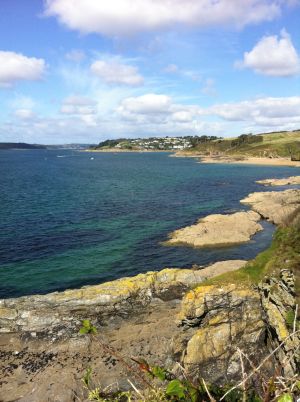 Inside we're met by a welcome warmth from the jacked-up radiators, along with an equally pleasing plate of chocolate chip cookies and packed hamper of tea, coffee, milk, cheese, fresh bread, fruit, cereal, eggs, the Cornish Guardian, and an all important bottle of red. Combined with our supermarket stop off en route, we have enough supplies to keep us – and the Fraggles should they appear – fed for the duration.
Simply decorated in plain space-making hues, with various mementos and photographs of the area dotted around, the cottage is the epitome of country cosy. Nothing flash, just somewhere to sit in and share home-cooked dinners with loved ones – whipped up in a kitchen so excellently equipped you could simultaneously bake numerous cakes and a full roast, whilst still having utensils to spare – and talk into the early hours. In the bedrooms, little packs of earplugs are laid next to the folded towels, acting as a reminder that we are adjoined to a real life lighthouse ready to alarm at the site of fog, not just some massive Jim Henson Productions prop. Although, as St Anthony's basked in a freak bubble of perfect late summer sun for the duration of our stay they, to our slight disappointment, remained in their packets.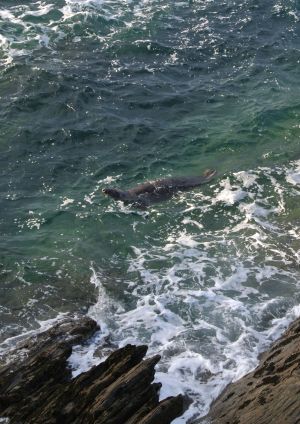 On the coffee table, a visitors book was filled with biro-scrawled talk of seal and dolphin sightings – mostly lies, I figured, as all we saw occupying our immediate vicinity were a load of chatty cormorants, a few seagulls and a bunch of craggy rocks. That is until the last morning, when a call from Emyr beckoned the rest of us outside. There, rolling awkwardly, as only an animal of that build is capable of, was a charcoal seal the size of an overfed five-year-old, lolling around long enough to give us a wink for the camera – or so I exaggerated for the benefit of future guests – before disappearing again.
Aside from the immediate exploring opportunities the National Trust footpaths to St Mawes and Portscatho bring, a short car drive away – even shorter if you take the King Harry ferry – is Cornwall's capital Truro and its more aesthetic neighbour Falmouth. Being already very familiar with the former, we chose the latter to entertain us one afternoon, with its cute card and craft shops, art galleries and the best fish & chips the group have eaten (The Harbour Lights – don't mention Stein's to the locals). The rest of the time was spent playing Yahtzee, attempting and failing to fly the kite, climbing down onto the rocks in front of the lighthouse to poke at the mussels and winkles, walking the winding coastal path to that abandoned cove for the boy to get a swim out of his system; and just sitting out, under the shelter of the lighthouse – which has been safeguarding passing ships since 1835 – from morning coffee, through sunset and dusk, to the full moon and star-speckled darkness, living our time to the pre-games console, childlike full; drinking our cares away, saving our worries for another day … (duh-duh, duh).
Sally Port Cottage (St Anthony's Lighthouse), Portscatho, Cornwall, sleeps up to four guests. Rural Retreats offers two nights at Sally Port Cottage from £431, whilst a seven night stay starts from £836. For more information on this and Rural Retreats' other luxury self-catering properties throughout the UK, visit the website or call +44 (0) 1386 701177. Price includes complimentary hamper on arrival, towels and toiletries.