So many luxury renovation projects have done their worst to some of the most historic London hotels in recent years, stripping and remodelling them to suit passing trends, it's become increasingly difficult to find accommodation where the original interiors and character have been preserved rather than exchanged for bland design that give guests the sense that they could be practically anywhere.
If you appreciate a unique atmosphere and an abode that harks back to a London of days gone by, you're unlikely to find a more wholehearted example than Durrants Hotel in Marylebone, with its wood-pannelled George Bar with leather tub chairs and coal fire, the Grill Room restaurant with a silver carving trolley, cosy lounge areas such as the elegant Wallace Room with board games where we relaxed over afternoon tea on arrival, and private conference and dining rooms you could easily imagine ministers and military commanders of WWII discussing urgent matters after a good lunch of classic British dishes that are still a fixture on today's menu – game terrine, shepherds pie and sticky toffee pudding to name but a few popular choices, nor forgetting the sublime cheeses supplied by Marylebone's acclaimed La Fromagerie. Breakfast is also served in the Grill Room and with thankfully not a buffet in sight, welcomes guests until 11.30am. Now that's what I call luxury. The addition of trendy options such as avocado and poached eggs and cold pressed strawberry and banana juice wasn't something I was expecting. If I see chia seeds on the menu anytime soon, I might just choke on my cornflakes.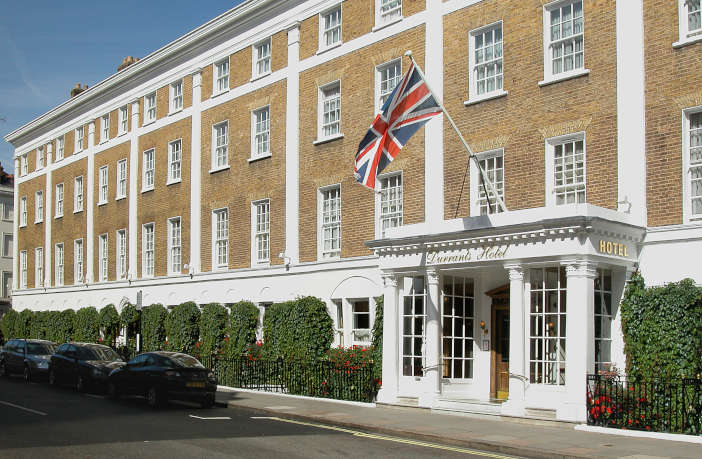 Four adjoining Georgian townhouses, now Grade-II listed, were converted into one and opened as a coaching inn back in 1790, bearing the name of the owner, Mr Durrant. The hotel has been run by the Miller family since 1921 and is one of the last privately owned hotels in London. Even to reach our bedroom took some navigating via a network of corridors, ascending to the second floor in a small lift which barely left breathing space after myself, my husband, the porter and our luggage had crammed inside. The pleasant young porter availed himself of our light suit carrier while my husband was left shouldering the heaviest bag and dragging along my overnight suitcase. Despite my muttering in protestation, the porter appeared to be temporarily struck deaf and my husband and I exchanged bemused smiles as he proceeded to usher us to our room.
Although the hotel feels small and boutique, there are in fact 92 rooms burrowed away, ours an unexpectedly fresh double with a well appointed white bathroom stocked with L'Occitane toiletries, the hotel having undertaken an extensive, yet sympathetic room renovation in the early 2000s. Many offer air-conditioning with wifi available throughout, luxuries that are often taken for granted. The room keys meanwhile, with their heavy brass fobs, were unapologetically nostalgic, none of this key-card green light business here, ensuring that you interact with the concierge whenever you need to drop off or collect your key from the well varnished rack with brass hooks. An all-too-rare hotel custom which offers a feeling of welcome whenever you return. Durrants, with its antiques, grandfather clocks and oil paintings could easily be a gentleman's club, the portrait of Mr Durrant continuing to inspire the hotel's retainers to uphold the practices he established when George III was on the throne.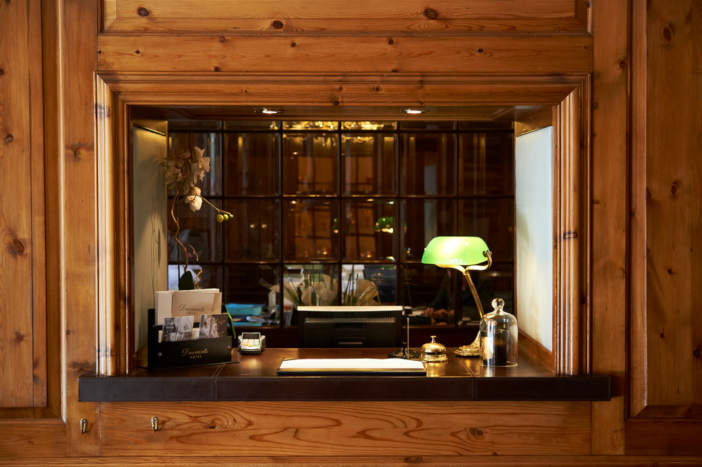 For all its old-school charm, Durrants is a four star hotel in a distinctly five star location, just a hop from The Wallace Collection, Selfridges and Bond Street. Offering guests excellent value, you sometimes have to turn a blind eye to a few lapses in service or quirks and foibles that perhaps add a certain je ne sais quoi. It's the kind of place Bill Bryson would be able to devote an entire chapter to. For myself, I like to have an Agatha Christie novel at the ready, either Poirot or Miss Marple purchased from nearby Daunt Books on Marylebone High Street, for with Durrants as a backdrop who needs an imagination? In a city of anonymity, there is nothing anonymous about Durrants. It's comfortable rather than luxurious and reassuringly familiar with genuine rather than sycophantic staff who pride themselves on building a rapport with their loyal following. Some guests wouldn't think of staying anywhere else in London and I can understand why.
Durrants Hotel,  32 George St, Marylebone, London W1H 5BJ. For more information and reservations please visit the website.