Just a ten minute drive from the centre of cultural Cheltenham, home to countless annual arts and music festivals, lies the five star Ellenborough Park, beloved neighbour of Cheltenham Racecourse, whose grandstand and track glistens on the horizon and is further acknowledged with a horse sculpture as you sweep up the driveway. Not simply a thrilling destination for equestrian lovers, it'll have you giddy-upping to check in regardless of whether or not your stay coincides with a race fixture. With an acclaimed Indian-influenced spa, heated outdoor pool and fitness suite and acclaimed restaurant, Ellenborough Park continues to uphold its reputation as one of the South West's premium destinations.
The 61 room hotel includes opulent suites such as my favourite wood panelled, four poster 'Arkle' with roll-top bathtub, the ultimate romantic getaway in the idyllic Cotswolds, the jewel of oldie-worldie England. The estate dates from the 15th century, long before the arrival of the gee gees as a pastime, with Dubarry boots on hand for guests keen to explore some of Ellenborough's 90 acres or the famed Cotswold Way. Dog friendly rooms are available and frankly we felt rather guilty for leaving our four-legged friend behind.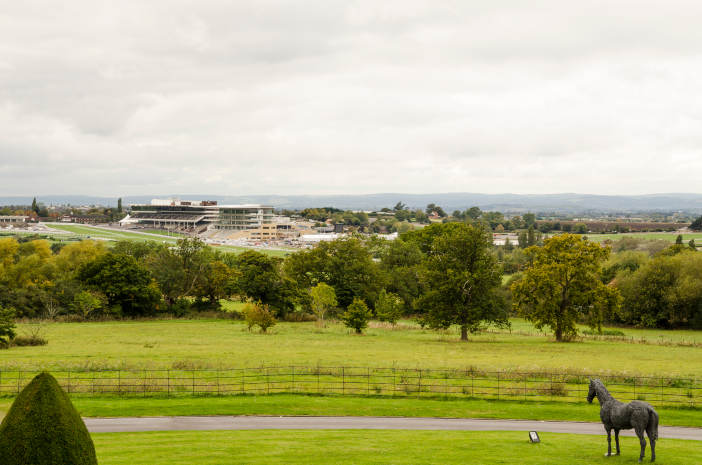 To further immerse yourself in the charm of the local area, visit the pretty nearby town of Winchcombe, with its quaint gift and antique, bakery and butcher shops harking back to another era. It's also the location of the mightily impressive 12th-century Sudeley Castle, the former home and resting place of King Henry VIII's surviving wife Katherine Parr, remarkable for managing to avoid being divorced or having her head chopped off. Henry himself, along with Anne Boleyn, Lady Jane Grey, Queen Elizabeth I and Richard III all belong to Sudeley's colourful past, while King Charles I found refuge at the castle during the Civil War.
Sudeley's immaculate formal gardens alone make it well worth a day trip, while the beamed castle interiors make Ellenborough's Tudor-inspired Arkle Suite with Nina Campbell bespoke furnishings (truly fit for a queen) that much more evocative upon returning. So too the hotel's vaulted Great Hall dating from 1485 where we enjoyed a cream tea beside the well stoked fire. Did I spy a look of envy from the portrait of Anne Boleyn as I devoured my clotted cream-loaded scones with relish? It must be tough for her looking down on us, poor thing.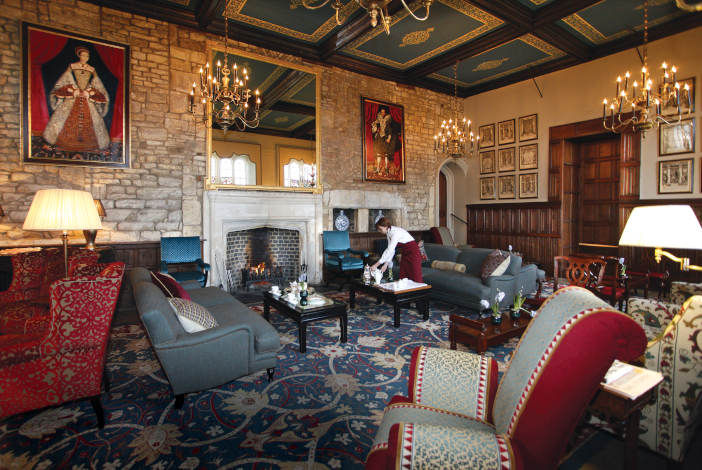 Executive Chef David Williams has worked alongside renowned chefs such as Joël Robuchon, Gordon Ramsay and Heston Blumenthal. Williams also oversees Ellenborough's high-end pub, The Horse Box, where guests turn commiserations into a celebration however fortunes have fared after a day's racing. The low-lit, wood panelled restaurant with clubby leather chairs meanwhile showcases Williams's confident approach to modern British fine dining, with a cuisine and presentation reflecting Ellenborough's informal, yet elegant dining style with service to match. A starter of beurre noisette roasted cauliflower was successfully partnered with a hazelnut granola and heady Bath blue, a main of roasted poussin, with Israeli couscous, mustard fruits and savoy cabbage proved both comforting and exotic, while a dessert of rhubarb and custard mille-feuille with a ginger tuile showcased the pastry team's effortlessly light touch.
Come bed-time, I felt as if I ought to be undressed by a lady-in-waiting and floating around in a long ghost-like white nightgown, lighting my way to bed with a Wee Willie Winkie candlestick. Somehow, watching a late night episode of Family Guy on the large TV (albeit housed within a wooden cabinet) didn't seem quite in keeping. Then neither did the Nespresso machine and Hypnos mattress, but I happily lapped up those 21st century luxuries and counted my lucky stars I wasn't born in the 15th century. Awaking refreshed to a sumptuous canopied ceiling is a gleeful 'pinch me' kind of delight, while Arkle Suite guests have the added fun of making their way into the breakfast room via a secret door. Or why not stake out in your own chamber and await the 'servants' bringing you a royal repast ahead of some spa time and a top-to-toe ishga hot stone body massage using hand blended organic oil? Yes, it's easy to get ideas above your station at Ellenborough Park. Peel me a grape.

Ellenborough Park, Southam Ln, Cheltenham GL52 3NJ. For more information, including details of offers and what's on, visit www.ellenboroughpark.com.