Two men carry a bathtub into Bath. Not a joke, but my first sight on entering the city famous for its sulphurous waters…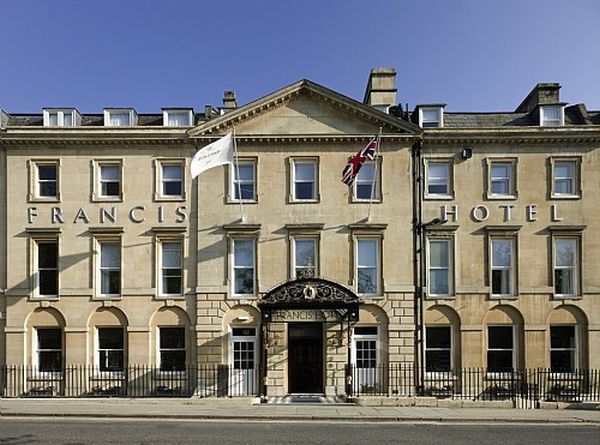 I'm bound for the Francis. Truth be told, I bear a grudge towards the hotel. One New Year's Eve, their authoritarian restaurant manager's policy of refusing kids at the festivities meant 10-year-old Douglas Blyde was consigned to room for duration. Neither TV reruns nor room service on tap could redeem the situation.
But, seeing as the Francis no longer operates their own restaurant, karma, it seems, has caught up with them. Instead, an outpost of Raymond Blanc's Brasserie Blanc scruffs-up the dining room, the intricate regency coving and cornicing awash with faux tobacco. Even though the food is fine, the generic design feels jarring in a Grade I listed building.
Thankfully, the design elsewhere is as fresh as it is bespoke. Even the crusts-off cucumber sandwiches are faultless in an afternoon tea on linen in the silk wallpapered lounge. Quirky China is uniquely imprinted with romantic scenes of birds, butterflies and ruins. Fanciful oil ladies look on from their frames with soft eyes, while the clean quarterly chime of an eight-bell grandfather clock suggests the stately passage of time.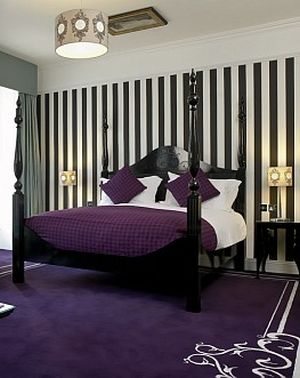 A sense of humour and youthful soul continues to the design of the bedrooms. Above my roof-off, four-poster bed I gaze at, then count, grazing sheep in a pastoral landscape. On the walls are hand illustrated, jaunty, colourful scenes of old Bath-meets-new, including a Georgian maid wielding a cafetière and a sports car roaming a square. Woven carpets are sumptuous, conforming to a rich palate of blues while mirrors are gilded camp. Bathrooms feature a floor-to-ceiling tile backdrop of the famous King's Bath.
Approaching the nearest stairway, swathed in tactile flock silhouettes, floors wonky with age creak comfortingly underfoot. The warren of corridors is punctuated by the oddly domestic fireplace, remnant from when this terrace was houses. Wallpapers of differing tempos mark the original boundaries, and an internal blue plaque commemorates John Wood the Elder, the architect hailed by Pevsner of Bath's Circus and Queen's Square (where the Francis stands). I wonder what Wood would think of Househam Henderson's £6m refurbishment?
Leading to the back door are alabaster busts re-housed from reception rooms to form a handsome gallery. At the cosy bar, counter of which is reminiscent of a small theatre bar (but with table service), I savour exclusively imported A. Lauren Champagne while watching jugglers jostle with fire in the square.
Two whippet caryatid lamps flank another fireplace in a kind of snug. Beside, a heavy tome showcases nearly 50 of Accor's MGallery ('M' is for 'Memorable') properties internationally, of which the Francis is a sprightly member.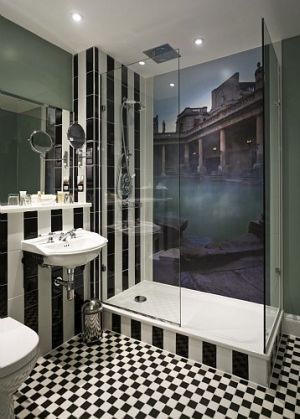 Ambassador, actress Kristin Scott Thomas, dazzles at age 52 in no fewer than 11 photos. She rides a rickshaw, smiles in sequins, looks demure on damask and lounges in leopard skin.
After counting sheep, being eyed-up by vintage oils, and spying on captivating fiery jugglers while sipping bubbles, I awake to gloriously quivery coddled eggs. Revolving out of the hotel's latest chapter, I reflect that history and character haven't been rinsed away here; rather, the designer has light-heartedly, sure-footedly, remained true to their motto to 'rediscover regency'. And this they have done couthly with charm. Now all that I need do is to rehabilitate my new found grudge towards trespasser Blanc…