De Vere Tortworth Court may have just completed a £6 million pound refurbishment – resulting in a fresh countryside-chic aesthetic – but at its heart the neo-Gothic, Grade II-listed property, found in south Gloucestershire, remains wonderfully characterful.
The facade, for instance, is full-on Edgar Allen Poe mode. Thoroughly impressive, with the hotel's turrets, large square bay windows and ornate finishing giving an imposing 'hello'. The vast entrance hall – with decorative Victorian floor-tiling, arched church-like doors and burnished-metal troughs filled with white hydrangea and roses – echoes the grand welcome. The piece de resistance is the internal lobby area at the heart of the hotel, which is dominated by a medieval-style staircase, leading to tiers of balconies as if you are on the inside of a wedding cake.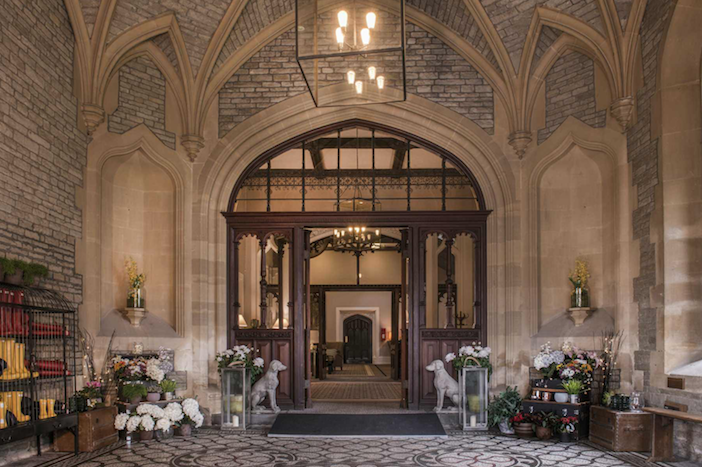 Bedrooms, meanwhile, have been given a 'Farrow & Ball' makeover, with some nice light-hearted touches. Tan-leather bedsteads and matching footstools are contrasted with tartan pillows, russet throws and soft linens. The palette is inspired by the outdoors with pared-back sage green, dove grey and off-white.
Quirky artwork features close-up photography from around the grounds, mix-matched with monochrome drawings of deer, trees and birds, as well as vintage-style botanical prints. Retro dial-phones, Roberts radios and antique books add a nostalgic feel. Overall the look is cosy and warm, a modern take on a traditional countryside style. Bathrooms also add to this feel and are sleek and modern with slate-grey subway tiles and power showers.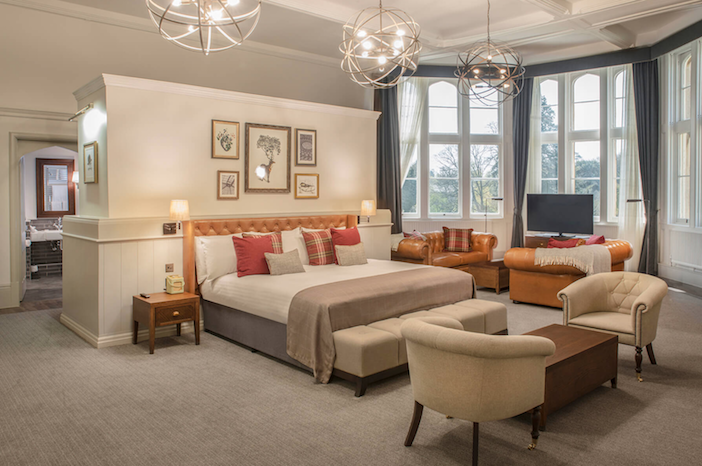 For something extra special, ask for The Kipling Suite which stretches to 78sq metres, and can also connect to next door The Paxton suite to form family 'quarters'. As well as its ownin-room-dining table for six guests, it has a lounge and sweeping views overlooking the formal gardens.
Talking of which, the manicured lawns and brightly-coloured flower beds are a highlight. The hotel sits in a 30-acre estate, which includes one of the UK's finest arboretums, with hundreds of rare and domestic trees. Guests will also come across a number of specially commissioned sculptures by artist Emma Stothard, including a parliament of hares positioned as the centre-piece of the formal garden.
The main restaurant, 1853, is carved out of the old library and has made much of the period details – walls are lined with oil paintings, while the ceiling is painted are royal-blue and decorated with gilding and gold floral patterns. Ornate plasterwork and William Morris wallpaper add to the maximalist feel, with peacock blue dining chairs adding a touch of luxe.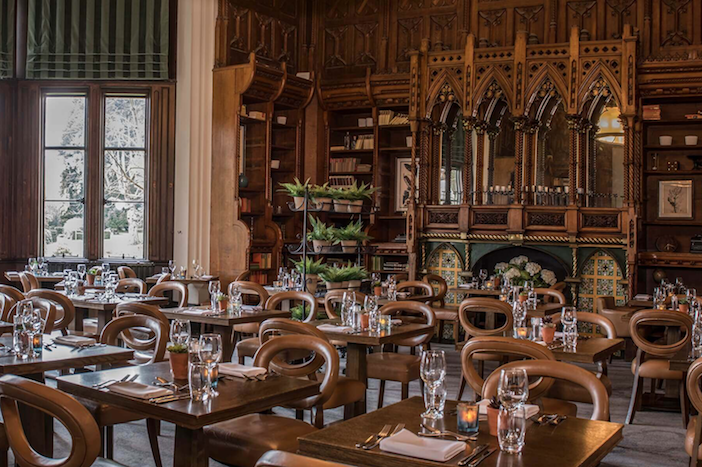 Menus are focused on crowd-pleasing favourites – salt and pepper squid to start or duck and port paté. Mains include braised blade of beef with a haricot vert and Bourguignon sauce or a five-spiced Gloucester Old Spot pork belly. Desserts are indulgent treats such as chocolate fondant and sticky toffee date pudding. For something more casual, the Atrium Bistro is a more contemporary place to dine. The light-drenched space – due to its 60-foot glass roof – has exposed brickwork and fairy-light laden trees. Here you can have stone-baked pizzas, gourmet burgers and a range of pastas. Make room for the peach Bellini cheesecake. It's not to be missed.
The Leaf Spa is also a little gem – perfect for an early-morning dip in the pool or an afternoon being pampered with a choice of affordable treatments from Decléor. The Tranquility Scalp massage uses stimulating eucalyptus, rosemary and lavender essential oils to destress and revive. It's heady stuff.
Rates at Tortworh start from £129 per night. For more information, including offers and details of their Leaf spa , visit devere.co.uk