A boutique gem in the charming and historic town of Woodstock, Oxfordshire, Hope House is just a hop, skip and a jump from Blenheim Palace, the birthplace of Sir Winston Churchill. A Grade II listed building, Hope House dates from 1708, around the same time that Blenheim was being built. It was opened to the public as a luxury bed and breakfast in 2009 following an immaculate refurbishment with the help of interior designer Jill Trellogan, who cleverly combines the latest mod-cons with an elegant décor in keeping with the heritage of the property. With just three suites, Hope House prides itself on exclusive accommodation with a warm approach to hospitality; service and attention to detail which deservedly resulted in awards, press attention, and an invitation to join Mr and Mrs Smith, the luxury hotel and accommodation guide book, just one year after opening.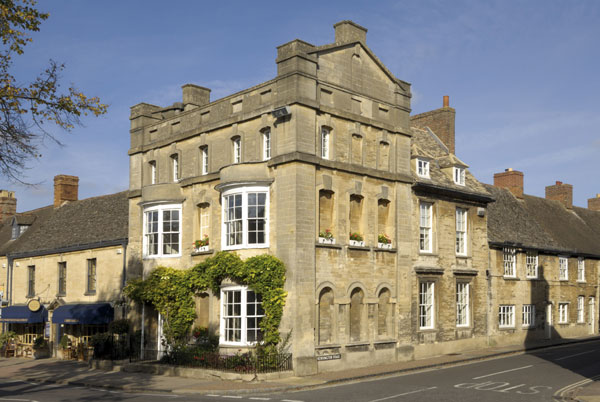 Before checking in to Hope House my chap and I spent the morning visiting St Martin's Church in the nearby village of Bladon, Sir Winston's final resting place. A somewhat gloomy pastime you might think, but one which filled us both with patriotic pride and reverence in witnessing the humble end that Churchill desired in favour of the pomp of Westminster Abbey. Despite the apparent obscurity of the place, we were not alone in our pilgrimage, a wish shared by many to pay respects to one of Britain's greatest men; the saviour of modern times. In that peaceful spot, just a mile from his birthplace, Winston lies beside his wife Clemmie and in the same churchyard as his parents, his younger brother Jack, and his children Diana, Randolph, and Sarah.
We had kicked off our Churchill-inspired weekend by cooking Winston's favourite dinner the night before; roast beef and Yorkshire puddings, with the left over roast beef and horseradish making some tasty looking sandwiches for the journey to Woodstock (Winston would surely have approved). My chap wore a polka dot bow tie for the occasion – an almost exact replica of the one that Churchill, and his father before him, wore ritualistically. It was terribly good fun watching him puff away on a Romeo y Julietta Churchill cigar after dinner, as we sipped port and nibbled on the finest Stilton before I proceeded to thrash him at backgammon – just as Clemmie would no doubt have thrashed Winston.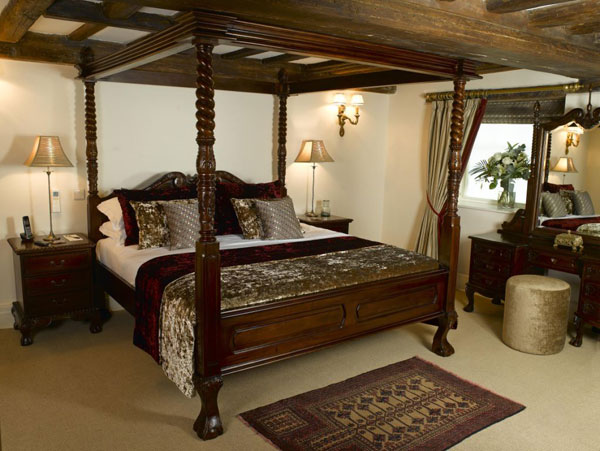 Escaping a downpour, we made our way to Hope House where we were warmly greeted by managing partner Paul Hageman, a descendent of the once influential Money family who brewed local ales and owned several glove making factories in Woodstock during the early 19th century; presenting gloves at the Great Exhibition in 1851 and later granted the Royal Warrant by Queen Victoria who ordered saddles, boots and gloves from the company. Paul continues to take a keen interest in the local affairs of Woodstock, having traded in his role as general manager for a luxury hotel group in favour of turning the ancestral home into the thriving family business it is today.
Paul showed us to the aptly named Blenheim Suite situated on the ground floor, where a welcome jug of Pimms awaited us. He gave us a thorough tour of the suite, the size of a one-bedroom apartment and comprising of a character-rich bedroom with beams, a cheval mirror, and an oh-so-comfortable four poster bed dressed with Italian bed linen and Mulberry Tree silk duvet and pillows. The adjacent sitting room was sumptuously yet cosily furnished with original antiques and a large desk (free wi-fi throughout making it ideal for business travellers), plus a comfortable sofa on which we later curled up to watch the old Hitchcock black and white, Rebecca, on the Sky box. A good selection of films are available to borrow from a bookcase in the lobby too.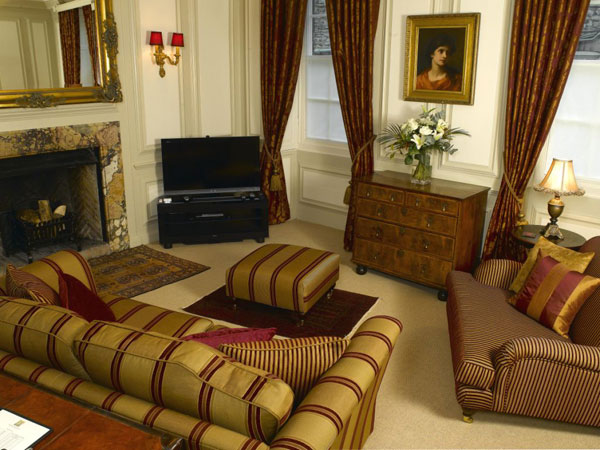 We found the cute Smeg fridge packed with affordable Blenheim Palace mini bar items, and mineral water and milk to accompany the tea and coffee making facilities in the neighbouring cupboard. They were even thoughtful enough to provide handmade shortbread and chocolate cookies and a generous allowance of complimentary Somerset cider brandy which Paul pointed out on the sideboard. There was another flat screen television in the marble bathroom, underfloor heating, a walk-in monsoon shower and Bvglari toiletries and candles in readiness for a long romantic soak in the large bathtub. There is absolutely nothing impersonal about Hope House.
Each room has a helpful folder filled with tourist information, plus menus of local restaurants, ranging from gastro pubs and bistros to the Michelin-starred Le Manoir aux Quat'Saisons just a 30-minute drive away. We opted for Atrium at The King's Arms Hotel, a modern one AA rosette restaurant, where we had a more than acceptable dinner. Hope House also offers a bespoke dining package priced at £195 per person for a seven course tasting menu, cooked by the retained chef who previously worked at Le Manoir, which includes exclusive use of the wood-panelled Vanburgh Restaurant and six matching wines from the extensive Hope House cellar. For £1,750 per night the entire house, sleeping 10 people, can be hired for private use.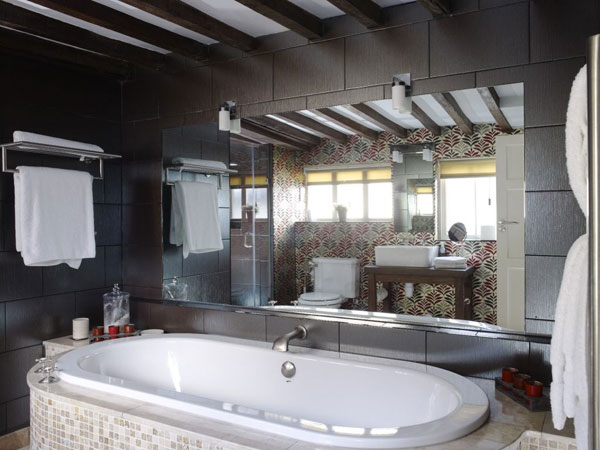 I imagine most people would like breakfast served in their suite, but saying that, the Vanburgh Restaurant was almost close enough to justify popping along in one's PJs. Served from 6.30am – 10.30am, we found a large table generously laden with cereal, yoghurt, fresh fruit and more table sauces than you could shake a spoon at, to accompany the freshly prepared organic breakfast. Everything down to the butter is sourced locally and is of the highest quality. The menu offers guests a tailored breakfast; juice squeezed to order, eggs (courtesy of Clementine, the chicken who was fondly named after Winston Churchill's wife) cooked how you like them, two types of award winning sausages, and bacon either smoked or unsmoked. We were soon brought a cafetiere of the smoothest coffee and a large board of warm croissants and toast which I was keen to sample with the homemade hedgerow jam. It was a full English fit for Churchill himself, although Churchill preferred his served to him on a tray in bed, once declaring ''My wife and I tried to breakfast together, but we had to stop or our marriage would have been wrecked." A sentiment happily my chap and I do not share. After checking out and waving tally-ho to Paul, we set off for Blenheim Palace hand in hand and bathed in sunshine.