My favourite moments in Paris are when I feel I'm bushing right up against its golden age – that early 20th century heyday when Hemingway, Fitzgerald, Picasso, Coco Chanel and a pantheon of other cultural icons roamed its cafes, cabaret clubs and boulevards. When I saw Woody Allen's Midnight in Paris, I looked at Owen Wilson's character and thought, "yes, that's me!!" Well, gender and hair colour aside, I certainly empathised with his overwhelming nostalgia and idolisation for an era when everything beloved in literature, art, cinema and fashion seemed to be blossoming in the city.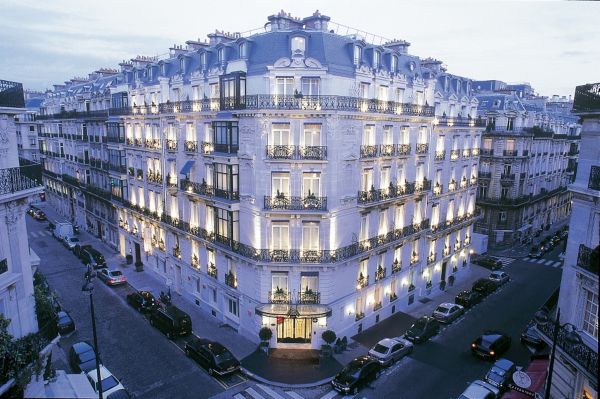 So, imagine my delight as I checked into Hotel de la Trémoille late one night in early December and the concierge informed me I'd be staying in the room where Louis Armstrong and Duke Ellington once slept (presumably not together…). Sure enough, in the hallway I passed a black and white photograph of the two jazz legends playing on the hotel balcony with a crowd cheering on the street beneath.
This nice slice of history is not the only charm the five-star La Trémoille has going for it, though. Let's start with the fact I walked into my room to find a complimentary box of La Durée macaroons awaiting me. Then take the full-size bottles of Molton Brown products in the grey marble bathroom, the luscious gold and black fabric wallpaper, art deco furniture and insanely comfortable, canopied bed – all of which gave a sense of exquisite yet subtle luxury. Their most inspired feature has to be the 'hatch': a dumb waiter-style cubbyhole allowing room service to be discreetly sent to your room. No more awkwardly answering the door in your pyjamas here. I couldn't resist taking advantage of this by ordering breakfast in bed the next morning – all in the interests of journalism, of course. I left the slip stating my order and delivery time outside the door before going to bed. Sure enough, at 10am I heard a light clunk and rushed to the hatch to find a generous breakfast tray laden with freshly squeezed orange juice, a basket of brioche and pastries, scrambled eggs, a pot of coffee and steamed milk and slices of cheese and ham. A veritable feast that meant I didn't end up leaving the hotel to actually see something of the city until gone midday.
Tucked away on a quiet street in the 'Golden Triangle', the 93-room hotel is just round the corner from the bigger, flashier Plaza Athenee, with the Ferraris and Royces perpetually lined up outside. I normally opt to stay in the Rive Gauche and must admit I still prefer its boutique charm to the Right Bank's ritziness, but with the designer boutiques of Avenue Montaigne and the Champs-Elysées just a few paces away, La Trémoille is certainly well positioned for shopaholics. It's easy to see why the Vogue set is among its fans.
I continued my quest for Jazz Age Paris and headed east along the river to Saint-Germain-des-Prés for a cafe crème and slice of tarte tatin at Les Deux Magots, the old stomping ground of Gertrude Stein and Jean-Paul Sartre; the plaque above the seat next to me read 'Ernest Hemingway'. Naturalement, I also had a nose around Shakespeare and Co., the famous bookstore where writers such as James Joyce and Ezra Pound used to gather. Although today it's a tourist magnet and has moved from its original location on 12 rue de l'Odéon to 37 rue de la Bûcherie in the 1960s, it still exudes an old world charm with its packed shelves of literature old and new.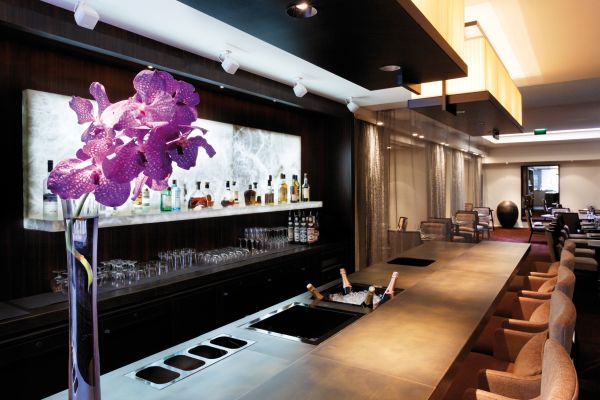 Back at the hotel, I found the 24-hour concierge was spot on. Their recommendation for a jazz club ended up providing one of my best nights out in Paris to date – an underground converted crypt where couples old and young swing danced until the small hours to a live four-piece band. What's more, they'd managed to find me the ultimate Parisian midnight feast when my boyfriend and I arrived off the last Eurostar of the day. I thought our chances of getting a bite to eat at that point were dismal, yet instead of pointing to a depressing room service club sandwich, we were tipped off about a neighbourhood bistro on the next street that dished us up a couple of steaming bowls of French onion soup and a bottle of decent Bordeaux.
La Trémoille ticks all the boxes that a five-star hotel should, just without the look-at-me factor of competitors like Hotel de Crillon or Le Bristol. My heart might lie on the Left Bank with the Surrealist poets and Jazz Age émigrés, but I'm more than happy to lay my head down in this hidden gem of the 8th Arrondisement.