A country house hotel hardly qualifies as such without a mile-long drive and Grade I-listed gardens, so choose carefully when planning your next weekend escape. Hotel Endsleigh, the Devonshire gem nestled at the edge of Dartmoor, is the kind of rambling English manor everyone longs to own or wishes they were about to be bequeathed by a very rich old uncle. Akin to stepping into the pages of Nancy Mitford's The Pursuit of Love, it's the epitome of all things U and I defy anyone to find a hotel that better captures the romance and marvellous eccentricities of rural aristocratic living. "Life is sometimes sad and often dull, but there are currants in the cake, and here is one of them."
Tucked with said copy by Miss Mitford under my arm and half expecting Uncle Matthew to boom a rather frightening welcome as I stepped into the wood-pannelled hall with its original fireplace, the round table bearing a magnificent, yet suitably rustic and autumnal floral arrangement straight from the garden and hedgerow, which might have been gathered by Aunt Sadie, set the tone perfectly. Guests might almost follow the scent of flowers when wandering through the grand yet supremely comfortable public rooms. Better still, no-one feels the need to whisper in corners and children are as welcome as four-legged friends.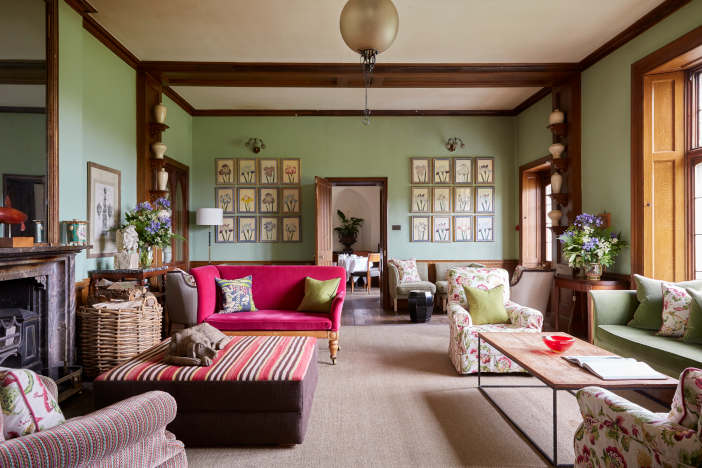 Hotel Endsleigh belongs to the exclusive Polizzi Collection, sister to glamorous Hotel Tresanton in St Mawes, where a seafood lunch was a highlight of our Cornish sojourn, along with the recently opened 15th century Star Inn in Alfriston in the East Sussex Downs. Award-winning hotelier and interior designer Olga Polizzi (whose married name is Lady Shawcross making her an actual 'Lady of the Manor') is a visionary who breathes new life into everything she touches, whilst sensitively maintaining the original features and personality of each property. Opening Hotel Endsleigh in 2005, the two new suites including one aptly named 'Lady Olga', show just what an ambitious task the project has been; offering guests refinement which reflects Endsleigh's character and befitting its luxury hotel status. It's impossible not to feel a tingle of anticipation on exploring for the first time and just like a Mitford heroine my first glimpse filled me "with a strange, wild, unfamiliar happiness."
Endsleigh was built between 1810 and 1816 for Georgina 'Georgy', Duchess of Bedford whose Highland heritage clearly influenced the design which is distinctly Scottish rather than West Country in style. Not content with being married to one of the richest men in the country, Georgina, a lover of the arts, embarked on an affair with Edwin Landseer, Queen Victoria's favourite painter who was twenty years her junior. Despite scandalising court circles, the relationship continued for thirty years, with one or more of Georgy's children believed to have been fathered by Landseer. The Duke, who owned a third of Devon, meanwhile used Endsleigh as a fishing lodge, although the Duchess, who often entertained Landseer here, was arguably more devoted to the house and estate which she proclaimed her 'Garden Paradise of the West'. Go in search of the thatched dairy and the little house in the woods built for the Duchess, who ordered a boy to row across the river every morning and light the fire in the uninhabited house, solely in order to create a charming wisp of smoke to 'animate' the view.
The attentive and friendly staff greet each guest by name (if only I were titled!) further allowing me to dream of being the owner and throwing a glamorous house party (evening dress compulsory) which, with an estate this immense, would disturb only the vociferous Endsleigh owls, and I hear they keep late hours anyway. Some of the old customs are still upheld by many of the guests so you don't feel like a total fool for changing your clothes twice a day; country-wear for breakfast and daytime walks, with something elegant for afternoon tea and dinner.
To my right I discovered a boot room with jackets and Hunter wellies in various sizes for guest use, essential for exploring the extensive grounds, while the cosy library, complete with all the classics from Charles Dickens to Graham Greene, secret doors disguised as bookshelves and a chintzy chaise lounge was the perfect spot to recline over a reviving pot of tea while the trunks were being attended to, after which I browsed the cupboards bursting with DVDs and board games which, like the books, I was invited to borrow for the duration of my stay.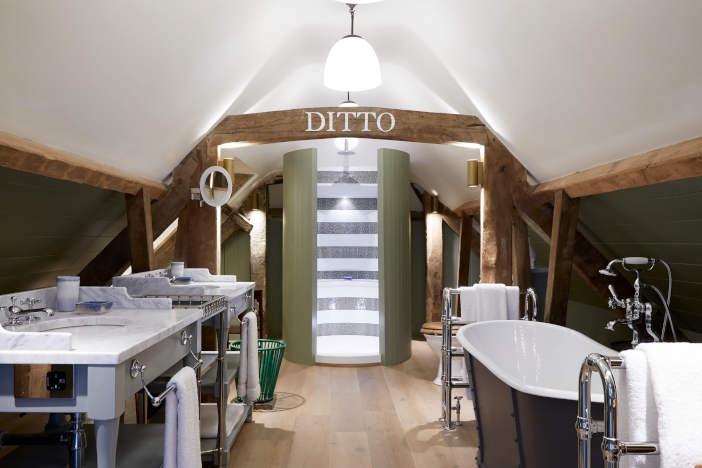 The fact that all 21 bedrooms including the thatched Gatehouse Lodge are individually designed goes without saying, with Queen Victoria reportedly having stayed in No.8 in 1856 when visiting the Duke and Duchess of Bedford. Rooms are located in the main house and stable where we were shown to our suite boasting lattice windows and its own private entrance. No. 20 is a beamed affair with spacious accommodation including lounge, workspace and bedroom, along with one of the most opulent hotel bathrooms I've ever come across with twin sinks, a roll top bath and stand-alone rain shower. Luxuriate at your leisure with monogrammed white fluffy robes and deliciously scented Bramley toiletries.
Located in what was originally the hay loft, I felt at one with the character of our quirky suite, brimming over with thoughtful touches including a good selection of books and a charming cupboard in which a sink, kettle and coffee machine, loose leaf tea bags and coffee pods, a fridge stocked with fresh milk, 'E' for Endsleigh mugs and a William Morris tea towel made me feel instantly at home. The décor, just like the main hotel, is stylish yet rustic thanks to floral wallpaper and vintage furniture, while I wasn't in the least surprised to find old fashioned sheets and blankets on the bed, with hot water bottles available on request. The fact that there's no traffic for miles ensured I slept like a log, but that could have had something to do with having dined like a Duchess.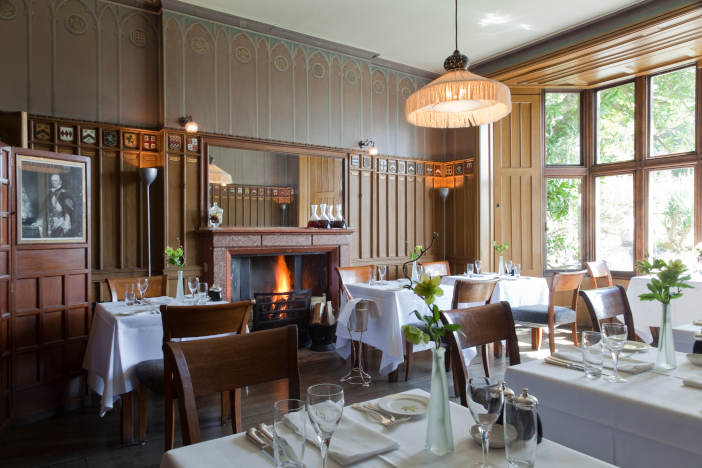 Endsleigh's elegant wood-pannelled restaurant is the original dining room, decorated with the crests of the Bedford family and serving the kind of comforting, classic cuisine you yearn for when you stay here. The three-course menu by Head Chef Tom Ewings changes every day and features fabulous local produce, served with a generosity that's hard to find nowadays. A refreshing crab salad with mango chutney, cucumber and red pepper sorbet was one of the more innovative and memorable dishes, while a main of sea bass with saffron potatoes, samphire, baby gem and a seaweed beurre blanc was gloriously conceived and executed. We got to know our waitress, Jess, well over the course of our stay and she never failed to praise us when returning to find clean plates, yet not even we could finish the prodigious sticky toffee pudding (the size of a child's Wellington boot) served with vanilla ice cream, although it's something I may well regret for the rest of my days.
After a hearty breakfast including Endsleigh's homemade pecan, hazelnut and coconut granola it was time to don the Hunters and explore the picturesque 100 acres of grounds and magnificent landscaped gardens designed by Humphry Repton, regarded as the last great landscape garden designer of the eighteenth century, and successor to Capability Brown. The keenest of horticulturists and nature lovers will delight in the abundant borders, sculptures, follies and grottoes including a Shell House. The Parterre and Rose Walk, where guests can take tea or enjoy a game of croquet, offers all the romance you hope for from a country house garden, while the River Tamar makes its way through the woodland like something from a period drama, with streams, cascades and waterfalls that offer Endsleigh's guests a uniquely magical setting.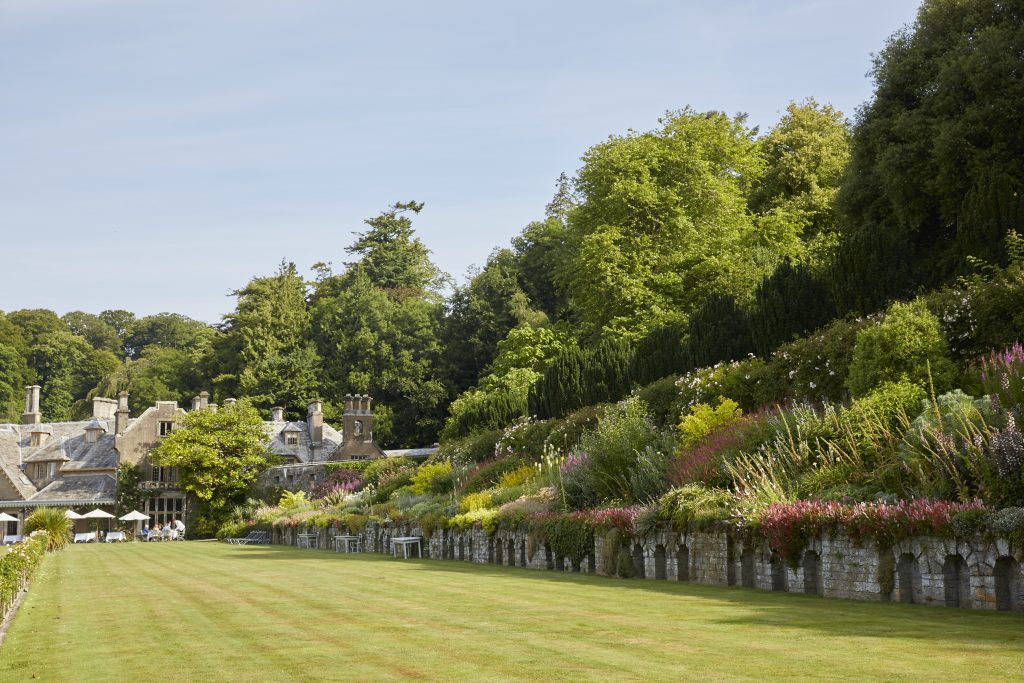 Explore the garden and grounds at your leisure or book a tour with Head Gardener, Ben Ruscombe-King whose enthusiasm for the landscape is infectious, "It's a place to leave the outside world far behind and enter an ephemeral, yet constant world where time has little meaning…it is a garden intended to awaken the imagination and to transport one. I often meet guests who intended to explore Dartmoor during their visit but instead never left the grounds, finding all they needed in this picturesque Arcadia just beyond reality." I couldn't have put it better myself.
Hotel Endsleigh, Milton Abbot, Tavistock PL19 0PQ. For more information and reservations please visit the website.