Visiting Paris again, after a hiatus of many years, remains one of the great pleasures that a civilised man or woman can undertake. Yes of course, there are all the endless cliches, which do not need rehashing here, but what I think any visit to the finest city of Europe (with apologies to the many other worthy rivals for such a title) needs is to potter around the Left Bank on a crisp, sunny September weekend, allowing visitors to soak up the delights of Shakespeare & Co, the endless wine bars, cafes and restaurants of the Latin Quarter, and generally allowing them to live la vie Parisienne for a very short – but hopefully sweet – time.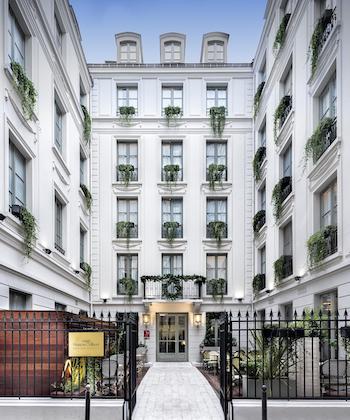 But where to stay on such a visit? There is no shortage of grand palace hotels in central Paris, but the vast majority – impressive though they undoubtedly are – have a coldly impersonal feel that's entirely at odds with the bohemian atmosphere engendered by the Left Bank. And yet anyone staying in the city for a few nights wants a chance to be somewhere that's brilliantly situated, discreet and luxurious – and also affordable, rather than the bank-emptying splurge that the more grand establishments can offer. Does such a place exist in 2022 Paris?
Thankfully – and rather surprisingly – the answer is very much 'oui oui', in the beautifully formed shape of the Hotel Maison Colbert. A member of the always reliable Melia collection, the hotel is situated in a sixteenth century building a few minutes' walk from the (currently rebuilding) Notre Dame cathedral, Shakespeare & Co and more places to eat, drink and be merry that you can possibly imagine. It's a glorious place, and soaked in history; Simone de Beauvoir used to live there, so you, too, can imagine that you are the author of The Second Sex and other feminist classics while you're staying in one of the many sumptuously appointed rooms.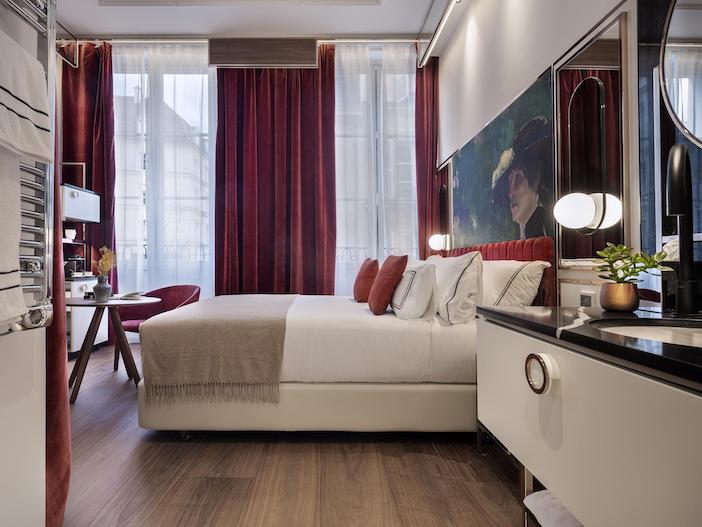 Although it's part of a wider group, the hotel manages to maintain an independent, intimate feel. From the genuine warmth of the check-in to the sumptuously appointed and extremely comfortable rooms, complete with some of the nicest in-room treats I can ever remember receiving; the macaroons and dark chocolate are not just good by luxury hotel standards, but so sublime that it takes an effort of will not to become addicted to them. The accommodation is decorated in a sublimely tasteful style, combining nods to the building's historic credentials with all contemporary style and chic. And it should go without saying that the bed is exceptionally comfortable, too.
The hotel doesn't have a restaurant per se, but the ground floor café, Clotilde, does a very fine breakfast, which, on a fine day, can be enjoyed in the beautiful courtyard, where the pastry selection will make those with an even reasonably sweet tooth want to cry with delight; the croissants, pains au chocolat and what-have-you are sublime, and the range of juices, coffees and everything else must be one of the city's finest.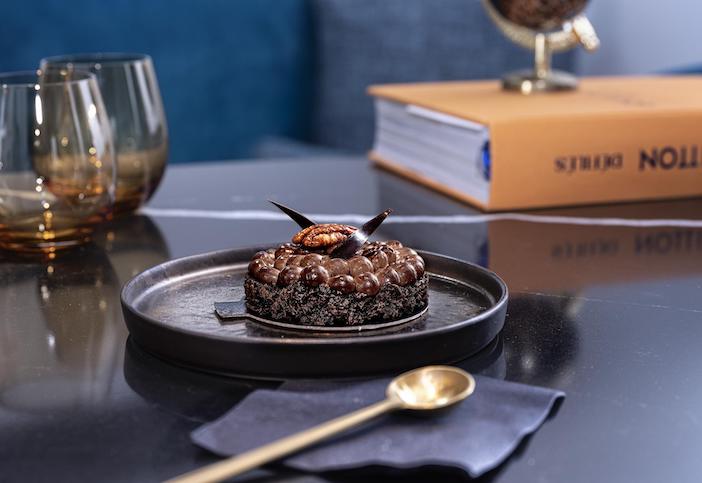 Although I wasn't able to sample the cocktails in the bar due to early closure on a Sunday – alas, this is now the world we inhabit – there is nothing about the sublime Hotel Maison Colbert that I cannot recommend. So get on the Eurostar here, and immerse yourself in the most civilised experience imaginable. Paris, at whatever season, remains the true connoisseur's choice, and long may this continue.
Hotel Maison Colbert is part of the Melia collection. For more information, including details of rooms and rates, please visit www.melia.com.
The Arbuturian travelled to Paris with Eurostar. Eurostar operates 14 trains a day from London St Pancras International to Paris Gare Du Nord, with one-way fares starting from £39 (based on a return journey). The fastest London-Paris journey time is 2hr 15 minutes and tickets are available from www.eurostar.com.