After you turn off the main road, the drive to Bowood Hotel affords the perfect vision of quintessential Englishness: you bump along a country lane, past endless bucolic vistas of verdant fields and age-old trees, until you come to the honey-coloured country house. Lavender and freshly-cut grass scenting the air.
Found in the idyllic Bowood Estate in Wiltshire, the hotel is the perfect escape in reach of London. Just minutes from Bowood House, home of the Marquis and Marchioness of Lansdowne, who still reside in the Georgian property, the hotel feels like a typically English rural retreat. Except… looks can be deceptive.
The hotel hasn't been carved out of a characterful house, as you might expect, but instead it is relatively new – only having opened in 2009. Much of its charm, however, is down to the fact that its interiors have been conceived to feel like you've entered a countryside mansion, with the Marchioness of Lansdowne overseeing the whimsical designs that set the tone.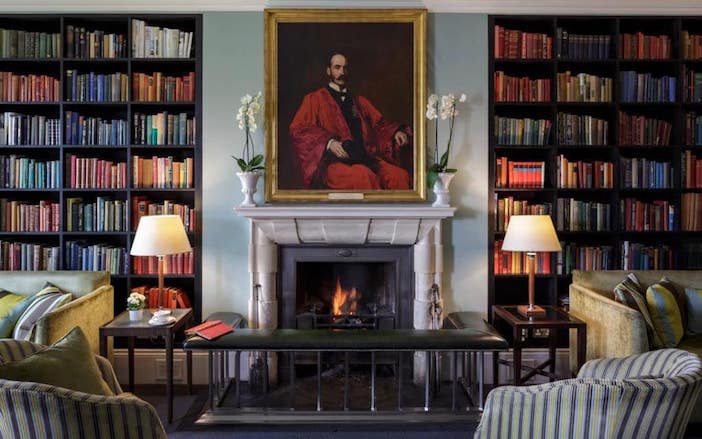 The snug, for instance, is cosy with a large fireplace and baskets of logs. The library, with its navy-blue walls and bookcases lined with antique books, is wonderfully inviting with its clusters of sofas and tables laden with board games. The large entrance hall, meanwhile, gives a grand welcome with its stone busts, vintage wall lighting and urns of flowers, picked from the 100 acres of 'Capability' Brown-designed parkland that the hotel shares with Bowood House.
In fact, much is made of the great outdoors here. The Shelburne Restaurant – fashioned to be like an original orangery with its sweep of floor-to-ceiling windows – is flooded with light and is an uplifting place to dine. It looks out over the hotel's undulating PGA Golf Course – a real draw for guests staying here – and gives a nod to the natural world with flowers and ferns adorning the tables and a botanical-style, hand-painted wall mural dominating the room.
Here, the best of Wiltshire's produce is showcased across a variety of menus – from inventive supper dishes to classic afternoon teas, from popular Sunday brunches to light snacks in the adjacent bar.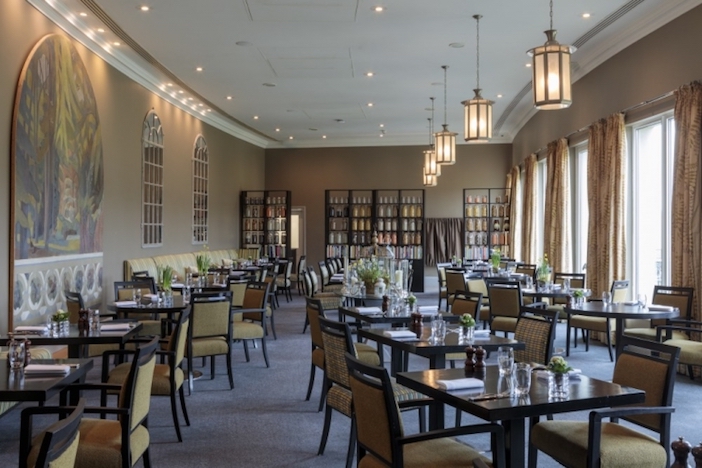 Giving a refined, modern twist on British classics, supper is a highlight with garden-fresh produce harnessed from local suppliers. Starters include Fried Courgette Flower with Ricotta & Orange or Smoked Duck with a Pear Remoulade. Mains include steaks from the grill, Guinea Fowl with Red Chicory, Cider Raisins and Walnut Mayonnaise or inventive vegetarian options, such as Globe Artichoke with Smoked Garlic Quinoa and Crispy Garlic, or Tomatoes with Grilled Feta, Torched Lime Curd, Pugged Rice and Cucumber Gazpacho. Be warned: desserts are too-hard-to-resist – think: Chocolate Fondant, Peanut Butter Macaroon and Malibu Panna Cotta.
Each of the 43 bedrooms have also been designed by the Marchioness of Lansdowne, with an easy-going yet elegant style, using neutral colours and little nods to the history of the estate. The famous rhododendrons are depicted on art-works, bathrooms have natural stone tiles, and black-and-white photography focuses on the blooms from the historic grounds.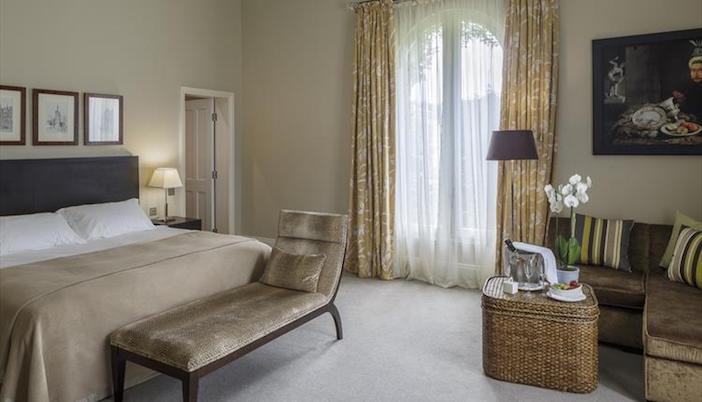 Just a 15-minute stroll away is Bowood House & Gardens – not-to-be-missed. Grab a pair of wellies and a walking map from reception, or alternatively the hotel can organise a golf cart to take you (entry is free for guests). Much of the house, which dates back to 1754, is open to the public and holds a wealth of art and antiques with some interesting displays. The standout gardens include an Italian-inspired terrace, walled gardens, parkland, a Doric temple, waterfall and caves.
After a day roaming around, the recently-renovated spa at Bowood Hotel beckons. Nordic in feel – it features an airy lounge with fire-pit overlooking the infinity pool. A rock sauna, crystal steam room and aromatherapy showers reinvigorate the senses while treatments include holistic warm bamboo massages, organic facials and jasmine rice body scrubs. The signature Garden of Deep Calm captures beautifully the essence of Bowood – with its orange and vetiver oils used to massage and soothe the skin. It has the garden of England at its heart.
For information about Bowood House, including the estate and gardens, and for reservations visit www.bowood.org.