The last time that I visited Le Manoir Aux'Quat Saisons – or 'Le Manoir', as its many admirers tend to call it – was around six years ago, in December 2015. The world was a very different place. Covid had never been heard of, Brexit was believed to be an outside chance, at best, and the idea that America would have as its President firstly an orange reality television star with delusions of grandeur, and secondly an amicable dullard who seemed barely to know what day it was, seemed impossible. And on a personal level, my wife was heavily pregnant with our daughter, which meant that the usual sybaritic delights of Le Manoir, while not entirely off-limits, were still rather more restrained than usual.
As we were leaving after our stay, we encountered the ever-ebullient Raymond Blanc, chef-patron of Le Manoir. Noting my wife's condition, he said 'Ah, you must come back when your child is old enough to appreciate it here! We love having children!' We thanked him and vowed that when the opportunity presented itself, we would take delight in returning; after all, my wife would dearly have liked to have the chance to try more than a thimbleful of the wines that I had been gaily matching with my tasting menu. And so, six years on, we finally made good on our vow.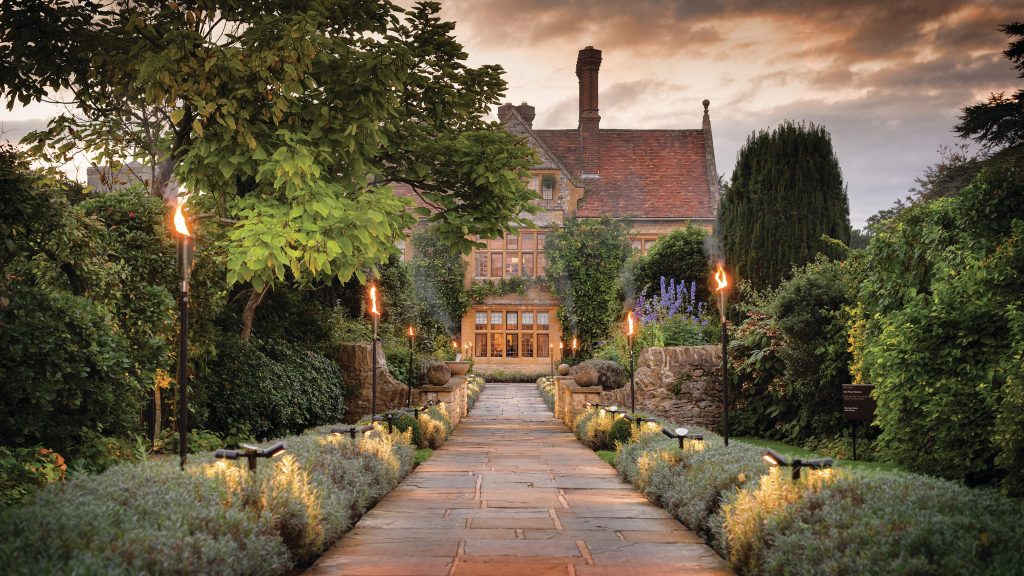 The first thing that we saw when we arrived at Le Manoir's honey-stone walls this time was a French flag, symbol of Monsieur Blanc's heritage, next to a Union Jack. Brexit may have taken place, but there is something about this 15th-century manor house in the Oxfordshire village of Great Milton that provides the most cordiale of ententes. Part of the appeal of Le Manoir is that one arrives in a quintessentially English setting – roaring fire in the hall, wood panelling and what-have-you – but the alchemy of Blanc and his estimable staff (with a little help from Belmond, owners of everything from Venice's Le Cipriani to the Orient-Express group of trains) offers both surprises and the high-end, peerless luxury that one might expect from a business that has now existed for the best part of four decades. Yet innovation remains the watchword, meaning that, as competitors ossify and fossilise, Le Manoir is as capable and excellent as ever.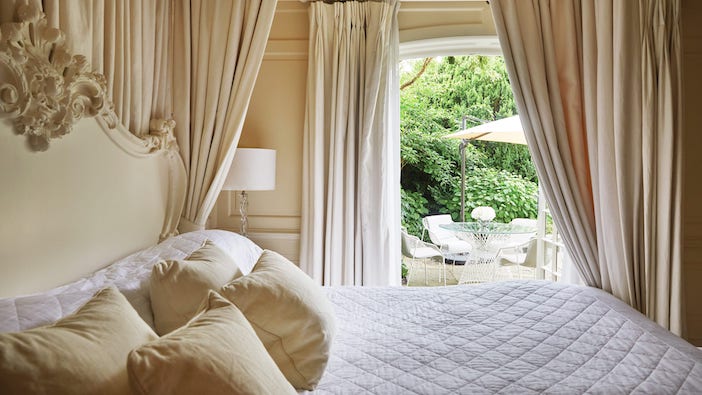 This manifests itself in fashions great and small from the beginning of our stay. Covid conditions being what they are, we are checked in from our room, rather than the main desk – but what a room. We are staying in the Blanc de Blanc Garden Suite, its name both a cheeky reminder of the hotel's patron and an accurate description of its all-white interior. In many places, this would be a nightmare of homogeneity and potential naffness, littered with Footballers' Wives-esque horrors.
But here, thanks to the intelligent interior design of Emily Todhunter and the sheer perfection of the execution, it's both supremely comfortable and deeply stylish, even before one considers all the luxuries such as the television in the bathroom, the enormous four-poster bed and the small bottle of Madeira that helpfully doubles as an after-dinner drink.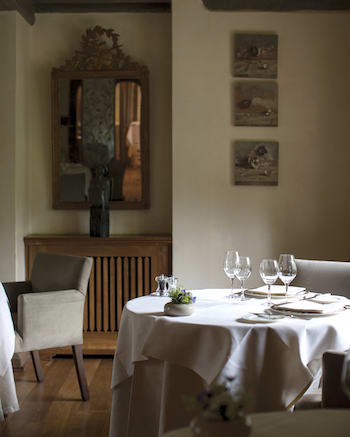 For, let's not mince words here, it is dinner – le diner – that has always been Le Manoir's true raison d'etre. The hotel's restaurant, overseen by Blanc, head chef Gary Jones and Benoit Blin, has retained two Michelin stars for decades; if it were to lose them, it would be the culinary equivalent of the ravens leaving the Tower of London. The true connoisseur of the experience knows the drill. Firstly, while the afternoons are light, there is time for a walk round the exquisite grounds, and to look at the kitchen gardens, where much of the produce that will then be served that evening is harvested, from pumpkins to mushrooms.
Then it is time to dress for dinner before heading down to the refreshingly informal sitting rooms, where one is offered a drink (a glass of 2016 Gusborne Blanc de Blancs was very welcome) and a chance to peruse the menu, although this is largely theatre: there is one evening menu, and the major choice is whether one has the vegetarian or 'normal' option. And then it's time to head through to the dining room in the conservatory, and the experience can begin in earnest.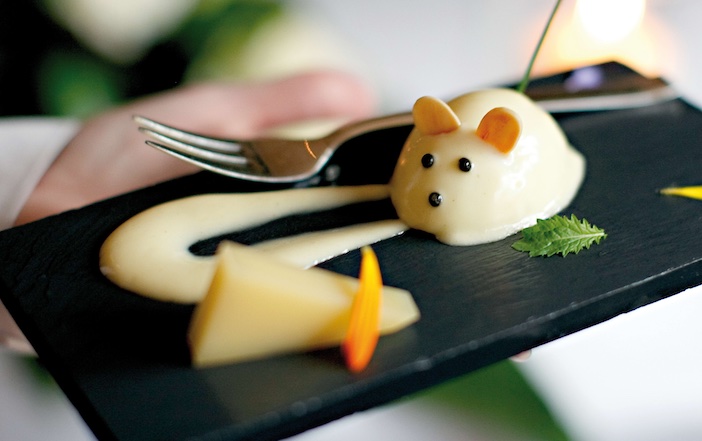 For a restaurant often regarded as one of the best in Britain, if not in Europe, there is a refreshing lack of stuffiness and formality to the experience of dining here. Children are present (I saw at least two others in our corner of the room), and welcomed: they are usually given a choice between the tasting menu and a special menu des enfants, and our daughter dines happily on smoked salmon and scrambled egg, cod goujons and (peerless) chips and ice cream. And there is a general absence of the preciousness associated with these places from the staff, who have a genuine friendliness and approachability far removed from the stiff rectitude that I've seen in other, considerably less elevated, establishments.
An interesting shift that I've noticed in the past decade is that tasting menus have become considerably lighter. Once upon a time, they had a few luxurious ingredients that one would all but expect; foie gras, scallops, lamb, even lobster on occasion. This also meant that they were often extremely heavy and even uncomfortable. The menu at Le Manoir, by way of contrast, concentrates far more heavily on vegetables and seafood, all of which are cooked to perfection.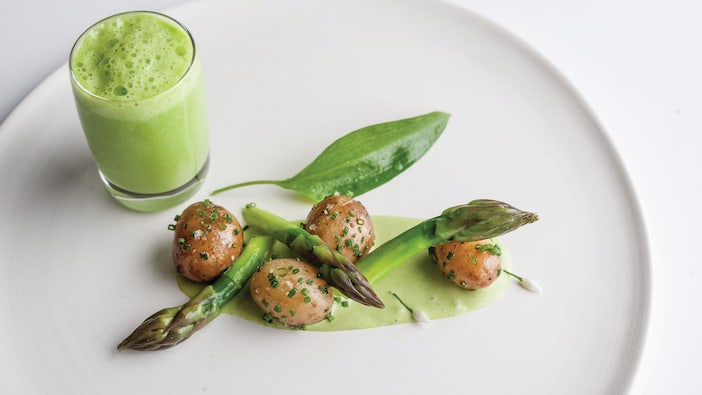 My wife's favourite dish was a chargrilled langoustine with leek, miso and dashi that had a beautifully complex texture and an even better taste, though I reserved a particular affection for a truffled hen's egg served in wild mushroom tea. There is only one meat dish – a Rhug Estate venison with red cabbage and spiced cranberry – and it is surprisingly light. Even desserts of orange carpaccio and chocolate and coconut feel almost healthy, which is a remarkable shift away from the excess of my youth. We have all heard the chimes at midnight, it would appear.
Which is not to say that this isn't a joyful, even celebratory, experience, not least because of the generous and thoughtful wine pairings. Heavier on the white than the red and exclusively Old World in their offerings, we sample Riesling, Chassagne-Montrachet (an especial highlight), Grüner Veltliner and Saint-Émillion, before ending the meal with a sublime Gaillac Renaissance 2016 dessert wine. This is the so-called 'selection classique'; for the truly deep of pocket, the 'selection exceptionnelle' will offer, quite literally, the finest wines available to humanity, at a suitably exceptional price.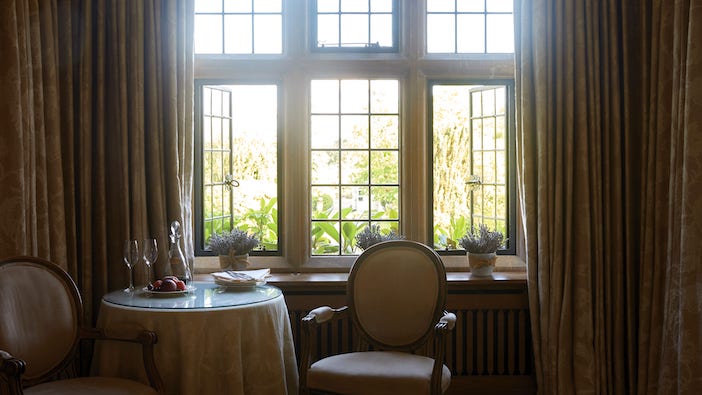 Which takes us to an undeniable truth about Le Manoir. It is expensive. It isn't expensive in the kind of 'annual treat' way that a lot of its peers are, but expensive in a way that puts it out of the reach of many, and so it was little surprise that many of our fellow guests and diners were couples celebrating significant birthdays or anniversaries. Fair play, too, to the man on his own, who seemed perfectly happy with his book, and ordered a glass of vintage Veuve champagne at breakfast the next day: we speculated as to whether he was a Michelin inspector or simply a solo sybarite.
But it's very much worth it. Coming here for a night might cost as much as going away to many destinations for a week, but the calibre of the experience is a peerless one, and will produce happy memories for a lifetime. Or, as we said to the staff on our departure, 'until the next time'. Let's hope that there is one in the far from distant future.
Le Manoir aux Quat'Saisons is part of the Belmond collection. For more information, including details of events, offers and courses at the Cookery School, please visit www.belmond.com.