A row of gleaming supercars parked outside the hotel's entrance signifies that you have arrived at Le Royal Monceau, the Parisian outpost of the Raffles hotel group. Having stayed a block away in the Parc Monceau area the night before, we decided that it wouldn't be appropriate to arrive at the hotel on foot, dragging our suitcases along the boulevard and up to the towering doorman who would probably have refused us entry. I doubt that anyone turns up to the Royal Monceau 'de la marche'. So we ordered a Mercedes taxi for the 3 minute journey; not quite the cachet of arriving in a Bugatti Veyron, even if the Merc does sport a better MPG rating, but it would suffice.
Once inside the Philippe Starck-designed hotel you are met with a dizzying concoction of quirky architectural features and modern art installations, juxtaposed with original features from this 1920s building; sophisticated aromas from scented candles drift across this luxurious ether, mingling with the quiet hubbub of high-powered business meetings taking place in the bar area where contracts are brokered over the finest coffee in town, and busy people with little time for relaxation indulge in quiet moments of respite between their wall-to-wall engagements.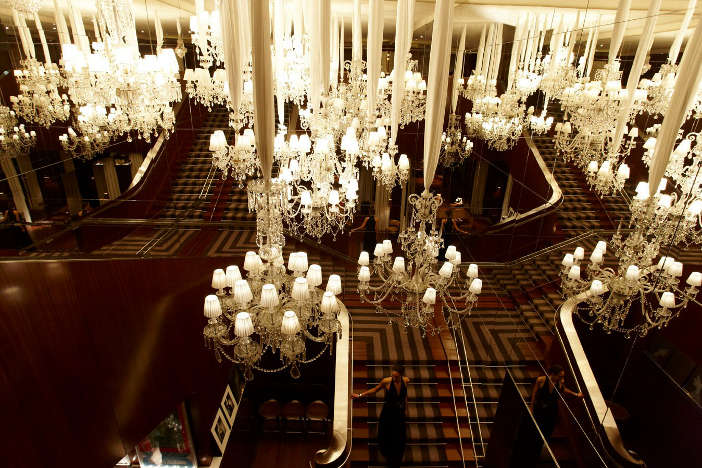 The public spaces are chic and sleek – to the left of the foyer is a gift shop specialising in art and fashion coffee table books and other interesting trinkets – it rather reminded me of the V&A's shop in London; to the right, past the cigar room and the private members club, you will find the fashion boutique with a wide selection of the very best Parisian brands, and next to that is the art gallery, where the curator is on hand to arrange private viewings of artworks for collectors visiting the hotel. If that weren't enough, the hotel also has a 99 seat cinema, the most impressive and well-appointed private screening room I have ever seen.
Our room was a spacious, modern affair, overlooking Avenue Hoche with floor to ceiling French windows that one could open out to take in the morning air. Two large flat screen televisions were at hand for the media-minded, one opposite the giant bed, and one in the wall opposite the seating area. The bathroom was entirely tiled in mirrors, a rather dizzying effect, and the separate toilet featured the latest Japanese lavatory with automated flush, massage and heating functions. It's a gadget geek's heaven. If contemporary, modern-art-inspired design superimposed against traditional Parisian chic is your thing, this hotel will suit you perfectly.
Fitness fans have a large 23-metre pool at hand, with a lounge area featuring complimentary teas from Mariage Frères, biscuits, and glossy magazines to peruse between laps if one so wishes. There is also a gym and a Clarins spa offering every treatment imaginable.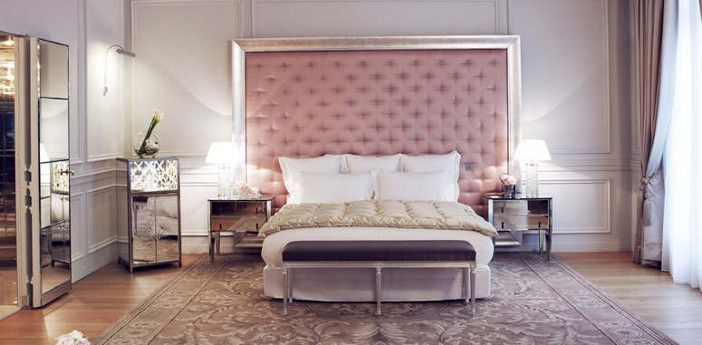 Foodies have two Michelin-starred choices for lunch and dinner; La Cuisine, the French restaurant, and Il Carpacio, the only Italian Michelin-starred restaurant in Paris, each featuring its own al fresco dining area surrounding the outdoor water feature that sports a glass bottom so you can see into the hotel's pool in the basement below.
Dressing in my finest tailored Timothy Everest suit in a midnight blue mohair weave, we descended for dinner at La Cuisine, joining our fellow bon viveurs who appeared to be a mixture of business people and couples enjoying a romantic evening.
The menu at La Cuisine is traditional with a pan-European accent, but focuses on a light approach, not overdoing the butter-centric work ethic of most haute cuisine kitchens. Starters included a ricotta ravioli with pine nuts and parsley cream, and a wild king prawn carpaccio with confit kumquats and beetroots opaline. Mains had the ooh-la-la factor and were a triumph of flavours and textures, featuring marinated black cod and braised black rice with honey, ginger and lemon, and a rack of milk-fed lamb with steam-cooked leeks and ravioli with grated chestnuts. The dessert menu is courtesy of Pierre Hermé, and includes pleasing French classics like the shortcrust pastry lemon tart with melty meringues, and a rum baba moistened with old dark agricole rum and chantilly cream.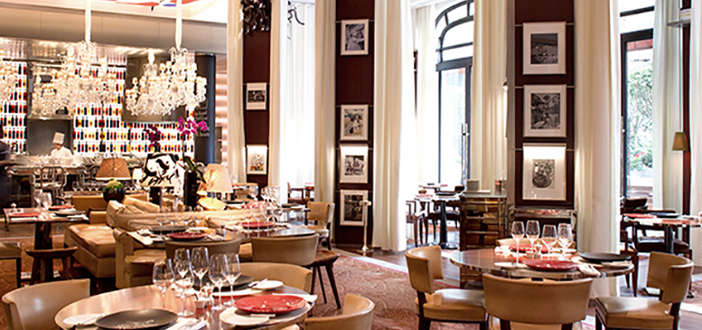 Breakfast at the hotel is a popular choice for casual business meetings and the dining room in the morning has that cosmopolitan buzz of a destination venue where everybody is in the know; the range of food on offer is quite staggering – from Danish pastries to fluted Bordeaux cakes, kougelhopf, pancakes, crepes and granola (all prepared on-site by Pierre Hermé Paris), organic eggs, muesli, breads from Eric Kayser's bakery, organic tea, freshly-squeezed fruit juice, a gluten-free selection, and an array of alternative milk, from coconut and almond to rice and soy. Not to mention all the cooked options. In recognition of this unrivalled breakfast of kings, the hotel won the prestigious Villégiature Award for Best Breakfast in Europe. It's no wonder so many people flock here in the morning, be they guests at the hotel or regular Parisian patrons.
After such a feast of the senses, it was with regret that we checked out, squeezing past the supercars still parked outside and into our awaiting taxi for a ride to our next destination. I mused that Le Royal Monceau is the sort of Parisian hotel where people go to be seen, but there's more to it than just the poser-factor. This is a playground for the world's elite, but one that treats all its guests as equals, whether you own a Bugatti Veyron or not. In a place where everybody is assumed to be a 'somebody', the anonymity is refreshing. In fact next time, I may just rock up to the entrance dragging my suitcase behind me…so long as my luggage is from Goyard, of course.
Le Royal Monceau, 37 Avenue Hoche, 75008 Paris, France. Tel: +33 1 42 99 88 00. Website.