The two-hour drive from London transported us from congested city to crisp Cotswoldian countryside in what seemed like no time at all. The A40 taking in rolling hills, separated by dry stone walls in varying states of decline, contributing to a landscape straight out of the opening scenes of Postman Pat. This continued, with each copse of trees and gathering of farmyard animals, loosening the knots and welcoming in that 'can't beat it' weekend break-away feeling, with every twist and turn.
Our first proper taste of The Cotswolds, a deservedly designated Area of Natural Beauty spanning 790 sq. miles across six counties, came in the form of Burford: all slate roofs and Cotswold limestone the colour of peach melba ice-cream, positively glowing in the early summer sun; surreal in its prettiness. Hand-weaved baskets seem to be the main trade here, with almost every quaint little shop displaying them outside. Parents oozing the smugness of someone who's just freshly Farrow and Balled their dining room, push their offspring in Bugaboos. Needless to say, I loved it (though I have just slathered my kitchen in Slipper Satin…).
Long stretches of hedge-lined, winding country roads, made for letting rip one's sporty number – a Triumph TR3, please – top down, hair blowing in the breeze, with the afternoon sun casting a white-washed watercolour haze over everything. A dreamy vision. Finally, we arrive in The Slaughters, taken from the much less macabre-sounding old English word 'slohtre', meaning 'muddy place' (it doesn't, we're pleased to discover, live up to its name), made up of the twin villages of Upper and Lower Slaughter. Another mile of picturesque joy, and we pull in to the gravel car park of our base for the night, Lords of the Manor.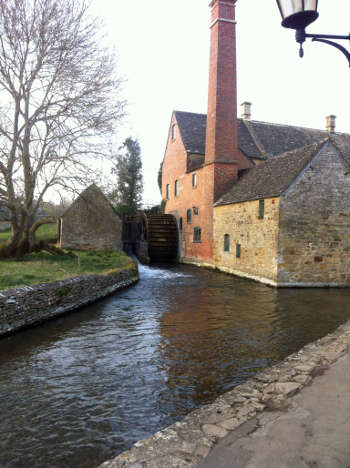 Part of the Pride of Britain Hotels group (which counts notable others: The Arch and Luton Hoo), this privately-owned manor house sits in eight acres of impeccably maintained walled gardens, epitomising the current season through flourishing herbs and wild flowers in punchy shades of crimson and violet, a lake and tree-filled parkland. The former rectory, and one-time gaff of Henry VIII, has been standing proud in the village since the 17th century, yet so crisp is the honey-coloured stone, it looks far younger. It's been a hotel since 1972, and currently running the 28-bedroom show is General Manager Paul Thompson, quite possibly the best GM I've come across through the years and countless hotels. Just the loveliest man with a natural wit that makes you want to while away an evening to the early hours, hearing his anecdotes. His justification of the bottle of champagne we popped moments after setting down our suitcase as: 'Oh it's nothing; just something to lubricate the weekend' – cast an excellent first impression. Whereas a good GM doth not maketh a great hotel, here, it definitely adds to the charm. By his side is a warm group of staff who miraculously appear just when you need them, but otherwise, leave you to roam at your leisure. The equally witty brochure reads like a manual of how I wish to live my life, describing Lords of the Manor as, 'a haven for those afflicted with the deeply unfashionable desire to do nothing but sink into a large sofa with a drink and a book…' So, I knew before setting foot in the place, I'd love it.
Our suite, in the winding, arched ceilings of the attic in the main house, traded the usual shiny multi-starred hotel fittings for old country house style in abundance, brought up to date with sleek bathrooms, but otherwise staying true to its roots with antique pieces, lovely oak beams, the creak of original floorboards and a comfortable bed enjoying views over the village rooftops on one side, and the house lake and park the other. A tranquil setting, so quiet and deserted it was quite a surprise to see a full dining room at dinner.
Before that, I was determined for us to fully engross ourselves in the Lords of the Manor country weekend experience, by picking up Walking Map 1 from reception, the middle-distance route of three, and setting off to spend the remainder of the afternoon exploring the local area – after a glass of champagne for the road.
So descriptive were the step by step instructions, with little nuggets of interest at key points, we didn't take one wrong turn. The three-mile round trip took us right through Upper Slaughter, which was deserted bar a small family chattering down by the River Eye which flows through it. We were encouraged to stop for a look around the St Peter's Church, which we duly and appreciatively carried out, and then it was up the hill, past bunny rabbits and a field of sheep and lambs, casting silhouettes on the brow of the hill. At that point the map indicated we were about to stroll onto a section of an old roman road to Yorkshire, which turned a trek across an ordinary looking field into an adventure. We continued on through a handful of kissing gates – including one sporting a poignant plaque marking a 1981 visit by newly-wed Prince Charles and Lady Diana – across fields of mole hills, past cavernous old army bunkers, until we reached Lower Slaughter, and looped back towards the manor, via a babbling brook, a 19th century flour mill and a pit stop at an artsy crafts and antique shop. After returning to our room, rehydrating on champagne, refreshing with a bubble bath, and donning our gladrags, it was time to head down for dinner.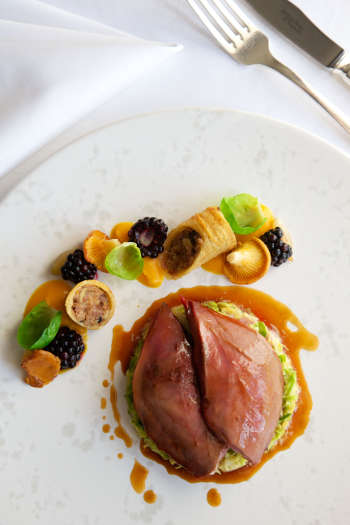 'I'm going to take you on a journey,' declared sommelier Jeremie Guiraud, as we settled into our seats and perused the evening's Michelin-star, five-course tasting menu. And that he did, with whites, reds and port coming from the Loire Valley, Burgundy, Venice, Basilicata and Stellenbosch, thoroughly introduced and poured before each meal, leaving us just enough time to polish off the last sip, before the next one came. A ritual that can get you into a little panic, if you don't keep up, and makes sensibly pacing oneself, an impossible feat. Still, there are worst scenarios in life to navigate.
The meal had us absorbed from start to finish, and achieved that multi-course rarity of leaving us full, but not uncomfortable. Don't ask me to describe the minutiae of what we ate though, for instead of noting down everything along the way, like I usually do, I was so tuned into my Cotswold/Lords of the Manor 'idler' zone, that I decided to rely on my notoriously sketchy memory, and have a thoroughly relaxing evening instead (the dangers of too much 'lubricating the weekend'). My last note was of the appetiser: 'pigeon ravioli – one in a delicious broth with girolles. Talk about leaving you wanting more…'. I know a dish of fantastic fish followed and lovely lump of beef… Being so absorbed in the fine food and wine, that I forgot I was there to work, of sorts, is testament to how successful Lords of the Manor had been in transporting me away from reality for a weekend of 'aaaaah'. I've since consulted the boy, but he's just as rubbish, advising me unhelpfully that: 'it was all very good'. You won't be disappointed, though, I can tell you that.
Something I do remember vividly is the night's selection of 22 cheeses, each one British, including the ridiculously good Cotswold (apple wood) Smoked brie, the smooth, mild Wyfe of Bath, nostril-awakening Stinking Bishop and ewe's milk Lord of the Hundreds. I'd read about the hotel's award-winning selection on the website, prior to booking, so had been looking forward to the cheese round the most, foregoing dessert to ensure room for the hefty plate selected. It was worth the wait.
The previously packed dining room was now deserted by this point, so we took petit fours and fresh mint tea to the games room, where we sucked on homemade sea salt caramels and passion fruit gums while satiating our competitive appetite with a few rounds of gin rummy, before heading upstairs to sleep it all off.
Following an undisturbed night, waking at a reasonable hour to the soothing sounds of a nearby wood pigeon, we breakfasted on Jing tea and locally sourced produce, before bumping into Mr Thompson for a reluctant farewell. On sharing our plans to head to nearby Bourton-on-the-Water en route back to London, his expression switched from jolly to perturbed: "Oh no, don't. It's the Blackpool of the Cotswolds, head to Broadway instead, for the quintessential experience'. A few minutes later, as we were packing up the last of our things, a little note was slipped under our door. Perhaps sensing we'd gotten mentally lost in the various rights and lefts of his verbal directions, Mr Thompson had printed out the instructions to get us there. It's those little touches that make a difference. 20 minutes later, we pulled up in a very pretty village indeed, just as he had described. After a look around the various little home and gift shops, and one of those ye olde sweetshops where I picked up a nostalgic stick of Coltsfoot Rock, we popped into the 17th century Crown & Trumpet for a half of the local ale; concluding off our first, long-awaited venture to the charming Cotswolds, very nicely indeed.
Lords of the Manor, Bourton-on-the-Water, Cheltenham, Gloucestershire GL54 2JD. Tel: 01451 820243. Website.